Christian Wedding Planning
Welcome to the exciting world of Christian wedding planning! Congratulations!
No matter your budget, you can have a wedding you envision and not break the bank. But most importantly to our hearts, is that you remember the Lord on your special day.
Below, we have pulled together our Christian wedding planning tips and ideas to get you started on this amazing experience!

How to begin DIY wedding planning
If you are just beginning, you may be wondering where to start.
Pick a date?
Find a venue?
Invitations?
Budget? 
None of these just yet!  
You will need to address all those and so much more, but the first place we would tell you to begin wedding planning is to work on your guest list.
Why?
Because your guest number will dictate just about every single detail of your wedding day except maybe your dress!
Your wedding guests number will affect the size of your venue, which will affect the date of our wedding for availability. It will affect everything you need for your guests from invitations, programs, seating, food and tiny details such as the number of forks you will need.
That guests number is important because it definitely affects the budget!
Before you are through planning your wedding, you will view every single person as a dollar sign! If the spending budget begins to get out of hand, you may have to begin cutting people from your list. 
Find help in our blogs below or we also have a wedding planning workshop full of details, ways to organize your decision, how to make decisions for your wedding and save money.
Our goal is to help you make the beast of wedding planning jump through hoops and keep your focus on what's important.

 For us, there is not separation of weddings and Christian weddings when it comes to what it means and what's most important. God designed marriage and the commitment and devoting for a relationship.  
But over the years we've realized that not everyone holds the same opinion. 
Weddings have become almost Broadway productions with brides trying to impress the guests with all sorts of Pinterest goodies.
Most of those impressing ideas are found left behind on tables or we throw in the garbage at the end of the night when cleaning up the venue! 
Leave a lasting impression that reflects your love of Christ with these Christian wedding ideas. 
Planning a Christian Wedding?
Wedding planning ideas on a small budget
Wedding Planning Decor Ideas to
Save You Money
Budget friendly wedding ideas to save you money. Weddings should not pile of debt to make your day special. A small budget wedding can be as beautiful as a large budget wedding and more meaningful.
DIY Planning our Children's Weddings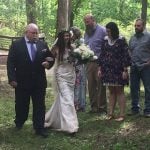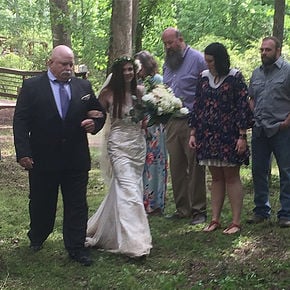 How we pulled off my son's wedding in the woods with a little Jane Eyre inspiration.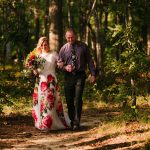 How we managed my daughter's floral wedding on a small budget including tacos!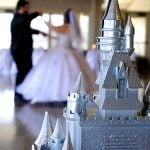 How we made dreams come true for a Disney loving bride and groom.
Coming 2024 Destination Wedding!
These are fun and inexpensive. Use them for decor or bridesmaids