"Let them eat cake!"
Your wedding cake is that special moment many guests are waiting to taste. But the cost of wedding cakes can really put a dent in the wedding budget. 
Wedding cake on a small budget
Planning a wedding can be overwhelming and budget draining! Finding ways to save money with your wedding cakes is important to make your wedding day your vision. 
Our adventures in Hobby Lobby, and shopping on Amazon and Etsy help us find ways to take the stress off of your wedding planning so you can focus on your commitment together with the Lord.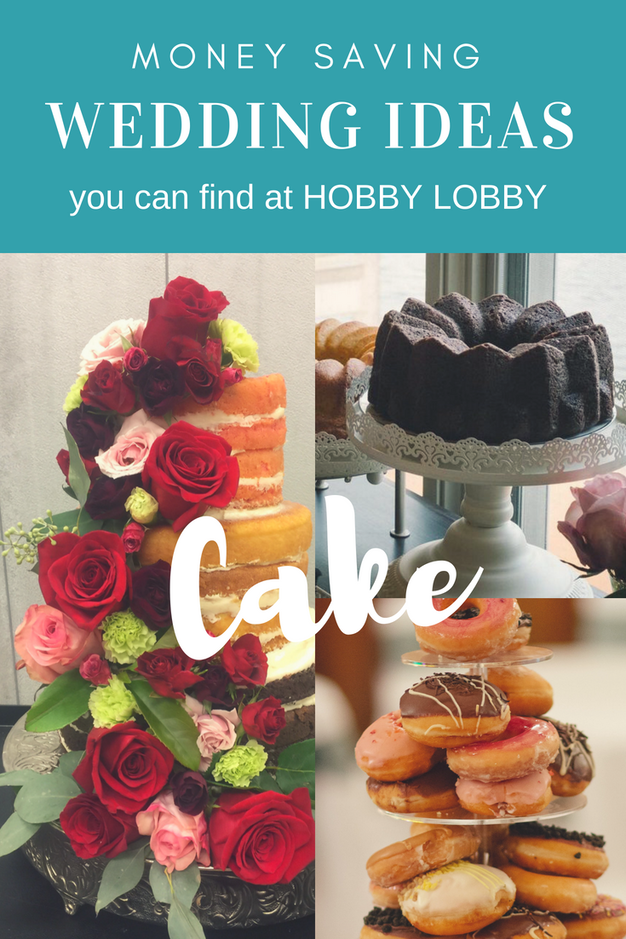 What to look for in a wedding cake
Some brides choose an elaborate cake or a simple naked cake.
Other brides forgo cake for another dessert altogether.
Honestly, if the wedding cake is dry or just taste like sugar and shortening, we might just forgo the wedding cake too! A yucky dry cake is not how you want your wedding reception remembered!
Sometimes, the more elaborately stacked the cake, the greater chance it was frozen days before ending in it being dry. Go for a good tasting cake or dessert you enjoy over a crazy design that just looks pretty
We love some good wedding cake, but at receptions, we see so much cake thrown away at the end of the night and money wasted…  Why?
Because the cake wasn't good! 
It's easy for brides to get distracted by the amazing details of the expensive gorgeous stacked cake yet, the texture and taste might not be worth the cost. 
What does a wedding cake cost?
A gorgeous stacked wedding cake can cost you some not so pretty bucks! Most stacked cakes begin at an average of $3.25 per person up to $8 or more! Many caterers or bakers charge $1.25 to $4.00 per slice to cut the cake.
A local grocery store charged a bride $600 for 120 people. ($5.00 per slice)
On top of that, the bride paid the caterer $1.25 per slice. (x 120 people)
That grocery store cake was $750 total for 120 people or $6.25 a slice…and the cake was dry! The caterer that was paid to cut the cake, hacked it to bits all over the table and floor! 
A stacked cake takes more time and effort to create and needs support. That's why the cost is higher. Fondant is also more finicky to work with therefore costing more than a buttercream iced cake. 
Who really enjoys eating fondant? Give us a nice buttercream or cream cheese icing!
How to save money on your wedding cake
Separating the cake from one tall stacked cake to multiple cakes will save you money and you might also get a better tasting cake.. or more accurately cakes! 
A 10 inch round cake from a bakery will cost you on average $32.
Cut correctly, you can get 20+ slices. That's $1.60 per person! 
We're not math professors, but we do know when something costs significantly less!
Someone still has to cut it, but maybe you can talk a friend into helping!
A buttercream iced cake from a local bakery is $32 and feeds around 25-30 people depending on how you cut it. That same size cake will cost $90 at the same bakery if you call it a wedding cake.  
You can purchase 3 of the 10″ round  $32.00 cakes to feed 75-90 people. That's less an $100 for the cakes.

Who will make the wedding cake?
     ● Check smaller local bakeries for wedding cake
If you know or have a baker planned for your wedding cake that you are happy with, that's great!
     ● Ask a family member to make your wedding cake
Is there a family member or friend that you trust to make your cake, you can  have a yummy cake guests will love because  it was made with love! 
     ● Separate your wedding cake into multiple cakes.
If the wedding budget is rising and picking a wedding cake is sinking you, think about separating your cakes. You can purchase your favorite cakes and by placing cakes on various stands save money!
     ● Make your own wedding cake!
For Carrie's daughter's wedding, we made the cakes (yes we said cakes) ourselves. The main wedding cake was stacked with flowers running down the front. Then we had a table with 6 other naked cakes on various cake stands. Our only issue was we should have made a bowl of icing for those that like icing on their cake. Total cost? $46.00 and we had cake for days!
We discovered that a bouquet of flowers can visually detract you from a whop sided cake!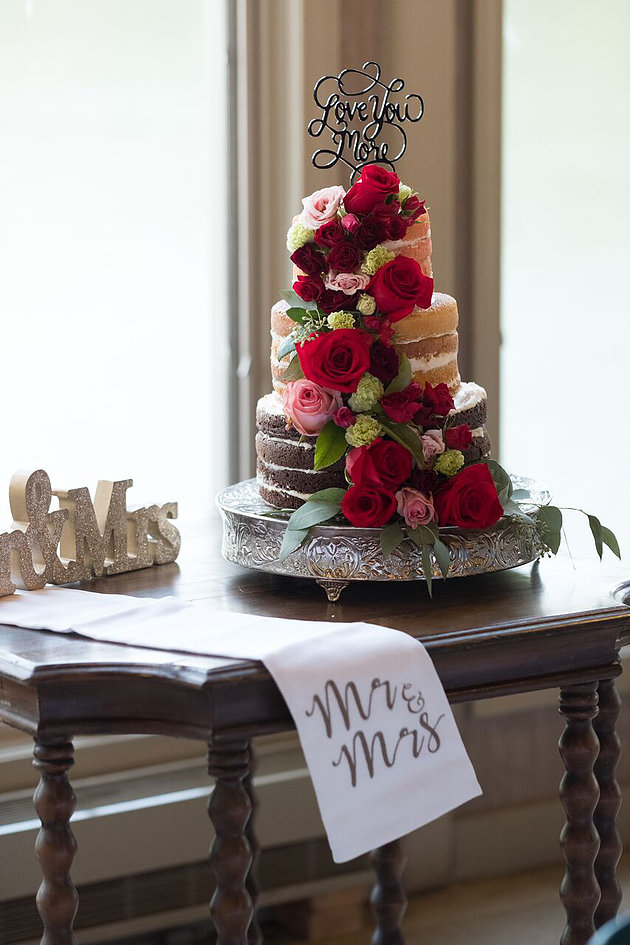 (Photo by Evan Travers)
What flavor are wedding cakes?
Traditional wedding cakes are white cakes with a mild vanilla flavor. The icings have been white. But through the years, wedding have become any flavor you choose!
Wedding cakes can be chocolate, strawberry, vanilla, or a combination of all three! But don't stop with those flavors. Caramel, red velvet, confetti, pecan and any flavor you  imagine are all acceptable wedding cake flavors.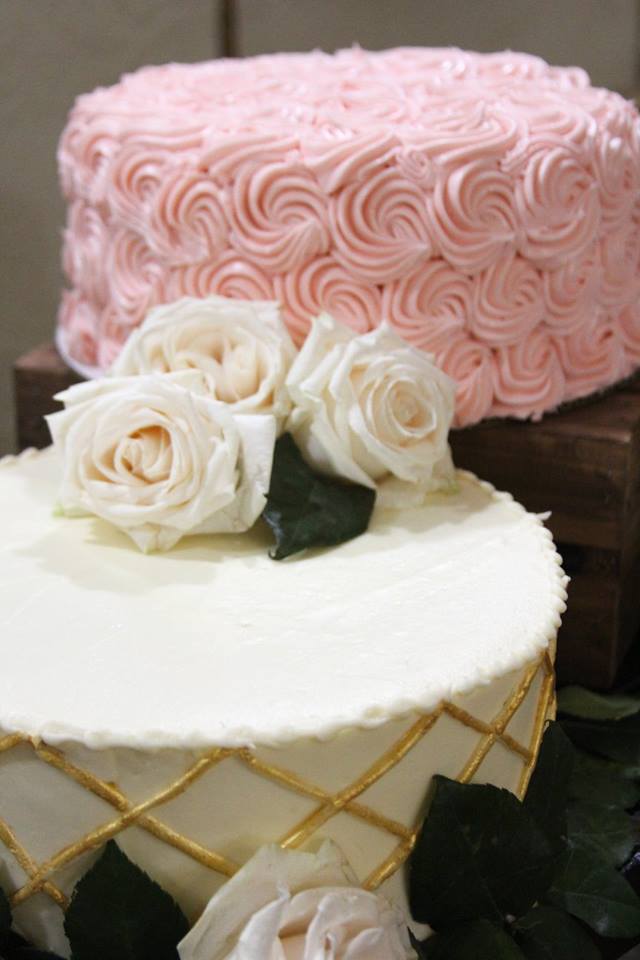 But word of caution. When you choose more than one cake flavor your guests will want to taste any and all the flavors. Which means the need for more cake. More flavors can also cause a back up in the cake line waiting for guests to decide which flavor they want. In the end, they still take a tasting of them all. 
Unless you have a great deal on cakes, you may want to keep your choice to one flavor. 
If you look back to the wedding cake pictured above, notice the three layers of flavors. The top was strawberry, the middle was vanilla and the bottom layers chocolate. Which flavor do you think was most popular? 
Yep. Strawberry. And that top smaller layers of cake were the only strawberry cake at the wedding. Who knew?
How to display wedding cakes
Separating the cakes will still be a gorgeous wedding cake display. This method also allows for varying levels of cakes on stands, platters, boxes, or anything you can think to lift your cakes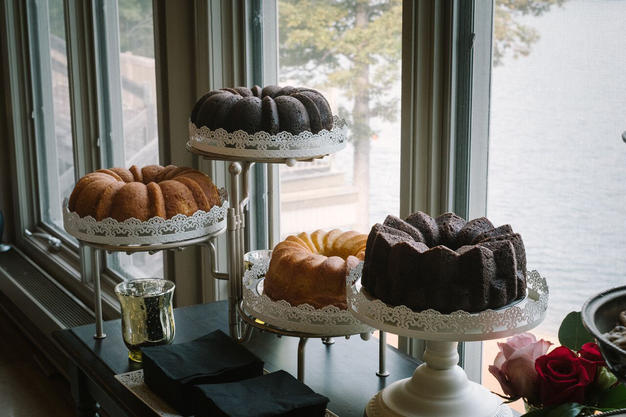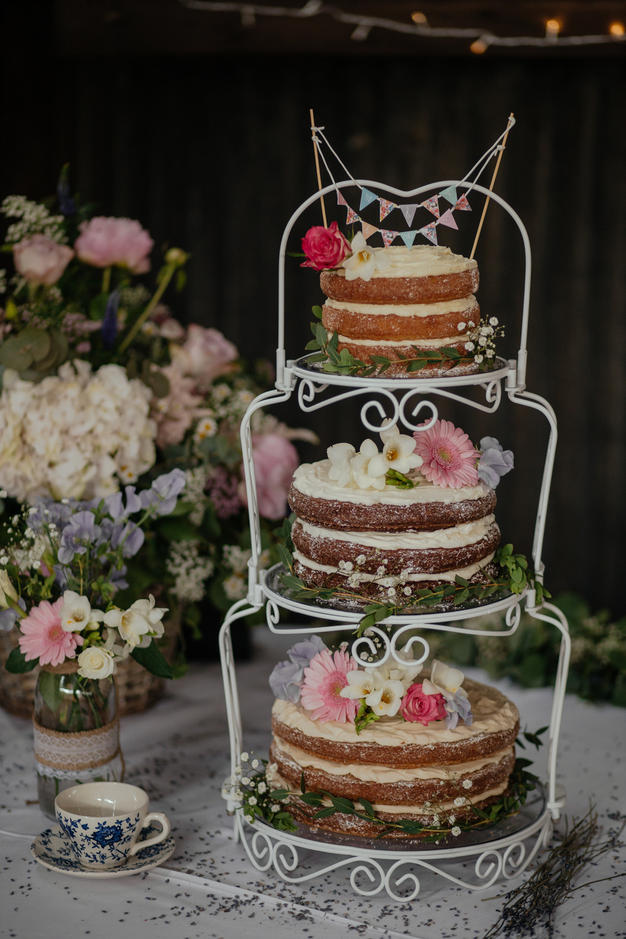 (photo source unknown, but we're looking for it because this picture rocks!)
     ● Lifting cakes is an eye catching way to add interest to your cake table. You can do the same with any dessert. If cake is not your thing, think pies, cheesecakes, brownies, cookies etc. The list is endless. You can even stack donuts on various stands.
     ● For a rustic style wedding, your cake decor options are great! Wood slices on different levels with a little greenery are a beautiful display and you can add little touches of sparkle with candles.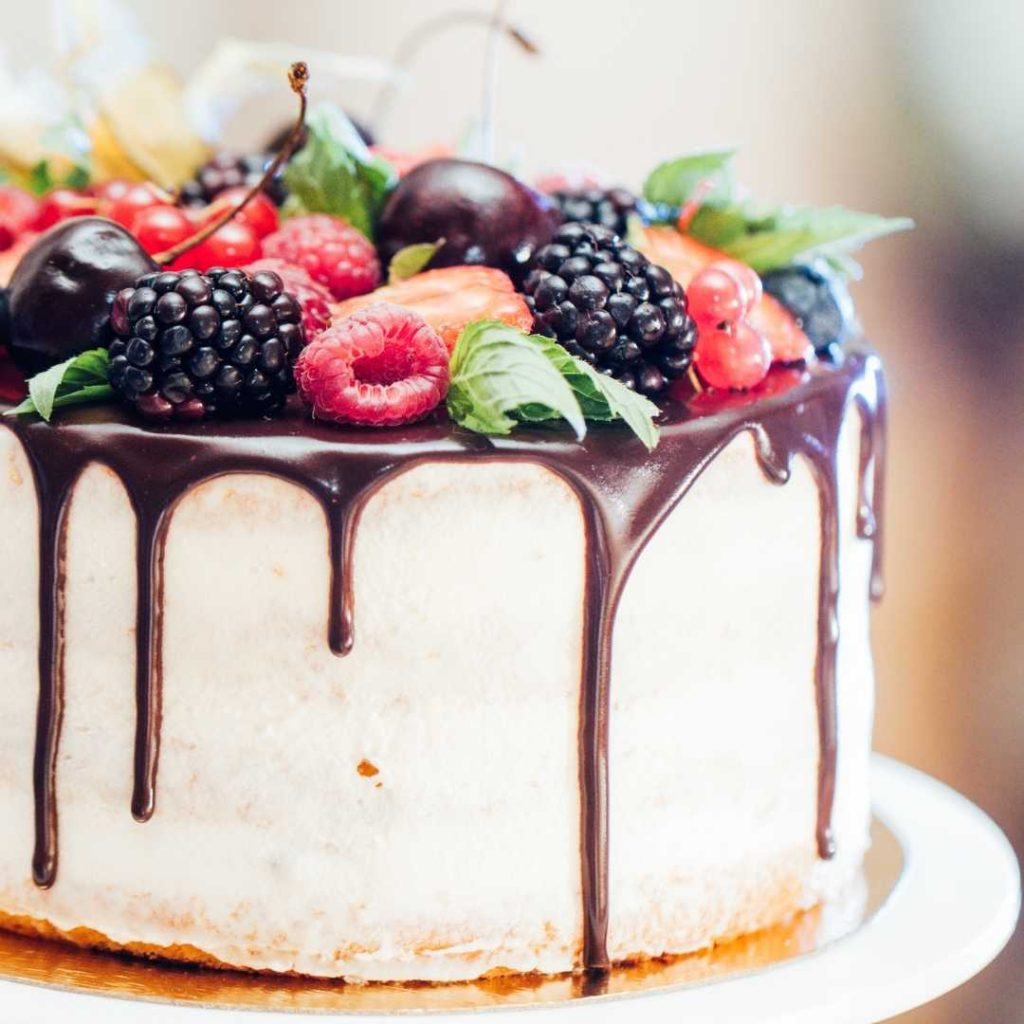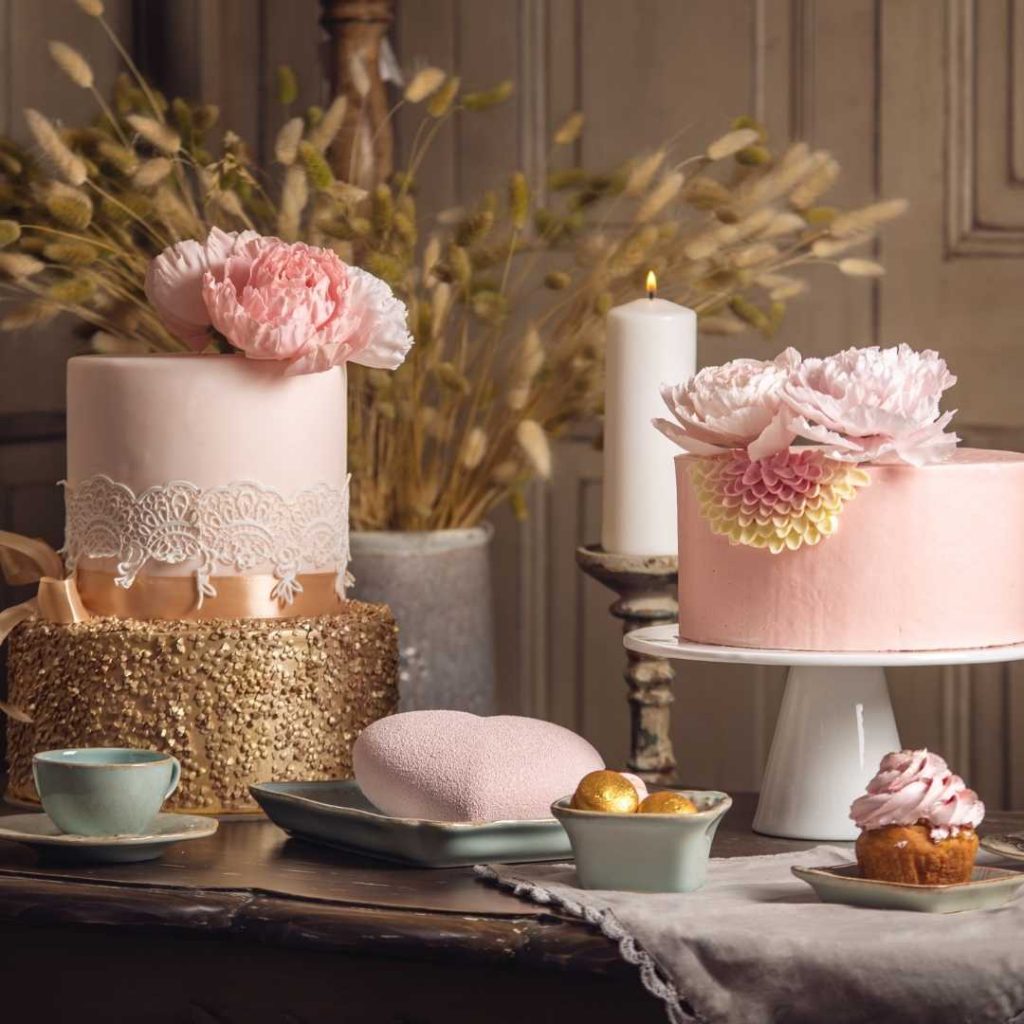 Even with a rustic wedding style, you can add sparkle or tradition to your cake table. You can elevate a simple cake and mimic an elaborate cake with decor, but without the elaborate costs. 
Cake stands are a way to complete change the look of your wedding cake. 
 ● Silver
A silver cake stand can bring a bit of elegance.

 ● Wood box
A wood box in either white or brown can be personalized with your name, date, or favorite Bible verse. We use paint pens or vinyl stickers to add that personal touch.

 ● Wood slice
For a rustic or woodsy effect, wood slices are a fun way to bring in nature to your rustic theme.
Whether you decide to make the cakes yourself, purchase from a local baker, grocery store or a friend, Hobby Lobby has some fantastic cake stands to help you display your cakes in a beautiful way! *aff
iliate links
Add a little greenery, flowers or fruit for a colorful touch.
Don't be afraid to mix and match your cake stands or display levels. A little gold can add elegance to a rustic wedding and a wood detail can add personality to an elegant wedding.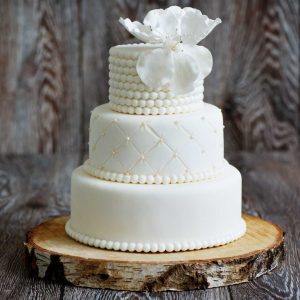 We like to mix and match the heights and sometimes even the items we use and styles. 
This picture is from Carrie's daughter's wedding. The rustic naked bundt cakes were displayed on varying heights of white lace edged cake stands. Next to them were chocolate chip cookies in a a tall silver tier! 
Both were served on vintage china.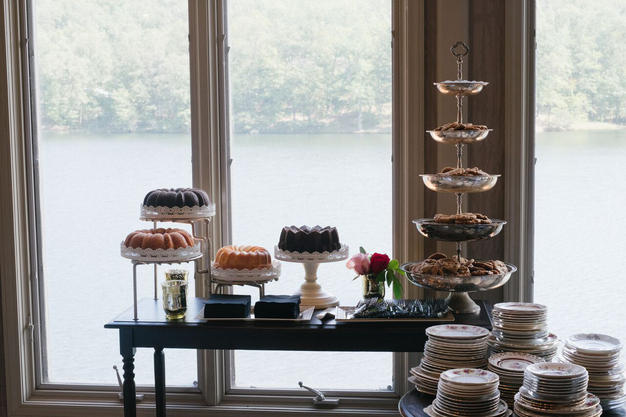 Photos by Evan Travers
Wedding Cake Level Displays 
Lift the cakes on various levels using wood crates, boxes or interesting metal ware or containers. At Hobby Lobby, our favorite wedding resources, the selection changes through the season so you may not find these exact examples below. But we are always able to find "boxes" and "crates" for display options. 
Don't forget the cake knives and serving utensils!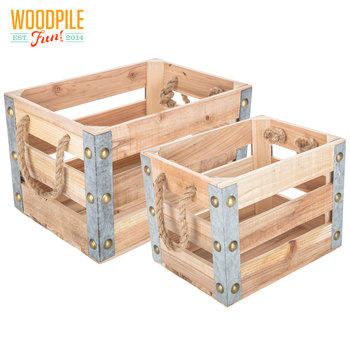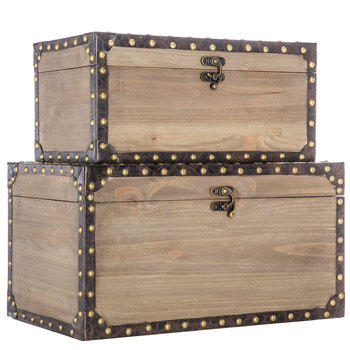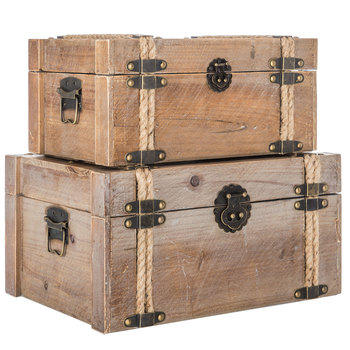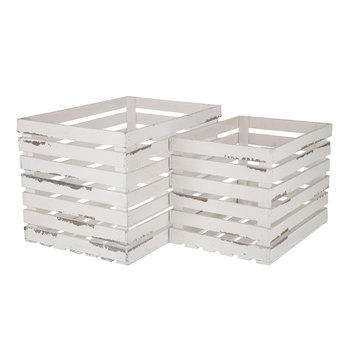 Maybe you can't find the right shaped cake plate or display, spray paint it to match your decor. Even the royal couple had cakes that were separated and displayed with gold! Although we're pretty sure those weren't spray painted.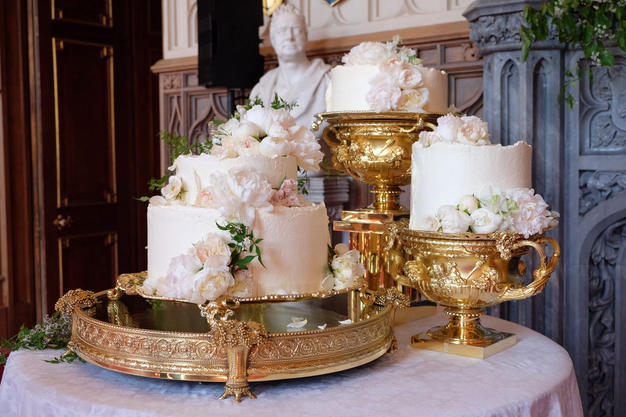 (photos from Yahoo news source unknown from the royal wedding)
Can I have a different dessert than wedding cake? 
Yes! There are no rules to a wedding that require you to have a wedding cake. Now there are people who feel differently, but that's because they love cake. 
Use your imagination! Get creative! What else can you choose to replace the wedding cake?
If cakes are not your thing, you don't have to be bound by tradition to only have cake. Cupcakes, cookies, pies and any other dessert food you like can replace cake. Donuts! Don't forget the donuts!
What are wedding cupcakes?
Wedding cupcakes are smaller individual wedding cakes! But don't be deceived into thinking a cupcake is less expensive than multiple cakes. Check your bakeries and compare prices. Cupcakes from a grocery store may be cheaper, but not as tasty.
A cupcake will cost you $2.00 to upward of $5.00 each. The more elaborately decorated they are the more the cost. 
The advantage to cupcakes are the ability for guests to grab a cupcake and you do not need for someone to cut a cake. 
But guest may feel the ability to grab more than one cupcake. This means you will need extra cupcakes or run out before each guests has one. 
What are wedding cookies?
Wedding cookies are happiness in a crunch. 
We're southern girls, but a few years ago we traveled North to Pennsylvania to work a wedding reception. Little did we know that guests bringing cookies to the reception was a thang. 
The wedding guests walked into the reception handing the two of us containers, bags, and platters of cookies. We were amazed at the abundance of yummies!
The mixture of cookies. flavors and styles was beautiful to display and even better to eat! At the end of the evening, guest took home cookies in their containers and all were extra happy!
Donuts should be at every wedding because they look like wedding rings! Right?  Donuts at wedding get guests excited. Donuts stacked on cake stands or boxes makes an eye catching display and it doesn't have to be all plain donuts. Mix them up!
Pinterest has so many creative donut walls to hang the donuts by their donut holes!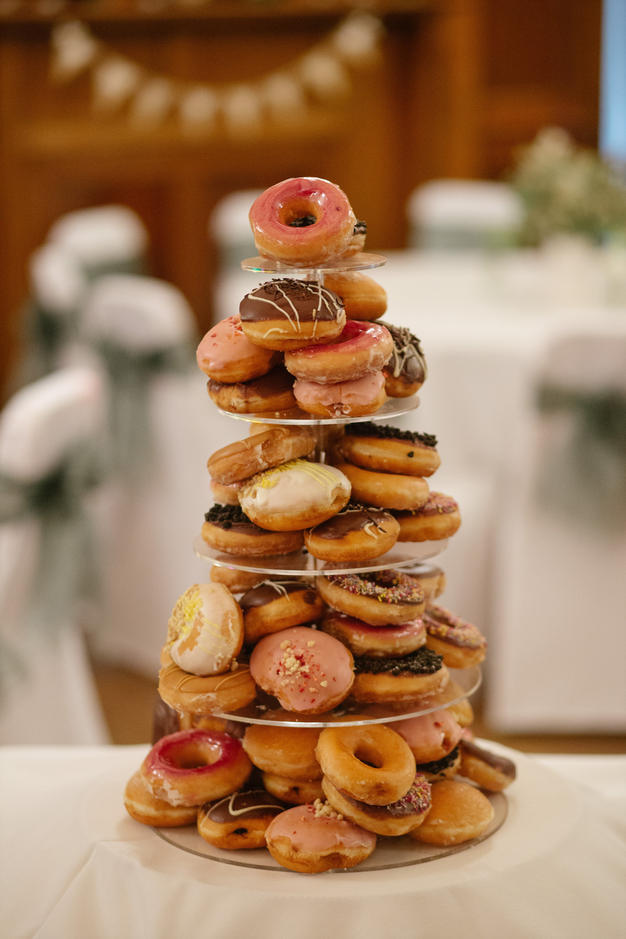 Can I serve other desserts at my wedding? 
Yes. And the sweet loves in us say, "Yes and all the desserts!" Pies, cheesecakes, eclairs, and just about any pastry from the British Baking Show are perfectly wonderful choices for a wedding. 
Funnel cakes, caramel apples, cotton candy, trifles, brownies, ice cream sundaes and etc. are all creative and tasty items to serve at your weeding. There are no wedding dessert rules. 
Oh wait. Banana pudding. If the North can have cookies, the south should make it mandatory for all wedding to have banana pudding. 
How to display other desserts than wedding cake
Use the same cake stands, lifts and levels to display any food you desire. We love to use tier stands when we display food.
Every style, material or color can work to hold your cookies, cupcakes, cheesecakes or whatever yummy dessert you imagine. 
 Traditionally, bride and grooms would keep the top layer of the cake, freeze it and then unthaw the cake to eat on their first anniversary. 
Take our word for it…. wedding cake frozen for a year may be sentimental but not tasty. Add the baker of your cake to make you another couples cake for your anniversary!
See Wedding planning ideas for help to save money, stay organized and keep Christ the center of your ceremony we can help. Visit our Taming the Wedding Planning Beast workshop.