How to keep Christ the center of your ceremony, save money and
tame the wedding planning beast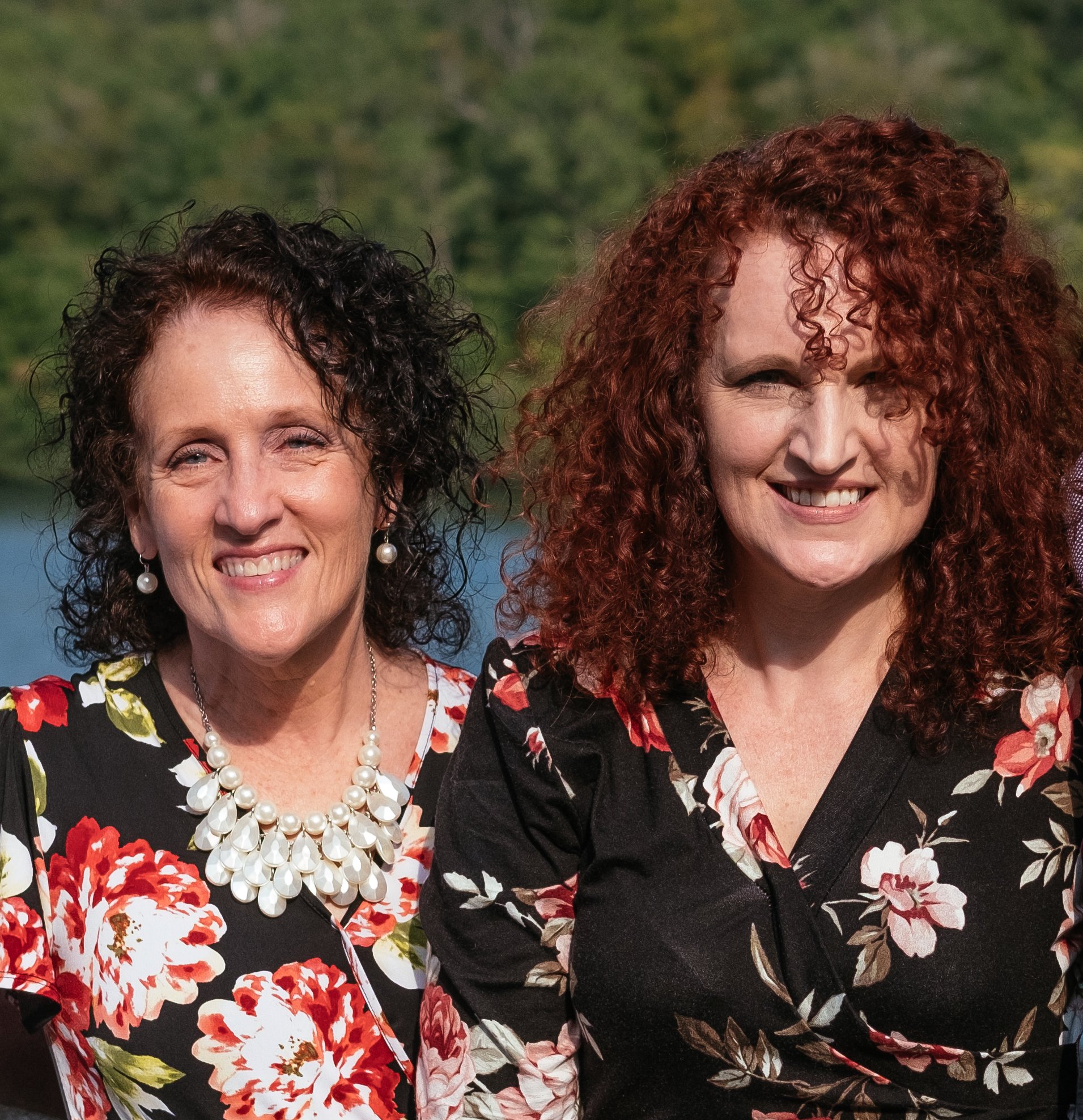 Hi! We're Carrie and Nina, two crazy wedding coordinators from Forget Him Knot.
We've worked and organized weddings from the hundreds of dollars to hundreds of thousands.
Planned weddings in as little as 2 days or 2 years.
But we've discovered every bride has the same decisions to work through and process!
Big or small budgets, intimate ceremony or large guest attendance, no bridal party to a large bridal party, traditional to non traditional….weddings have the same elements!


We can help you keep your focus on what's most important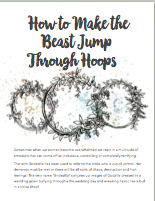 We have pulled together ideas and insights from years of planning weddings ….and taming the beast. We've put out fires, literally put out fires on reception tables, repaired broken wedding cakes, sewn wedding dresses and flipped a venue multiple times in the rain! Every wedding has a story and every couple the key players in the fairytale! But every story also has an enemy… or antagonist looking to overwhelm or over take the couple off of their focus!
We understand that weddings can be one of the most joyful and yet stressful times in your life. You have dreamed of your wedding day but your dreams are quickly turning into a full fledge nightmare when it comes to all the details and decisions you need to make.
Do you identify with any of these statements?
You're feeling overwhelmed. 
You feel frustrated because It's impossible to please everyone….maybe even anyone!
Everyone needs a decision yesterday.
There are too many expectations being placed on you.
You are unsure where to begin with your planning.
This is going to cost how much????
I can't afford this wedding.
You're holding down you everyday life and job….where is there time to plan? 
Your guest list is growing but your budget is shrinking.
Is it too late to elope? 
Do you feel like there is something constantly breathing down the back of your neck?
These are signs of a beast lurking!
You don't always see him but you feel him. He's there!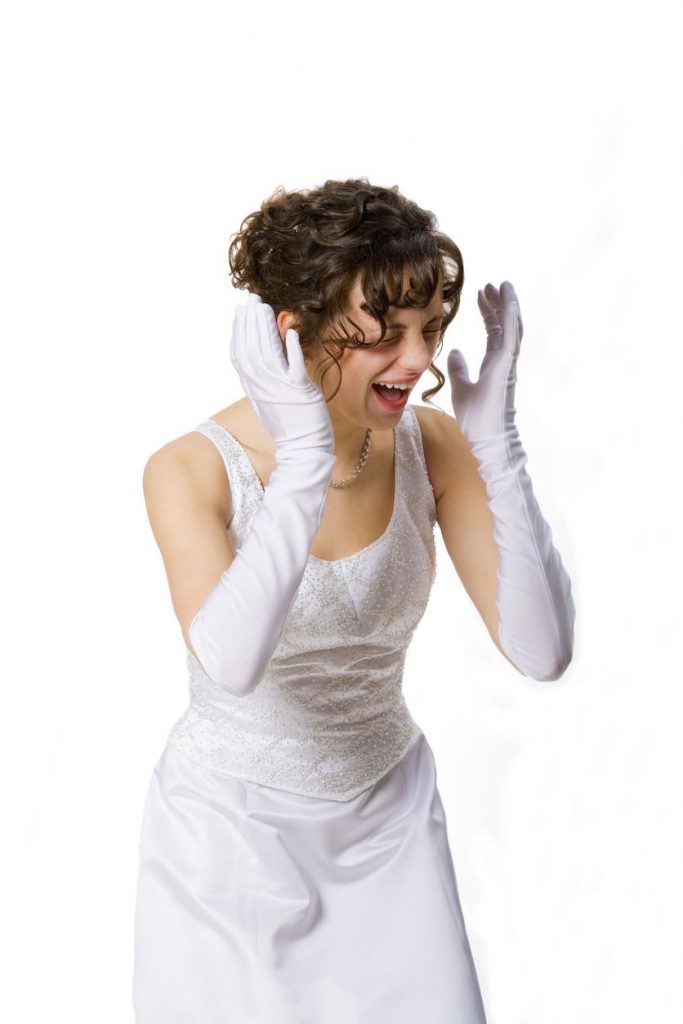 Wedding planning can be overwhelming! Couples may have an amazing vision for how they want their wedding day to be but reality hits them and "running off" seems more appealing!
When a bride cannot meet the expectations of others, budget constraints, or begins to lose focus of the vows she is making with the man she loves, she looses the joy of her own wedding day.
There are so many decisions to be made, confusing choices and when you add to this drama from friends and family…. you have a serious beast before you!
Each element reveals the wedding planning beast from teeth, scales, claws to the tail!
We can show you how to keep the overwhelm "tamed"
The following example from our workshop is not meant to scare you, but instead,
it's to show you that every decision you make leads to 10 more decisions that need to be made
Do you want pew markers to distinguish where your family will sit during the ceremony?
How many pew markers? 
Where will they go?
How will they hang or attach? 
What will they be made of? 
Who will make them? 
What color will they be? 
How will they be made?
How much will this cost? 
Who will be sitting there?
Who attaches them?
When can they be placed?
Who removes them
This is just one small detail in your wedding planning.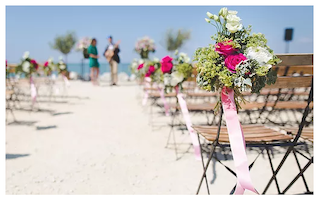 Taming the Wedding Planning Beast is our:
Secrets to identifying the beast
Tools and hoops to tame the beast
How to determine your guest list
A breakdown of each element for your wedding
Insights and ideas to help you think outside the box
W

ays of how and where to cut cost and save money
Worksheets to work through your decisions
Forms to keep you organized
How to keep your focus on the most important
How to's and Diy's
Taming the Wedding Planning Beast contains
The Beast of Wedding Planning
How to Make the Beast Jump Through Hoops
To Be or Not to Beast
Beast our Guest
Venue
Invitations
Attire
Flowers
Photographer
Decorations
Rehearsal
Ceremony
Reception
Cake
Entertainment
A "Tail" of Two Weddings 
Decision Processing Worksheets
Forms for Organization
Questions to Ask
Printables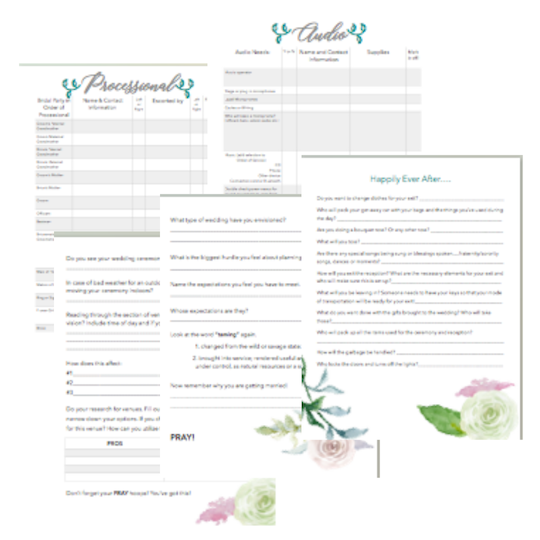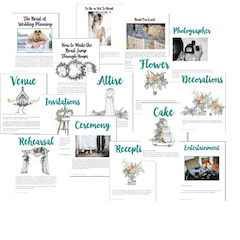 Our methods, strategies and creative ideas used to make wedding planning a success.
Thought provoking questions to help you understand why you are making certain decisions.
Organizational forms down to the smallest details for planning your wedding.
Explains the areas where the beast tries to overwhelm you. 
​Organizes your priorities 
Guides you to make decisions with confidence. 
Helps you to think creatively to obtain your vision.
​Shows you areas that can save you money.
Identifies the details needed for your wedding.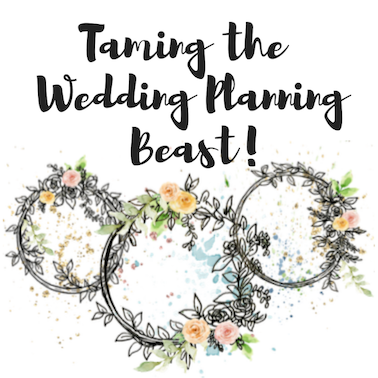 Is Taming the Wedding Planning Beast for you?
This workshop is a wonderful if you are newly engaged, planning a wedding or assisting anyone with their wedding plans.
But most importantly, this workshop is for the bride who desires to forget not the LORD, keep Christ the center of her ceremony, and glorify Him with her wedding day.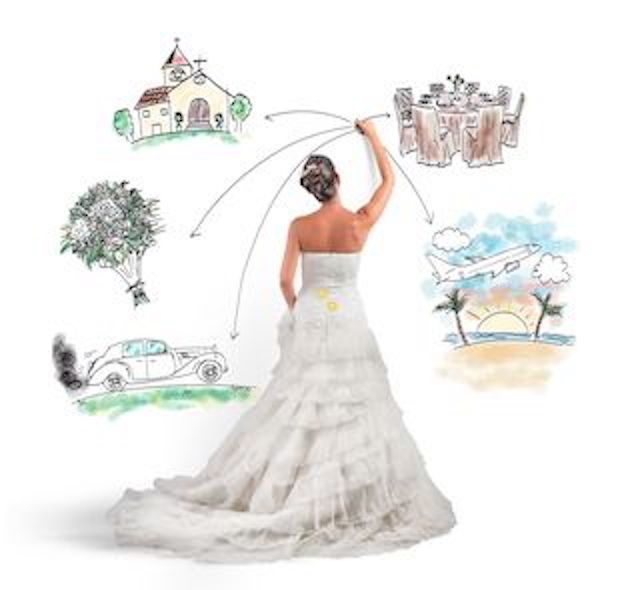 Yes! I want to tame the wedding planning beast! $97
Purchase, download and begin planning your wedding!