Our Favorite Wedding Decor Resources
We may or may not have a rather embarrassing collection of wedding decor. Admittedly, we are running out of storage. We love finding wedding decor especially when we can plan beautiful weddings on a small budget.
Small budgets allow us  to get creative and look for wedding ideas at our favorite wedding resources,  Hobby Lobby, Dollar Tree and Amazon. All the items listed have served us well through years of weddings and events. *post contains affiliate links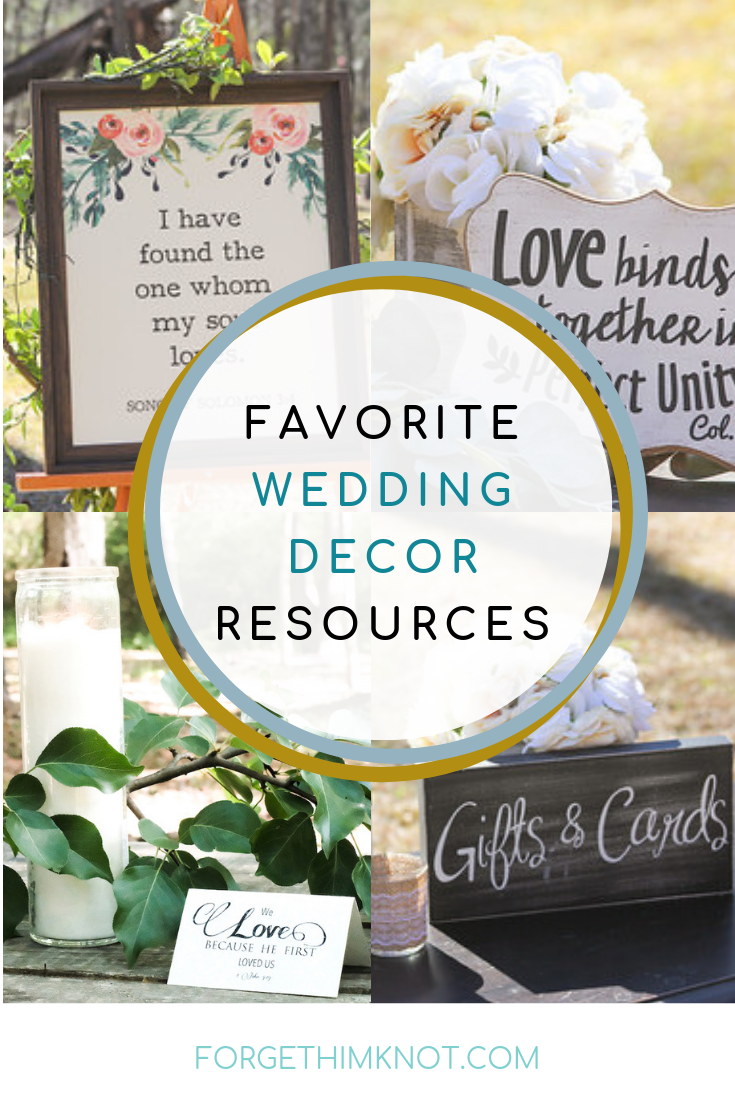 We are sharing our favorite Hobby Lobby finds to help you save money on your wedding decor, but we also share why we like them, how we use them and ways that you can too!
Wedding needs and the Pinterest trends
The following items are not NEEDS for your wedding decor. The only NEEDS for a wedding are you, the groom, vows, license and someone to pronounce you man and wife. Anything else is just extra! Pretty, but extra. 
Pinterest has made planning a wedding seem like you must keep up with the trends. "This year's wedding colors",  "Must haves" and Pinterest worthy photographs are just some of the confusion brides encounter. 
Your wedding is about you and your groom making a vow to love one another before God and witnesses. Everything else is just fluff! It's not necessary. So if your budget does not allow for the expensive decor found in pictures, stay with us to find ways to diy your wedding decor and the best deals!
But if you want to add a little fluff and decor to your day, these are our favorite "extras" to plan!
Candles for Wedding Decor
Many venues are moving away from flame candles for fire and liability insurance reasons. This used to make us really sad until battery candles improved. These flicker like a real flame and still add the warmth to your wedding decor. Okay, maybe not warmth as in heat, but you get what we're saying! The pillars are 3″ round and two different heights in cream or white.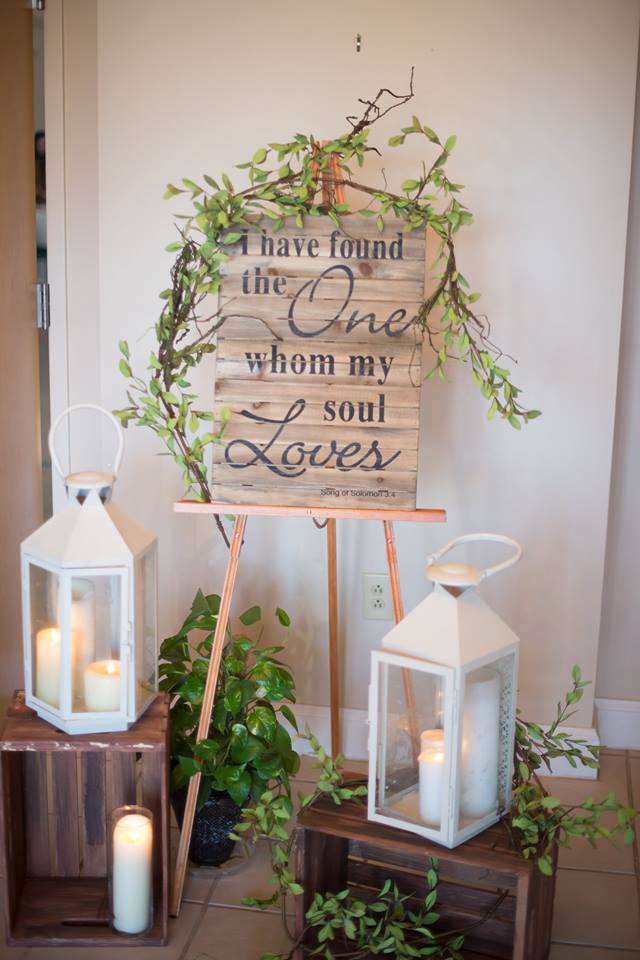 We use these votives for every event. They melt down and evaporate leaving no mess. The glass is clear and thick enough to not shatter after a long night of use. The size fits perfectly inside of most votive holders which keeps candle wax out of costly pieces!
We are not fans of candle wax after a wedding. So we are candle picky. These pillar candles from Hobby Lobby melt inward and that keeps the wax better contained. They burn a long time too. 3″ round and come in a couple sizes of height. 
More and more venues are moving away from open flame candles at weddings. The battery votive helps bring a tea light size candle flicker to an event without an open flame. We have tested these by leaving them on over night and days later they were still flickering!
Like the votive tea light size battery candles, sometimes we have to use battery votives at wedding venues. We love when a battery candle mimics an open flame candle so closely that people can't tell if they are real or not!
Mercury Glass Votive Holders
Votive candles and holders
For a little touch of color or elegance, we like to add those votive candles to votive holders. These carnation pink mercury glass holders from Hobby Lobby come in an array of colors…. and trust us, they are all amazing! We have several of the colors. We have even used these holders for greenery and flowers.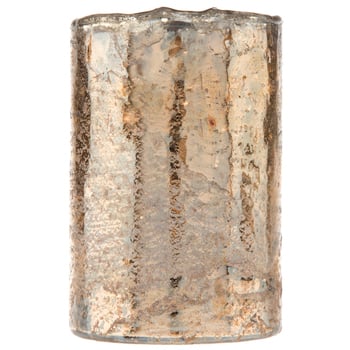 Mercury Glass
These gold mercury glass votive holders look like melting glass and are just gorgeous lit up with a candle. Can be used in a modern, elegant or add them to rustic weddings for a touch of sparkle.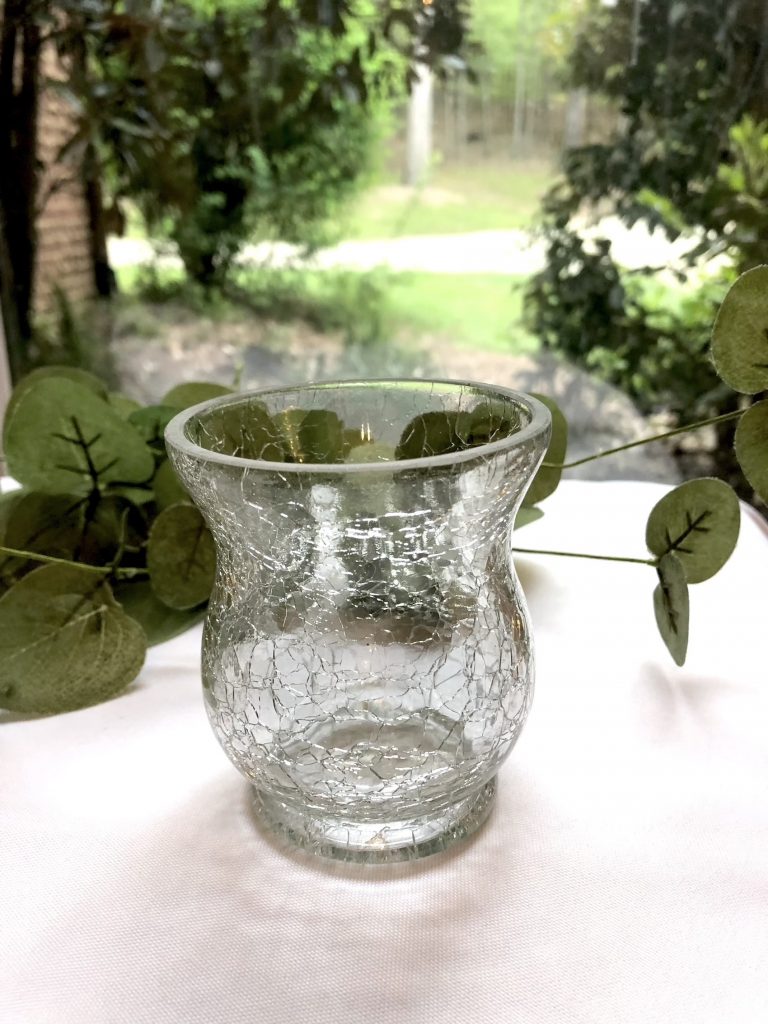 Cracked Glass or clear votives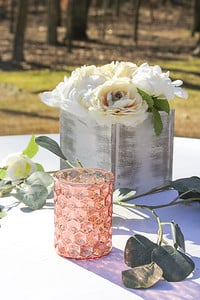 Mercury Glass
The pink mercury glass adds a rose gold effect to a wedding or can be used for a baby girl shower when you want some pink! They sparkle!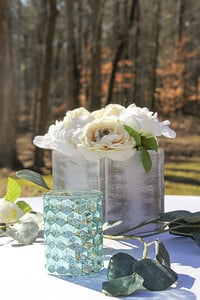 Blue
Mercury Glass
If you need something blue, these add a gorgeous blue and gold sparkle to your event. Great for baby boy showers too. 
Glass Cylinder Vases for Candles
Candles in vases
We're always on the hunt for something pretty to house a candle. The simple is Mason jars or various clear glass items. But we also like to find unique ways for candle displays. 
Clear cylinder vases are a simple and elegant way to display candles and they can be used for flooring candles, greenery, bouquets or submerged items. 
Best deal by far is The Dollar Tree. We have their cylinder vases in 7″ and 9″. They work with any style wedding you like!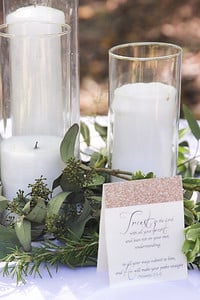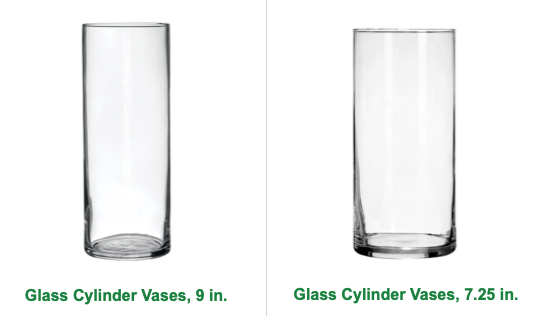 We use these votives for every event. They melt down and evaporate leaving no mess. The glass is clear and thick enough to not shatter after a long night of use. The size fits perfectly inside of most votive holders which keeps candle wax out of costly pieces!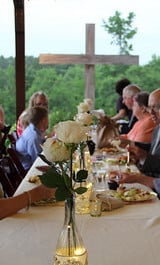 Bottle lights are just that, lights that you can put in a bottle! They are small fairy lights that have a cork on the end for the battery and fit perfectly in a wine bottle. They are beautiful lit up especially at a winery wedding.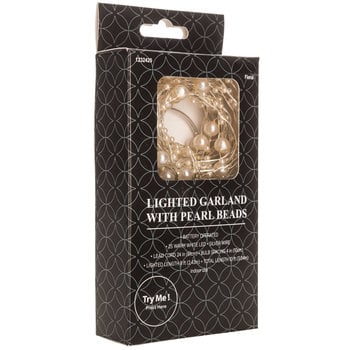 The vintage bride loves her pearls. These LED pearl fairy lights add a touch of elegance and a throw back to a vintage time. They are beautiful around a glass vase or strung throughout a centerpiece.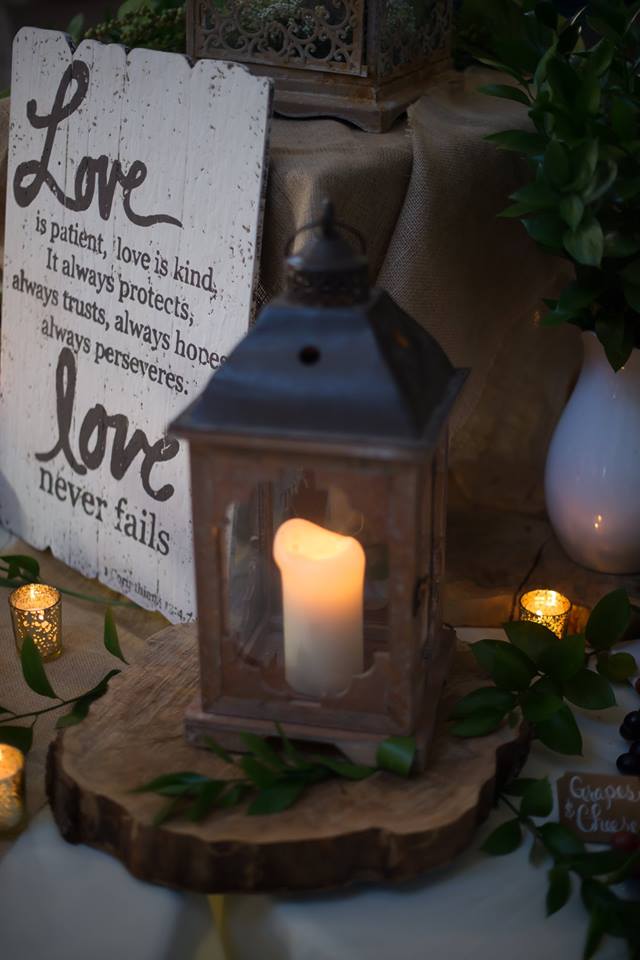 A lantern is a classic and timeless decor item. The styles at Hobby Lobby are so numerous that we cannot pick just one. Lanterns can be used with a cluster of candles, a pillar candle in a container, a flower bouquet or as a holder for favorite items. They are great for indoor table centerpieces or great for outdoor candle light as the flame is protected from the wind. Don't forget flameless candles or a lighter for your candles!
Flowers and Greenery Wedding Decor
This is an area that can push your budget's seams. If you are hiring a florists, this will save you time and energy, so you have to weigh the cost of money verse time. 
Then there is the DIY bride. You will  need to think creatively for greenery and flowers. You can cut from your yard or a neighbor's garden. 
Local grocery store for wedding flowers
If you are local to Trader Joe's, count your blessings DIY bride! They have great selections of seasonal flowers and fantastic prices. We've discovered that for roses, greenery, hydrangeas, tulips, and similar flowers, they are 1/4 of the price of even wholesale flower shops. 
You will need to have a conversation with their floral manager to order more than a buggy of flowers. Also, you may be limited to the flowers they have on hand. If you need 10 dozen white roses, just remember there are multiple hues of white. If you want 120 roses exactly the same color, this might not be your route.
Bulk ordering wedding flowers to be shipped to your home
Bulk ordering flowers will be the option if you need hundreds of flowers the same color. For these, we look to Sam's Club or Costco. You can order online and have it shipped to your home or to the store for pick up. 
Now word of caution here. Read the reviews and look for pictures within the reviews. Just like there are multiple shades of white, the same goes for other colors. Pale pink could be blush to Barbie pink!
Both wholesale stores carry bouquets and centerpieces already assembled if you don't want to diy your flowers. Everything comes labeled in a box with a great pair of wire cutters. You just need a wire cutter to cut out the wire cutter. (not joking)
All of the options we stated above are also great if you desire greenery over flowers. 
Faux flowers and greenery  
We will always direct you to Hobby Lobby for wedding decor needs. We spend hours each week in their stores (yes plural) and we still end up buying some things online!
They have a wonderful selection of faux or silk flowers and supplies to make your own wedding bouquets or centerpieces. They even have swags, garlands and wreaths. If you are a true diy-er, you will enjoy the selection of wrist corsage, bouquet making needs and ribbon!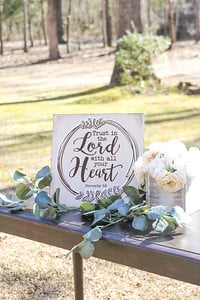 Faux greenery is a great way to save money, but still have a beautiful green decor for your wedding. Eucalyptus is not in season year round, so sometimes we have to replace it with faux. These bushes come together, but you can cut, separate and decorate with the 3 individual stems! That's our trick to spread the green.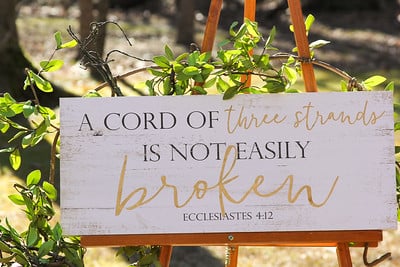 The choices for greenery garland will fit just about any decor style. Just like the bushes, we tend to cut and reuse the garland in ways to stretch the greenery. Keep it long and drape the green or cut to wrap around embroidery hoops!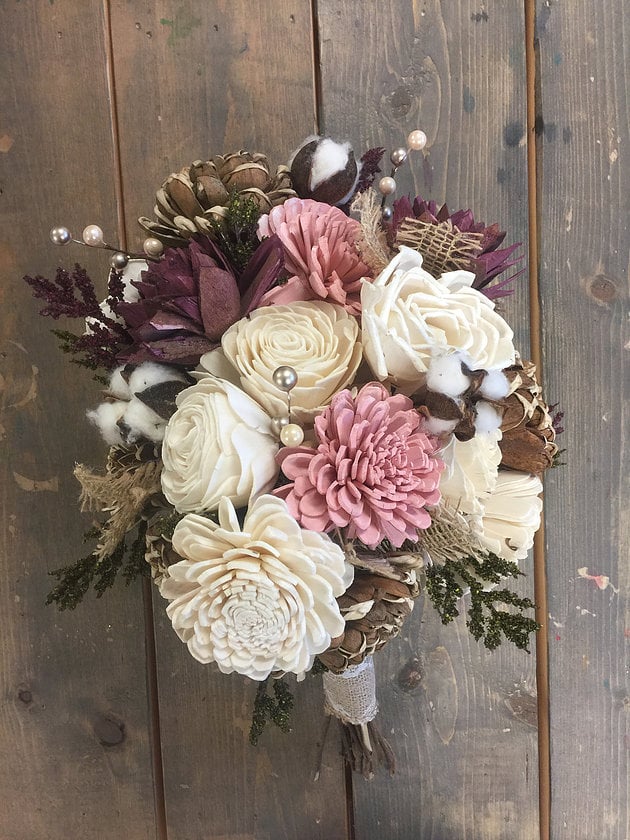 We love flowers. Rarely is there a flower we don't like. But many flowers are not available year round and that means finding silk or faux flowers. But Sola flowers are organic! These are made from pine cones, wood and other organic materials and shaped into flowers. They make gorgeous bouquets or centerpieces.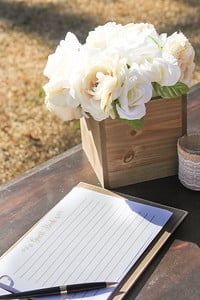 The beautiful ranunculus flower is just a bride pleaser in a wedding bouquet. But those loves are only available a few months out of the year. Hobby Lobby has faux ranunculus all year long in multiple colors. We just add the silk to a real bouquet! 
Bible Verse Signs for Weddings
Every event or wedding we decorate includes a Bible verse displayed on an easel, a table,  or hanging  on the wall. You never know at your event who needs to hear a message or reminder from God's Word. 
The selection of Bible verse signs at Hobby Lobby is fantastic. Metal, wood and  canvas in every style and color can be found. The price when they are on sale is hard to beat. 
Their selection changes through the seasons. So if one of these is not your style, it's possible that the same verse is in a different style.  Check Amazon too for Bible Verse Signs 
More Wedding Items to Consider!