Sola flowers have been a change in home and wedding decor for us. We've used these wood and pine cone flowers for not only our home's table centerpieces and Christmas tree decor but also for wedding bouquets!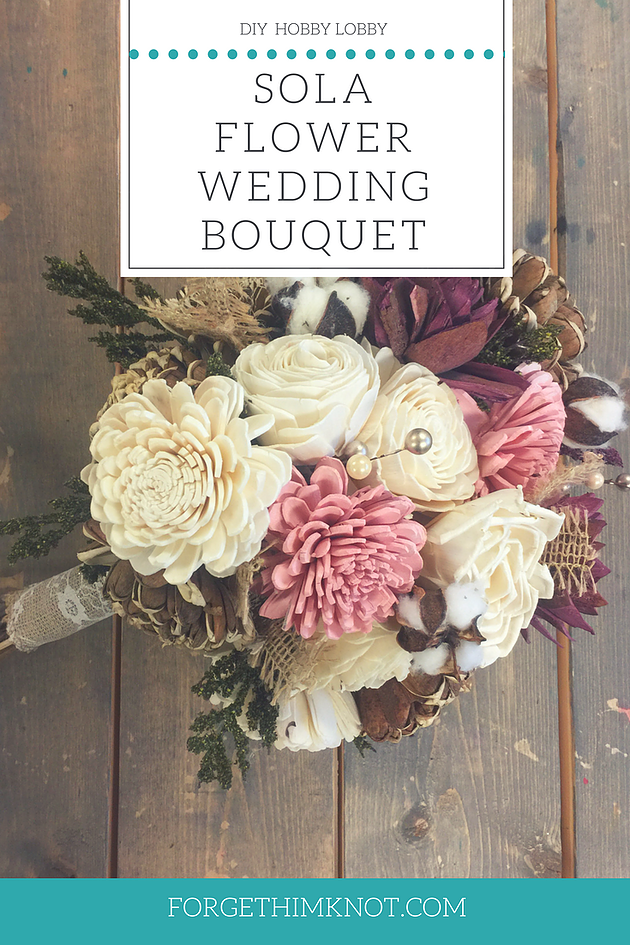 Hobby Lobby is our best resource for Sola flowers.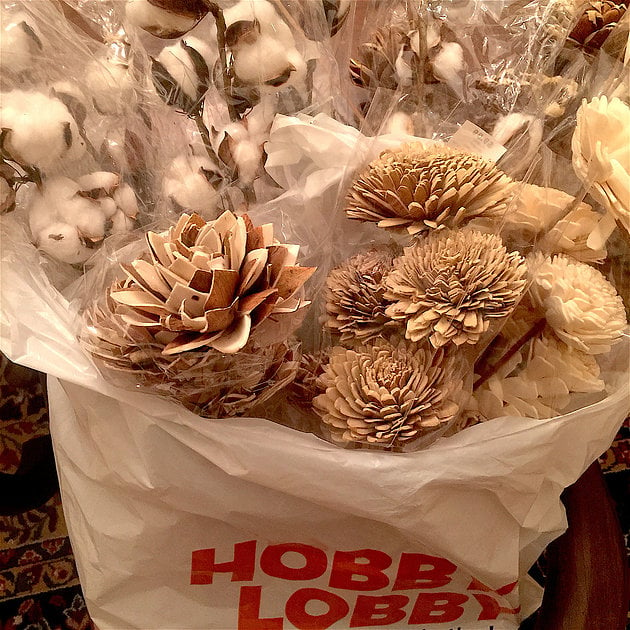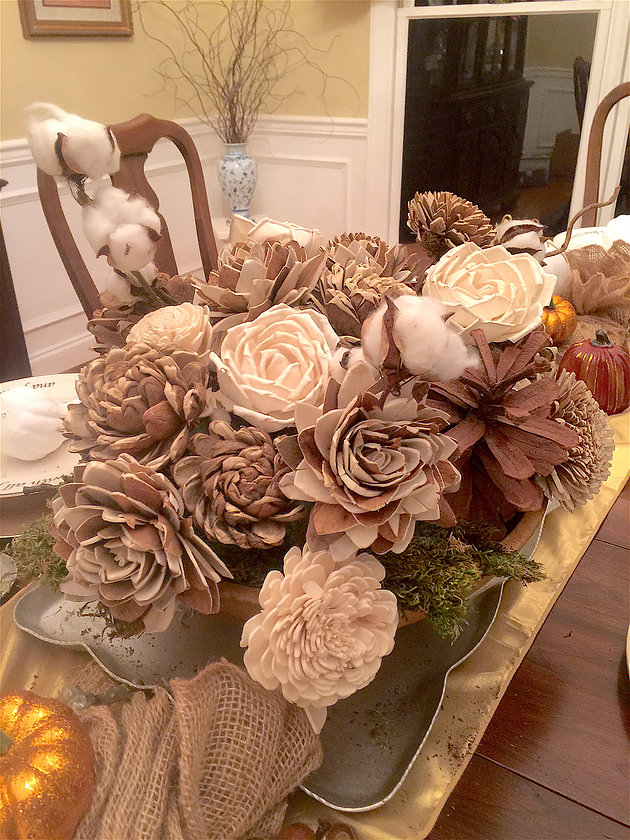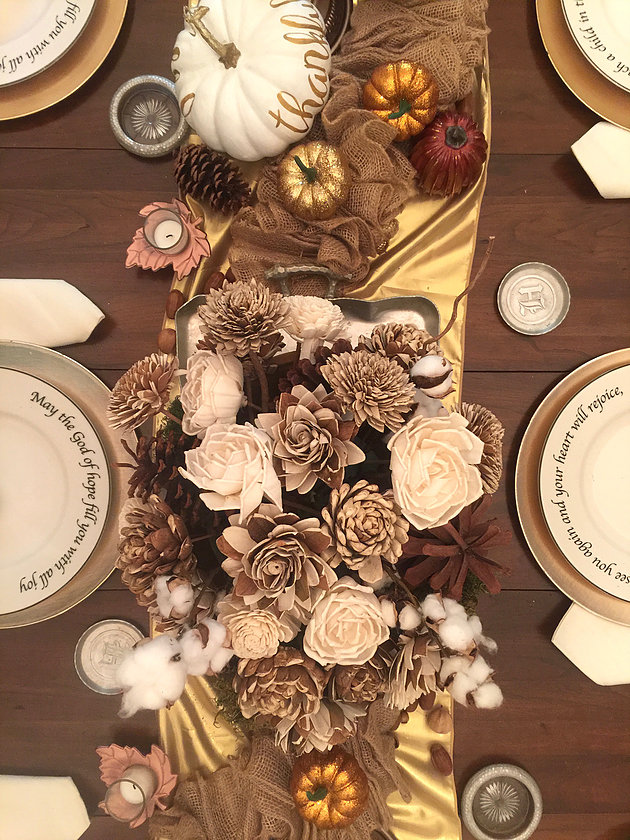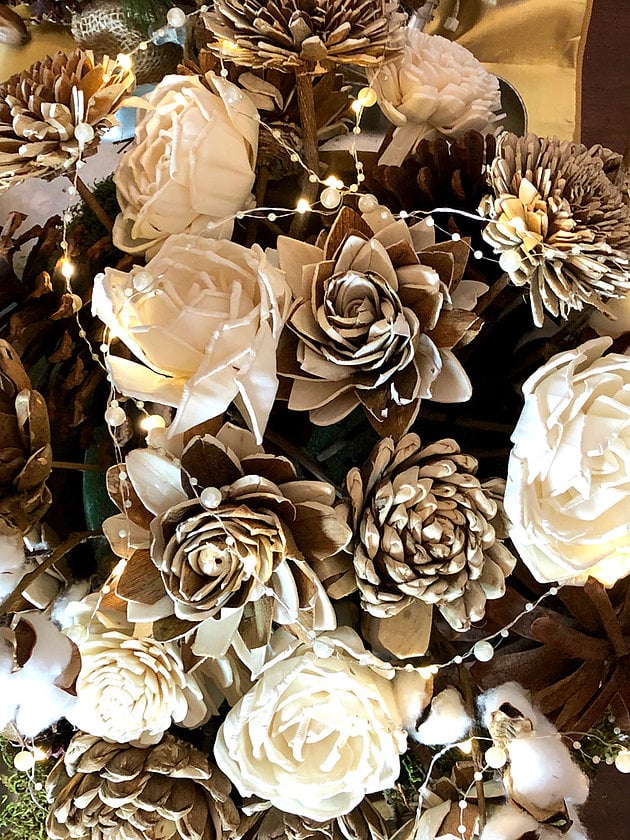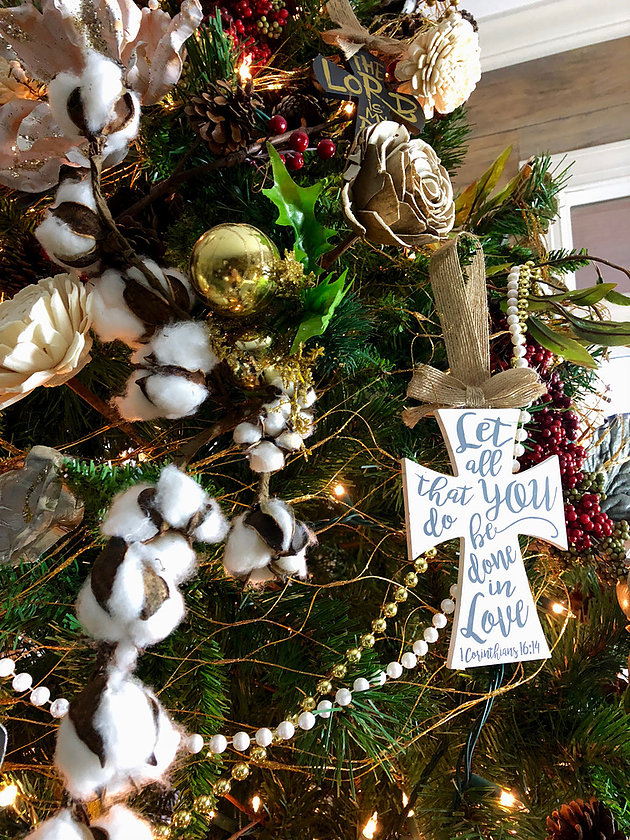 We've had several brides who came across wedding bouquets from a popular supplier but after ordering them discovered that their bouquets were not going to arrive in time for their wedding.  
One bride was anxiously awaiting her sola flower bouquet to come the day of her wedding, but it did not ship.
We had to last minute make a fresh flower bouquet for her on the spot! 
After using sola flowers in our homes, we realized we could make bouquets with them ourselves!
Why not…. how much more trouble could it be than real flowers?Especially tulips! Or hydrangeas!
Uhhhhh…. love the looks of these lovely live flowers but the handling of them throughout a wedding day is temperamental to say the least! 
Sola flowers are organic materials.
The sola flowers are made from wood, bark and pine cones. At Hobby Lobby, they come in a pack of 5 on wood sticks for stems.
Full price they run about 9.99 a pack, but every other week you will find them at 50% off!! That makes them right at $1.00 each.*affiliate links
How to dye Sola flowers with acrylic paint

 

 
If you like rustic or organic materials these flowers are perfect! You can dye or paint them with watered down acrylic paint.  We mixed the acrylic paint to the color desired then added water. 2 parts paint to 1 part water. We used a bowl so that we could dip the flower head and then a plastic spoon to get the paint down into areas the dipping missed!  
Then we set them aside to dry. One of the colors we mixed dried a little to coral for the blush tones the bride was using in her wedding so we re painted them. These took a little longer to dry! 
The wooden sticks/stems are a little cumbersome to make a full bridal bouquet but we simply replaced those with a sturdy floral wire and hot glue!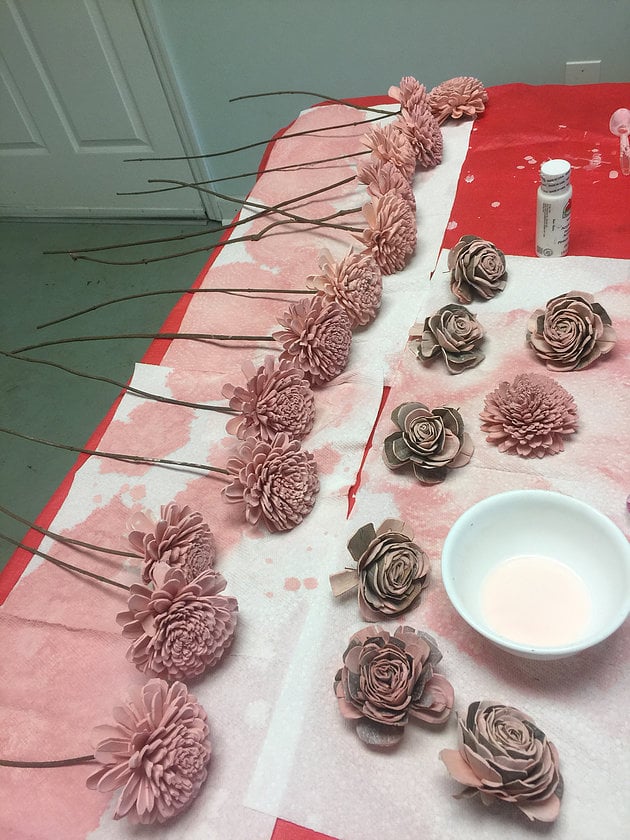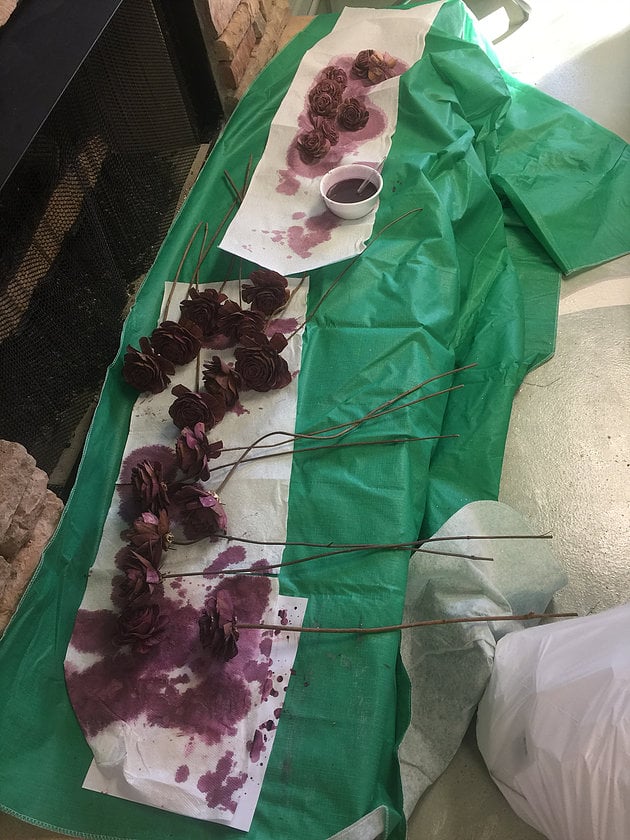 Not all the stems were replaced because we did like the sticks showing down the bouquet.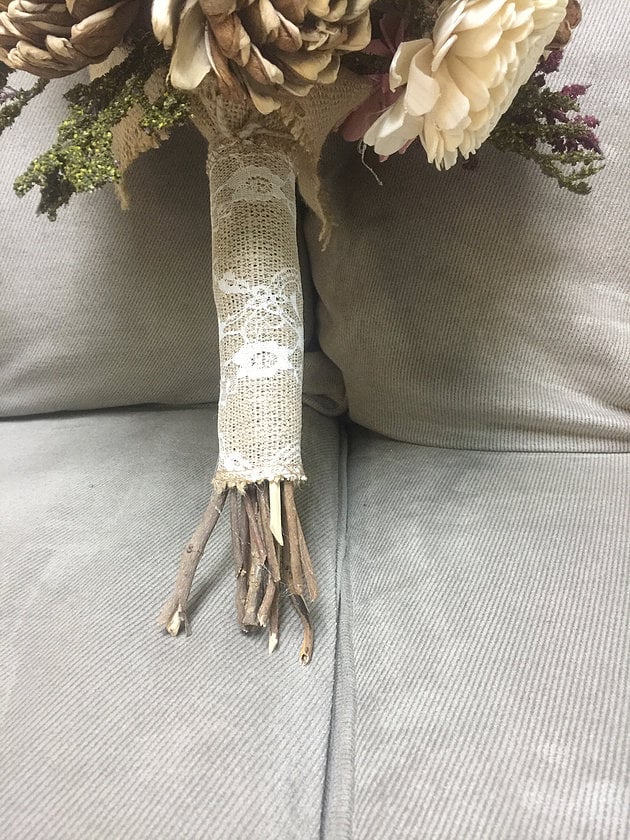 We mixed in other faux greenery, pearl berries, cotton stems and pieces of burlap ribbon then we hid the wire by wrapping the base with a wide burlap ribbon.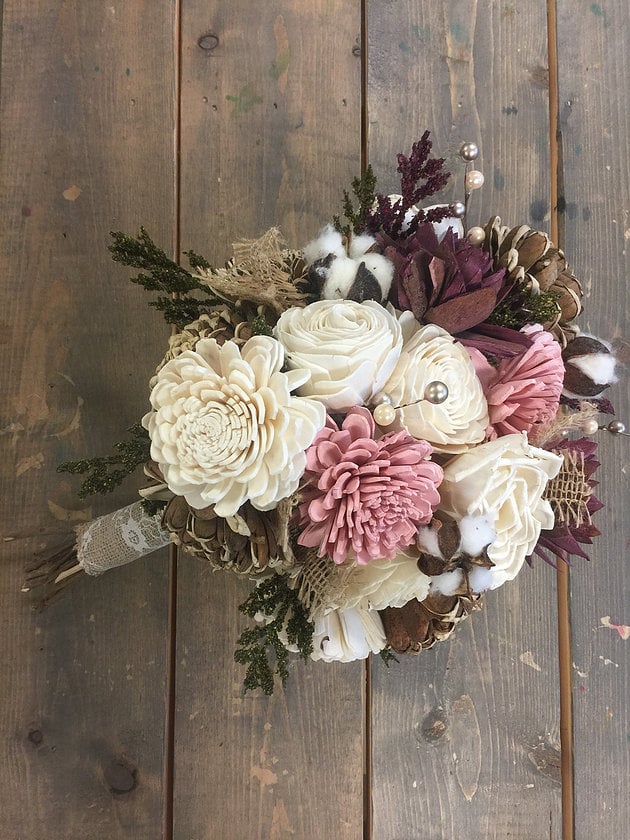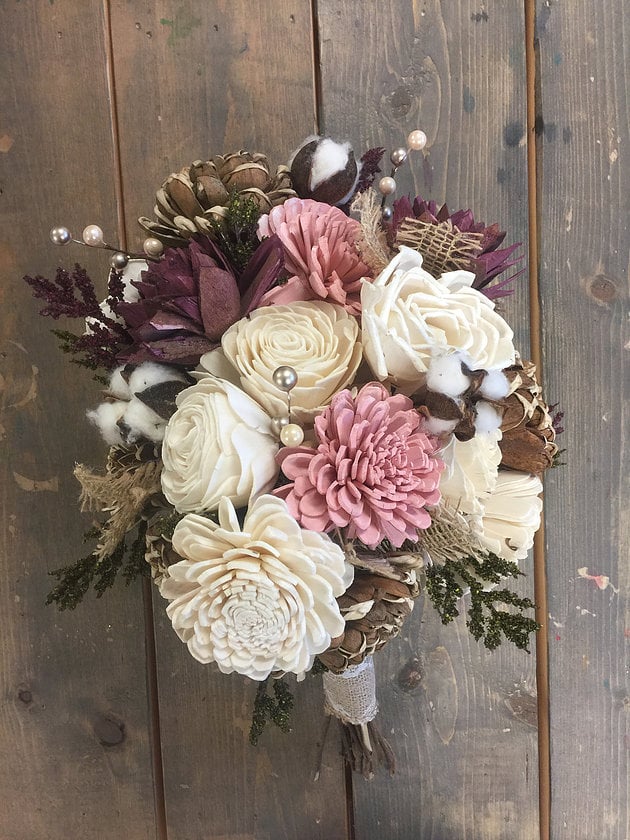 When we use fresh flowers, we wrap the stems with ribbon and then stab…. yes stab cut corsage pins through the wrap. This  creates a pretty pearl detail.  But that was not possible with the wood stems! Instead, we hot glued the ribbon around the stems!  
Sola flower wedding wrist corsages from Hobby Lobby

 
We also made wrist corsages leaving the sola flowers natural. The neutral tones looked lovely with the mother's and grandmother's dresses!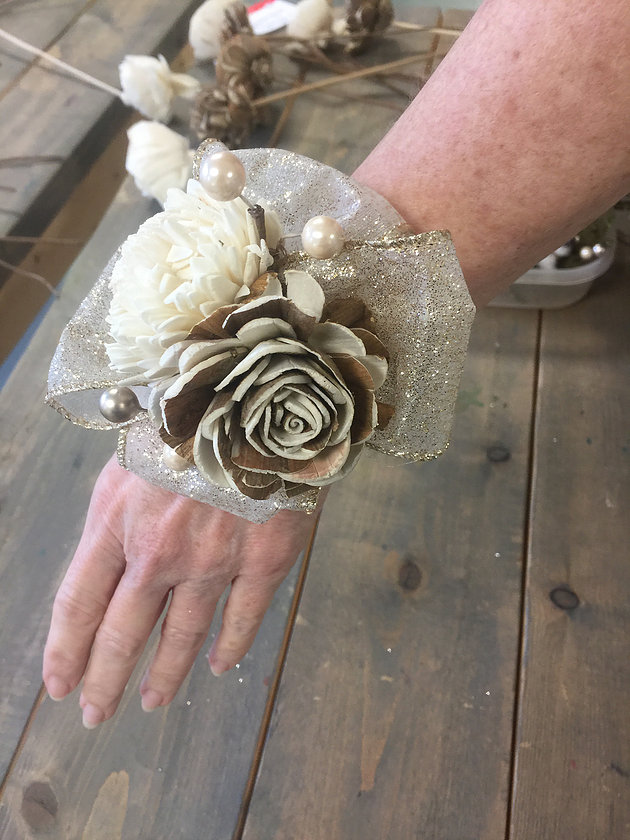 The boutonnieres we made with some of the cotton stems, faux greener, pearls  and wrapped them with gold wire!  After the wedding, the bride can choose to keep the bouquets as they are or dismantle them and use them throughout her own home! Either way, these sola flowers will last for years to come!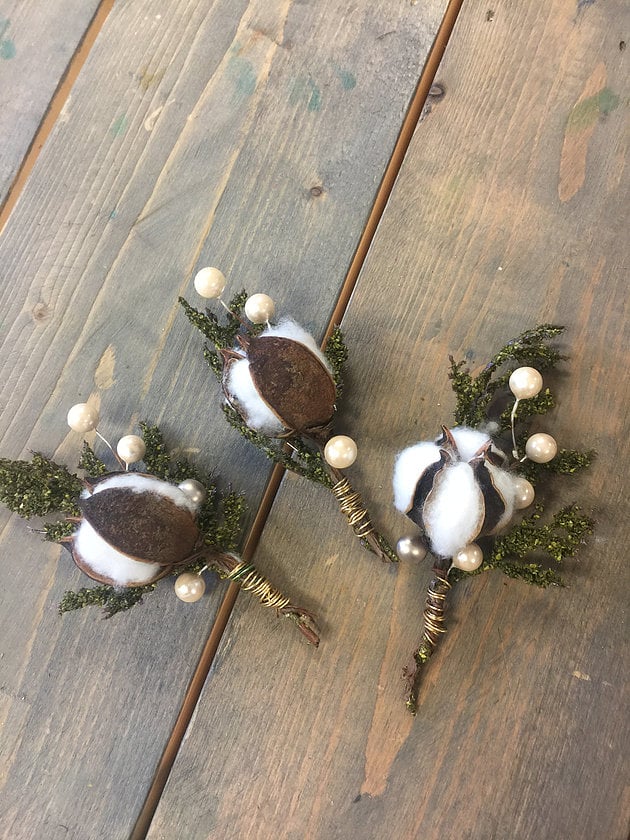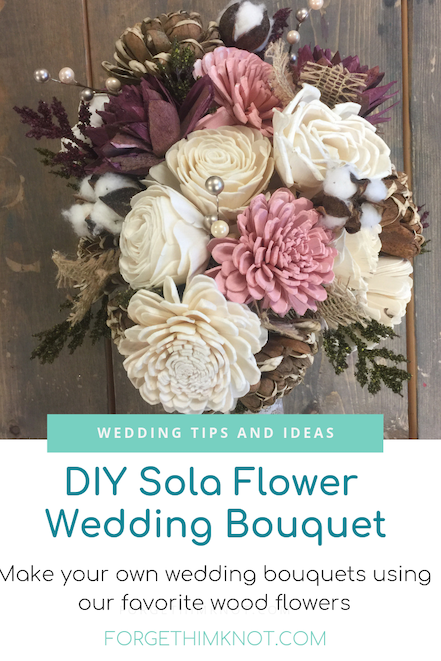 Forget Him Knot!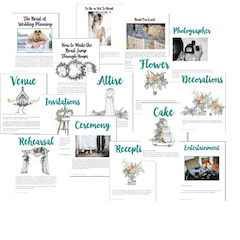 Need help planning your wedding? Planning a wedding can be a beast! Taming the Wedding Planning Beast will help you walk through each moment of your wedding and show you how to make decisions to keep Christ the center of your ceremony and stay on your budget for a beautiful wedding.