Small Budget Wedding Ideas
There are several high dollar items that can affect a wedding budget. In part one of our Ideas for a Small Budget Wedding, we discussed the guests list. 
When considering the idea of feeding your guests at the wedding reception you may need to think out of the box for ways to save on the budget.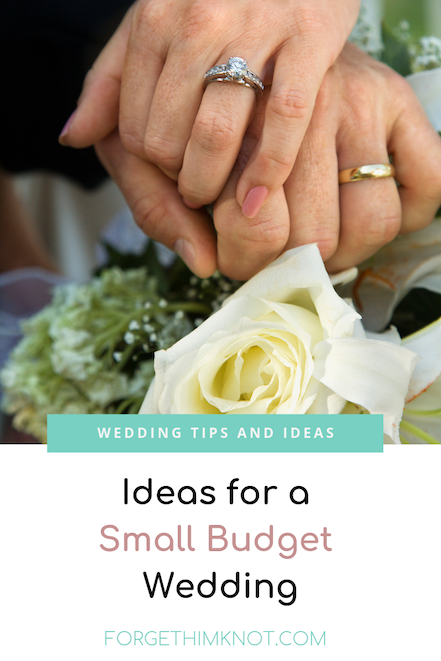 Areas to save on cost for a small budget wedding
The Wedding Reception Food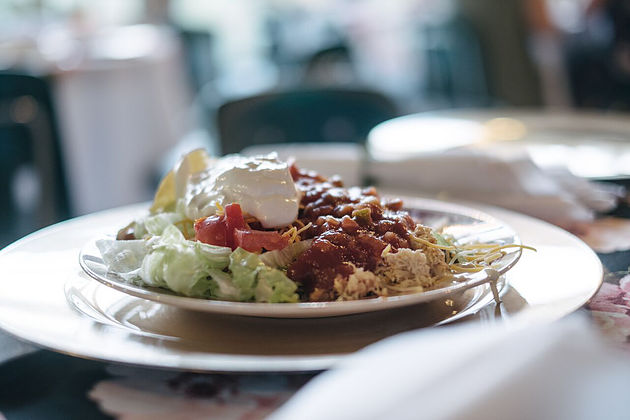 The time of day.
You wedding time of your wedding ceremony and reception will determine your actual food needs.  
Morning receptions can be brunch foods from fruits and donuts to your favorite muffins, bagels, breakfast meats, coffee and so on.  
My son's wedding ceremony was in a local neighborhood park at 10am on a Saturday morning. We had donuts, a biscuit bar, hash brown casserole, fruit and a meat tray of chicken and ham. All were served on picnic tables for a casual celebratory brunch reception! 
A mid afternoon wedding and reception around 1-2 pm is the "after lunch" and "before dinner" time so a small finger food or bite size food reception is a perfect choice. You can serve just cake if you like or another yummy dessert!
People do not expect to eat a large meal at this time and are dressed to go to dinner for later!
Food selection
Nina has been in the food service industry for years. Together we've worked many receptions and special events learning lot's of do's and don'ts to save money.
 Most of the time, multiple (over 4)  finger foods will run you close to the cost of a buffet or sit down meal.
A single serving of a finger food item can cost 1.50- 3.00 per person!
Therefore, a 4 finger food menu could be $6-12+ per guest. But the finger food menu is the simplest to execute if you are limited by oven warmer or kitchen access. 
Small budget ideas for wedding reception foods 
Buffet
Reception buffets allow the guest to serve themselves and lesson the need for servers.
BBQ, beans and potato salad are the less expensive menus.
Pasta dishes with breads and salads are a close second.
Both of these options can be carried off with wire chaffing wracks and disposable pans.
Catering
Compare local caterers for simple menus. Items like a mashed potato bar or mac and cheese bar make for fun tummy fillers of comfort food!
Food Trucks
Call for food truck prices. Hot fresh food served is a crowd pleaser!
We have worked events with a food truck cooking chicken fingers, catfish, french fries, baked beans, salad and banana pudding and cookies for dessert at $8.00 per person.
Guests ate and ate and ate all they could eat! 
"Church social" or "Pot luck"  style reception.
One of our favorite receptions contained amazing and delicious food cooked by some of the guest! The bride asked selected friends and relatives to make her favorite food prepared by them.
"Aunt Susie" brought her green bean casserole, a friend made oven baked mac and cheese….etc. Guest felt at home with the bride and groom and those who prepared the food were honored by the compliment of being asked to help.
Small budget wedding cake ideas
 

The Wedding Cake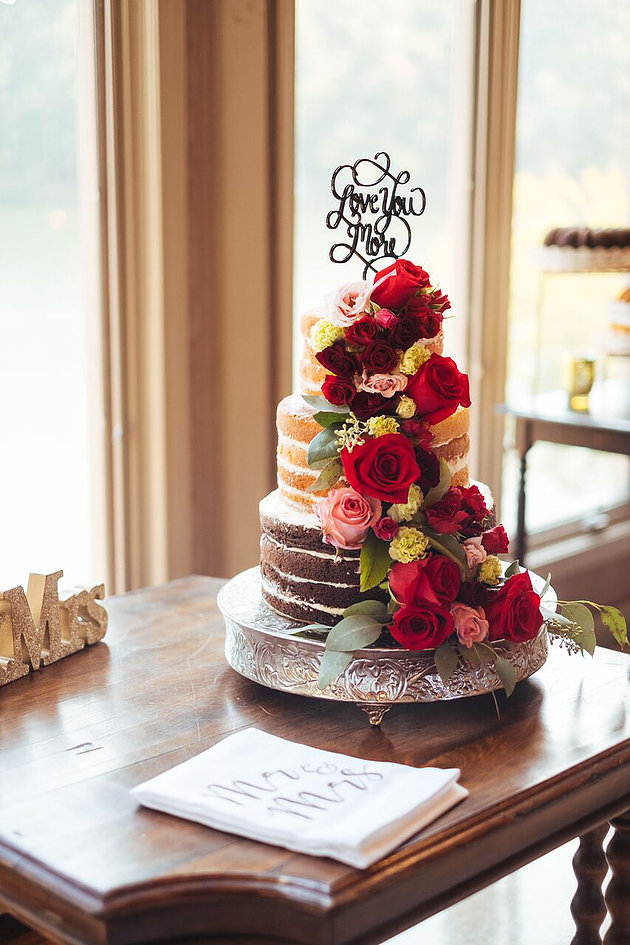 Unless you are good friends with a baker or cake maker, cakes can really "take the cake" out of your budget. Wedding cakes can be anywhere from $3 -8 per slice! Some bakers charge extra to cut the cake at 1-2.50 a slice!
This adds up!  
How you personally feel about the wedding cake and what you are willing to pay for one is up to you!
We can only tell you ways to save in this area! We try to tell brides d not mention "wedding" in your asking! That may sound deceitful…. completely not what we are meaning, but if we want 4 buttercream iced cakes for an event, it shouldn't matter
If you have a favorite recipe or you love "naked cakes" give it a try!
Bundt pan cakes have a rustic look and don't require icing! If your cake crumbles or falls, turn it into a trifle and you have just increased the yumminess of the day!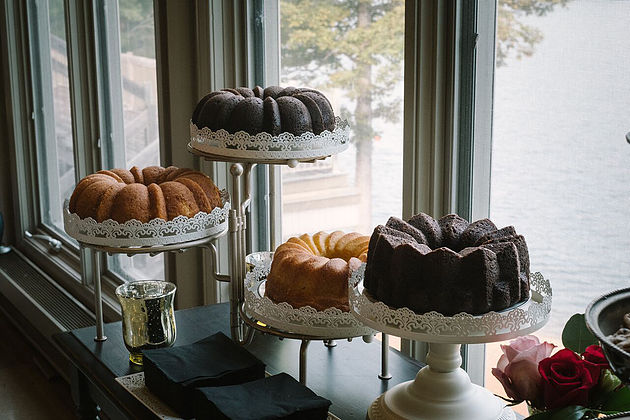 Wedding cake should taste good 
We'd take a dense and moist cake over a dry amazingly decorated cake any day! Because we usually bus tables and clean up after events, we find lots of wasted thrown away or plates of cake with one bite taken left on the tables.
Fondant isn't eaten as much as people think or the price paid for it! Most of the time, it is pushed aside (as well as a good portion of the yummy icing with it) just to get to the edible section. 
 Ask a family member…. "Granny's chocolate cake with homemade chocolate icing".  
Add some flowers, fruit or a special cake topper to match the decor of your reception to make your cakes as beautiful as any stacked cake but at a fraction of the cost! If cake is not you "thang" then think of pies, cookies, cheesecakes, brownies, donuts or whatever your favorite dessert is for a new twist on the traditional wedding cake! 
The Reception Drinks
To save money on drinks, obviously not serving alcohol is the first budget cut! Beer, wine and mixed drinks can add up quickly! Also, many venues require a bartender for every 50-100 people even with just beer and wine!
Add to these expenses glass rental or disposable glassware. Tea, water, lemonade or punch are less costly options and can be self serve in dispensers!  
Reception Food Supply Needs
Kitchen access
If your venue has an institutional kitchen accessibility, your reception will run a lot smoother. It's nice to have kitchen equipment such as an ice maker and warming ovens help caterers and the diy-ers. If you are serving hot or warm foods, you will need a warming oven or a hot box (campo box) to keep warm before serving.
If these are not available, you can rent these from party supply and sometimes restaurant supply stores.  
Warming or chafing dishes
Chafing dishes and chafing racks with a sterno help keep food warm on the serving tables. You can find disposable pans options online with Walmart, Amazon and Party City or rental options from party supply companies. 
Dinnerware
Your guest reception needs will be determined by your menu! If you want real dishes for your reception dinnerware, you can rent them from party supply stores but the cost per plate is more than purchasing them!
Research prices and then compare with ordering them from The Dollar Tree! At $1.00 a plate you can wash, store, sell or donate after the reception!
Check your options for rental verses purchase on all your dinnerware needs: cups, glasses, silverware, dessert and salad plates…etc.  
But we are fans of disposable dinnerware too! Sams Club and Costco are bulk options as well as Amazon! Party stores such as Party City run great sales of buy one get one 50% off or even buy one get one free!
What's great about the disposable is there is no need to wash the dishes!
For a fancier reception with disposable dishes, Party City has a premium dinnerware line that is lovely on the table.  If you are serving something that needs a knife such as steak, the disposable silverware is really not a great option. You'll need the real stuff for that! 
Reception Tables, Tablecloths and Chairs
Tables and Chairs
If you are serving food, you're going to need a place to eat. Does your venue supply tables? Do they supply Chairs? Who sets these up for your reception?
Tablecloths
We love to see a "to the floor" tablecloths! It just makes the room look dressed! But tablecloths don't have to be expensive! To rent from a party supply store you can pay $15.00 and up! To purchase them wholesale, you can find them for $8.00!
Google search "wholesale tablecloths" or "wholesale linens" and we've probably purchased from the top 5!
Sign up for their emails and receive coupons or updates on sales…. rarely do we buy anything at full price! You can sell them or donate them after the wedding if you don't want to keep them!
If you have access to tablecloths from a friend's prior wedding or a church….. don't hesitate to ask! 
Guests napkins and cocktail napkins
Napkins are the same options as tablecloths. You can rent them or purchase them! But we also use disposable dinner napkins and cocktail napkins at weddings and events!
Our go to is Party City for the bulk cocktail napkins. Sometimes we purchase dinner napkins from them or we search for a different pattern through Amazon.
Sam's or Costco will have the white dinner napkins in bulk if you're not looking to add any color to your table setting! It really just depends on the overall  look you want and your budget. We only want to find tips to save you money and make your dream affordable!  
Continue with wedding ideas for a budget friendly wedding
You can also find more wedding tips and ideas here!