When we decorate weddings, we always find a place for using Bible verses in creative ways. Sharing God's Word in our mission as Christians. We are to go into all the world and preach the gospel, the good news, to those around us. 
A wedding is a wonderful and absolutely perfect time to to share Bible verses with your crowd of witnesses. Use Bible verses in your Christian wedding ceremony and decor to make lasting impressions on your wedding guests!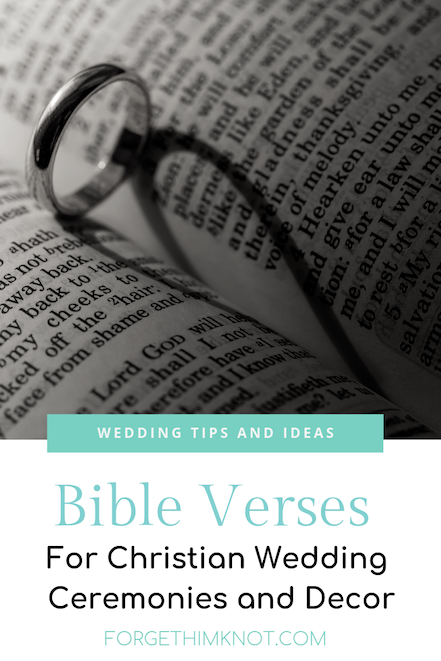 Why you should display Bible verses at your Christian wedding
• Devotion
First, because God created the relationship between a man and woman, to become one. He created the desire  to love and be loved. Marriage is the commitment before God to devote your life to one another. 
• Mission
Secondly, going into all the world and preaching the gospel includes everywhere! What better place for friends and family to hear a message from the Lord than at an event devoted to love? 
• Purpose
Third, having Bible verses displayed at your wedding allows for someone who has never heard of God, His love and grace or their purpose in life to listen. A wedding is emotionally charged.
People have their hearts open to seeing love shared and before they realize it, some will also be open to a special message.
Wedding Bible verse printables, cards and readings
We always place Bible verses at every wedding we direct and decorate. Sometimes we place verse signs on easels in a room, or on a table. We used them in reception decor and in creative ways to decorate the tables and centerpieces. 
Printing a Bible verse on paper and placing it on a table isn't expensive or hard. At every event or wedding, someone asks if they can have the printed Bible verse because it touched them. That verse was special or they have never heard the verse before. 
As Christians, we take it for granted that everyone has read, 1 Corinthians 13, "Love is patient, love is kind." 
Sometimes it is Christians that need to be reminded that love is patient and kind the most!
A printable of these verses to have read in your ceremony or to print and frame for decor is available in our freebie library!
We love because He first loved us
1 John 4:7-19
We love because He first loved us.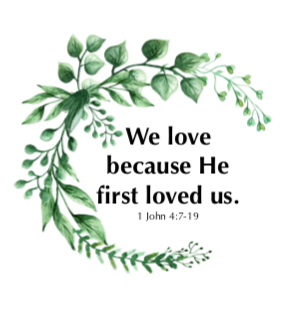 Isaiah 61:10
I delight greatly in the LORD; my soul rejoices in my God. For he has clothed me with garments of salvation and arrayed me in a robe of his righteousness, as a bridegroom adorns his head like a priest, and as a bride adorns herself with her jewels.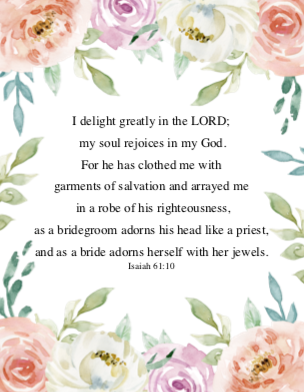 Isaiah 62:5
As a young man marries a young woman, so will your Builder marry you; as a bridegroom rejoices over his bride, so will your God rejoice over you.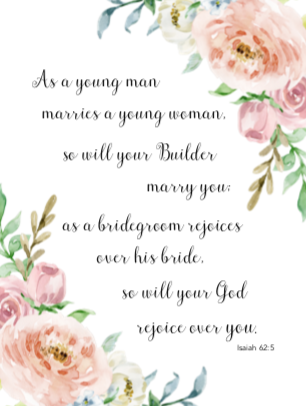 The wedding of the Lamb has come
Revelations 19:5-9
Then a voice came from the throne, saying: "Praise our God, all you his servants, you who fear him, both great and small!" 6 Then I heard what sounded like a great multitude, like the roar of rushing waters and like loud peals of thunder, shouting: "Hallelujah! For our Lord God Almighty reigns. 7 Let us rejoice and be glad and give him glory!
For the wedding of the Lamb has come, and his bride has made herself ready. 8 Fine linen, bright and clean, was given her to wear." (Fine linen stands for the righteous acts of God's holy people.) 9 Then the angel said to me, "Write this: Blessed are those who are invited to the wedding supper of the Lamb!" And he added, "These are the true words of God."
Genesis 2:21-24

So the LORD God caused the man to fall into a deep sleep; and while he was sleeping, he took one of the man's ribs and then closed up the place with flesh. 22 Then the LORD God made a woman from the rib he had taken out of the man, and he brought her to the man.
23 The man said, "This is now bone of my bones and flesh of my flesh; she shall be called 'woman,' for she was taken out of man." 24 That is why a man leaves his father and mother and is united to his wife, and they become one flesh.
Ruth 1:16-17

But Ruth replied, "Don't urge me to leave you or to turn back from you. Where you go I will go, and where you stay I will stay. Your people will be my people and your God my God. 17 Where you die I will die, and there I will be buried. May the LORD deal with me, be it ever so severely, if even death separates you and me."
No longer two, but one flesh
Mark 10:6-8

"But at the beginning of creation God 'made them male and female.'
7 'For this reason a man will leave his father and mother and be united to his wife, 8 and the two will become one flesh.'So they are no longer two, but one flesh.
9 Therefore what God has joined together, let no one separate."
Submit to one another out of reverence for Christ
Ephesians 5:21-33

Submit to one another out of reverence for Christ. 22 Wives, submit yourselves to your own husbands as you do to the Lord.
23 For the husband is the head of the wife as Christ is the head of the church, his body, of which he is the Savior. 24 Now as the church submits to Christ, so also wives should submit to their husbands in everything.
25 Husbands, love your wives, just as Christ loved the church and gave himself up for her 26 to make her holy, cleansing her by the washing with water through the word,
as Christ loved the church and
gave himself up for her
27 and to present her to himself as a radiant church, without stain or wrinkle or any other blemish, but holy and blameless. 28 In this same way, husbands ought to love their wives as their own bodies. He who loves his wife loves himself.
29 After all, no one ever hated their own body, but they feed and care for their body, just as Christ does the church— 30 for we are members of his body.
31 "For this reason a man will leave his father and mother and be united to his wife, and the two will become one flesh."
32 This is a profound mystery—but I am talking about Christ and the church. 33 However, each one of you also must love his wife as he loves himself, and the wife must respect her husband.
A wife of noble character
Proverbs 31:10-12

"A wife of noble character who can find? She is worth far more than rubies. Her husband has full confidence in her and lacks nothing of value. She brings him good, not harm, all the days of her life."
Song of Solomon 2:16

My beloved is mine and I am his; he browses among the lilies.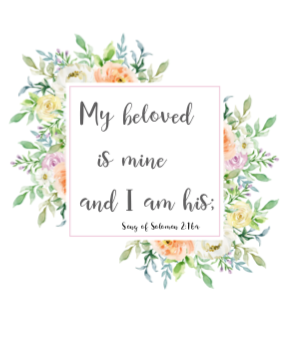 I found the one my heart loves 
Song of Solomon 3:4

Scarcely had I passed them when I found the one my heart loves. I held him and would not let him go till I had brought him to my mother's house, to the room of the one who conceived me.
Ecclesiastes 4:9-12

"Two are better than one, because they have a good return for their labor: If either of them falls down, one can help the other up. But pity anyone who falls and has no one to help them up. Also, if two lie down together, they will keep warm.
But how can one keep warm alone? Though one may be overpowered, two can defend themselves. A cord of three strands is not quickly broken."
1 Corinthians 13:1-13

"If I speak in the tongues of men or of angels, but do not have love, I am only a resounding gong or a clanging cymbal.
If I have the gift of prophecy and can fathom all mysteries and all knowledge, and if I have a faith that can move mountains, but do not have love, I am nothing.
If I give all I possess to the poor and give over my body to hardship that I may boast, but do not have love, I gain nothing.
Love is patient, love is kind.
It does not envy, it does not boast, it is not proud.
It does not dishonor others, it is not self-seeking, it is not easily angered, it keeps no record of wrongs.
Love does not delight in evil but rejoices with the truth.
It always protects, always trusts, always hopes, always perseveres.
Love never fails.
1 Corinthians 16:14

"Do everything in love."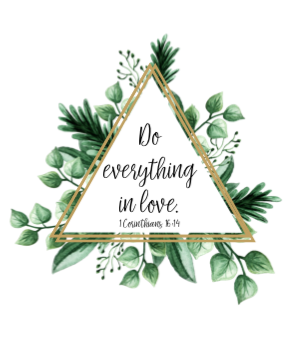 Bearing with one another in love
Ephesians 4:2-3

"Be completely humble and gentle; be patient, bearing with one another in love. Make every effort to keep the unity of the Spirit through the bond of peace."
1 John 3:16-17

"This is how we know what love is: Jesus Christ laid down his life for us. And we ought to lay down our lives for our brothers and sisters. If anyone has material possessions and sees a brother or sister in need but has no pity on them, how can the love of God be in that person?
Dear children, let us not love with words or speech but with actions and in truth."
Believe in the name of Jesus and love one another
1 John 3:23
And this is his command: to believe in the name of his Son, Jesus Christ, and to love one another as he commanded us.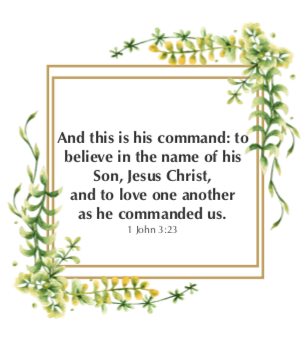 For God so loved the world
John 3:16-17

For God so loved the world that he gave his one and only Son, that whoever believes in him shall not perish but have eternal life. 17 For God did not send his Son into the world to condemn the world, but to save the world through him.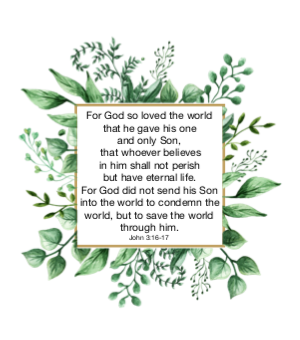 1 John 4:7-19
Dear friends, let us love one another, for love comes from God. Everyone who loves has been born of God and knows God. 8 Whoever does not love does not know God, because God is love.
9 This is how God showed his love among us: He sent his one and only Son into the world that we might live through him.
10 This is love: not that we loved God, but that he loved us and sent his Son as an atoning sacrifice for our sins. 11 Dear friends, since God so loved us, we also ought to love one another.
12 No one has ever seen God; but if we love one another, God lives in us and his love is made complete in us. 13 This is how we know that we live in him and he in us: He has given us of his Spirit. 14 And we have seen and testify that the Father has sent his Son to be the Savior of the world.
God is love.
15 If anyone acknowledges that Jesus is the Son of God, God lives in them and they in God. 16 And so we know and rely on the love God has for us. God is love. Whoever lives in love lives in God, and God in them.
17 This is how love is made complete among us so that we will have confidence on the day of judgment: In this world we are like Jesus.
18 There is no fear in love. But perfect love drives out fear, because fear has to do with punishment. The one who fears is not made perfect in love. 19 We love because he first loved us.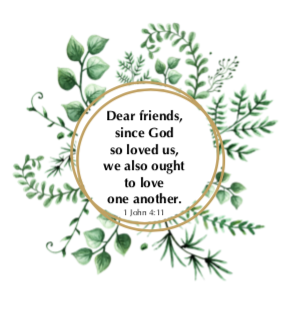 There are so many wonderful verses in the Bible to tell the world about love, how to love and who to love. Marriage is a commitment to love one another at all times even when it's hard.  These are important reminders to love each other.
We all need to be reminded how dearly loved we are by God.
Share God's message of love with your wedding guests. 
Romans 12:9-10
"Love must be sincere. Hate what is evil; cling to what is good. Be devoted to one another in love. Honor one another above yourselves."   
More Bible Verse Ideas for Weddings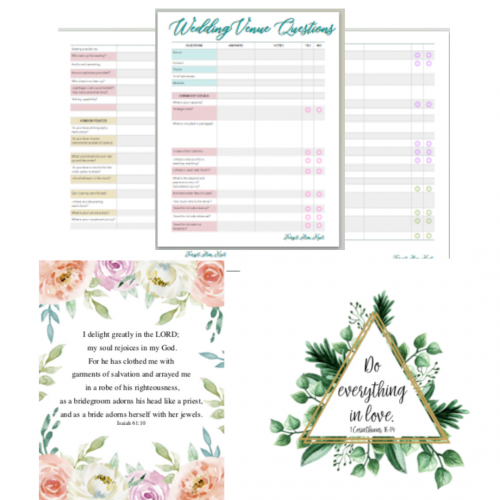 Visit our Freebie Library for Bible verse wedding coloring pages, Bible verse printables, Bible verse readings and our "Wedding Venue Question to help you forget not the Lord in your wedding planning!
 A password email will arrive soon!