 Bible Verses for Wedding Receptions
If you are looking for ways to add wedding Bible verses to your wedding reception, we can help.
A wedding ceremony illustrates the beautiful relationship God has designed.
Your wedding reception is a a great time to display Bible verses to remind your guests of the relationship we should have with Christ.  
A Google search for "wedding decor ideas" will result in thousands of images of beautiful weddings. But those results don't show the thousands of dollars spent to create those looks!
Wedding decor can really take a large chunk out of your budget. Adding Bible verses to your decor does not need to be expensive. We have pulled together our favorite Christian wedding reception Bible verses.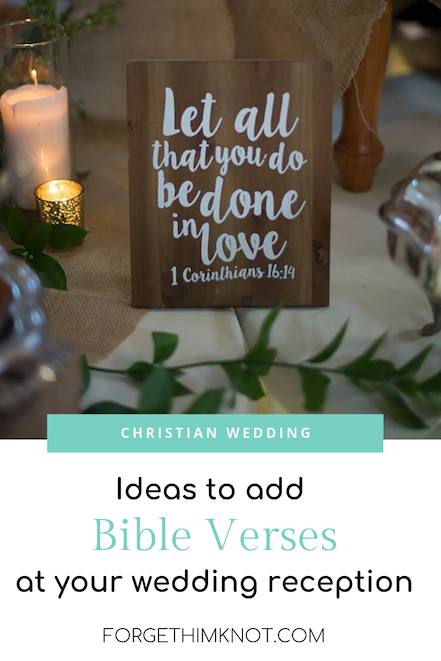 Christian Wedding Reception
We believe you don't have to spend thousands of dollars to create a beautiful wedding or reception. God never intended for the meaning of marriage to be overshadowed by the "pretties" of the decorations.
Instead, the focus of a Christian wedding should be on the covenant relationship the bride and groom are making before God to glorify Him with their marriage.
We look for creative ideas to add Bible verses to Christian wedding receptions so that your guests leave your wedding remembering what is most important! 
Printables make great wedding favors for guests to take home.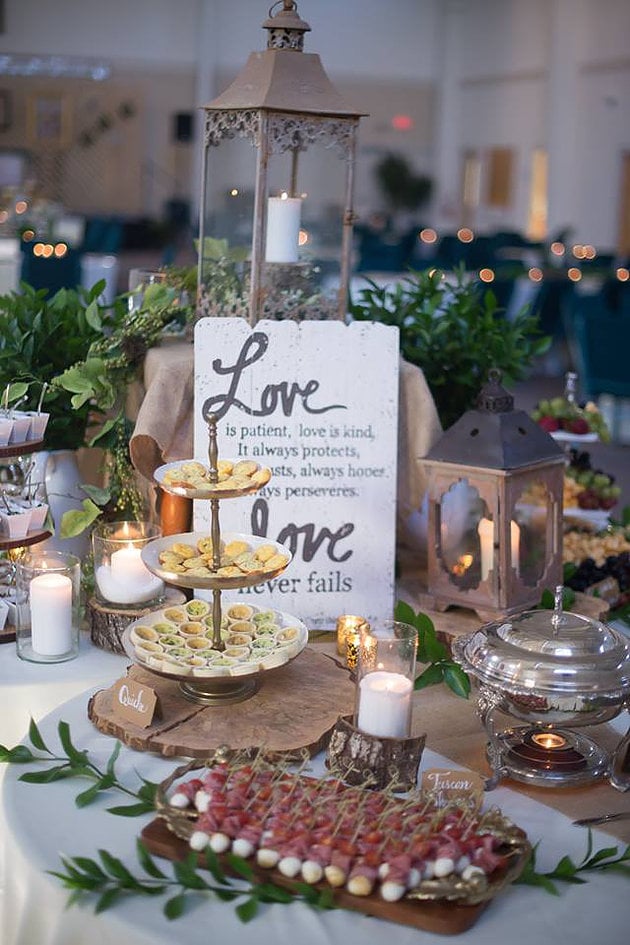 Bible verses for your wedding reception:
Your wedding guests should leave your special day remembering a Christ centered ceremony. Instead of the focus being on the wedding reception centerpieces or the amount of lights hanging from the ceiling, they leave with God's Word in their heart. *post contains affiliate links"
Some of our favorite wedding Bible verses for wedding ceremonies and receptions can be displayed in many ways on your wedding day.
Wedding Reception Bible Verse Decor
Just as you can use Bible verse signs at your wedding ceremony, you can display them also at your reception. Floor or table top easels work great.
Displaying Bible verses in the room or around  your reception is a wonderful way to share God's Word with others.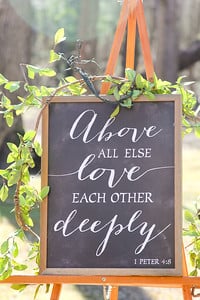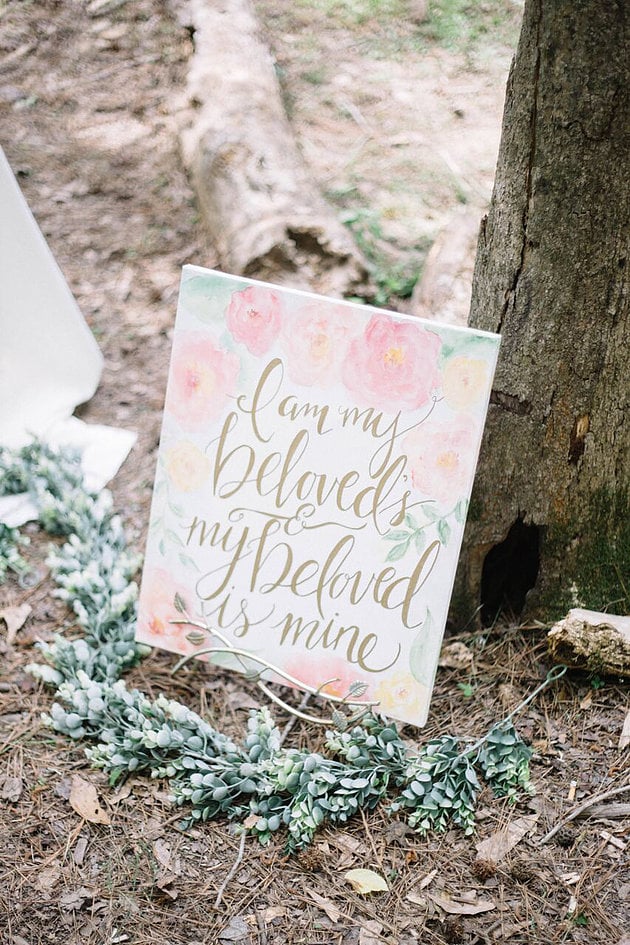 Wedding Reception Table Decor
Wedding reception guests tables are a great area to display God's Word. We love to pick the couples favorite Bible verse that celebrates the wedding and add it to the tables in creative ways.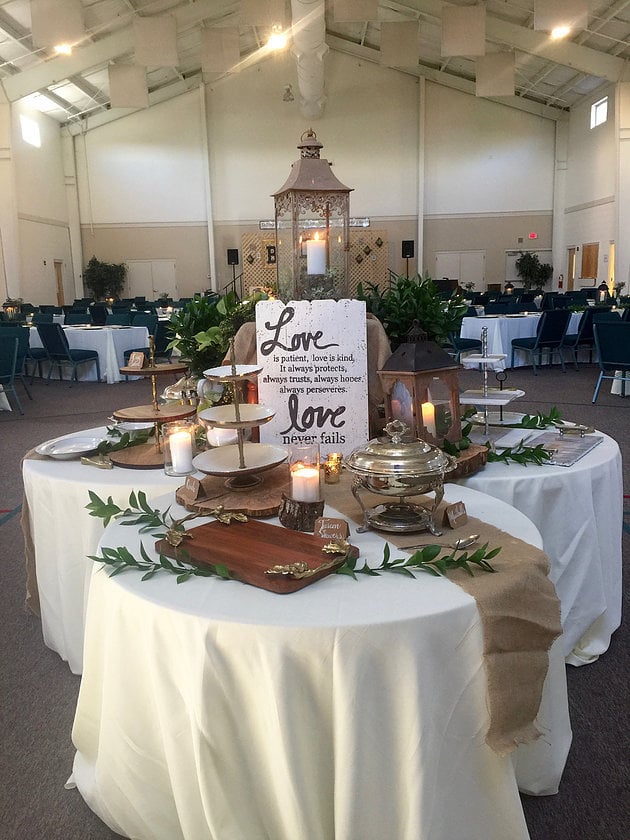 We are always looking for new and creative ways to place Bible verses on the reception tables. Especially if we can find in expensive ways to do this with multiple tables!
Look for small metal, wood and ceramic signs from Hobby Lobby. The styles vary. Some signs are free standing while other signs can be placed in a small table easel.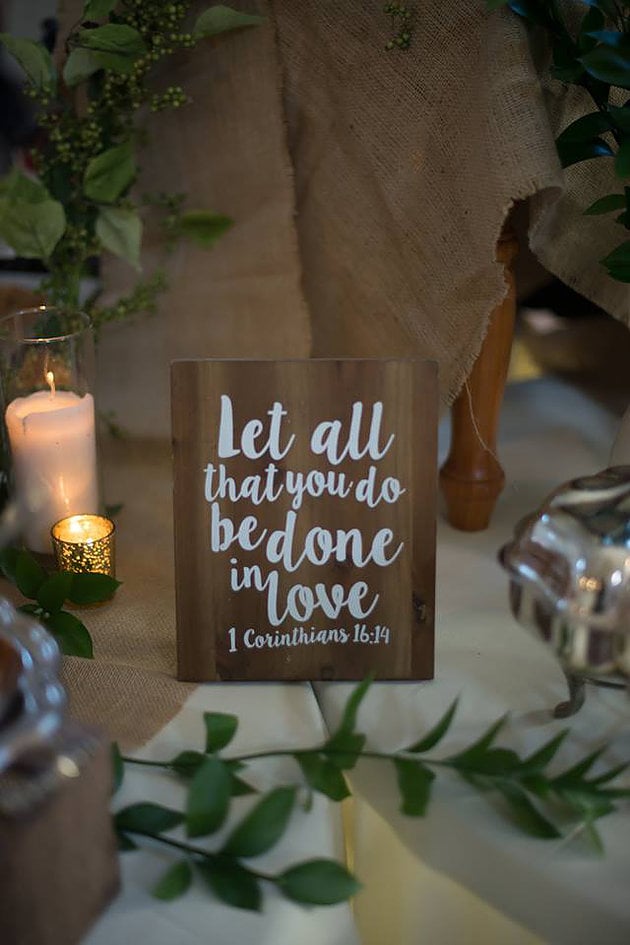 Paper and card stock are inexpensive and can be used in multiple ways to add printed Bible verses. Card stock can easily be styled to match your wedding decor colors and folded, stamped, paper punched or embellished to add your personality style.
Bible Verse Wedding Reception Centerpieces
Add  a Bible verse to your centerpiece container to be read by guests.
Create several pics per arrangement to allow everyone on the table to see the verse. You can also make a pic hold a two sided place card with the verse.  
Wedding Table Decor Setting


Paper is inexpensive and we have provided a Bible verse template for you to make your own stand alone Bible verse deco. Just click over to the freebie library for napkin wraps, Bible verse card stock stands, place cards and more!
Print a Bible verse to display at each guests' place setting or directly on the plate.
Sometimes we use the stand alone verses at each place setting or we print and decorate a printable book marker. Guests can take them home as keepsakes.
Bible Verse Wedding Reception Place Settings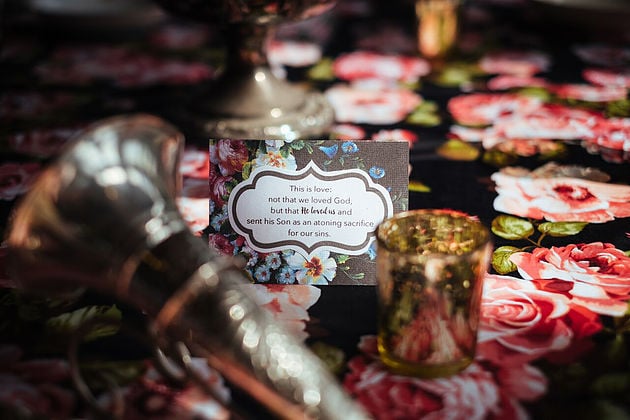 We've had events where guests had never heard a Bible verse before or were not raised in a Christian home. You just never know who needs to hear a Word from God the day of your wedding.
Surprisingly, we've have vendors and caterers ask if they can take some printable that were left behind.
Framed Bible verse table decor
Print Bible verses on paper business card size and place in  small frames from the Dollar Tree.
Sometimes these frames are used for table numbers, but they make lovely Bible verse holders too!
We have a free Bible verse napkin wrap template to print, cut, and glue in our Freebie Library.
The napkin wrap  project can add a unique effect to your reception table decor. Your guests will read the verse as they pull out their napkin.
Many people don't take the time to read signs or programs. But we've found when they have to pick up the napkin and unwrap it, they notice the little details a bit more.
Let's face it. With technology taking us father and farther away from paper books, some of us are holding onto books more and more. A book marker is a  vintage reminder to slow down and read, especially a Bible verse.
Creative ways to embellish your printed Bible verse.
Add lace edges, geometric cuts, or any punch detail to the edges or corners of your card stock.
Hobby Lobby has so many stickers it's a little overwhelming. Little gold foil details or monograms are pretty at the top of the card stock.
Ribbon-
A hole punch and some thin ribbon can dress up cardstock.
Rather than printing your card stock with a Bible verse, you can stamp them for a more vintage effect.
A rubber stamp also allows you to change the color of your ink and can be less expensive than inkjet or laser printing. Stamps can also add your style with you monogram or a little detail that represents you!'
Add Bible Verses to Your Wedding Reception Cake
This idea might require a baker or a person with a steady hand, but we love these unique wedding cakes with Bible verse written on the icing.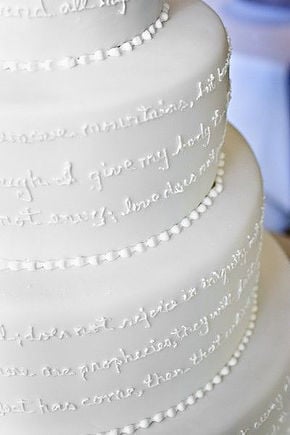 Find ways to make a topper for your cake with a Bible verse. Wood, glass, metal or ceramic can be great diy materials or Hobby Lobby has signs small enough to make into a cake topper.
Bible verse disposable plates and napkins-
Usually in the wedding department of Hobby Lobby and Amazon you can find disposable plates and napkins with Scripture on them.
More Christian Wedding Ideas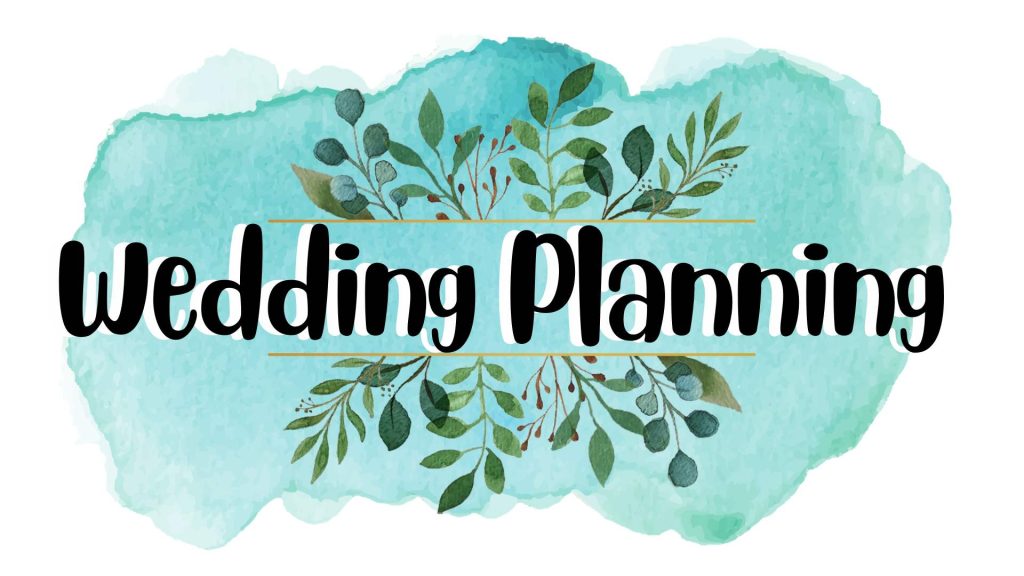 Favorite Wedding Supplies
Visit our favorite wedding supplies we use for almost all of our weddings.