We love weddings! Two people committing their lives to one another. Two people coming together as one in a covenant relationship with God.
Your wedding is about so much more than the dress, the flowers, the music and the venue! A wedding ceremony is the God given union of man and woman loving and demonstrating that love to others.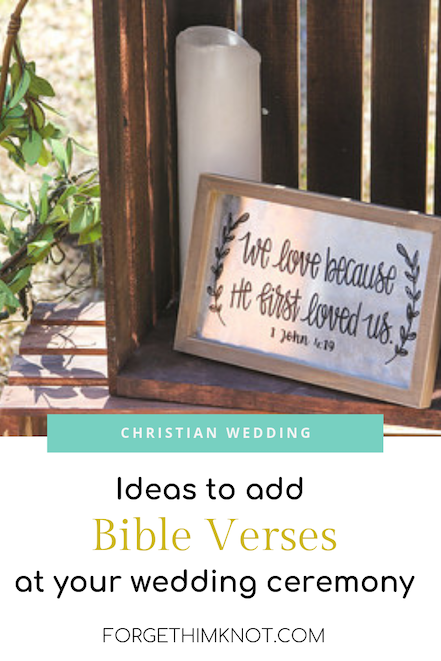 A Christian wedding is a time to add Bible verses to your wedding ceremony and share God's love with those around you.
Love the LORD your God with all your heart and with all your soul and with all your strength. These commandments that I give you today are to be on your hearts.  Impress them on your children. Talk about them when you sit at home and when you walk along the road, when you lie down and when you get up. Tie them as symbols on your hands and bind them on your foreheads. Write them on the door frames of your houses and on your gates. Deuteronomy 6:5-9 
Surround yourself and others with the LORD your God, anytime…. anywhere…. anyway you can! 
We've pulled together creative ideas to help you incorporate special moments and Bible verses in your Christian wedding ceremony.
Bible verse ideas for wedding ceremony

.

Finding Bible verses to use at Christian weddings at your Christian wedding ceremony and reception is difficult because we have so many favorite verses. All Scripture is God breathed and for us to cherish, but some verses are not exactly what you would display to conjure "love" at your wedding. 

"Thou shalt not kill" though applicable and important sin't necessarily wedding vibes.  

Verses that reming your guests of God's love, loving each other or marriage are a better choice. Not killing one another is best dealt with by being reminded to love! (smile) 
Wedding Invitations-
Your wedding invitations are a perfect place to set the tone of your Christian wedding ceremony. Whether you are printing them yourself or having them made, this little verse addition can make a big statement.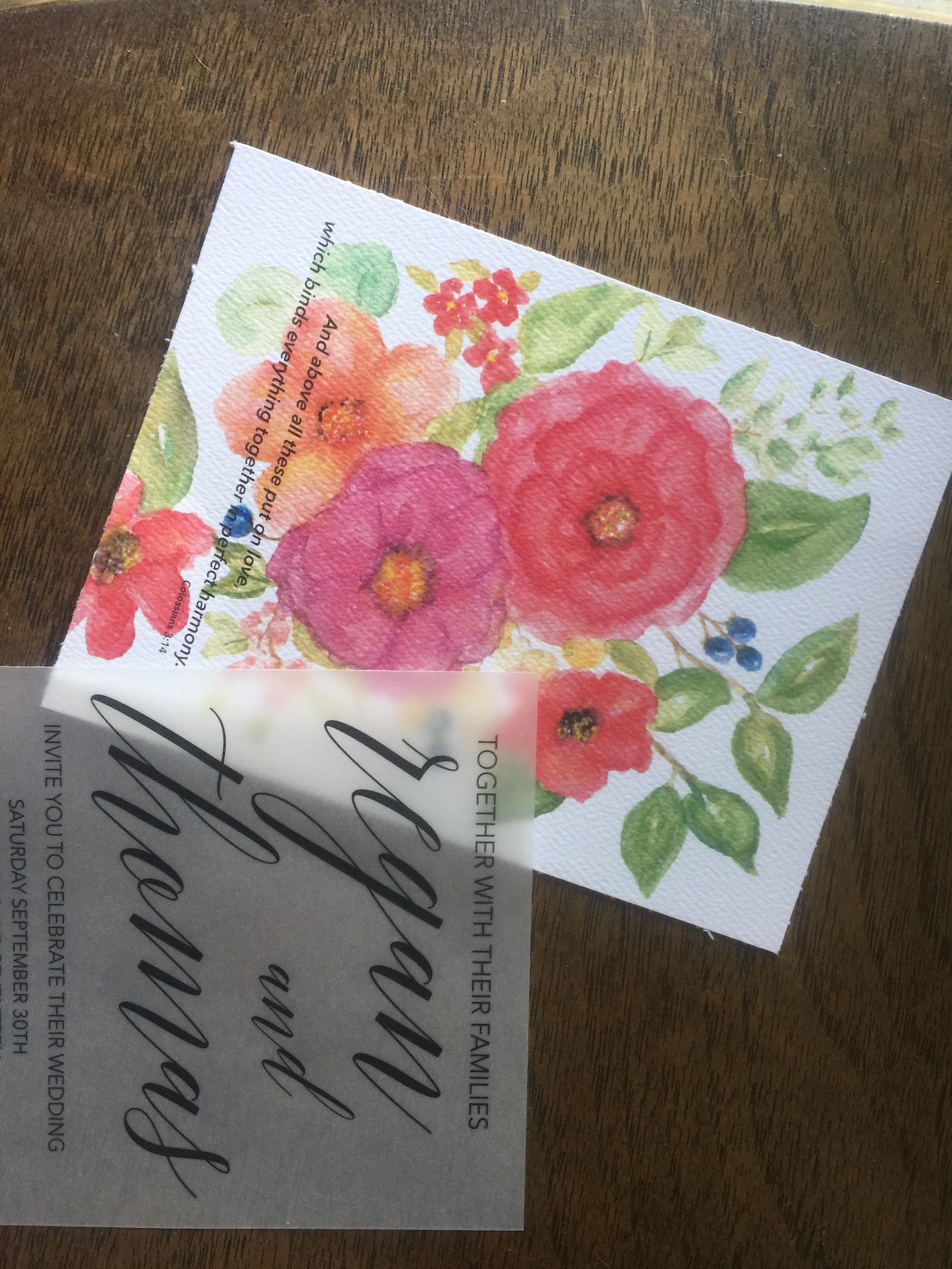 We made both their invitations from simple supplies found at a local craft store, Hobby Lobby. We placed the Bible verse on the bottom of her water color floral design with a velum overlay.
Bride and Groom Prayer
Some bride and grooms choose to do a "first look" moment before their wedding ceremony ad others a more traditional approach of waiting. 
During the "first look" is a great time for a bride and groom prayer together. 
Surrounded by the Bridal party is a sweet moment too!
For the traditional bride and groom who choose to not do a "first look", some brides find creative ways to still pray with their grooms such as separated by a door or wall, but still able to clasp hands. 
Wedding Guests Entrance Area
By placing a sign with Scripture, as you are walking into your ceremony area will grab the attention of your guest. Adding a Bible verse over you like an arbor you are entering under, or doorways you are walking through is a beautiful display. 
After all, because you are entering a new journey what better way than beginning with the LORD. Don't forget the door or entrance to your venue! Give your guest a little taste of what's in store! If you want to make your own sign, check out our wood board diy.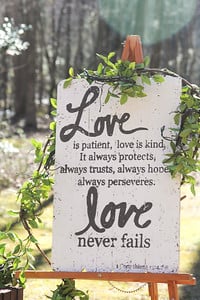 Photo by ChelseaRayPhotography
Bible Signing for Your Wedding Guests-
When your guests arrive to your wedding, the first place they usually stop is the guests sign in area. You can use a Journal Bible or start a family Bible for guests to sign, highlight or place well wishes.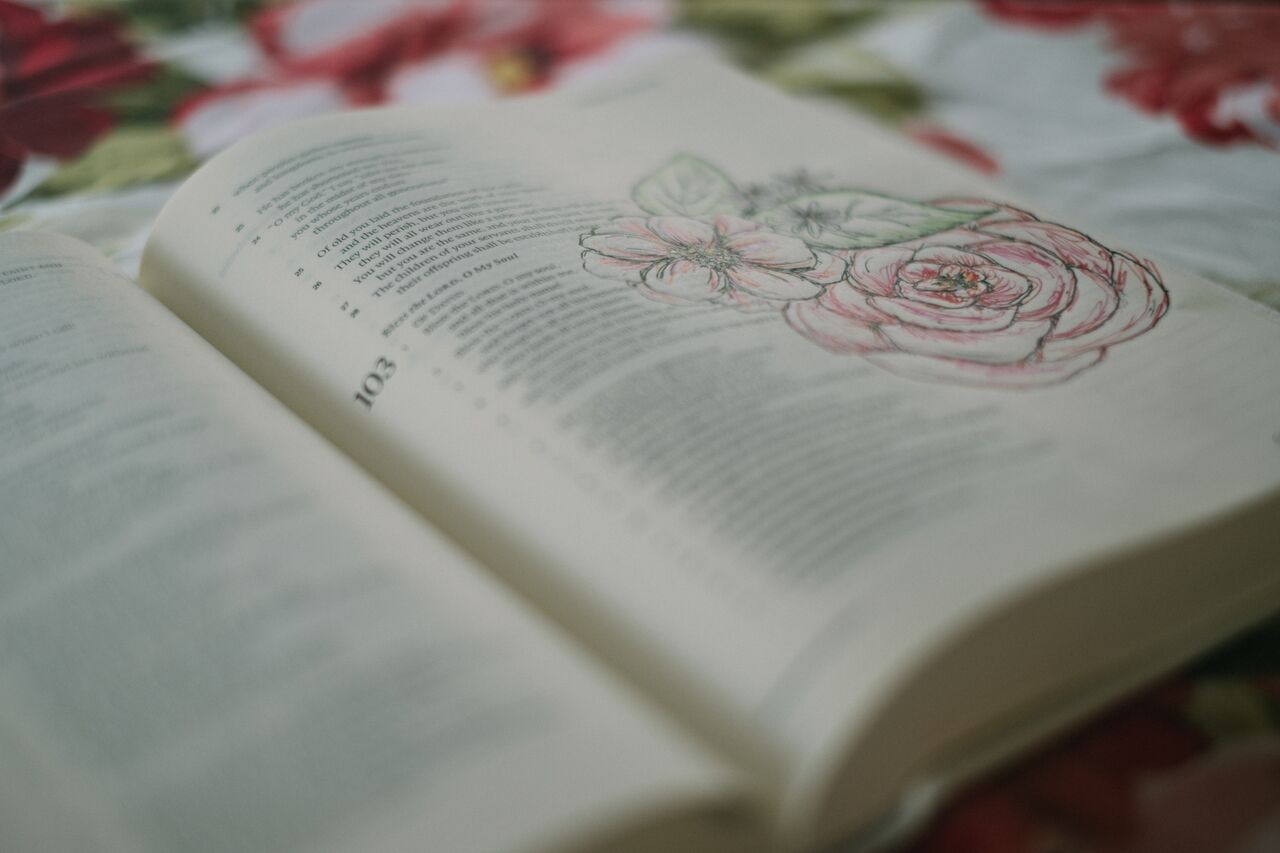 photo by Evan Travers
A little over a year later, that same Bible was used for her daughter's baby shower! And it can be used again and again!
Guest Signing Bench Decorated With Scripture 
Benches come in all shapes, sizes and styles…. traditional, rustic, whimsical, stained or painted… Every time you sit for a bit, you will be reminded of all the people who love you and came to witness your marriage. You can paint or wood burn a Bible verse on the top slate along with the your names and date. After everyone has signed the bench, just clear coat it will a clear acrylic sealer.
Guest Signing Globe with Scripture
Paint a globe a solid color, add your favorite Bible verse, and let your guest sign the globe. Your marriage journey may be in your hometown, another state, or the other side of the world. You'll be able to take your signed globe wherever you live to remember those who were with you in the beginning. The globe is also a reminder of God's love for the world!
Bible Verse on Wedding Programs-
If you choose to have wedding programs at your wedding ceremony, you can add your favorite Bible verse for guests to read. 
Not everyone will keep the program from your wedding ceremony….that's okay! God's Word is for everyone. By reading a Bible verse on your printed program, you just never know whose heart will be touched. 
Wedding Aisle Runner
Your aisle runner is where your steps take you closer to your husband to be. Why not walk each step trusting God! 
Be creative and make your own aisle runner! From Hobby Lobby with a variety of tools from vinyl lettering, markers, to paint! How great and pretty is this one!
Bible verse signs down the aisle
Depending on your venue, style and theme of your wedding, the options are endless. As you walk down the aisle, each step you take is a reminder of God's love for you. 


Bible Verse at Wedding Ceremony Area
Another way to place Scripture in your wedding ceremony is over the altar or arbor to say your vows under. A Jewish ceremony has the bride and groom married under a chuppah, symbolizing the home the couple will begin. It has four poles with a covering representing the covering of God and that their home is always open to others. How lovely! The guest witnessing your ceremony will be focused on you, here's a great opportunity to show them your focus is on God!
Cross at the Wedding Altar-
A cross is a reminder of the sacrificial love God displayed to the world by giving His Son in place of our sins. You can add a verse to the cross with a sign or banner.
John 3:16-17
For God so loved the world that he gave his one and only Son, that whoever believes in him shall not perish but have eternal life. 17 For God did not send his Son into the world to condemn the world, but to save the world through him.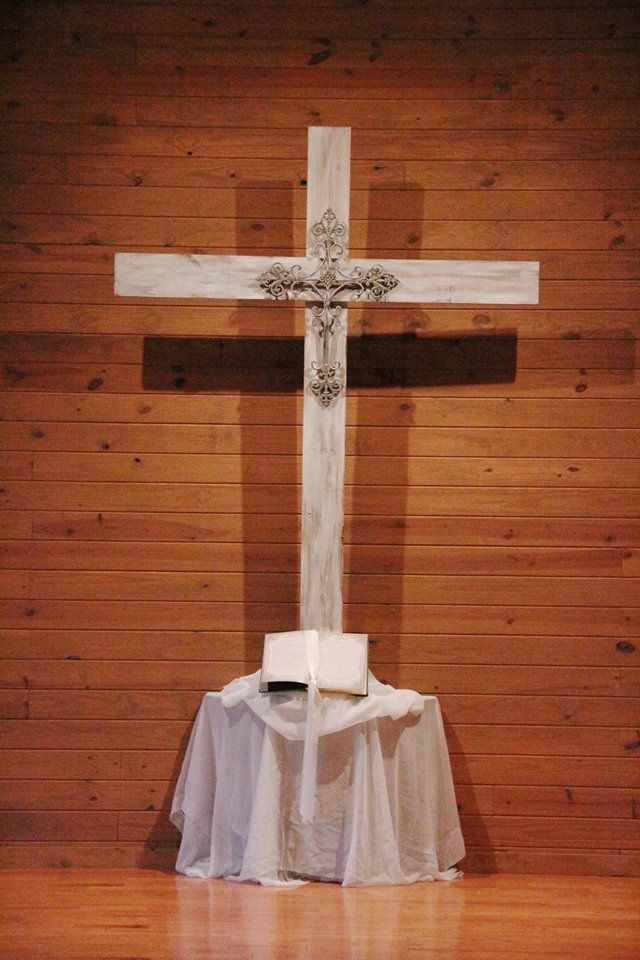 How to use Bible Verses During the Wedding Ceremony
     ● Bible passage reading-
During a ceremony, some brides choose to have someone read a Bible passage. You can find a selection of Bible verses for wedding ceremonies here. 
     ● Officiant's message-
This is the moment your pastor or officiant has a captive audience to present the gospel! 
     ● Family prayer
So many times we pray individually but as your families are coming together it is inspiring to see them all gathered around in prayer. What a lovely blending of family with our Father.  
     ● Special songs-
 Some worship songs and hymns are Bible verses as the lyrics. 
Christian Wedding Unity Moments
The unity candle has been around for a long time! Some of us stood staring at each other for what seemed like an eternity while a song went on forever! Some of us also forgot to blow out the individual candles (sigh). 
The candle represents your marriage or union  a flame burning together from two separate sources. As Christians, we are the light of the world. 
But due to liability insurance policies, my venues no longer allow open flames. Brides desiring a unity moment in this situation, may have to get creative!
Unity Moment Bride and Groom Bible signing
Instead of a "unity candle" moment, some brides choose to take a moment for the bride and groom to sign their new family Bible. It's a great representation of signing your new names and unity to the foundation of your marriage. 
You can also have someone bring in the Bible that your wedding guests signed!
Knot Tying Unity Moment
In place of the unity candle, we love the three strand cord… perhaps we're a little biased of cords and knots! Your wedding braids can be simple or more elaborate as to your taste. Displayed in your home, the braided cording will be a great reminder that a three strand cord between you, your spouse and the Lord is not easily broken! Look at these beautiful knots, cords and braid ideas to tie a knot while you are tying the knot!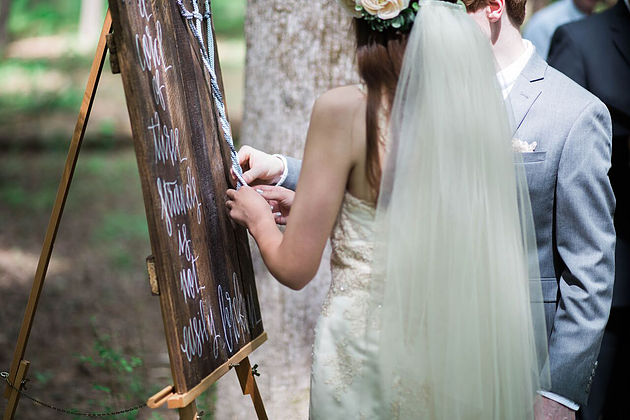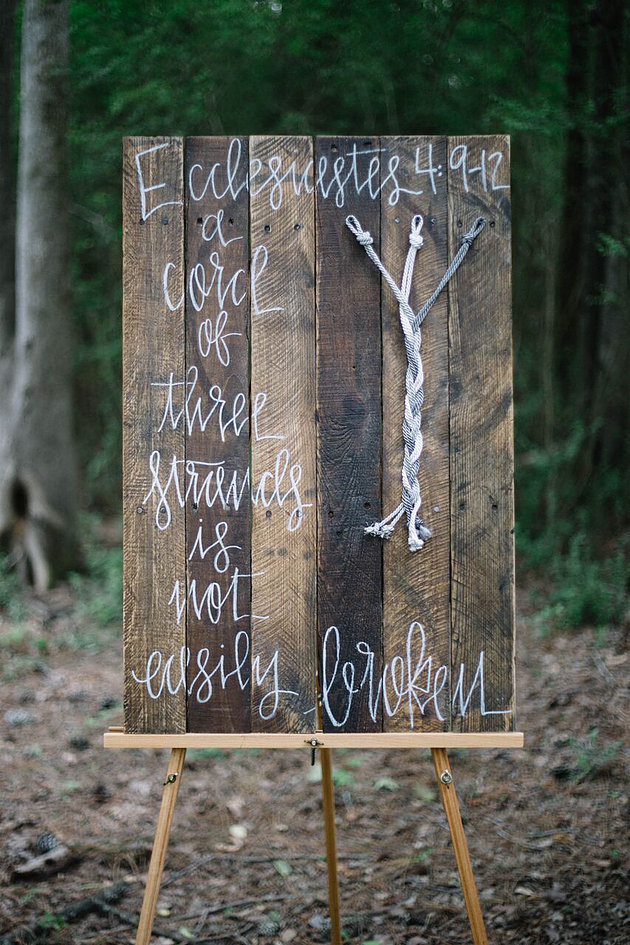 Two are better than one, because they have a good return for their labor: If either of them falls down, one can help the other up. But pity anyone who falls and has no one to help them up. Also, if two lie down together, they will keep warm. But how can one keep warm alone? Though one may be overpowered, two can defend themselves.A cord of three strands is not quickly broken. Ecclesiastes 4:9-12
Unity Cross Puzzle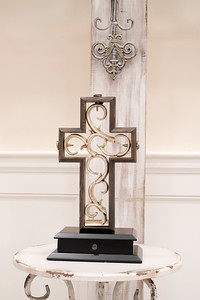 Bible Verse Wedding Dress
Stitch a tag to the bottom of your wedding dress with a Bible verse, and date of your wedding. In Numbers 15, God told the Israelites to place a blue tassel in the bottom of their garments to remember Him and His commands. Here's a chance to stitch in something blue!
Bride and Groom Foot Washing
This is a wonderful way to symbolize the devotion to one another in a relationship. It is what Christ did for His disciples and represents that we are serving each other in love. An officiant explaining this sacrificial display of love is not only sentimental, but also 
A Candle Light Service
Candle light service is not just for Christmas! God is light and we are the light of the world. When you realize that you are not alone in this world by seeing the lights surrounding you… it's a beautiful moment. You and your spouse can light a candle together and then share that light with your guest.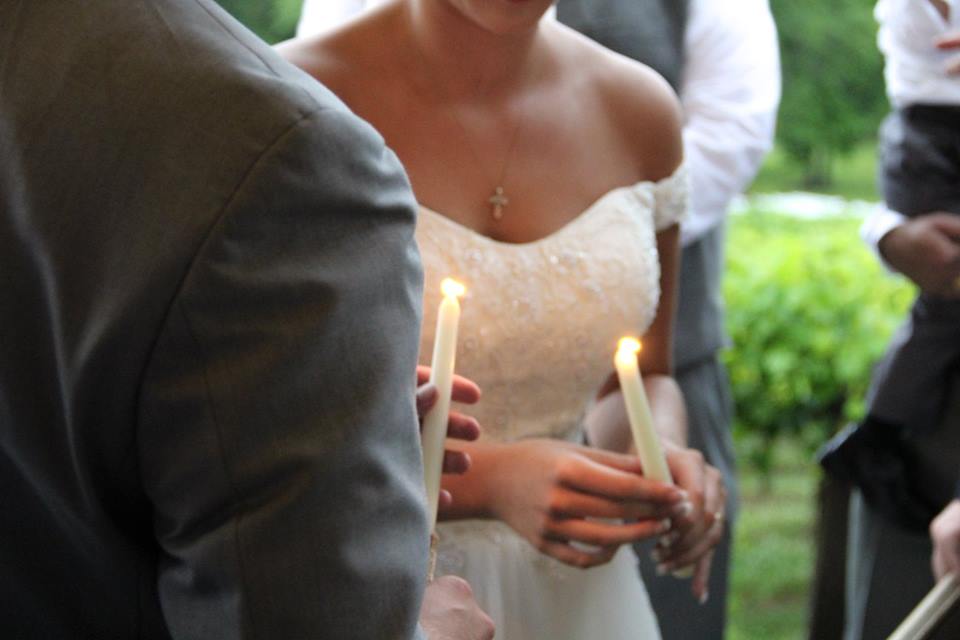 Photo by ChelseaRayPhotography
Officiant Prayer
At the end of the ceremony after the Bridal Party has exited the ceremony site, the officiant can say a prayer. This will serve as a blessing over your guests and release them to the reception. 
Bouquet and Boutonniere Charms
Add Scripture with stamped metal or you can print your own verse and add it to a glass bezel.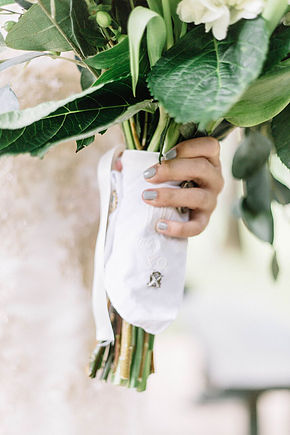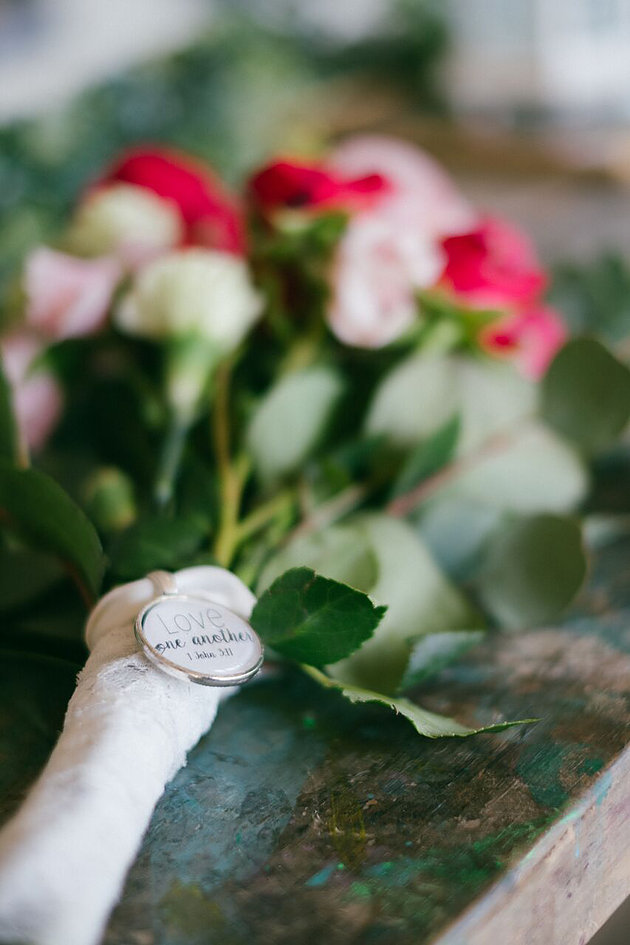 Photo by Evan Travers
Or make your own charms from the jewelry selection at Hobby Lobby. Pick the bezel that best fits your style. Find and print your favorite Bible verse, cut it to the bezel size and glue the glass insert. All you need now is the beads, dangles, or embellishments you choose.
Inscribed Wedding Rings 
The ring is a circle with no end. It's a symbol or token of the devotion of love and commitment of partnership between two people. It's more than gold or silver….. or the size of the diamond. So many people get caught up in the glitz that they forget the meaning. Having a Bible verse inscribed in your band is a beautiful way to always remember the covenant made between you, your spouse and the Lord.
Wedding Rings on a Bible
What a great reminder that the very foundation of your marriage is based in God's love and carried on God's Word! The ring bearer can carry the rings on Bible tied with ribbon or in this wooden box from Hobby Lobby.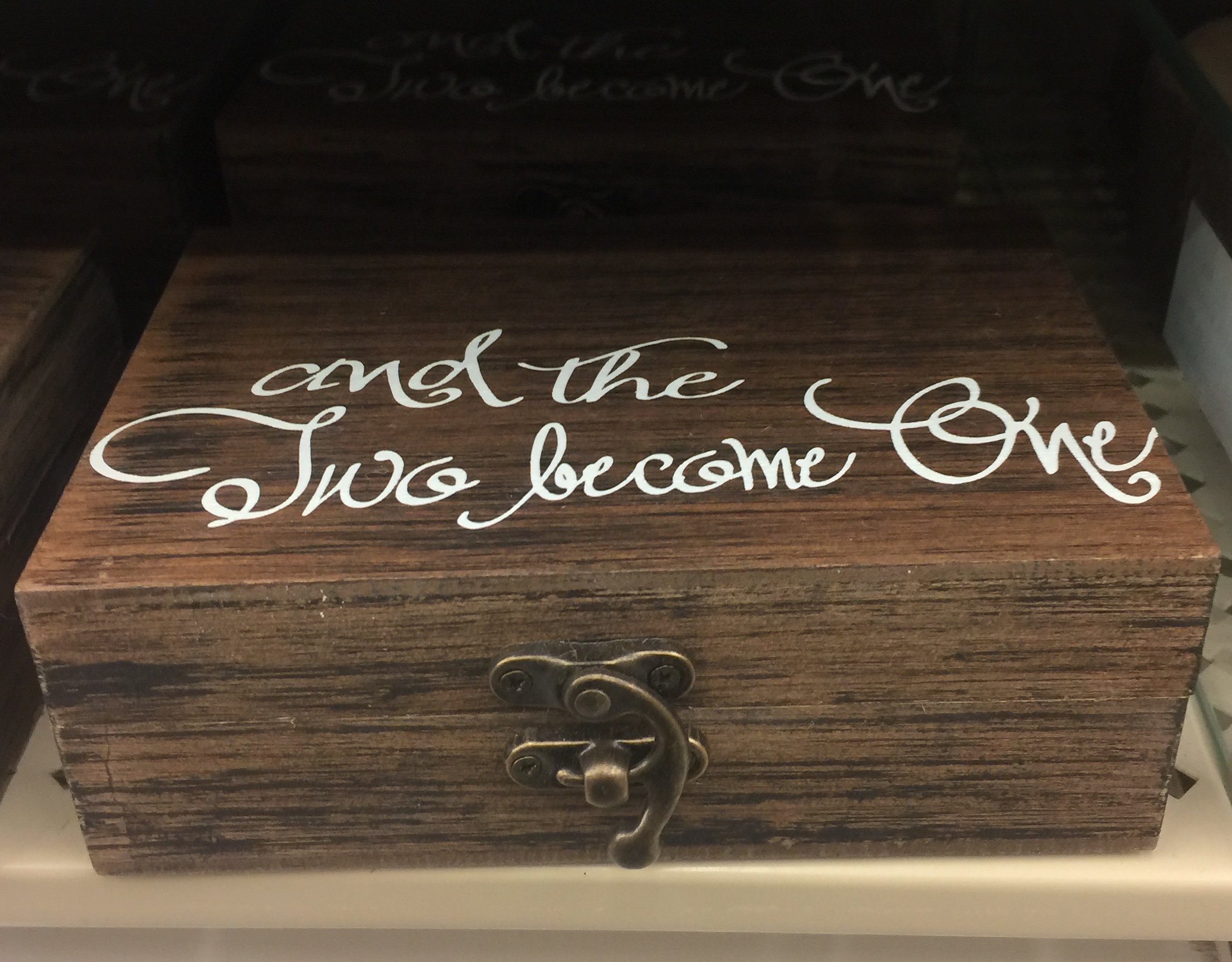 Bible Verses for Wedding Ceremony Decor
We love finding Bible verse signs to hang or display on easels at weddings. Mostly because we look for creative ways to display God's Word, but also because we always shop for signs at Hobby Lobby!
We divided the Bible verse signs by theme or style to make it easier for you to find your favorite verse to match your wedding style. 
Small Bible Verse Weddings Signs 
Smaller Bible verse signs can be placed around a room on tables, guests signing areas, gift tables, or even hung on the pews or chairs!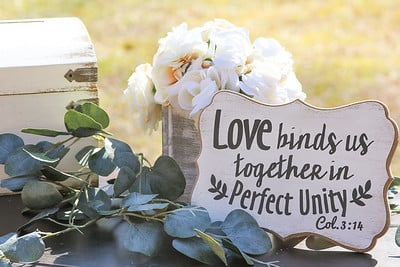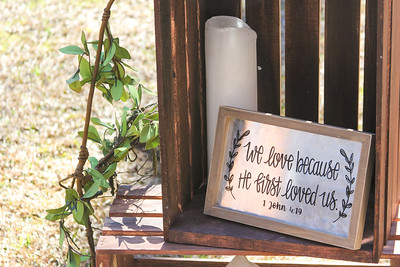 Framed Bible Verse Printables for Weddings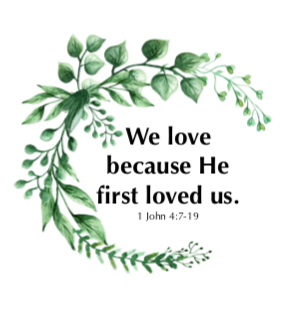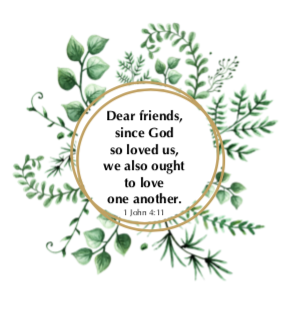 Printing a Bible verse printable is inexpensive and can easily be placed in a frame for display. You can even find frames at the Dollar Tree! Check out our freebie library for free printables we created just for weddings!
Kbelt Designs has lovely prints and art for weddings. The illustrations have a vintage vibe.
  Most importantly, above all the beautiful details or flowers, music and the days events, don't forget that the two of you are coming together in a covenant relationship with God.
Surrounding yourself with God's Word will not only remind you but also your guest that God is your first focus. While you're tying the knot…forget Him knot!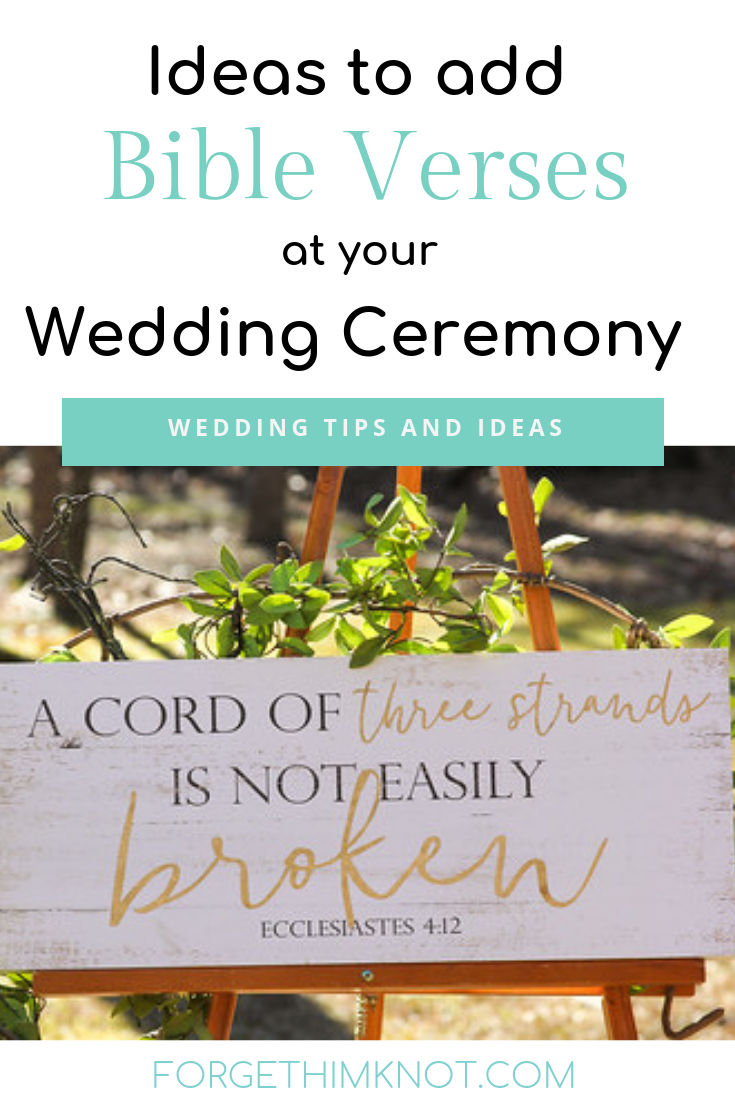 forget Him knot!