We are always on the hunt for ways to add God's Word to weddings. Bible verse signs make great focal points in wedding de
Adding Scripture to your wedding is a wonderful way to remind your wedding guest of the importance of faith in God. You never know who needs to hear a Word from God on your wedding day. We share our 20 perfect Bible verse signs we use in wedding decor.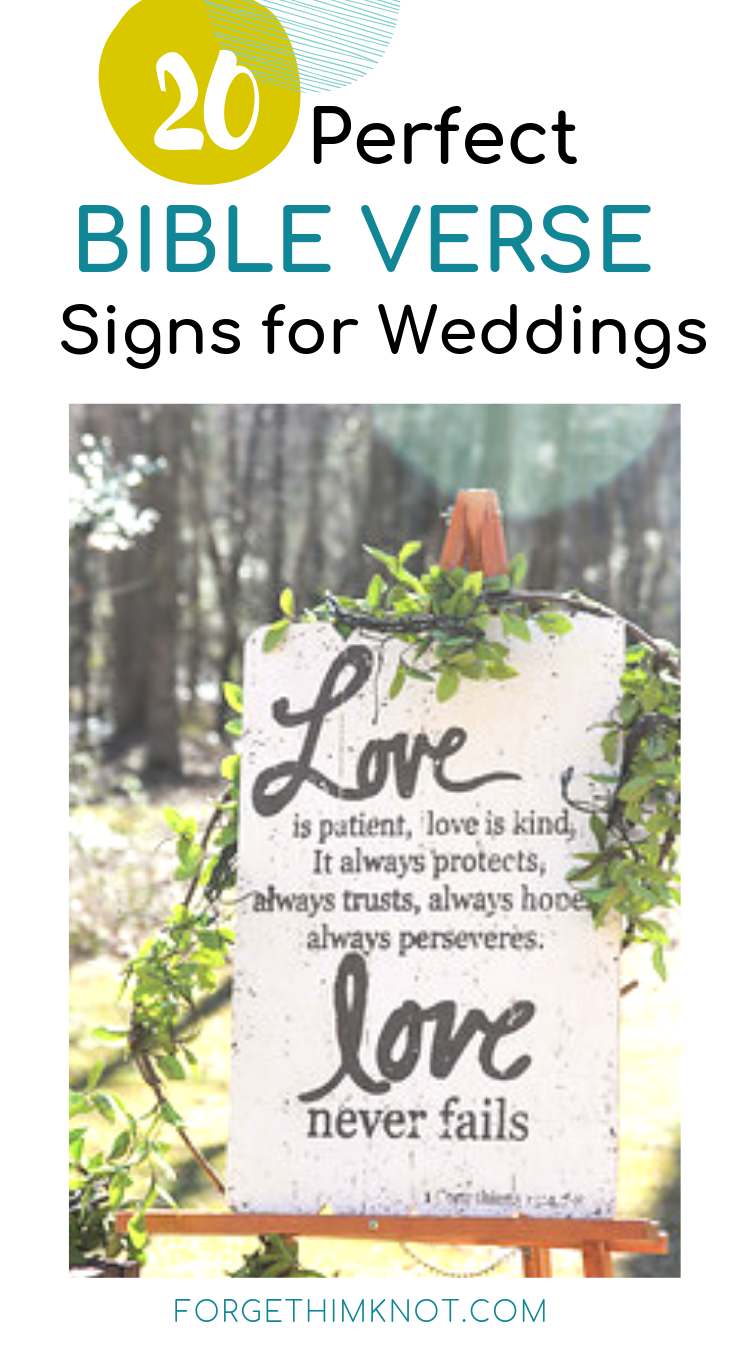 Our favorite wedding resource for Bible verse signs is Hobby Lobby We love their vast selection for any style or size you want or need for your wedding. Signs with rustic wood fronts or frames are great for rustic, vintage and eclectic wedding styles. But if we are being perfectly honest here, the selection goes quick and only a handful are sold year round. Amazon has a fantastic selection if you know what Bible verses you are looking to use in your wedding. 
We are adding our favorite selections and our 20 perfect list has grown! *this post contains affiliate links.
A white front sign goes great with most wedding styles. The fonts used to write out the Bible verses can make a difference in the over all look to match your personality and style.
Where to purchase a Bible verse sign for a wedding
We are sharing our favorites for you to shop. Don't have a Hobby Lobby store near you, no problem! You can shop their online store.
Now for a bit of information that we also love to share, these signs go on sale every month, sometimes twice a month at 50% off! 
If you shop this week and they are full price HOLD UP and they'll be on sale the next week! But, if you need the sign sooner, you can use their online 40% off coupon on one item! *This post contains affiliate links.
Amazon's Bible verse wedding signs will come to your door, so that's a major plus! We found a couple that are able to be personalized!
How to use Bible verse signs at a wedding
Chippy or white washed wood and metal or a combination of both materials work great for a wedding.
You can can easily add any decor elements to a sign.
Hang these Scripture pieces on a wall, lean them against pieces of furniture or use an easel to display them.
We love to set them up in vignettes with interesting items such as lanterns, candles, wood crates, and vintage pieces of furniture for a homey effect!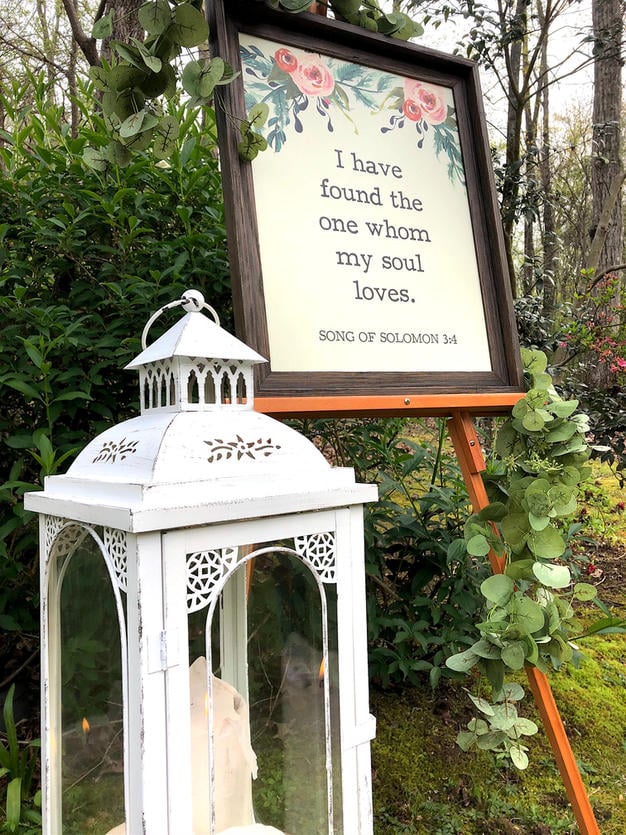 Rustic, shabby chic, Tiffany, simple, elegant, vintage, glam, or make up your own funky quirky style, you'll find something to add your personality to your wedding decorations. 
Our favorites are the signs that blend with any style! 
Add greenery, flowers, ribbon or those special touches to personalize your decor!
Our favorite Bible verse signs for weddings
The selection of signs changes through the seasons at Hobby Lobby. Some of the Bible verse signs have stayed for the last several years.
If one of the signs below is no long available, just search for the verse's location to see what new sign style they currently have in stock.  We are sad when a favorite sign is no longer available, but we can usually find a current one with the same Bible verse.
Not only can these signs be beautiful and meaningful decorations at your wedding, but they can also be beautiful and meaningful decorations you reuse in your home.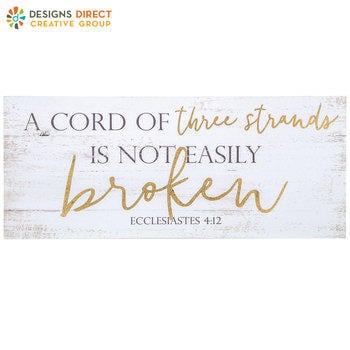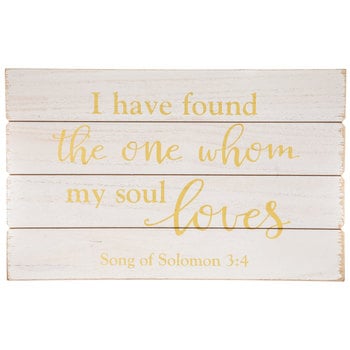 And this one in white is gorgeous too.
Love one another as I have loved you. John 13:34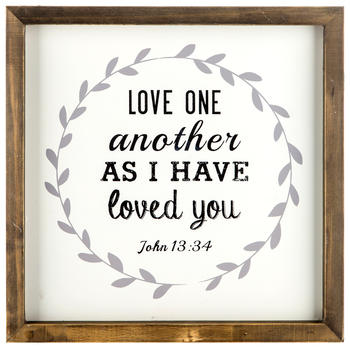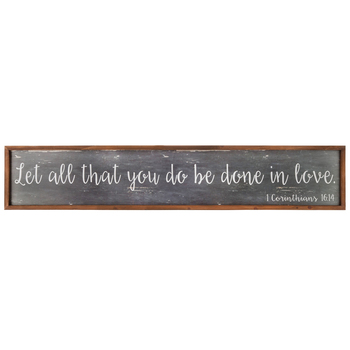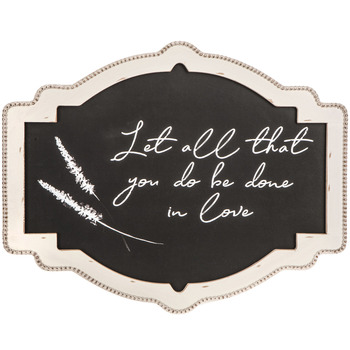 A personalized Bible verse sign! How beautiful to add your names to this sign as you begin your new family tree rooted in love!
We love because He first loved us. 1 John 4:19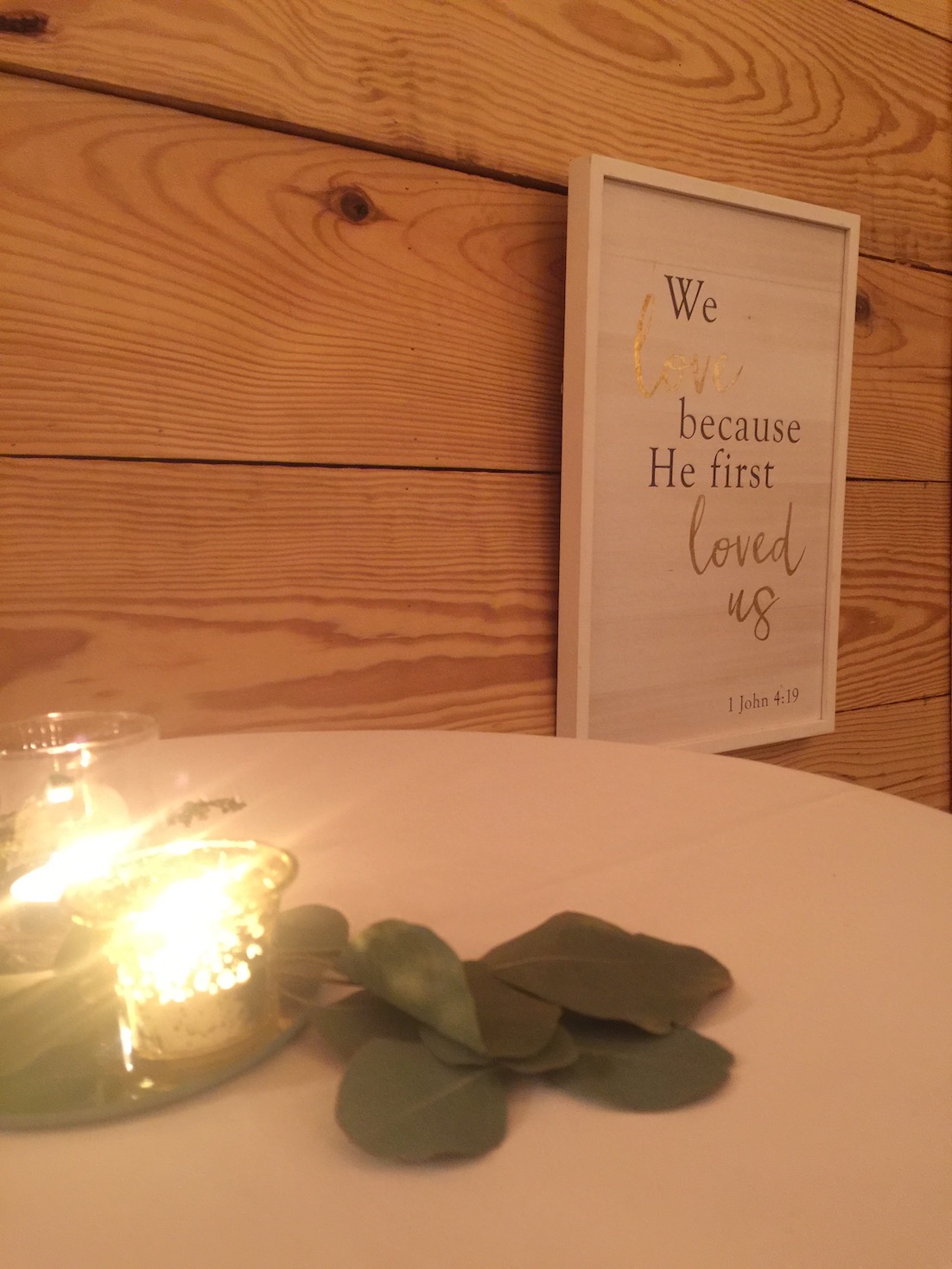 How can you display God's Word at your wedding and help other's forget Him "knot" while you tie the knot?
This wall hanging makes a great backdrop for the wedding cake or photo opportunities.
Stay a while for more wedding tips and  ideas to decorate, stay organized in planning your wedding.
If you need more detailed help, see our Taming the Wedding Planning Beast Workshop!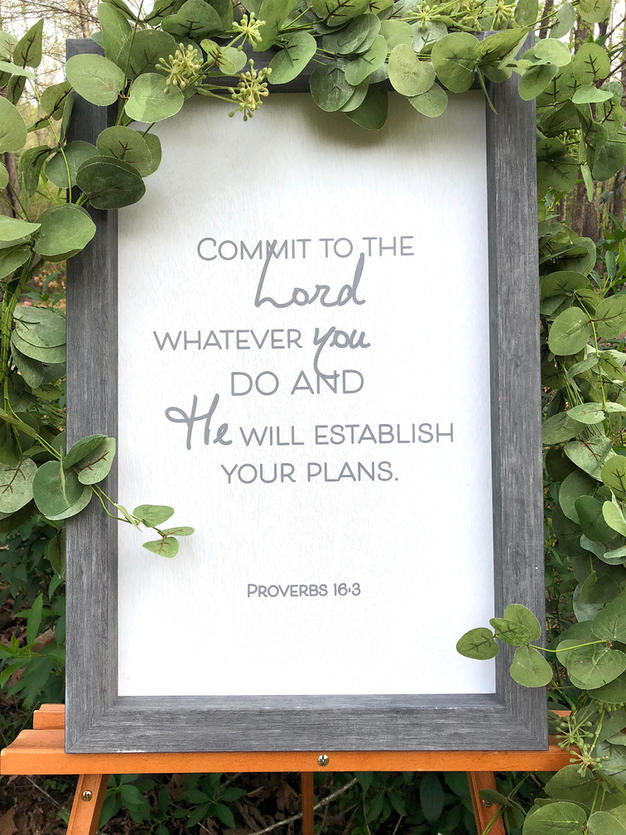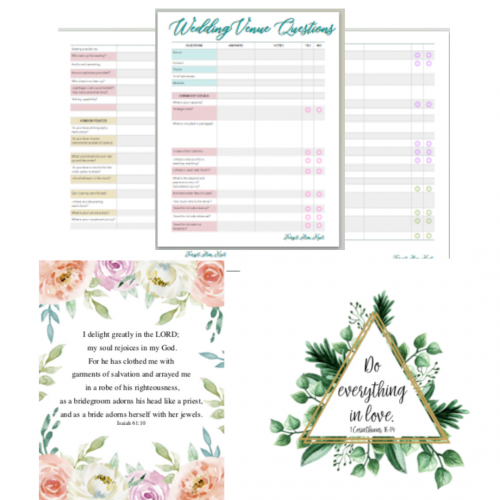 Visit our Freebie Library for Bible verse wedding coloring pages, Bible verse printables, Bible verse readings and our "Wedding Venue Question to help you forget not the Lord in your wedding planning!
 A password email will arrive soon!