Welcome Area for Wedding Guests
We have been searching for ways to save money for your wedding day!  Helping take some of the stress and research off of you, allows your focus to be on your commitment together before the Lord. 
That's most important!
Your wedding day is filled with so many areas that need planning and attention. You are inviting family and friends to witness your commitment to one another. It's such a special moment! Welcome your wedding guests and leave them a lasting impression with these ideas.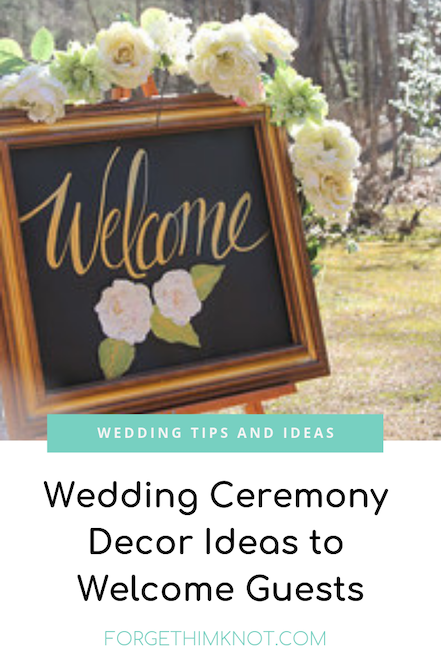 Welcome your wedding guest with signage!
Tell your wedding guest where to go… in a nice way!
Wedding Invitations 
Make sure your invitations have given your wedding guests the directions or address of your wedding ceremony venue. Add a small map to the area for more detailed instructions of parking. 
Park Signage
Upon arrival, your guest will need to know what you want them to do, where you'd like them to go.
Directional signage is most helpful!
It can be as elaborate or simple as you like!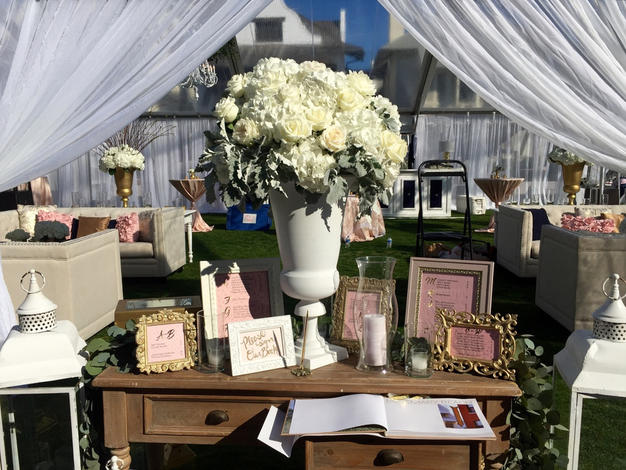 Test out the GPS directions to be sure that your guests do actually find the wedding venue!
On the way to my daughter's wedding this past year, my mom, dad and sister attended another wedding just down the road before they realized they were at the wrong wedding!
Directional Signage Ideas:
Once your guests arrive, they will need to know where to park, where to enter the ceremony area and what you want them to do!
Standing directional signs are nice to use for a more formal themed ceremony.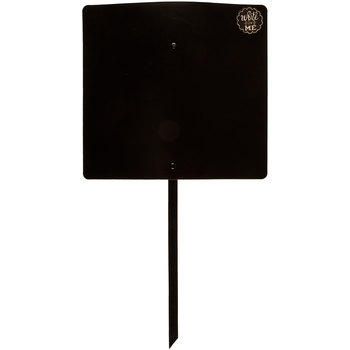 Signage that says, "Welcome to the wedding of"….. (insert names) is not expensive to do.
Look for pre made signs to add your welcome, names or wording to it with paint, pens or even vinyl stickers.
● Arrows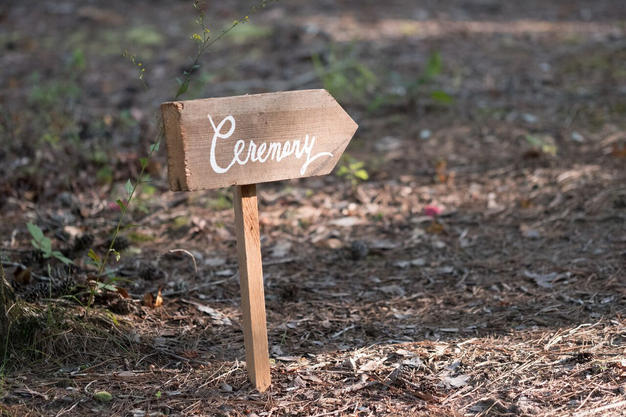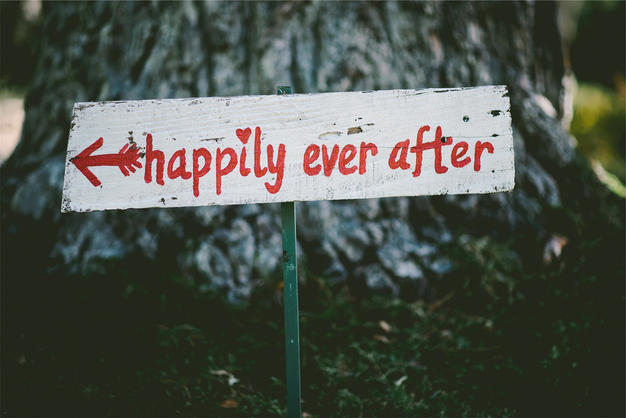 If your venue has wandering walkways, hidden or multiple doors to your ceremony, direct them with signage. 
Imagine you are the wedding guest driving into the venue for a wedding. What do you want to know first?
Where to go?
Some venues have more than one area for parking and some more than one door into the venue! Help them out by pointing where you want them.
Wedding Chalk Board Signage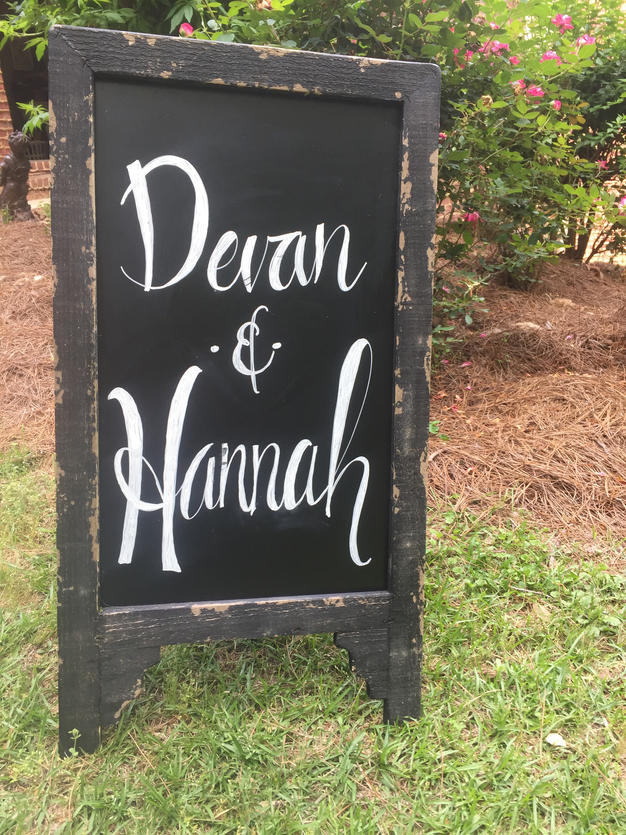 Some of our favorite signage we use at weddings is chalk board signs.
We can reuse them or change the wording throughout the event if we need to.
An example for this instance would be a marquee or bistro style chalk board sign that directs your guest into the venue for your ceremony can then be changed or flipped to direct guest to the reception area.
Sometimes we flip them to tell the guest the "exit" plan for the couple such as "light up the night with sparklers".
Finding multiple uses helps stretch the money and saves on the budget!  Win win!
● Bistro Chalk Board Sign
This black bistro chalkboard has been used more times than we can count.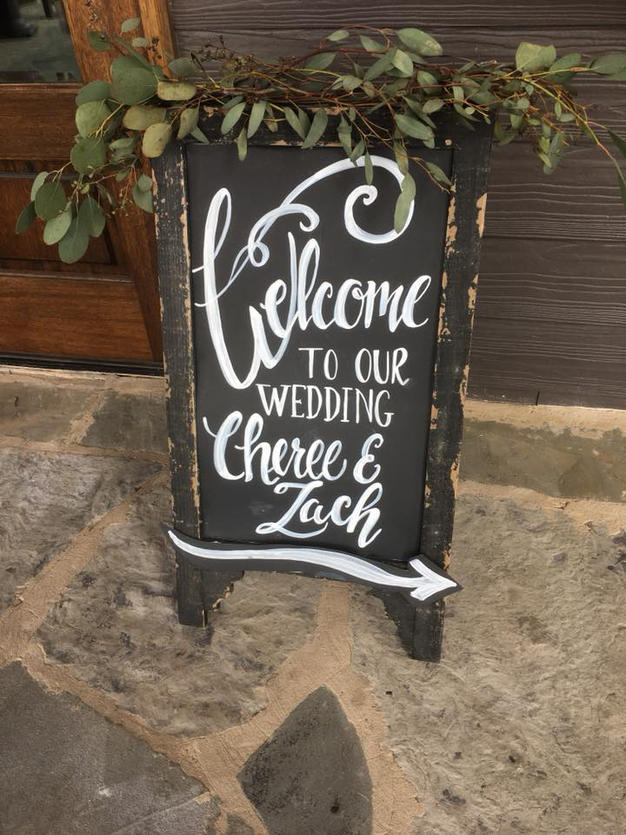 (photo by Alexis Jordan) 
We learned after the first wedding chalk pens do not like to come off of the sign's laminate board. It would have been nice if it was actually chalk board.
You can paint over the laminate with actual chalk paint, but we're not sure for our multi uses that it would hold up very long.
Tip: We purchase black poster board and cut it to fit inside the frame. It works wonderfully! This also allows you to flip your signage quickly during your event!
After the wedding, turn around and sell it to another bride!
The marquee chalk sign also come in white that has lights around it if you are having an evening event.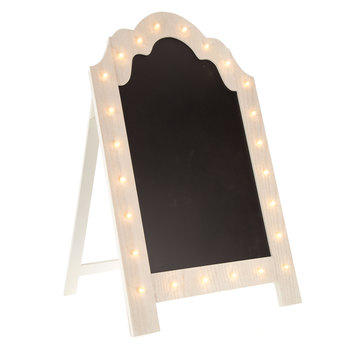 You can find miniature versions of these for serving tables or guest table number too!
Finding multiple uses helps stretch the money and saves on the budget!  Win win!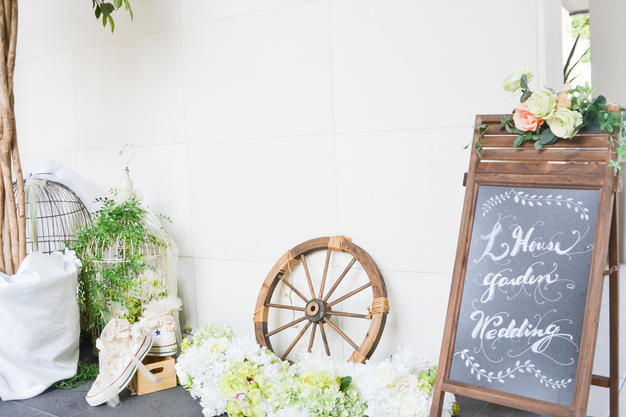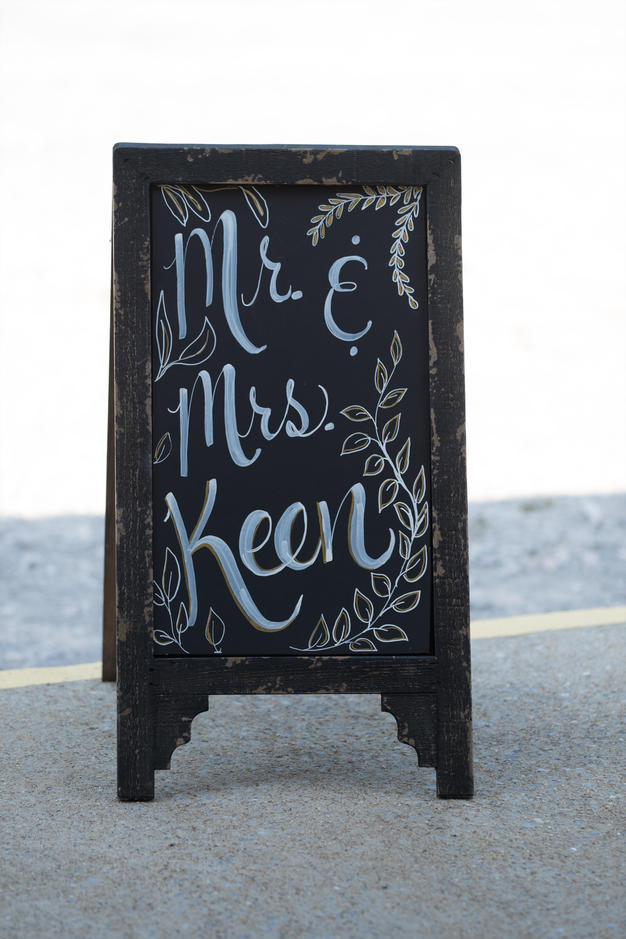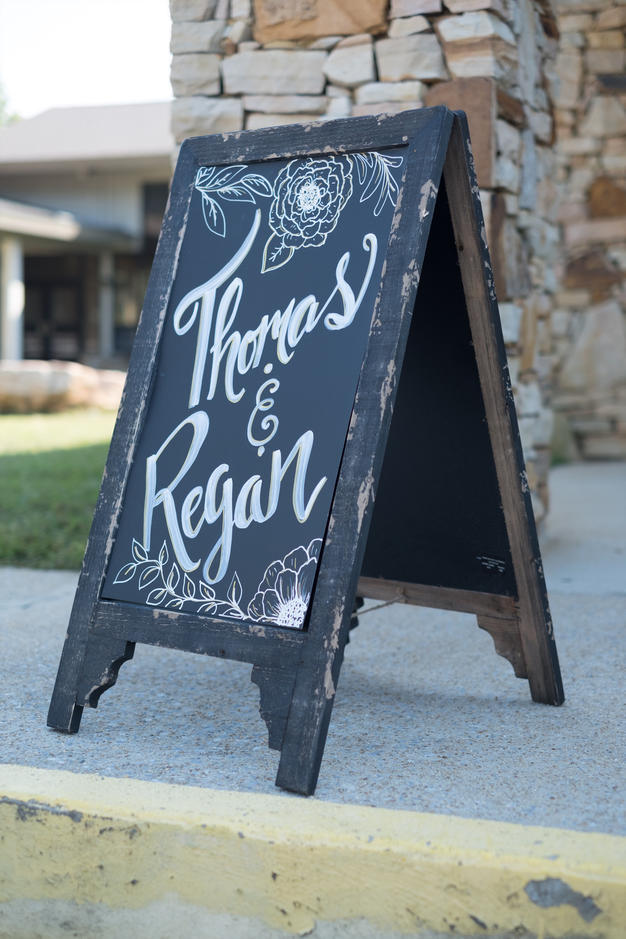 Photos by Evan Travers
Leave them plain or add greenery or flowers to dress them up a bit!
Write your directions or instructions with chalk bistro markers!
Tip: Sometimes the chalk pens like to bubble or erase like a dry erase marker on a white board if you're not careful. Attaching a poster board insert solves this issue and allows you to change it quickly.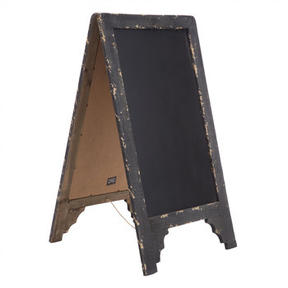 Make your own signage with wood pallets, galvanized metal or canvas!
Use stain markers, paint and brush or even the laser cut stickers from the scrapbook section to add gorgeous fonts for your diy sign!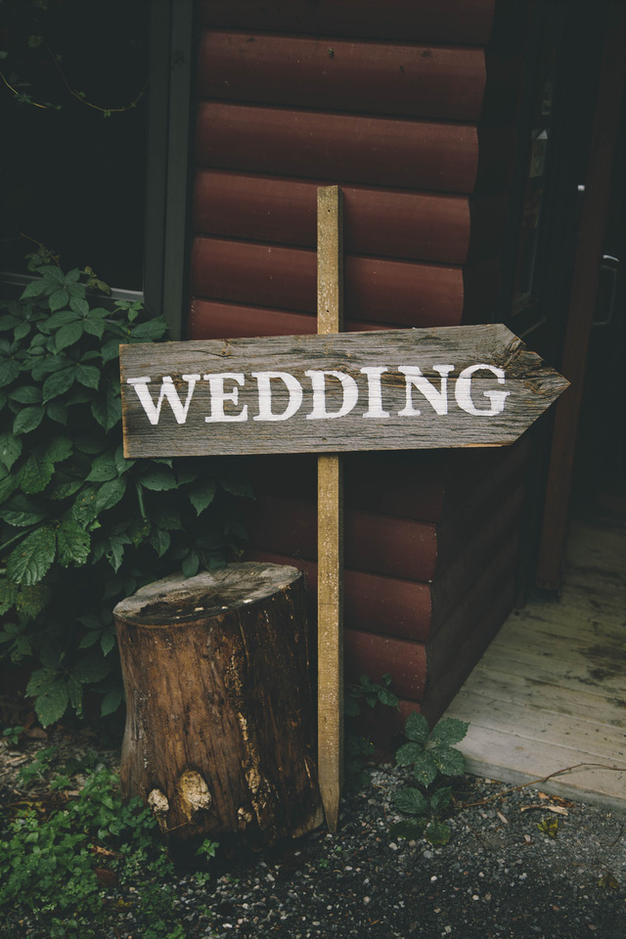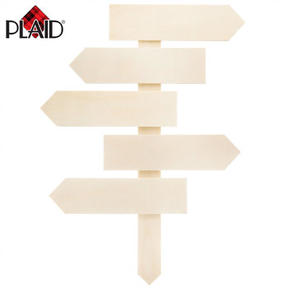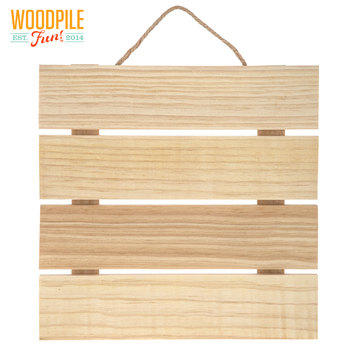 Write, paint or sticker your message to help your guest know what they need to do and where they need to be!     
More Ideas for Wedding Signs
● Glass and Old Windows
Look for larger frames and write on the glass with a chalk marker.
Take the back off of the frame so that you can see through the glass. After the event, just wipe off the writing and you have a frame to hang your wedding picture in your home.
●Artwork reimagined
Look for a very generic painting in the wall art section such as this one. 
Something with a neutral background only needs your "Welcome" wording added to it or just your name and wedding date. If you are not comfortable painting your design, think about the pretty vinyl stickers in the scrap book section of Hobby Lobby or your local craft store. Hang it in your home after the wedding!
If you're working in a specific theme such as rustic, elegant or vintage, you can find all of these styles ready to go or just add a tweak with paint to make it your vision.
Big framed welcome sign and an easel
We run across extra large chunky frames in thrift stores and yard sales. If you aren't able to find a used frames,  Hobby Lobby has farmhouse, rustic and gorgeous gold frames. There is usually plenty to choose from in the clearance section. If you don't like the color you find, pray paint them.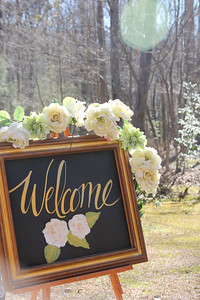 We use the black poster board indoors and for a heavier weight, the foam core board. We also like the snag the fancy poster board with gold foil to add sparkler!
Welcome your guests with displayed photographs.
Sometimes we display photographs for the guest to view in the welcome area. Those can be displayed on a table, wood painting ladder or an interesting piece of furniture such as this one.
Think about an item you can use in your home after the wedding and can serve double duty!
Bible Verse Signs
We always look for opportunities to share and display God's Word. Hobby Lobby has so many Bible verse signs it becomes hard to pick just one! We've divided the signs by decor themes for Christian wedding styles.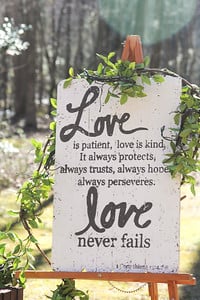 You never know who may need to hear a message from God's Word that day! These are a few of our favorites from the many choices and styles!
These sign options will also need an easel if you cannot hang them on a wall. Our go to easel for most events are these inexpensive wood options.
We like to create vignettes around the easel with greenery, flowers, stacked crates and lanterns with candles to add a little more personality, but you can keep it simple too!
Our desire is to help you keep Christ the center of your ceremony, save money and stay organized in your wedding planning! Find more tips and ideas in our wedding section.
For wedding planning help, see our Taming the Wedding Planning Beast Workshop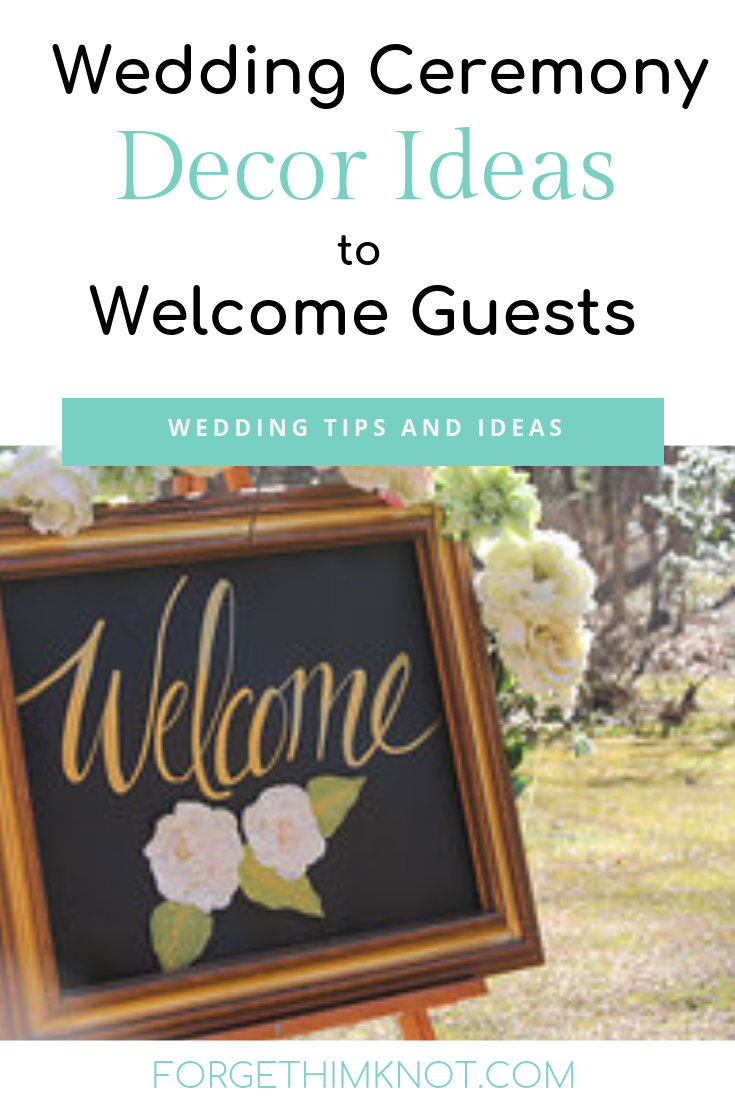 SaveSaveSave