What is a Christian wedding?
After many years of coordinating, directing, decorating weddings, and keeping up with the trends, we can tell you that weddings have become broadway productions. Brides are picking a venue, the costumes, lights, scripts, choreography, director, set design, and feeding all who attend.
 You are paying for everyone's ticket!
It's easy to get lost in all the details and forget the most important reason and meaning for a wedding.
The ribbon color on the chairs, the length of bridesmaids dresses, who stands next to whom can all become stressor's to a bride causing "overwhelm". A bride's vows of commitment to a groom, the man she will marry, take a backseat to the event's details. 
That's not what God intended when He set up a man and wife partnership.
Vows to one another, the covenant relationship with God, are the most important aspects of a Christian wedding. They should be the most important of any wedding ceremony. Yet, Google has so many searches for, "What is a Christian wedding?" 

What makes a Christian wedding?
To answer that question we'd need to answer, "What is a Christian?"
     ● A Christian is a person who has committed their life to following Jesus Christ.
     ● They bear His name because they believe He is their Savior.
     ● Christians knows that God, the Creator of life, gave His Son, Jesus, to save the world from perishing in sin.
     ● A Christian believes that the Trinity, God the Father, Jesus the Son, and the Holy Spirit, are God and worship Him. 
1 John 4:7-19
7 Dear friends, let us love one another, for love comes from God. Everyone who loves has been born of God and knows God. 8 Whoever does not love does not know God, because God is love.
9 This is how God showed his love among us: He sent his one and only Son into the world that we might live through him. 10 This is love: not that we loved God, but that he loved us and sent his Son as an atoning sacrifice for our sins.
This is love: not that we loved God, but that he loved us
11 Dear friends, since God so loved us, we also ought to love one another. 12 No one has ever seen God; but if we love one another, God lives in us and his love is made complete in us.
13 This is how we know that we live in him and he in us: He has given us of his Spirit. 14 And we have seen and testify that the Father has sent his Son to be the Savior of the world. 15 If anyone acknowledges that Jesus is the Son of God, God lives in them and they in God.
16 And so we know and rely on the love God has for us. God is love. Whoever lives in love lives in God, and God in them. 17 This is how love is made complete among us so that we will have confidence on the day of judgment: In this world we are like Jesus.
18 There is no fear in love. But perfect love drives out fear, because fear has to do with punishment. The one who fears is not made perfect in love. 19 We love because he first loved us.
A Christian knows, believes and lives a life
in humble thankfulness for the gift of grace.
Jesus died on the cross to take the sins of the world for us so that we could live in the presence of God in heaven. He rose from the grave defeating death, returned to heaven with God and sent His Holy Spirit to live in His people. 
John 3:16-17
For God so loved the world that he gave his one and only Son, that whoever believes in him shall not perish but have eternal life. 17 For God did not send his Son into the world to condemn the world, but to save the world through him.
While we are still living life on this earth, a Christian carries God's Spirit inside them to guide, comfort and remind them of who He is, who they are in Him, and His promises.
A Christian belongs to God and rests in the assurance that He loves them as a Father.

 
A Christian should look different than the rest of the world because they have been called to a higher purpose.  
A Christian wedding should be focused on Christ 
and the covenant relationship with the bride and groom.
Ephesians 5:21-33
Submit to one another out of reverence for Christ. 22 Wives, submit yourselves to your own husbands as you do to the Lord. 23 For the husband is the head of the wife as Christ is the head of the church, his body, of which he is the Savior. 24 Now as the church submits to Christ, so also wives should submit to their husbands in everything.
25 Husbands, love your wives, just as Christ loved the church and gave himself up for her 26 to make her holy, cleansing her by the washing with water through the word, 27 and to present her to himself as a radiant church, without stain or wrinkle or any other blemish, but holy and blameless.
28 In this same way, husbands ought to love their wives as their own bodies. He who loves his wife loves himself. 29 After all, no one ever hated their own body, but they feed and care for their body, just as Christ does the church— 30 for we are members of his body.
Christ is the head of the church, his body,
of which he is the Savior.
31 "For this reason a man will leave his father and mother and be united to his wife, and the two will become one flesh." 32 This is a profound mystery—but I am talking about Christ and the church.
33 However, each one of you also must love his wife as he loves himself, and the wife must respect her husband.
A Christian wedding should look different
than a non Christian wedding.
A Christian wedding should be an example and reminder of Christ's love for us.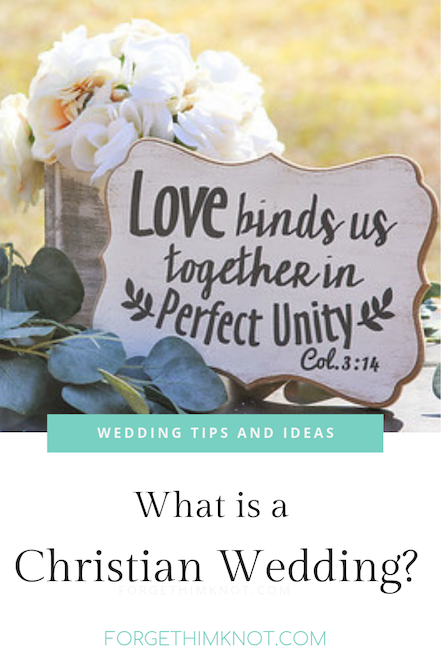 How does a Christian wedding look?
     ● Do you need at cross at your Christian wedding?
     ● Does a Christian wedding have to be in a church? 
     ● Is a minister or pastor the only officiant for a Christian wedding?
     ● Is a Christian bride required to wear a white dress?
Do you need a cross at your Christian wedding? 
No. The cross is a visual reminder of  Jesus' sacrifice on the cross for our sins. Having a cross at your wedding is a beautiful reminder, but truthfully the message of the cross doesn't stop there.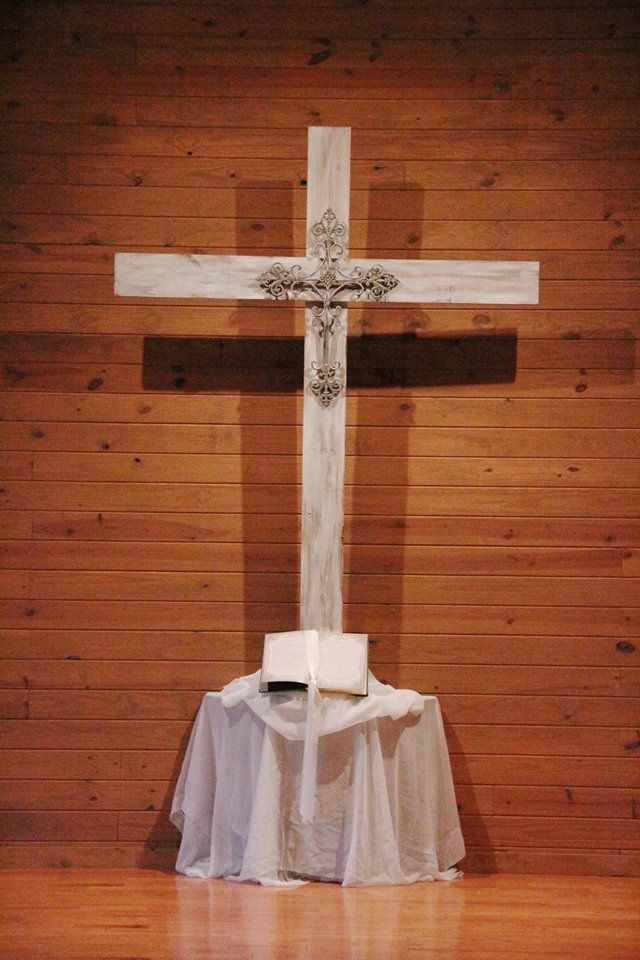 Photo by Chelsea Ray Photography
Jesus died for our sins and was buried. He died….  three days later He rose from the grave, conquering death. Want a visual for a Christian to remember God?
An empty grave!
But that isn't really something your can incorporate into your wedding decor! 
Any reminder of the Good News, the Gospel, for others to remember God's love and mercy is great to have at a wedding. But, none of those reminders make a wedding more holy than another.
The commitment before God between two people vowing to love one another as Christ loves the church… that's a Christian wedding. 
Have a message that contains reminders of the great love God has for us through His Son, Jesus. 
Does a Christian wedding have to be in a church? 
No. Man made churches were not even around in Jesus' time period. When He built the church, it was the people. The body of Christ is the believers and followers of Him. A building can be destroyed, but God's people…. that's eternal. 
We cannot tell you how often this question and family traditions come into conflict! Some religious beliefs are that a wedding ceremony must be in a church.
Many Christians do believe that a Christian wedding can only be in a church building.
In our humble opinion, based on reading and seeking understanding of God's Word.
Church is the body of believers, the body of Christ, Christians.
The church is NOT the church building, which is man made and can be destroyed in a storm, fire or act of evil.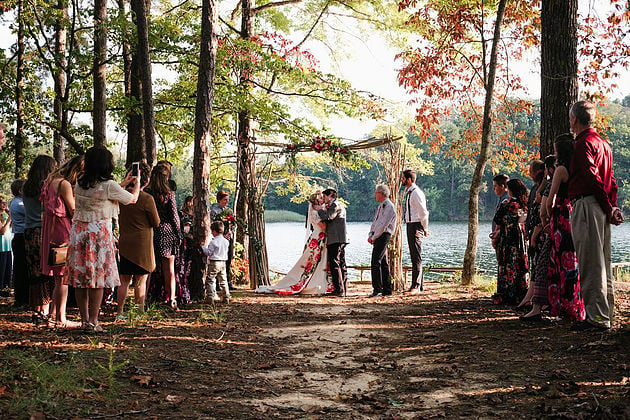 A building does not make your wedding ceremony or marriage more holy or stronger in the Lord. Only your commitment to God and hearts seeking His will makes your marriage have a strong foundation. 
In God's eyes, your commitment and union together is just as solid if you are in a court house, barn, open field, church building or cathedral.
Remember, your body is the temple of God. You are the house for His Holy Spirit. 
With that said, a church building is usually a less expensive venue to hold your wedding and reception. A church can also be a sentimental place from past family weddings or is the place where you worship and feel most in community with other Christians.
Most of the time, a couple will be married by the minister, pastor, preacher, or reverend to officiate their wedding in a church wedding ceremony.
The roof and walls of a building, is where God's church meet together to worship Him. But a church can also meet and worship Him in a field, a car, a home or where two or more are gathered in His name!
Is a minister or pastor the only officiant for a Christian wedding?
No. The person pronouncing you man and wife has no bearing on your wedding or marriage being more holy than another. That is a hard statement to make because we as Christians want our minister or pastor to officiate our weddings. 
But a marriage isn't made holy by a single person, only two hearts committing to God and working every day to do things as He designed them. Only Christ makes anything holy. Without Him, there is no holiness. 
An officiant makes things legal in the eyes of the law. 
The vows spoken before God make you married and the document signed makes you legal. 
Speaking vows before a crowd of witnesses, but not having a legally signed certificate will not be a legal marriage. 
A person who is legal to marry or officiate according to the law, a judge at a courthouse and a pastor can legally marry a bride and groom. But the bride and groom are the ones who commit before God to be married. 
The commitment of two people coming together before God devoting their life to one another as God designed, makes a Christian wedding. 
Is a Christian bride required to wear a white dress?
No. The white dress is a representation of purity. A non Christian can wear a white dress, but that does not make them Christian. Only being washed by the blood of the Lamb through the grace of the Jesus' death on the cross, can make us white as snow and pure.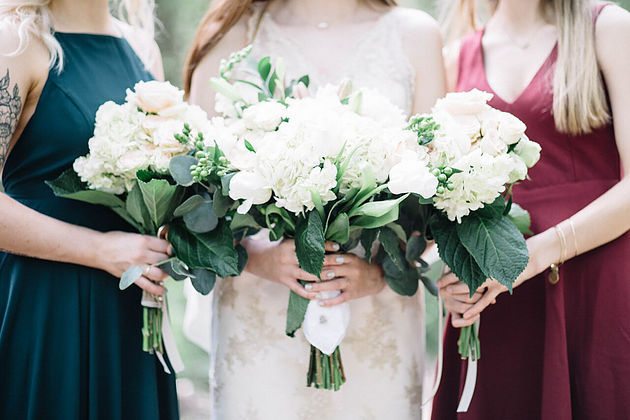 One day, when we are in heaven with the Lord, we will all wear white so pure that it's a white our eyes have never seen before. 
A white dress in a wedding is traditional to western culture, but it has not always been the case. Around the world, other cultures represent a bride with other colors. 
It's not the color you wear that makes a person a Christian, it's the banner of love over you! 
What a Christian bride should not wear
This will be a matter of opinion. Over the years, television shows of brides picking out a wedding dress have made a mockery of God's "style" for a bride. 
God desires the bride to be beautiful. Beauty to God is the heart and the intentions of the heart. He designed you to be the helpmate to your groom. You are walking down an aisle before a group of friends and family to make a life time commitment.
Proverbs 31:30
Charm is deceptive, and beauty is fleeting; but a woman who fears the LORD is to be praised. 
What you should wear while walking down the aisle
is a heart dressed to reflect the Lord. 
What you wear on your body be it a dress, pants, or a full ball gown, does not make your wedding vows any more or less binding. God does not care about the label or style of your clothing during a ceremony, just the intent of your heart. 
The world has taken beauty and tainted it. Beautiful does not mean sexy. 
While you are walking down the aisle before a crowd of witnesses sexy is not how you should look! Remember, there are more eyes on your than just your groom. Ladies, by all means look sexy on your wedding night. Have a sexy wonderful time alone with your husband in private! 
Good grief, God created sex and wants a married couple to enjoy it! Pretty sure Adam's first word after seeing Eve, was not said calmly. His, "Woman" must have been in pure amazement and awe. 
A wedding is to be witnessed. The honeymoon is private.
When a bride is looking sexy for her husband she is also looking sexy to everyone else. 
A bride in a sexy white dress definitely is not looking pure and Christian. 
That does not mean a bride should wear a white baggy sack. It just means what is your heart's intent in picking your dress? If your intention is to look sexy for your Christian wedding ceremony, maybe talk to God about your intentions. 
Be a beautiful bride for your wedding and a sexy wife for your honeymoon!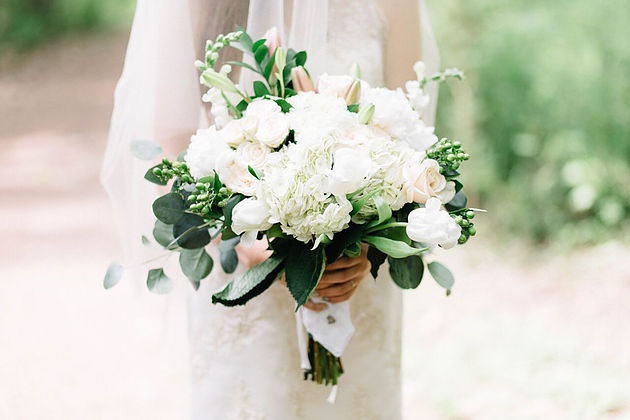 Symbols used in Christian weddings
Man has come up with many ways to bring symbols to the wedding ceremony through Christian wedding traditions. The only true requirements for a Christian wedding ceremony are the bride, groom, vows before God and the officiant to sign off on a license making it legal. 
Other traditions and symbols come into a Christian wedding based on religious affiliations. (Catholic, Christian Orthodox) 
That's what makes understanding a Christian wedding verses a non Christian wedding confusing! 
Truthfully, wedding ceremonies differ around the world based on religion beliefs and culture, but the one thing that remains the same is a commitment made by the bride and groom. 
A Christian wedding should be a commitment made by the bride and groom with God.
Elements, traditions and symbols, though they're nice and some are even beautiful reminders, do not make the marriage any more holy or capable of enduring married life.
It's the devotion to God, the work and commitment the bride and groom put into their marriage that make it glorifying and enduring. 
Christian wedding traditions and symbols
      ●The wedding rings-
  Rings are a token symbol of eternal love. Worn on the left hand's ring finger because the blood flow is straight to the heart. A ring is representative of a circle with no end.
The rings do NOT have to be extravagant. It should not be about the size or the cost of the diamond, but about the size and cost of the commitment to love one another.
So many people get caught up in the ring. The cut, clarity, color and cost of the ring, even going into debt to pay for an expensive ring.
Girl, take a plain band from a Godly man who loves the Lord so much he would give His life for you, over a flashy ring from a man who loves himself more than you and God. 
     ●The white wedding dress-

 
     The white wedding dress is a symbol of virginal purity. American culture and traditions use a white wedding dress to represent a bride's purity, but around the world other colors are used.
White is the color the Bible uses as pure, white as snow, and clean. The Bible illustrates the washing away of sins and making God's people pure with the sacrificial blood of Jesus.  
Jesus gave His life in our place so that we could live. His blood washed away our sins making us pure before God.

 
Isaiah 61:10
I delight greatly in the LORD; my soul rejoices in my God. For he has clothed me with garments of salvation and arrayed me in a robe of his righteousness, as a bridegroom adorns his head like a priest, and as a bride adorns herself with her jewels.
Isaiah 62:5
As a young man marries a young woman, so will your Builder marry you; as a bridegroom rejoices over his bride, so will your God rejoice over you.
Our job is to maintain that love by obeying His Word. Which means a Christian looks different to the rest of the world because they put God first, love others, trust God and work to stay away from things that are not godly. 
Can a non virgin wear a white dress? 
Yes! The beauty of God's grace means our hearts and minds can be washed clean of the things we have done with our body. His forgiveness makes us clean, pure and virginal.
As a Christian, walk in His love and forgiveness knowing that He made the ultimate sacrifice for your sins. Walk down that aisle in a white dress if you desire, knowing that He has made you pure. 
But if you want to wear a fuchsia pink dress, rainbow puffy dress or a dress covered in flowers, you are just as clean and pure in His eyes because He desires your heart, mind, soul and body.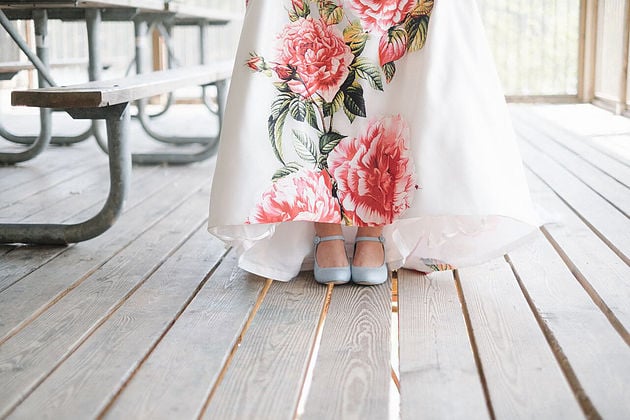 Whether you wear white at your wedding or not, one day as followers of Christ, we will all be wearing white to a wedding and celebrating the bride and Groom at the wedding feast! 
Revelations 19:5-9
Then a voice came from the throne, saying: "Praise our God, all you his servants, you who fear him, both great and small!" 6 Then I heard what sounded like a great multitude, like the roar of rushing waters and like loud peals of thunder, shouting:
"Hallelujah! For our Lord God Almighty reigns.
7 Let us rejoice and be glad and give him glory! For the wedding of the Lamb has come, and his bride has made herself ready. 8 Fine linen, bright and clean, was given her to wear." (Fine linen stands for the righteous acts of God's holy people.)
9 Then the angel said to me, "Write this: Blessed are those who are invited to the wedding supper of the Lamb!" And he added, "These are the true words of God."
●The Unity Candle
–

 
Matthew 5:14-16
"You are the light of the world. A town built on a hill cannot be hidden. 15 Neither do people light a lamp and put it under a bowl. Instead they put it on its stand, and it gives light to everyone in the house. 16 In the same way, let your light shine before others, that they may see your good deeds and glorify your Father in heaven.
 A unity candle flame represents two people coming together as one. But there is no Biblical requirement for a "unity candle" moment. The whole concept of marriage is about unity so anything else is just added or extra!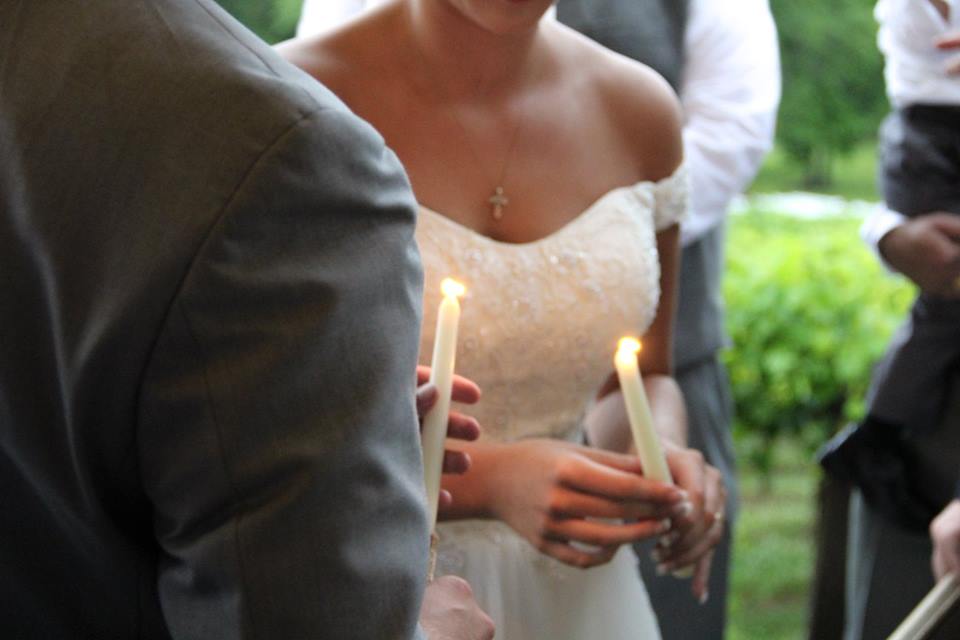 Photo by Chelsea Ray Photography
Sometimes you might see other symbolic moments representing unity in a Christian wedding ceremony such as foot washing, Bible signing, sand pouring, knot tying, communion or other creative ways brides have discovered. 
You can have a simple Christian ceremony without  breaking in the flow of the service with a unity moment and you will be just as married in God's eyes!
     ●The wedding altar-
Just the word altar should conjure up the image of sacrifice. An altar in the Bible is a place established for a sacrifice to God to honor Him, commit to Him, and worship Him.  A wedding altar is a symbol of two people committing together to worship, honor and sacrifice their lives for one another in Christ.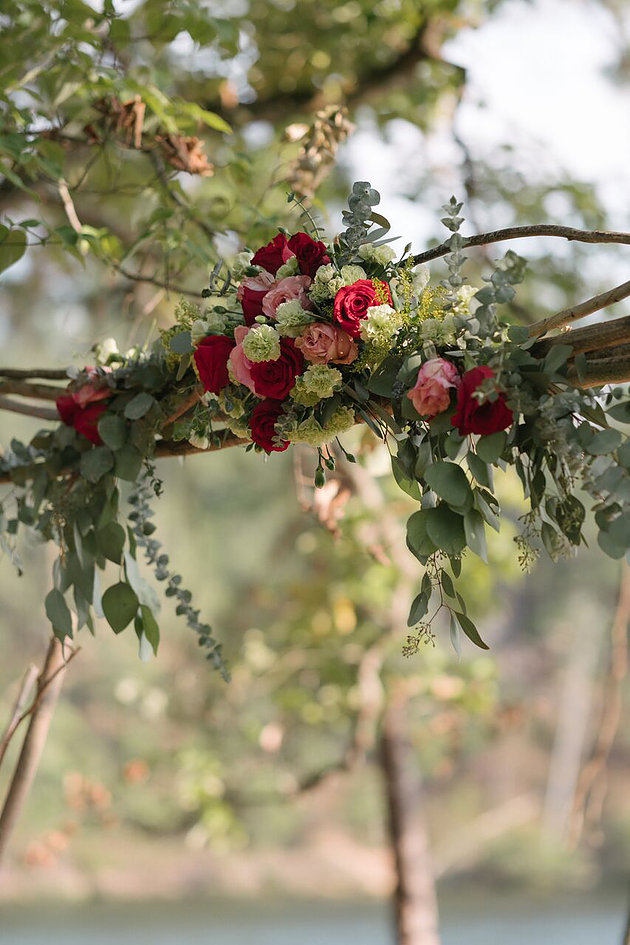 Wedding ceremony altars are also a representation of the Jewish chuppa, a covering or canopy over the couple. It can also symbolize the couple coming together under God.
Proverbs 3:5-7
Let love and faithfulness never leave you; bind them around your neck, write them on the tablet of your heart. 4 Then you will win favor and a good name in the sight of God and man.
5 Trust in the LORD with all your heart and lean not on your own understanding; 6 in all your ways submit to him, and he will make your paths straight. 7 Do not be wise in your own eyes; fear the LORD and shun evil. 
What are some of the things you can expect in a Christian wedding ceremony?
A Christian wedding ceremony will have all or some of the following elements. 
     ● Prayers
     ● Bible passage reading
     ● Gospel message or sermon spoken by the officiant.
     ● Vows
     ● Singing
Prayers
Prayers are the communication between God's people and Him. Prayers offer thanksgiving to God for all that He has done and are a petition to Him for fears, help and needs. 
Bible passage reading
The bride and groom may ask someone  to read a passage from the Bible that is special to them. Here are some of our favorite Bible verses for wedding ceremonies. 
God's Word is our guide for living on earth. It is the instructions for how to love people and our reminder of who God is, what He has done and His love for us. Reading Bible passages at your wedding is a reminder to your guests of what love is and a message of love to those who do not yet know God.
Gospel message or sermon by the officiant. 
There's never a bad time to remind people of God's Word and the message of the gospel!
Marriage is God's institution and design. 
Our mission as Christians is to go into the world and share the Good News of Jesus. That could be a foreign county, your own home or your wedding where you have a captured audience to listen. 
Matthew 28:19-20
Therefore go and make disciples of all nations, baptizing them in the name of the Father and of the Son and of the Holy Spirit, 20 and teaching them to obey everything I have commanded you. And surely I am with you always, to the very end of the age."
You never know who needed to have that message that day to begin their own relationship with God. Weddings have a way of reminding people their need for love and relationship. 
Vows
The vows can sometimes be taken lightly and jokes made to lighten the mood. But the truth is, the vows are commitments made before God to love, honor and care for one another for LIFE! 
That's no joke. 
Making a promise before God to love someone is a serious commitment. Marriage can be hard if love is only thought of as a feeling and not a daily action.
Add some humor if your wish is to lighten the room, but don't take those vows lightly!
Singing and worship
Singing is an action of worshiping God. Music and lyrics have a way of opening a heart to pour out and give thanks for all the Lord has done. You may see a bride and groom incorporating singing and worship in their ceremony. 
Weddings are a celebration of love and commitment! When we witness a Christ centered ceremony, praising God is just a natural response.
How long does a Christian wedding last?

 
Christian weddings can last a few minutes to a couple of hours depending on the content the bride and groom include in their wedding ceremony.
It doesn't take long to make a commitment to one another before God. What takes the extra time for a Christian wedding is the length of the music for a processional, the message delivered by the officiant and the extra elements added into the ceremony. 
It's amazing how awkward a long song can be during a unity candle moment. It takes exactly 23 seconds to walk to the candle and light it, but 4 minutes for the song to finish.
In the mean time, all eyes are on you as you stare into the eyes of your loved one. 
What is the best music for a Christian wedding?

 
You can Google the top Christian wedding songs for a Christian ceremony to discover year by year the selection can change. There are a number of truly beautiful songs that are timeless. 
"How Beautiful" by Twila Paris will make us cry every single time. 
When you are choosing music or songs for your wedding, listen carefully to the lyrics. Though they may be catchy, emotionally charged and trendy, do they best represent you,  your groom and your commitment before God? 
The Christian wedding reception

 
Once the vows have been spoken and you are pronounced husband and wife, the celebration can begin. There are no rules of set elements that you must have for a Christian wedding reception.
Just like a non Christian reception, you might see food, drink, cake, toast, music, dancing and bouquet tossing. You might see only a few of those items  or more elements such as special song, speeches, choreographed dancing or traditional elements based on religious affiliation. 
Christian weddings and alcohol.. should christian weddings have alcohol?
This is a big issue among different churches and individual people's beliefs in whether or not it is sinful to drink alcohol. Neither one of us are regular drinkers of alcohol. We don't need alcohol to celebrate or be joyful.
We're just naturally fun loving people. With that said, we also do not have a problem if there is alcohol at a wedding reception as long as people are drinking in moderation and using responsible thinking. 
We no longer want to direct and coordinate weddings when the main focus upon meeting the bride and groom is, "What special drink we will choose." or "How drunk everyone will be at the party." 
Nope. We've seen several drunken weddings from Christians or in churches. We've escorted enough over indulged people down the aisle and into their get away car to wonder if they even remember saying their vows. 
Invite Jesus to your wedding!
Ephesians 5:15-20
Be very careful, then, how you live—not as unwise but as wise, 16 making the most of every opportunity, because the days are evil. 17 Therefore do not be foolish, but understand what the Lord's will is.
18 Do not get drunk on wine, which leads to debauchery. Instead, be filled with the Spirit, 19 speaking to one another with psalms, hymns, and songs from the Spirit. Sing and make music from your heart to the Lord, 20 always giving thanks to God the Father for everything, in the name of our Lord Jesus Christ.
Be filled with the Spirit!
In the Bible, the very first miracle recorded that Jesus performed is at a wedding feast. The wine had run out and the celebration was still going strong. Jesus turned the water into wine.
Many debate the alcohol content of the wine verses the wines we have today. Some will argue that this is not condoning a Christian serving alcohol at a wedding.
Here's what we can state. Jesus did not tell them, "You should not have wine at the wedding." He provided the wine when there was no wine. 
No where in this story was there the mention of people being ugly drunk!
If you take anything else from reading the wine at the wedding feast, one key detail usually missed….Jesus was one of the invited guests! 
If you want a Christian wedding, make sure you invite Jesus. Not saying He will turn water into wine at your wedding, but His presence sure makes everything awesome!
What makes a Christian wedding different from a non Christian wedding?

 
The focus of the wedding ceremony!
You should feel and see the presence and love of God in the people and their focus on Christ. Hearts loving the Lord change the look and feel of a wedding
We are all for making a wedding ceremony and reception pretty, but we never want the focus to be about those extra elements.
Our goal and mission is to help brides, find ways to save money, stay organized and most importantly, keep their focus on a Christ centered wedding and marriage. 
Revelations 21:1-8
Then I saw "a new heaven and a new earth," for the first heaven and the first earth had passed away, and there was no longer any sea. 2 I saw the Holy City, the new Jerusalem, coming down out of heaven from God, prepared as a bride beautifully dressed for her husband.
3 And I heard a loud voice from the throne saying, "Look! God's dwelling place is now among the people, and he will dwell with them. They will be his people, and God himself will be with them and be their God.
4 'He will wipe every tear from their eyes. There will be no more death' or mourning or crying or pain, for the old order of things has passed away." 5 He who was seated on the throne said, "I am making everything new!"
Then he said, "Write this down, for these words are trustworthy and true." 6 He said to me: "It is done. I am the Alpha and the Omega, the Beginning and the End. To the thirsty I will give water without cost from the spring of the water of life.
7 Those who are victorious will inherit all this, and I will be their God and they will be my children. 8 But the cowardly, the unbelieving, the vile, the murderers, the sexually immoral, those who practice magic arts, the idolaters and all liars—they will be consigned to the fiery lake of burning sulfur. This is the second death."
Ideas for a unique Christian wedding
Our best advice would be to keep it simple. Keep your focus on Christ and the vows you will make to one another.
There is nothing wrong with making your wedding day pretty or a vibrant and joyful celebration, but don't get lost in the details and things that do not make a marriage strong! 
We love a pretty event that stays in budget, keeps the focus on Christ and brings joy to all who attend. 
Christian wedding decor
Hobby Lobby is our favorite resource for finding Bible verse signs to use at weddings. It's a great way to display God's Word at your wedding and reception and then display in your home. 
Bible verse signs for wedding decor
Christian wedding ideas for ceremony 
Visit our own "non- traditional" Christian weddings here!