My son married his God loving, precious heart, Jane Eyre favorite book, longest eye lashes, beautiful bride.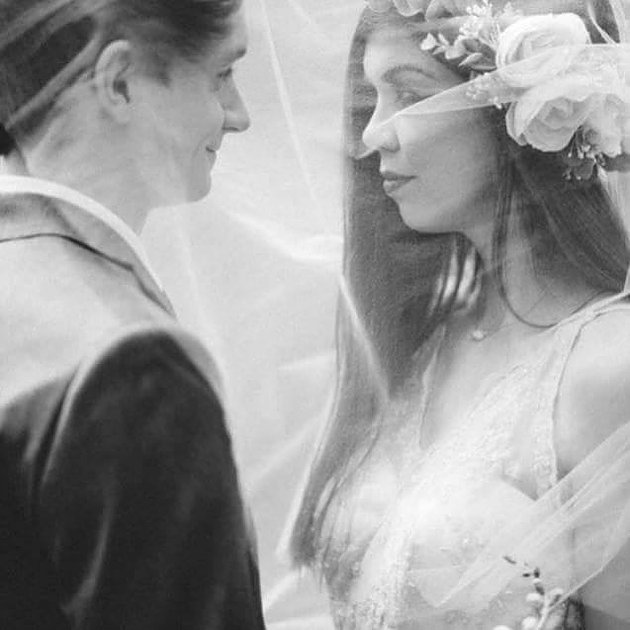 It was a quiet wedding in the woods we had…intimate, meaningful and surrounded by love.  
From the get go, the ceremony was to be small, intimate, and on a tight tight budget. Why a tight budget? Because you don't have to go into debt or spend excessive amounts of money to have a beautiful and meaningful wedding ceremony. 
 We always tell brides to remember the #1 and most important reason for a ceremony is, "Two people coming together in a covenant relationship with God".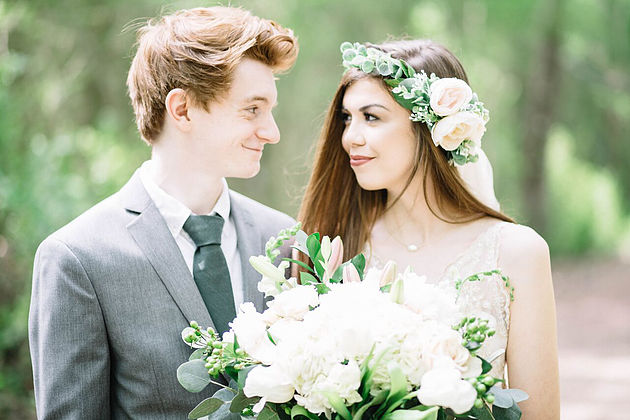 Everything else is just "fluff"! Pretty fluff but just fluff! The dress, venue, cake, centerpieces, sparklers and favors are pretty but they do not a marriage make!
 That does not mean you cannot still have a beautiful wedding ceremony. We worked hard and brainstormed ways to make Devan and Hannah's day lovely!
 

The Wedding  Invitations:
We handmade them by watercolor painting a green wreath design, a photograph, and a pack of brown card stock invitations from Hobby Lobby. We used a Cricut to cut green card stock leaves, twine and a Bible verse then tied them up for a "knot tying" detail!  
The Venue:
This was a bit risky. In Alabama an outdoor wedding day can be sun, rain, sleet, storms and snow all within an hour's time. Sandwiched between two days of rain, was a beautiful bright sunny day at the park.
These two were engaged at a park in Alabama. It's a quiet woodsy park with an industrial bridge walk over a babbling creek. Because the wedding was at 10 am. the park was not busy in the month of May. The weather was perfect! The venue….free! 
Before!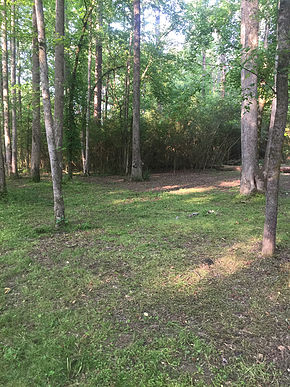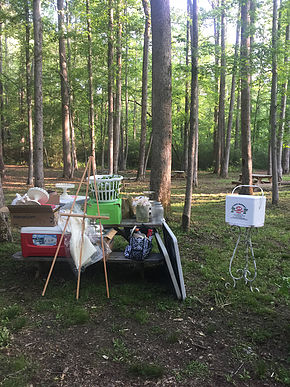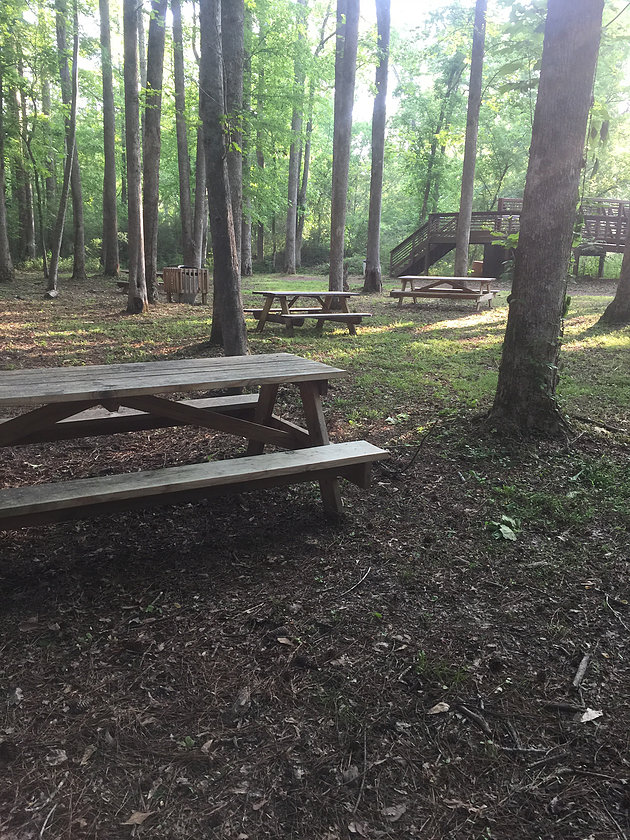 After!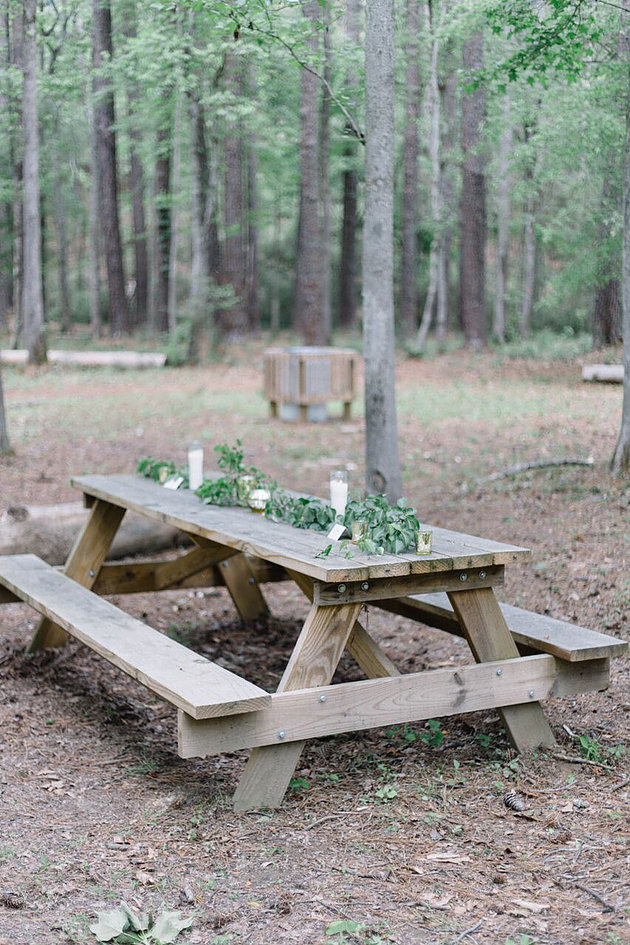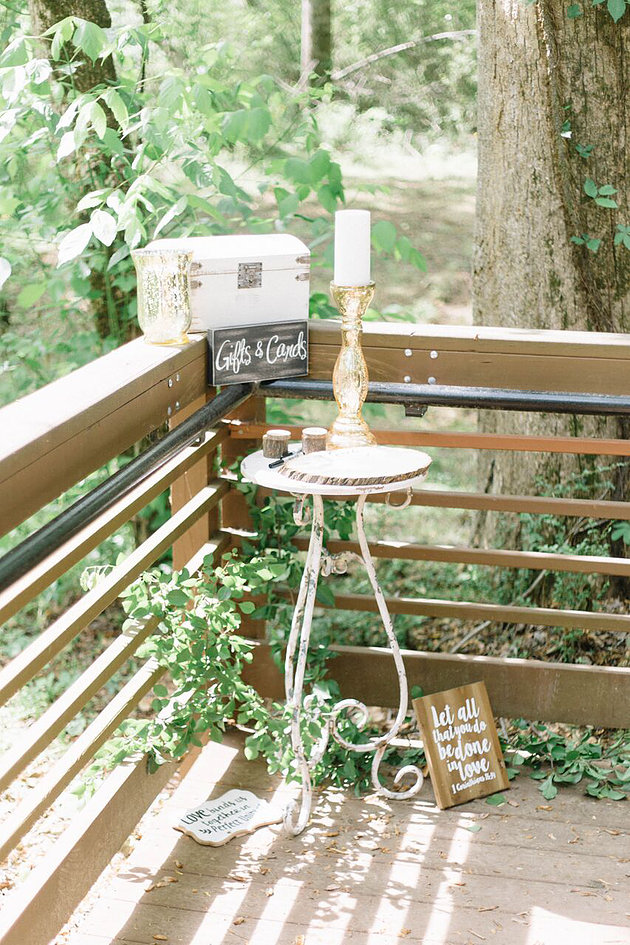 Yes that verse sign was set back up but not before this picture was taken! Oops!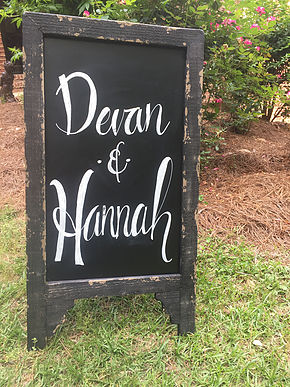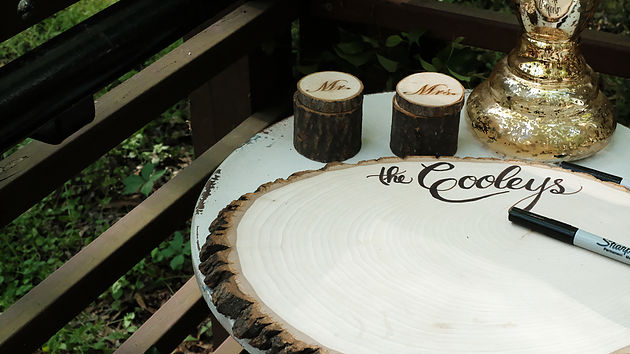 Family and friends formed a circle in the woods while the groom and the officiant were inside of the circle. We watched and waited as the bride escorted by her father walked across the bridge and into the circle. They were surrounded by a wall of love!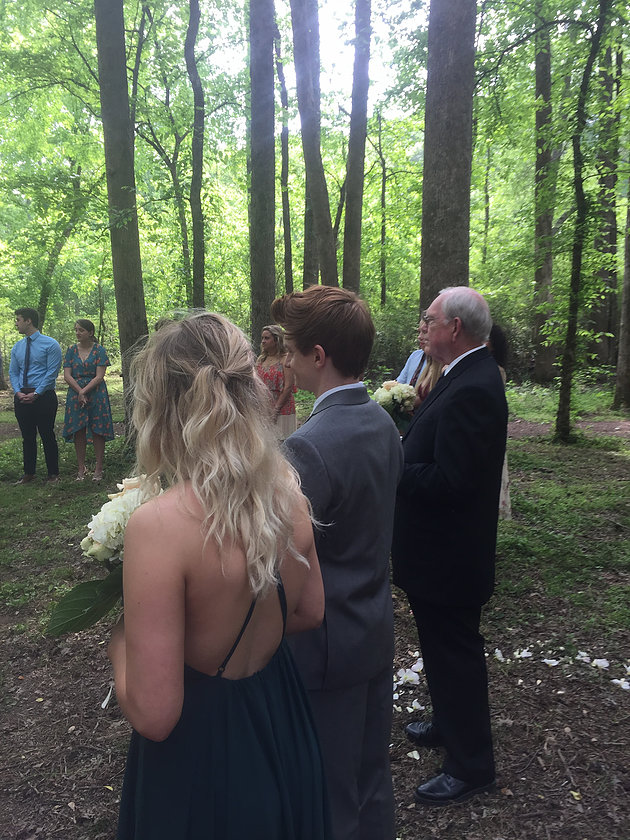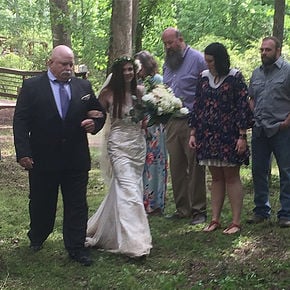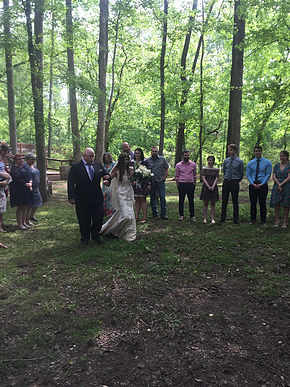 The Wedding  Dress:
A local consignment dress shop was going out of business. It's funny how you can walk into a dress shop with one style in mind, try on a completely different dress and "know" it's the one… but it's nothing like the vision you thought you'd want. Hannah picked a gorgeous 40's Hollywood glamor style champagne sequin dress.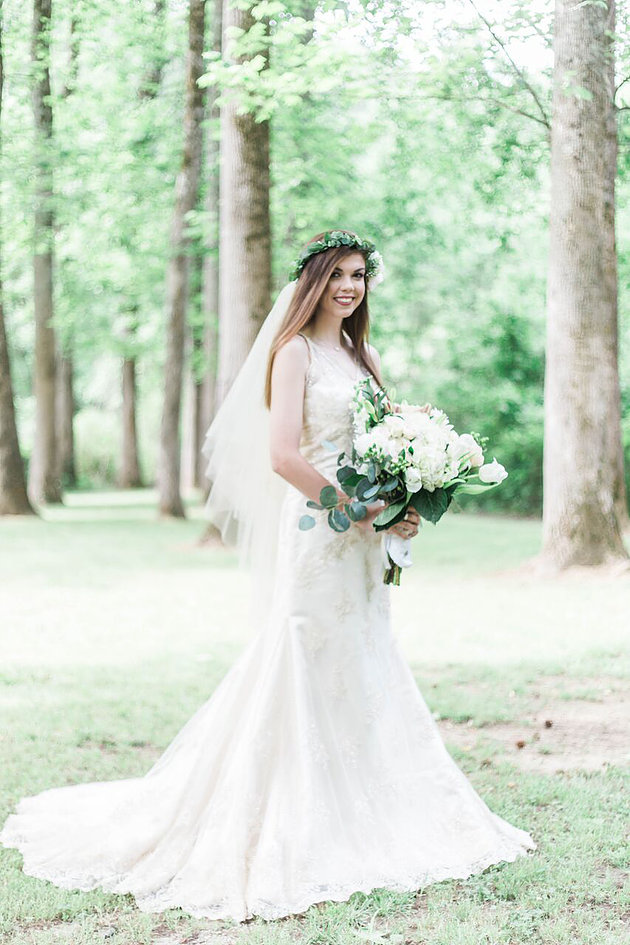 The Groom:
Devan wore a light grey suit and a hunter green tie to match the greenery of the woods.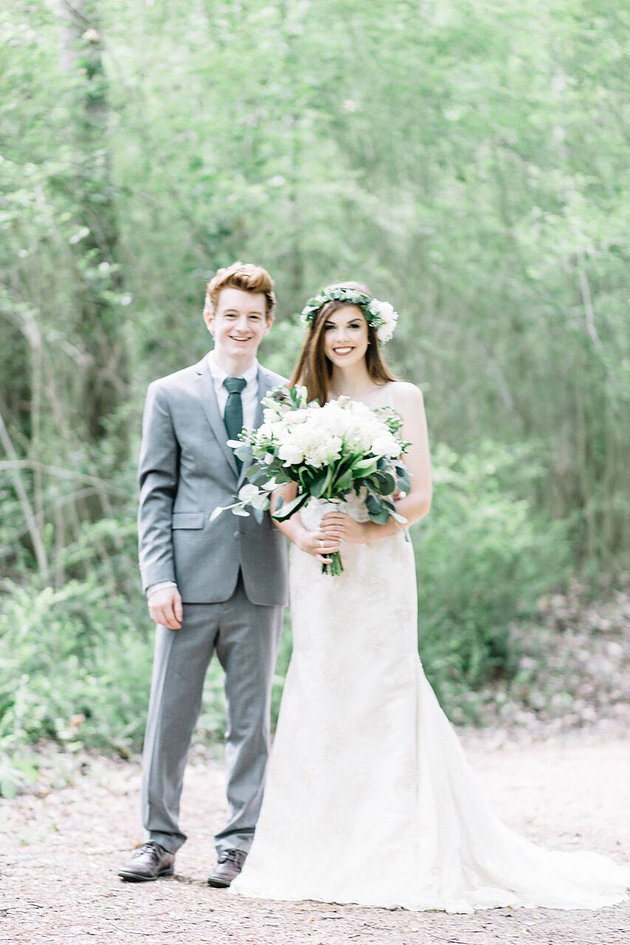 The Bridal Party Attire:
The couple chose to keep it simple! The Best (Wo)Man- Devan chose his sister as his best man! She wore a beautiful hunter green long chiffon dress purchased online for $50.00.The Maid of HonorChose a similar style chiffon dress but in a burgundy wine color. Mixing the lengths and colors of the dress was lovely! You don't have to match everything for a beautiful bridal party!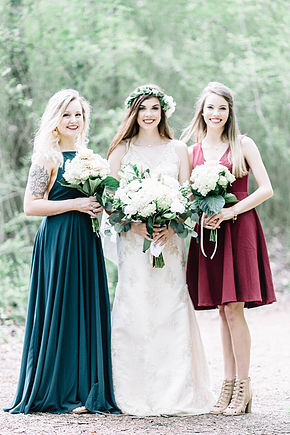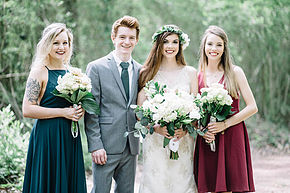 The Wedding Bouquet Flowers:
$47.00 from Publix floral department! Hannah wanted white and cream flowers with greenery draping. She had a bouquet in mind she had found on Pinterest. After gathering the flowers she wanted, we wired them together and wrapped them with ribbon. Hannah's handkerchief and sorority pin was added along with a borrowed blue pin from her mom.
We tied the Bible verse charm around the bouquet for the last detail. What Pinterest doesn't tell you about these beautiful full draping bouquets is how much they weigh! Just take that in mind with your maid of honor is she is holding not only her bouquet but your heavy one too! (smile) This was my car ride!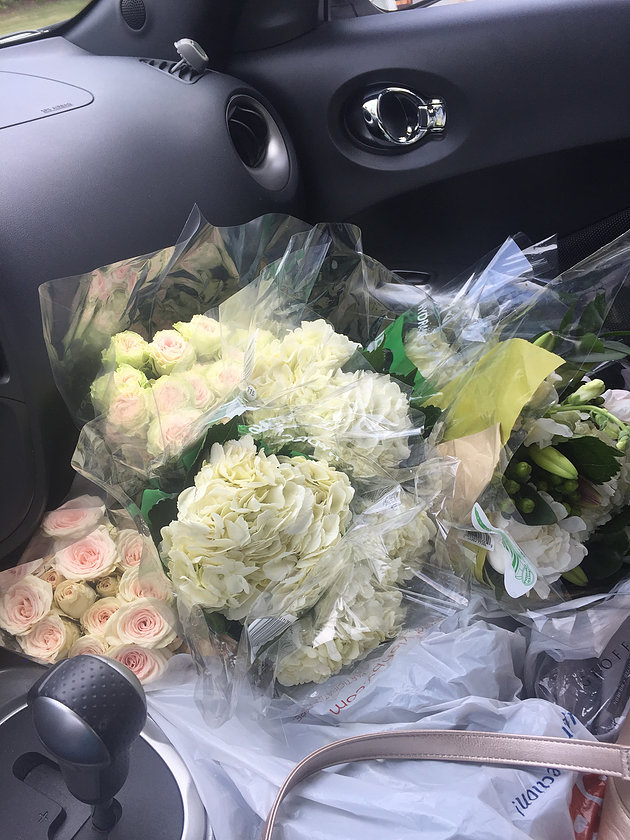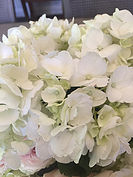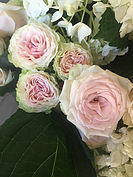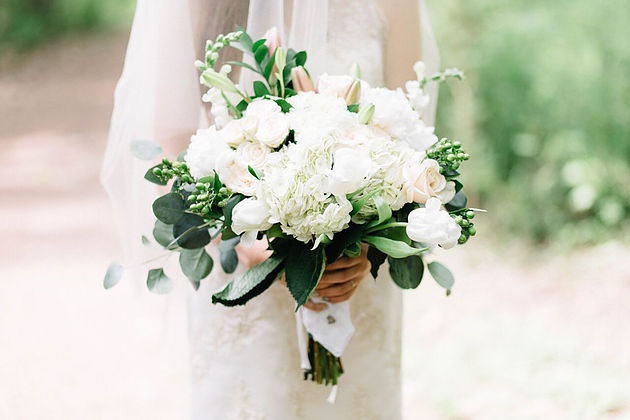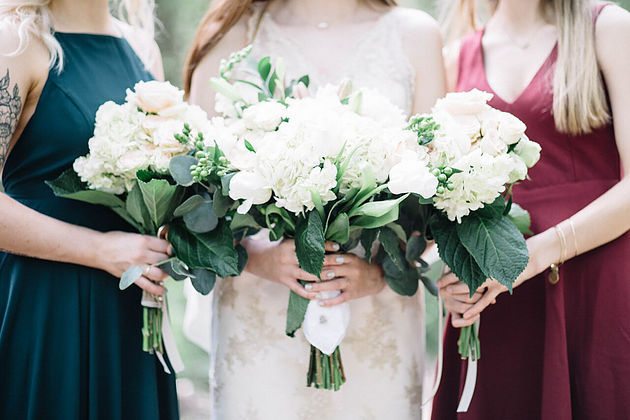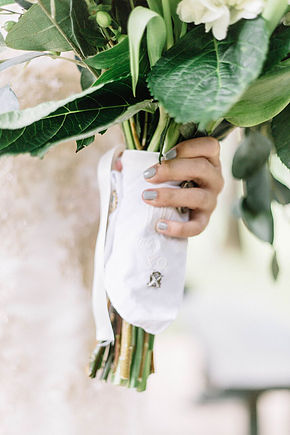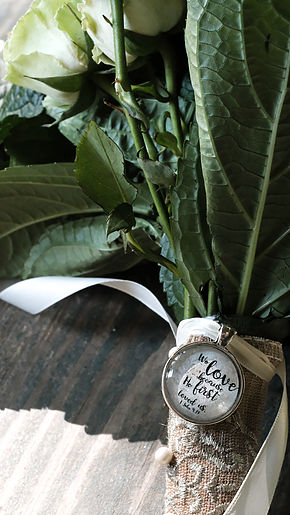 The Wedding Ceremony:
Filled with prayer and Scripture, the ceremony was Christ centered and a beautiful reminder of the love He has for us.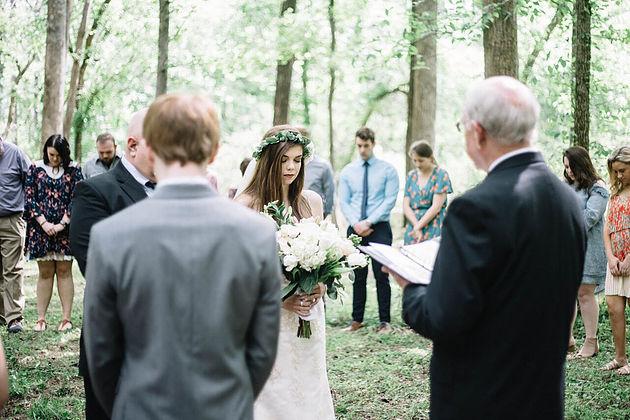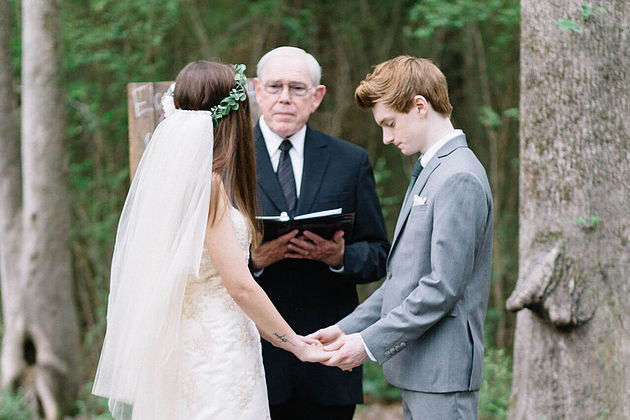 The Unity Moment:
'Hannah and Devan wanted a "knot tying" board for their unity moment. Her precious sister made the board and wrote the verse on it. The knot tying board was placed on an easel. It was a sweet moment to watch them work together to braid the knot! Now they can hang the knot board up on a wall in their home as a reminder!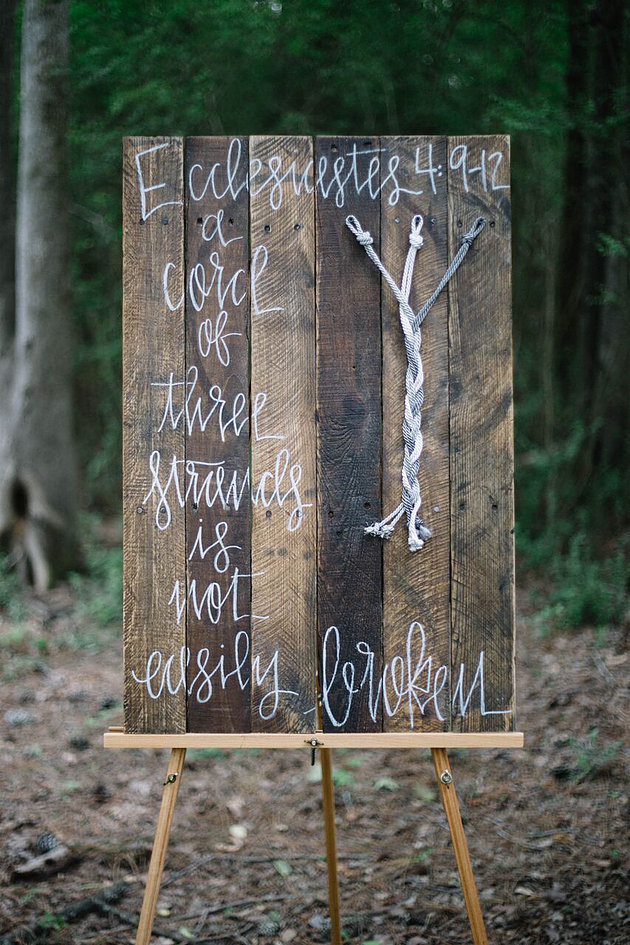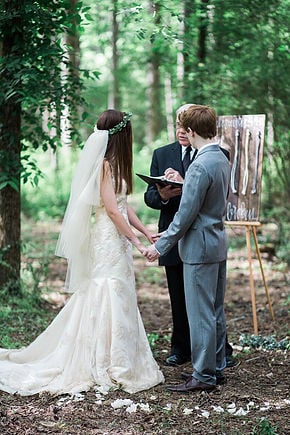 The Wedding Decor:
When the woods are in full green array, you just don't need to add much to God's beauty! Taking inspiration from the greenery, we added branches cut from home bushes to the picnic tables. Some battery lights and gold votives added a sparkly touch. The final detail was the Bible verse printed cards.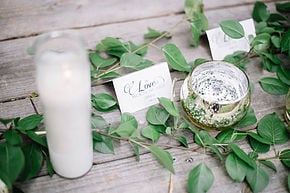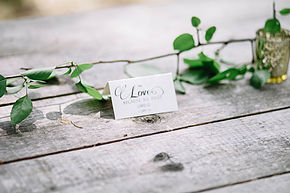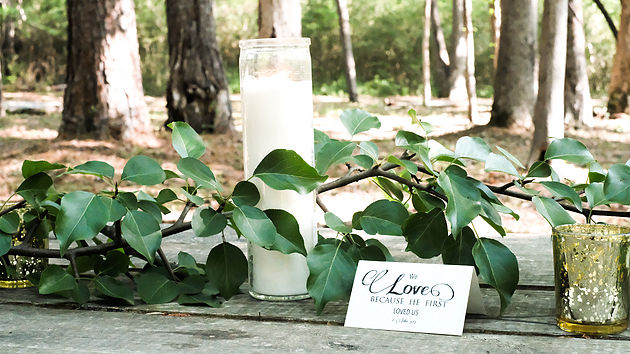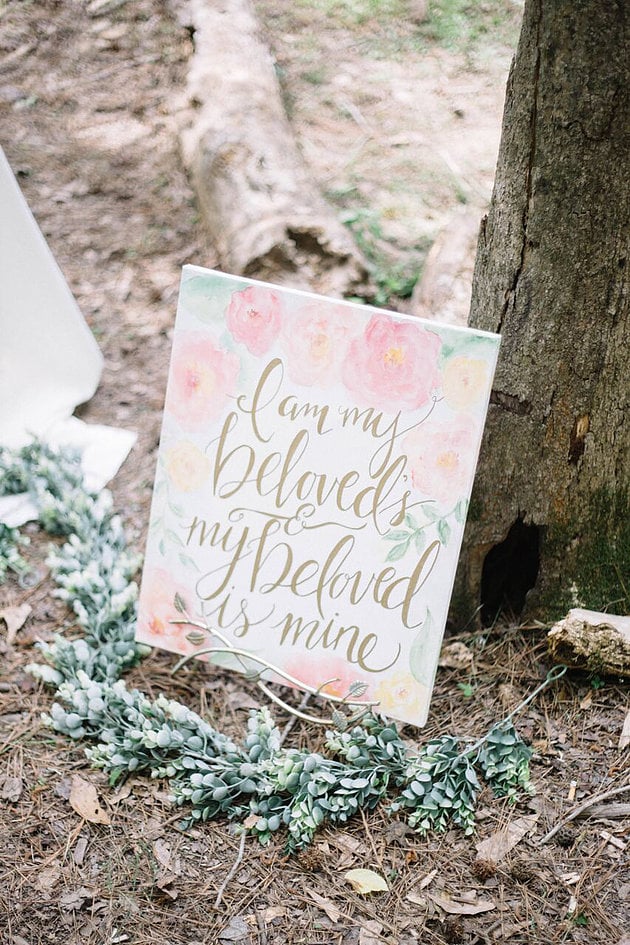 Escorted by her daddy, they began the long walk over the creek by the way of the bridge.We placed verses from the book of Ruth to mark the way!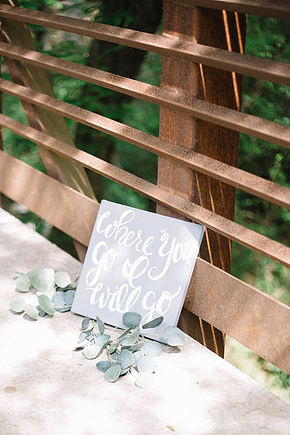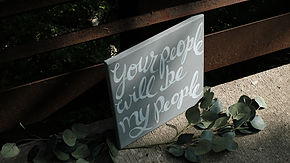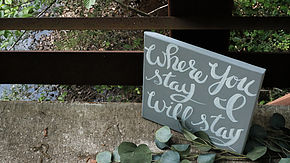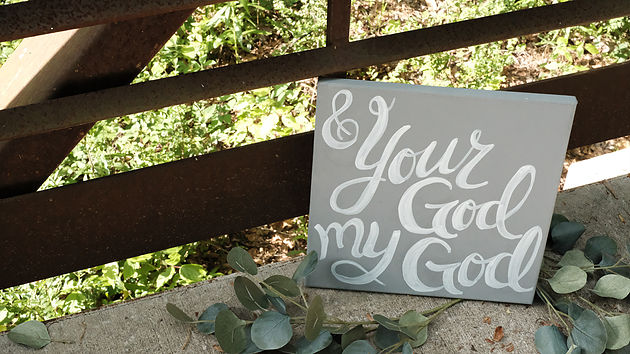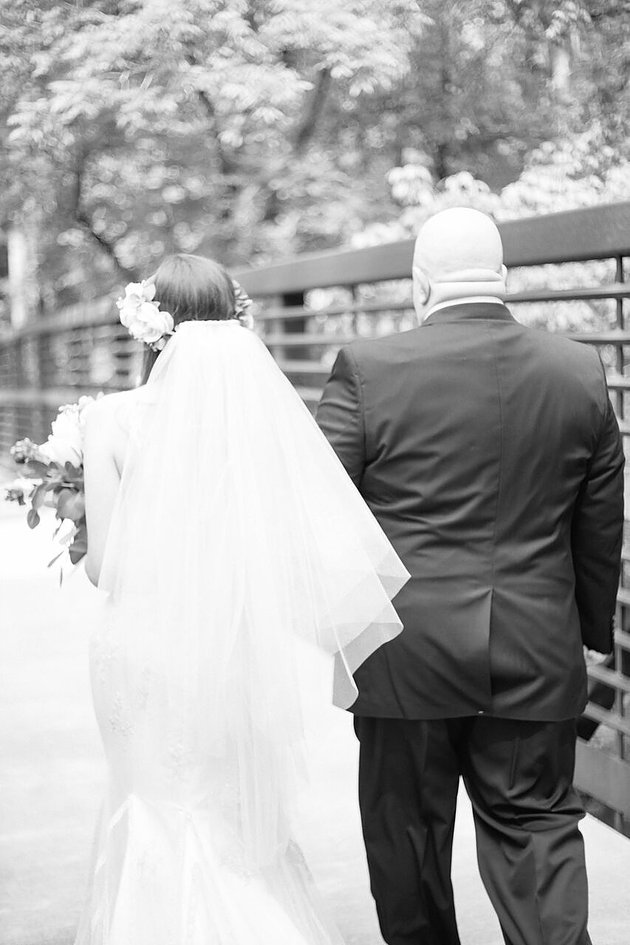 The Wedding Reception Food:
Because this was a morning wedding at 10.am, brunch was our menu! The wedding couple requested  Krispy Kreme donuts, but we also added hash brown casserole, fruit and a biscuit bar with ham, chicken, jellies, butters and syrup.
 The only issue we had with this brunch reception in the park…..uninvited guest!
ANTS!
Like every picnic, ants were a problem. We were unable to set the food up and then go to the ceremony…some of the ants looked like they could carry the entire cake on their backs! 
We just packed the food away and after the ceremony set it out for guest to enjoy. It made it more like a family reunion as everyone visited for a few minutes.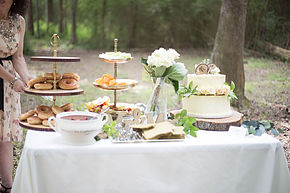 The Wedding Cake:
Wedding cakes are an area that can add up in cost. So many factors are involved in the pricing of wedding cakes. We try to tell brides on a tight budget to rethink the traditional cake.
You do not have to stack a wedding cake. Individual cakes displayed on various stands and levels are beautiful too. A traditional wedding cake can run anywhere from $2.00 to 8.00 a slice. Some brides pay the bakery to cut the cake adding another $1.00 + per slice! 
 We've been cutting cake for free all these years!….. A simple cake from a bakery averages $33.00 for a 10″ round and feeds usually 24-30 people depending on the slice size cut. But once you tell a bakery that it's for a wedding, the cost can double and even triple. 
 Hannah's mom chose to purchase two different sized cakes, an 8″ and a 10″ from Edgar's Bakery.
We stacked the cakes ourselves because our cake set up to cutting time was 10 minutes!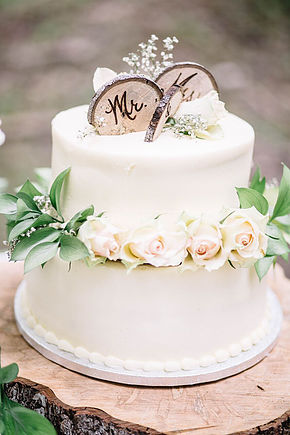 The ants made us unable to set the cake up for display until the couple were married!  We stacked the cakes and used ruskus leaves to hide the cardboard. Unfortunately, this had to be done with some guest watching….. no pressure there… my hands were shaking! I just watched my son get married and within 5 minutes I'm decorating a cake!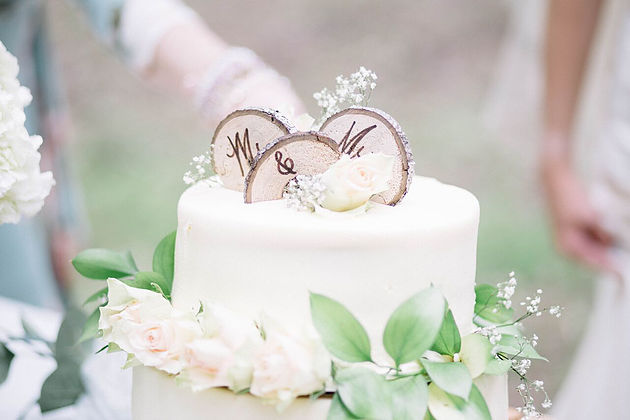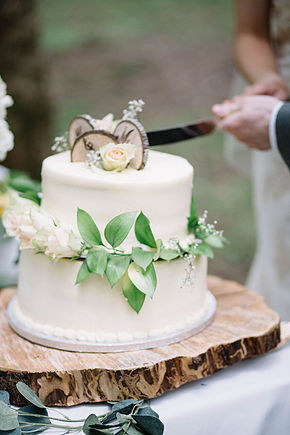 The simple buttercream icing was a lovely backdrop to add left over roses and greenery as decorations. Sticking to the woodland theme, we made a cake topper from small branch wood cuts and a brown Sharpie marker…..I just could not get the wood burner to cooperate for me! 
The happy couple left with a shower of bubbles!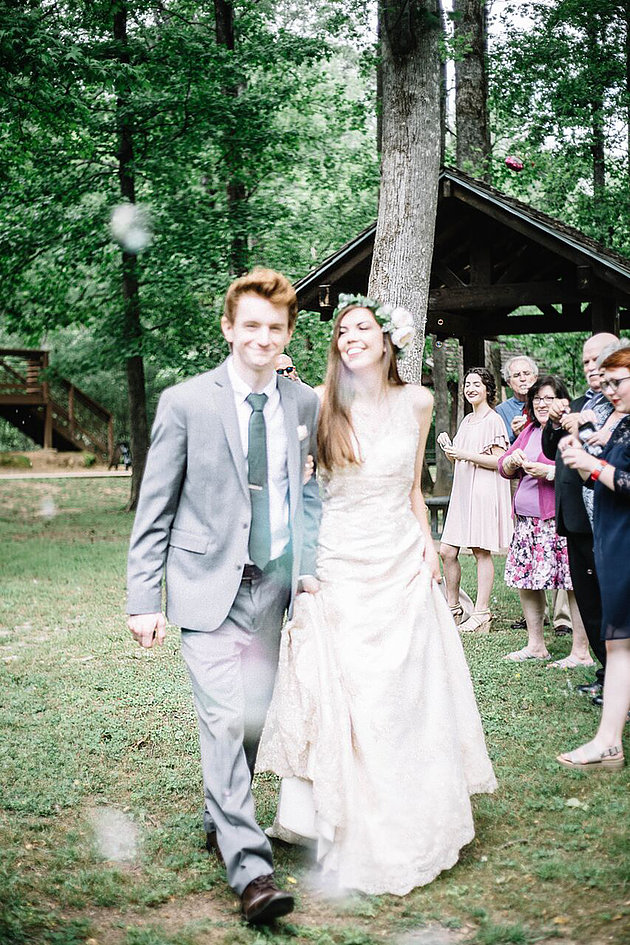 My tale draws to its close:
 From written words of Charlotte Bronte, the voice of Jane Eyre: "We entered the wood, and wended homeward." "I know what it is to live entirely for and with what I love best on earth. I hold myself supremely blest–blest beyond what language can express; because I am my husband's life as fully is he is mine. No woman was ever nearer to her mate than I am: ever more absolutely bone of his bone and flesh of his flesh."   
 *most photos by Cameron Stewart  and some by Chelsea Ray Photography 
Visit us for wedding  tips and ideas  or if you need wedding planning insights to tame the wedding planning beast!