I was seriously bored with the curtains that covered my large living room window. They blocked the sunlight and kept the room dark and gloomy. By deleting the curtains I was left with a very bland wall.
When I get bored with something it's time to be creative. I knew I wanted a white plank sign with Scripture but the decision was decided when I came across one on Pinterest from Dear Lillie.
This simple diy wood board sign with a Bible verse is inexpensive and time friendly. I did mention that I took down the curtains to let the light in. The problem with this is I can't take a single good picture no matter what angle I try!
UHHH. So please forgive the graininess.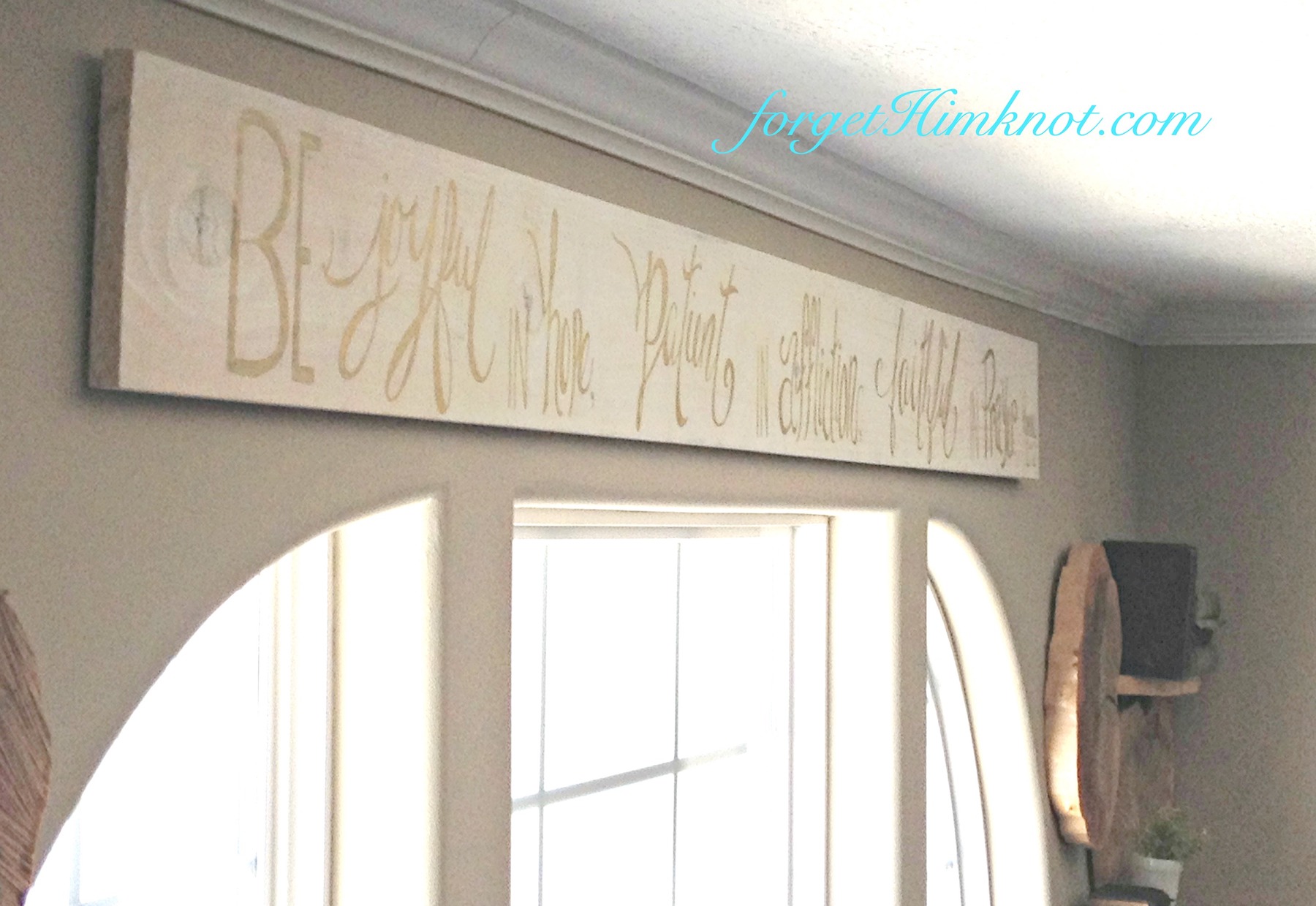 How to DIY board with Bible verse  
Step 1
Decide the width and length your sign will be. I chose 1x8x8 pine for this project.  
Step 2
Decide the overall look your want. Solid paint? Stain? Washed? There's so many styles you could choose. I went for a washed treatment to allow the grain and knot holes to show.
Solid paint:
Choose your color from either a latex paint you painted your trims or walls with in your home. OR you can use any acrylic paint color you desire. Just brush the paint on in the direction of the wood grain. You may want two coats for a more solid look. 
Stain:
Pick your favorite stain color and apply per directions. You can use a smooth cloth to apply the stain and wipe into the wood. Let dry! 
Washed:
 Water down your paint… 50/50 (half paint mixed with half water). Brush the mixture on your board in the direction of  the wood grain. Then with a damp cloth, wipe in the same direction. This will remove some of the paint leaving you with a whitewashed effect.
You can always apply more to achieve the look you want so do a layer at a time. It's easy to add more but hard to take color off! Let dry! 
Step 3
There are so many ways to add lettering and words to your project. We went for a gold paint pen. Choose your Bible verse then count out your letters and spaces you will need. Pencil onto the board your letters first because you can erase anything that you dislike. Then go over the pencil markings with a acrylic paint pen. OR….. 
Other creative ideas to add your lettering:

 
•Cut lettering from a Silhouette and a vinyl adhesive sheet to just peel and stick or cut pretty paper that needs to be decoupaged.  
•Cut letters found in the scrapbook section of Hobby Lobby. •Wood burn your lettering with a word burn tool…. so beautiful! •Sharpie Markers come in an array of colors even metallics. I love these new brush tip Sharpies but the colors choices are limited.  
•Paint brush and acrylic paint applied with a steady hand. 
•Print your lettering from your document program and printer and use a transfer medium. Any of the above options would be great! Tips for hand lettering.
●Calligraphy is an art form not all are capable of doing. 
Step 4
After the lettering is dry it's time to hang it. Measure the center of where your board will hang. You can find your wall stud and with a drill, screw in some screws. OR push a couple of Gorilla hooks through the sheetrock according to the instructions. 
Step 5
Measure where your wall screws or the Gorilla hooks are and transfer that measurement to the back of your board. Attach the teeth hangers with small nails. Flip the board over and hang it.
 Now that the light is coming through, we moved the work desk in front of the window to soak up the outdoor beauty. (Okay… truth here, I see the back deck and patio with many projects still to do!).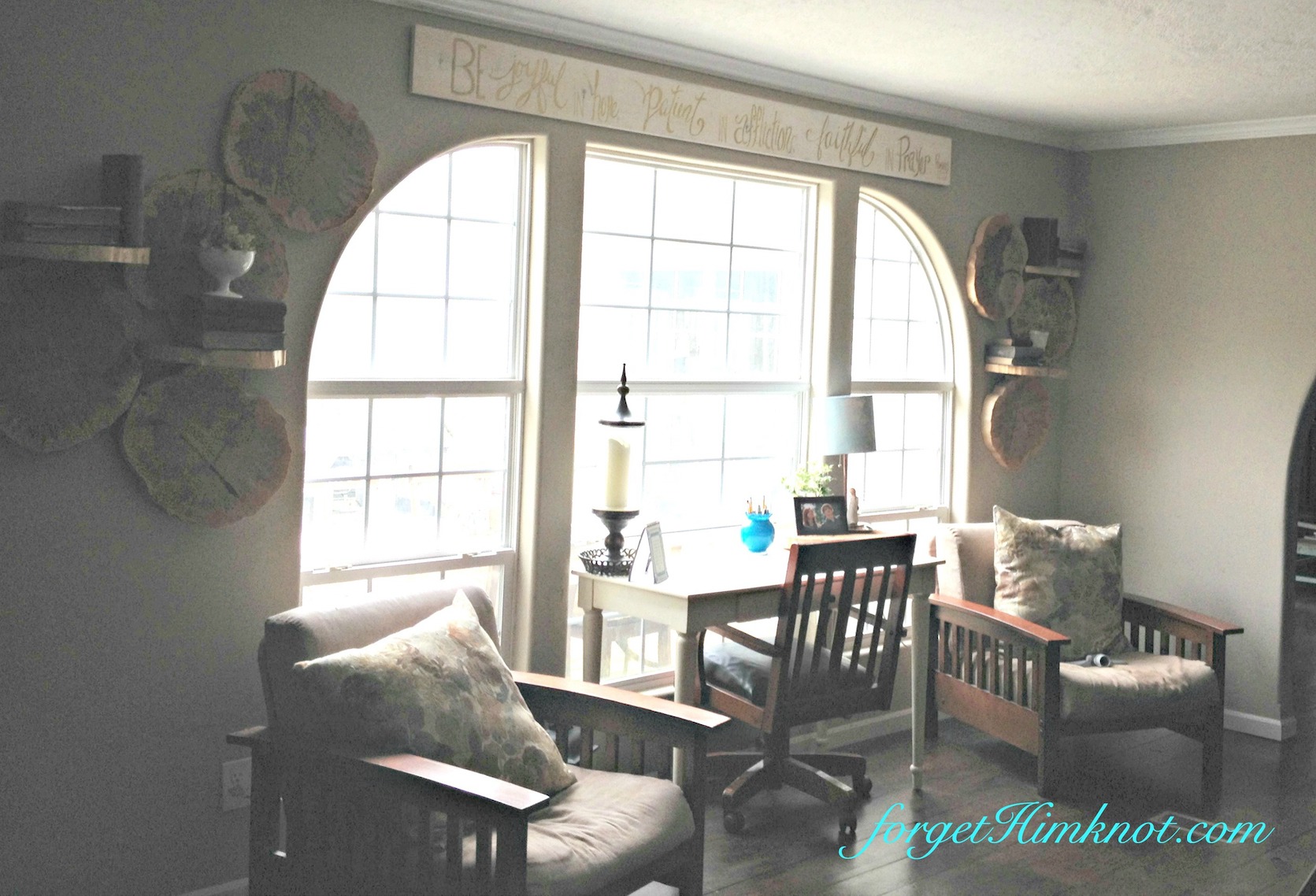 (diy for wood cut shelves and wall decor)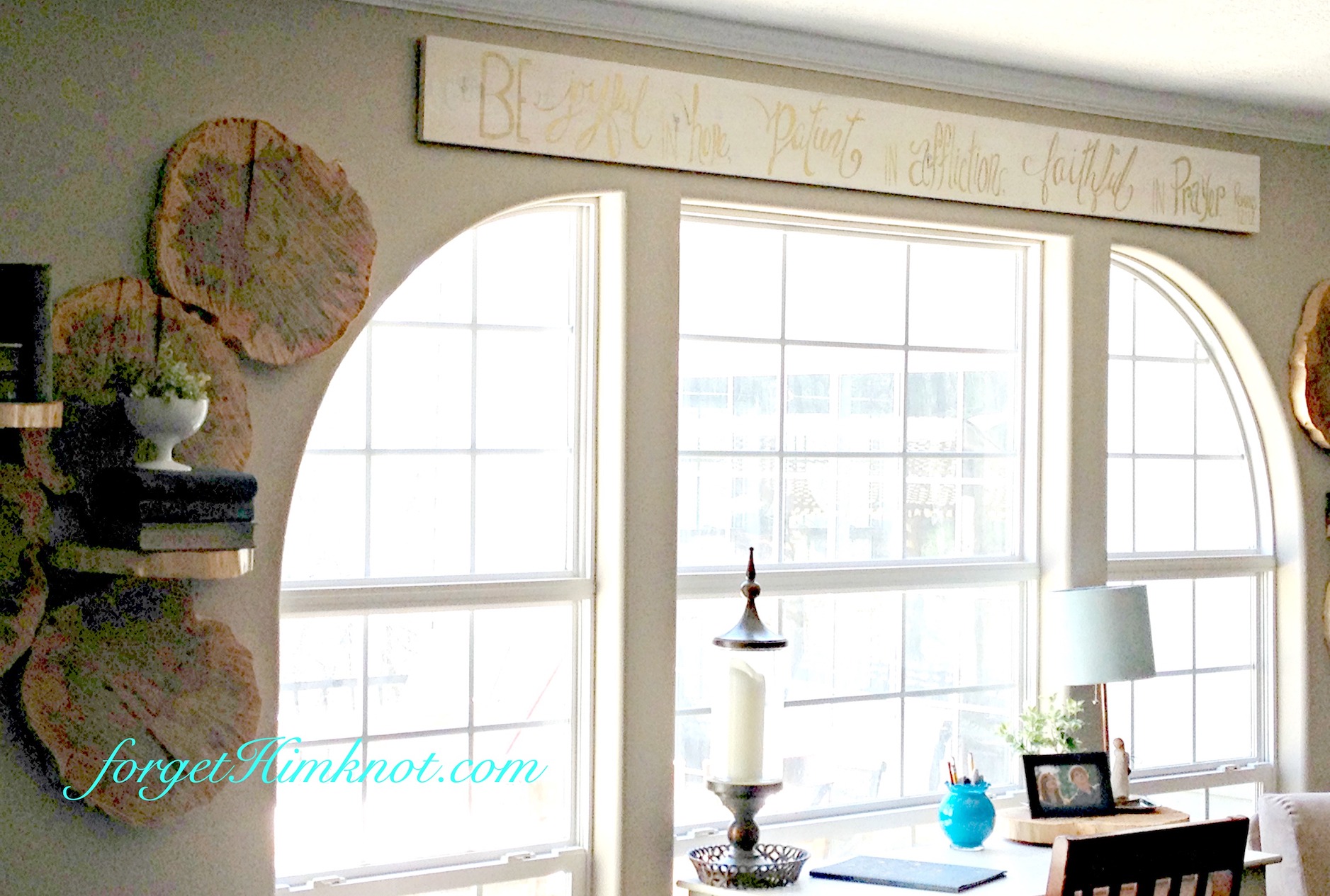 But the wood board project hangs over my head everyday to remind me that I need to…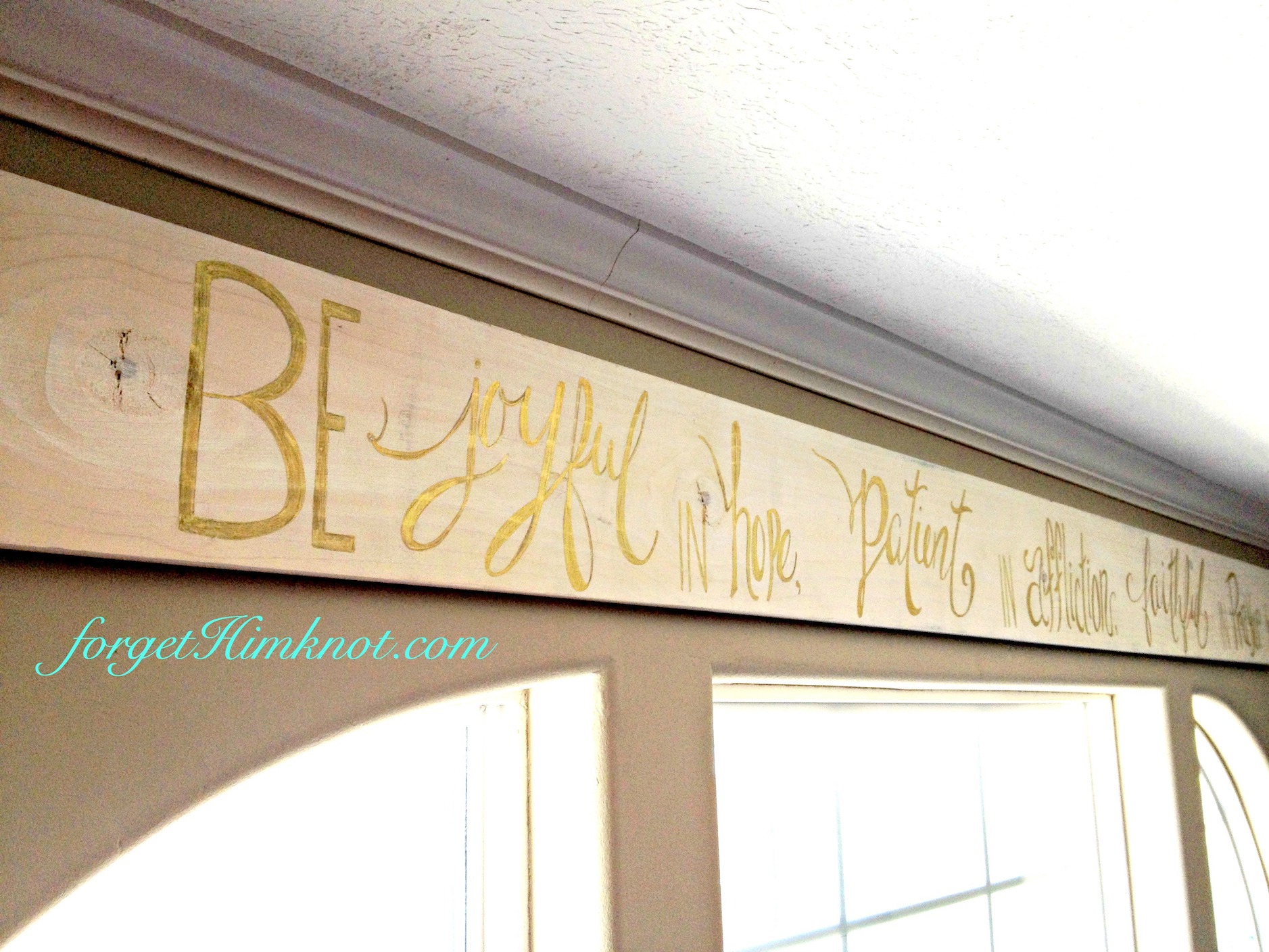 "Be joyful in hope, patient in affliction and faithful in prayer." Romans 12:12 
    forget Him knot!