Small budget wedding reception tables
Every bride wants a beautiful wedding reception, but not everyone has the funds to match their dreams. You can decorate your reception without breaking the bank. A simple table decor can be enjoyed by your guests and your special day be what you envisioned.
We share our wedding planning ideas and have included a breakdown of supplies, cost and how to decorate wedding reception tables on a small budget.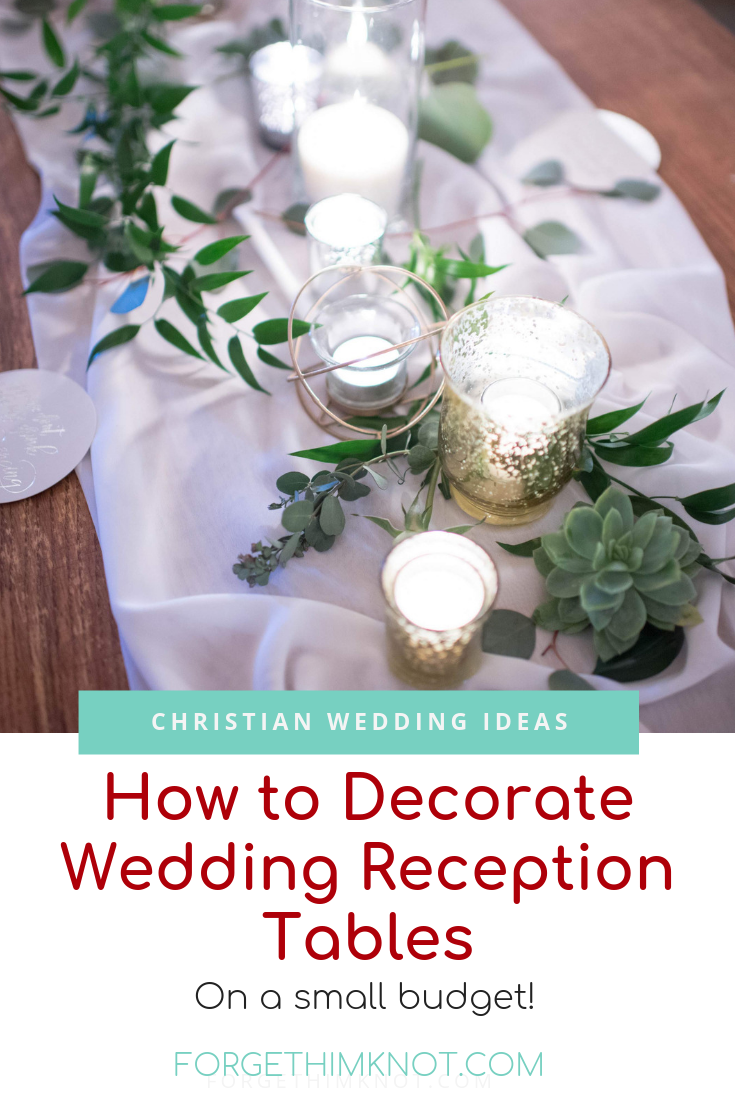 What is a wedding reception? 
A wedding reception is a celebration usually occurring after a wedding ceremony. There are no set rules as to what you must have or not have at your wedding reception. You can celebrate with or without food or dancing.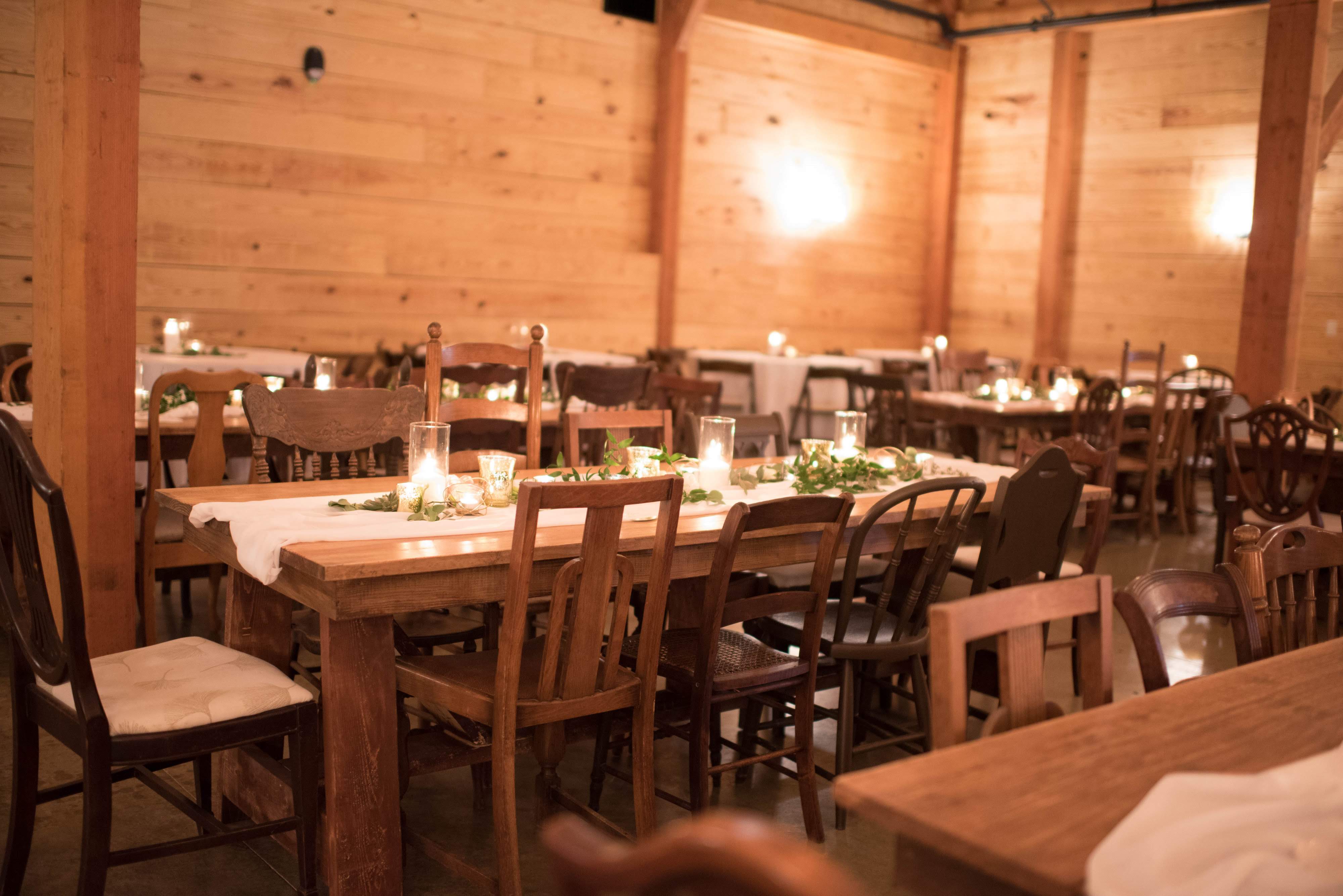 Do you feel like you can't afford a wedding reception? 
Trust us we understand. Years ago, we both approached our own wedding planning and receptions with a small budget in mind.
Nina has a food service background, so she was able to prepare all the food herself.
Carrie opted to save money by not having a reception for the entire guest list.  She only invited immediate family and the bridal party back to the groom's family home for cake, nuts and Pepsi. (At the time her husband worked for Pepsi)
A wedding reception on a small budget can still be a beautiful celebration without serving tables piled with food.
We share more tips for saving money in your reception planning here. 
Items that affect the wedding reception budget:
     ∙ Number of guests
     ∙ Venue and supplies
     ∙ Menu 
     ∙ Time of day
The number of guests determines the amount of food, tables, chairs and all the other individual items you will need along with the venue's accommodations. 
The venue is of course a big hit to a budget. The first thing you will need to know is how many guests you are inviting.
That number determines if the venue has space, tables, chairs, tablecloths and even restrooms for the amount of guest you are planning to attend. 
The menu is another big hit to a budget because it involves not only food and drink, but all the supplies that are needed to serve  such as dinnerware, drinkware, silverware, napkins, tables, tablecloths etc.
The time of day affects your wedding budget because if you have a wedding reception that falls during dinner time, your guests will be expecting to be fed.
Moving your wedding time so that your reception falls during the morning or mid afternoon means you don't have to feed your guests more than cake!
Can you have a wedding reception without food? 
Absolutely! As we stated earlier, there are no rules. If you just want a wedding cake or a creative dessert choice, that would be plenty to serve a guests.  
There is no requirement that you must serve your wedding guests a three course meal!
But the time of day for your wedding can determine what menu of food you might need and the amount. 
What do you need to set up wedding reception tables? 
Let's look at the basic pieces for your guest tables. 
Tables and chairs
Mostly likely you will need tables and chairs. The tables can be any shape, but usually they will be round or rectangles. 
Tablecloths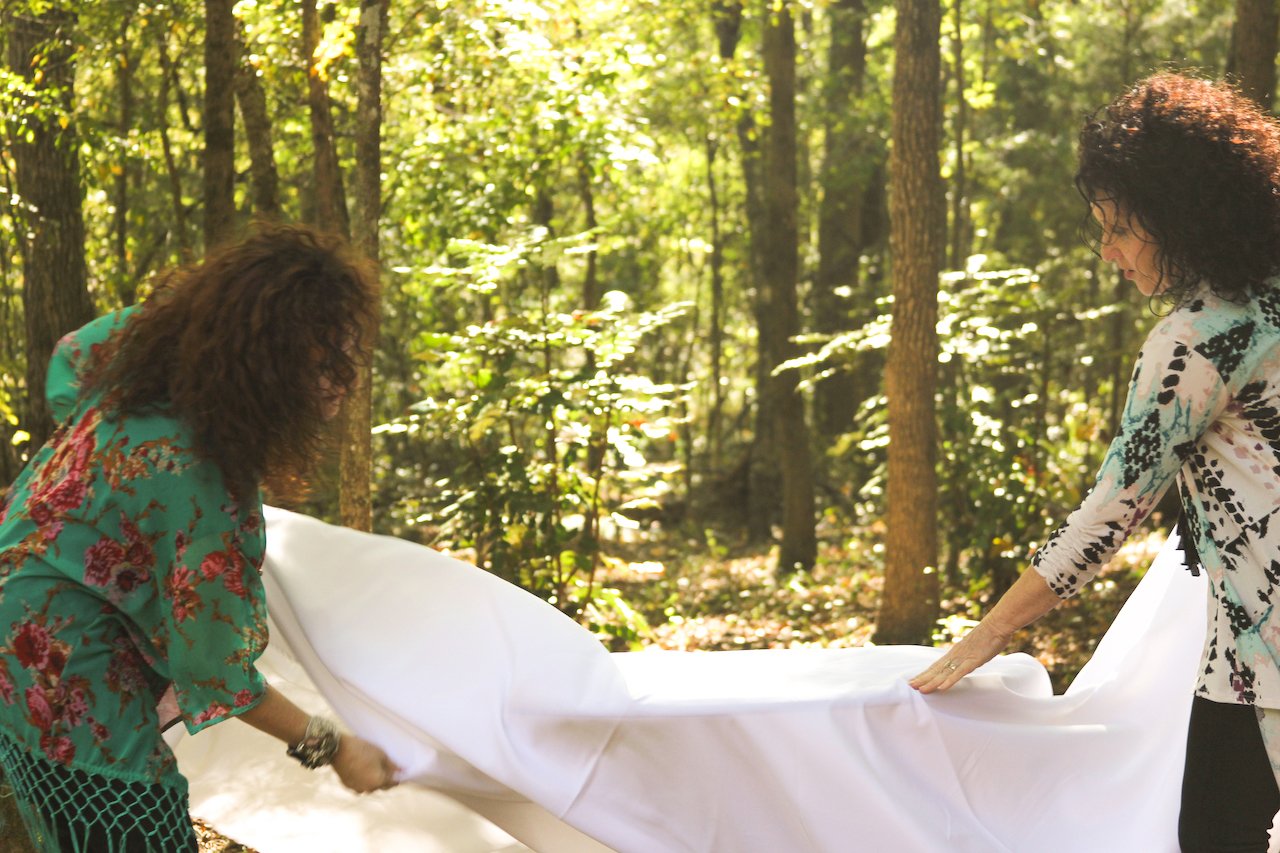 It is not a requirement that your tables have a tablecloth, but it does make an event pretty. A tablecloth can be short like a table topper or drape to the floor. You will need to know the size of your tables if you want to order tablecloths. White tablecloths are less expensive than other colors. 
It is cheaper to purchase your tablecloths than to rent them. The only other cost can be dry cleaning unless you have someone wash them for you. After your reception, you can sell them or donate the tablecloths to another bride or church. *post contains affiliate links 
Rectangular tablecloths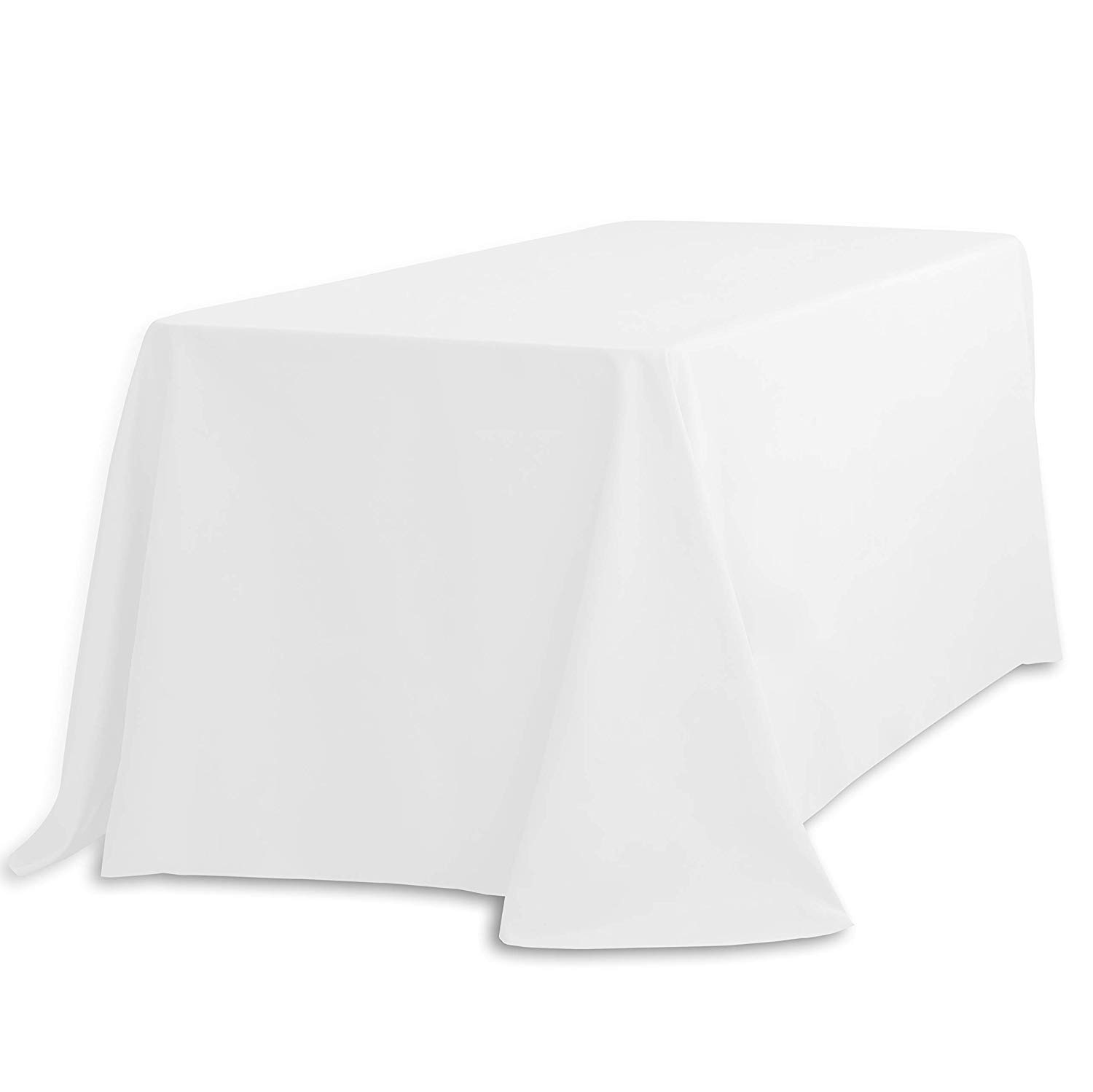 Round tablecloths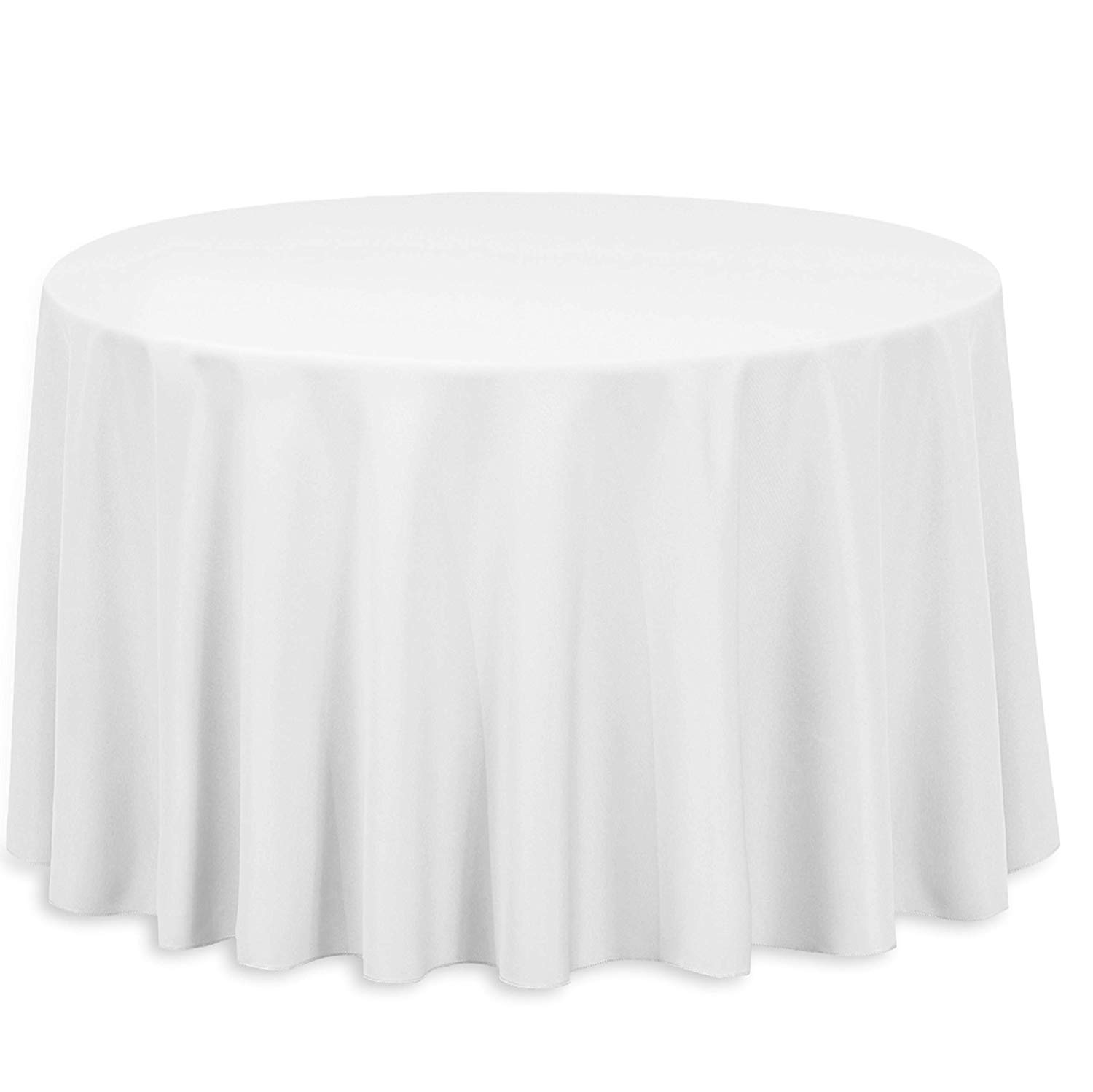 Wedding Reception Centerpieces on a Budget
For a simple and inexpensive centerpiece, clear cylinder vases allow so many options and decor style choices. Fill them with pillar candles,  flowers, greenery, fruit, bouquets or just about anything you can imagine.
Our simple and favorite go to that fits just about any event is the clear cylinder vases with pillar candles. They make a clean, elegant and beautiful centerpiece. We love to place them on a bed of greenery.
 If it's in season, seeded eucalyptus from Trader Joe's is the best deal other than cutting greenery from your yard which is free! Sometimes we use both!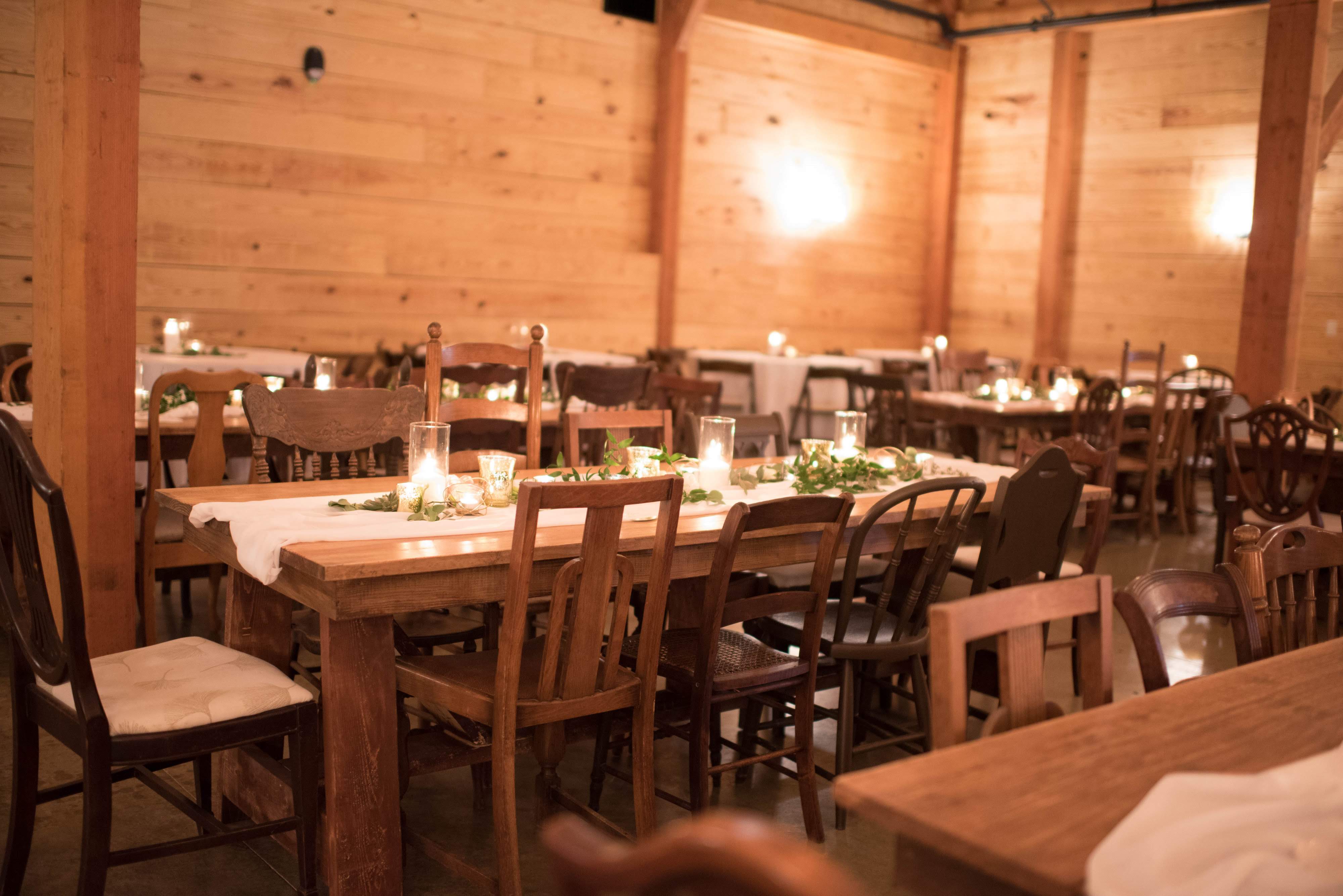 How to set up a simple centerpiece for a reception.
We like to work in odd numbers so 3 or 5 make great numbers to work with in your decor. 
The 9″ and 7 " vase work beautifully with another shorter vase or a completely different color, shape or style votive holder.
We mix it up with mercury glass, funky or even modern geometric shaped votive holders. 
The styles from the Dollar Tree will change through each season. But they have a unique selection that we don't worry too much about painting or embellishing if we want them a little different.
We spray painted the black and copper geometric votive holders with metallic gold paint to add an eclectic touch to a rustic barn reception.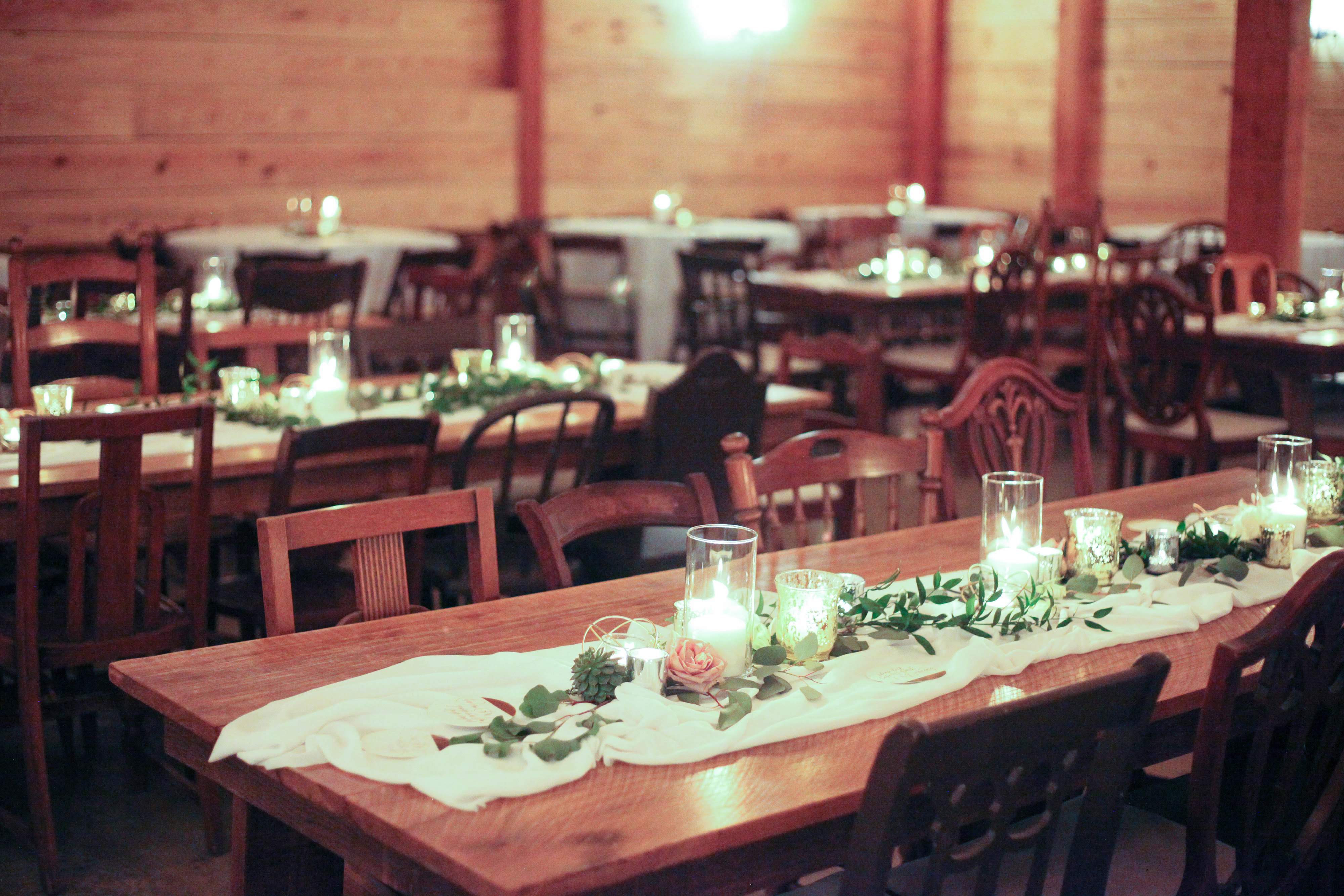 To help brides save money in their reception decor, we recommend using your bridesmaids bouquets in the centerpieces. 
With this simple style, you can simply mix the pillar candles with one vase to hold a bouquet.
Each bridesmaid can carry their bouquet in the wedding and then someone collect them to place on the tables.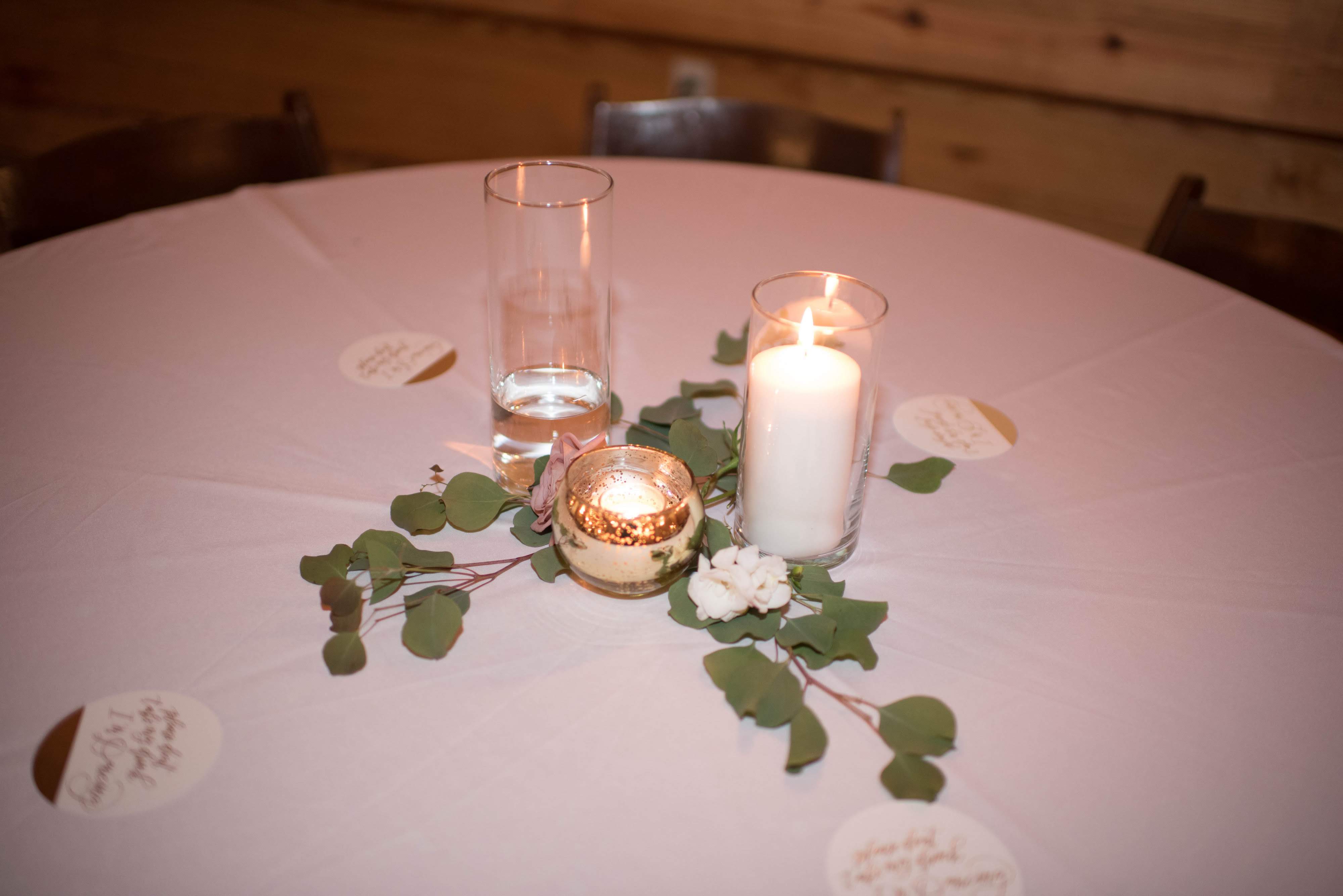 We love mixing the centerpieces across the room, some table with bouquets and some table with just candles. 
Table decor:
Cylinder Vases with Pillar Candles or Bouquets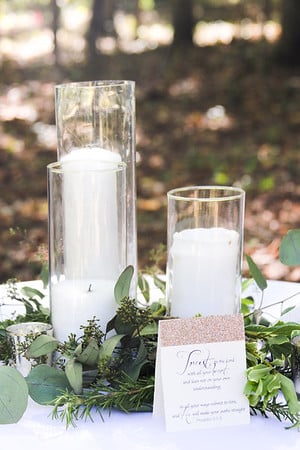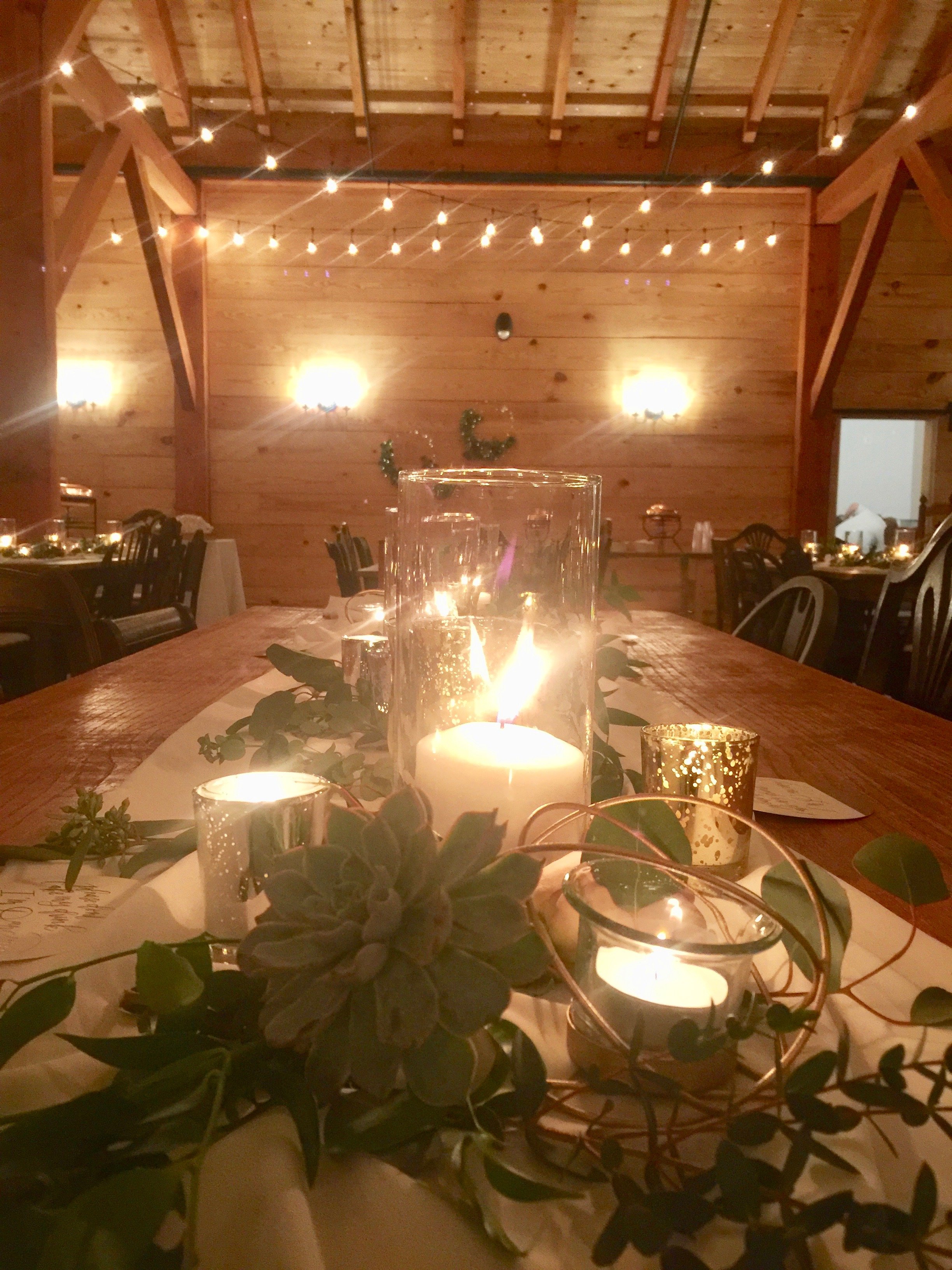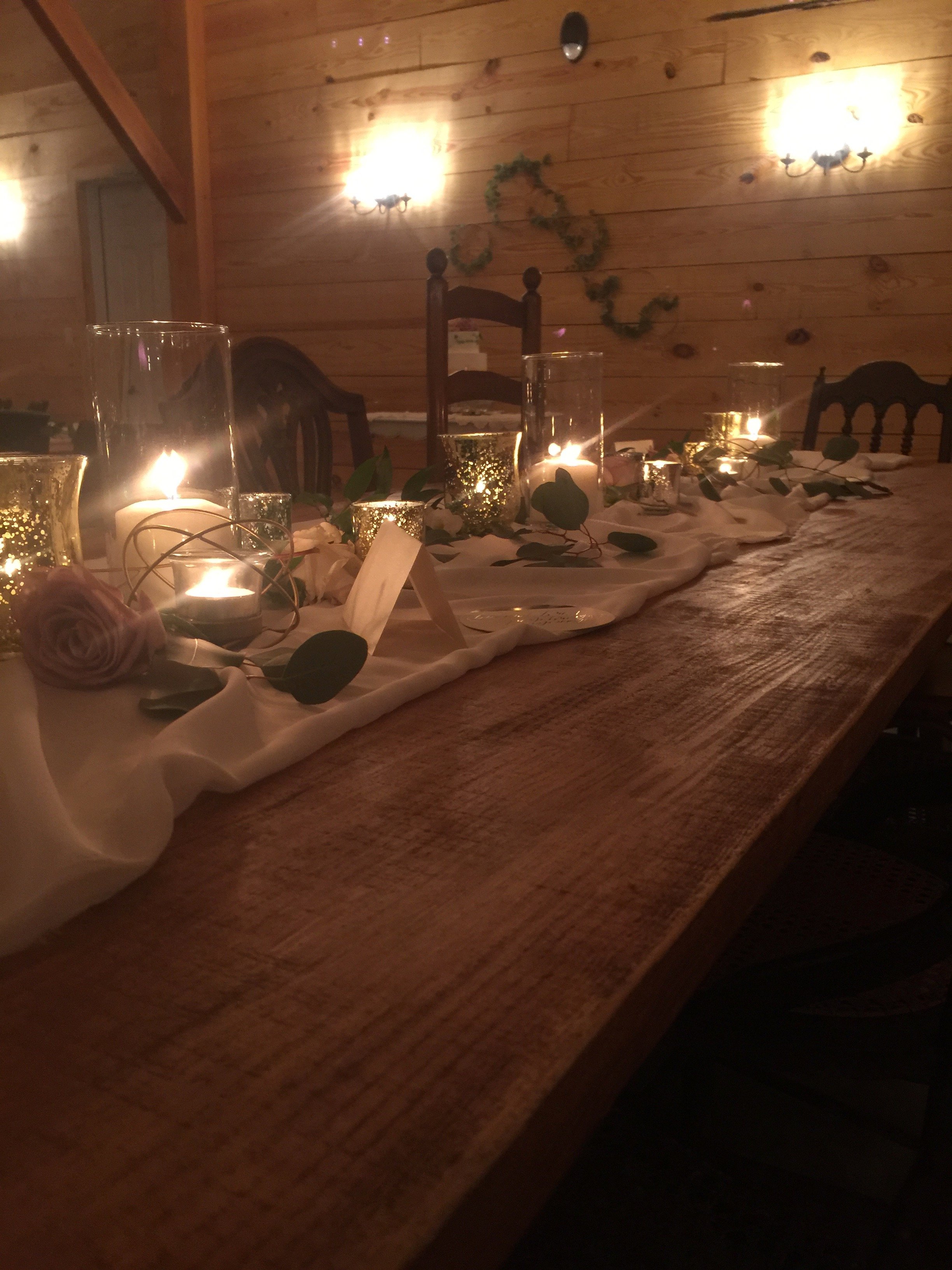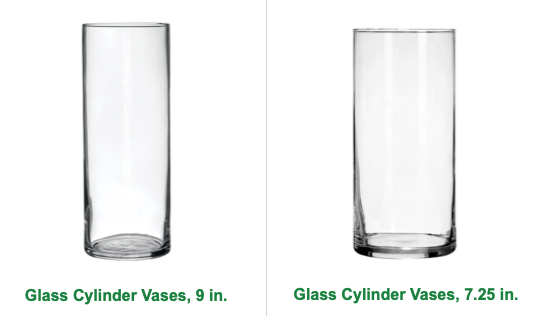 Many venues that allow for open flame candles will require that the candles be in a container. We place votives or tea lights various candle holders in an array of styles. 
The Dollar Tree keeps a great selection of candle holders in stock from crackled glass, mercury glass and even geometric metals. They can be found in colors or clear. 
If you don't have a Dollar Tree local to you, order online! You may have to order 12 to 24 candle holders at a time, but at a dollar each, that's a good deal for an entire wedding reception!
How many candles per table?
We get this question often. 
How many candles do I need for each table. This really depends on the overall look you want to achieve. 
One candle in the middle of the table can be lovely in a lantern or surrounded by greenery and a couple of personal items such as stacked books, pictures and or vase of flowers. 
But one small votive candle for a centerpiece on a round table can look lost and lonely. 
Wedding reception tables on a budget
You have two choices for wedding reception guests food serving needs, disposable or real dinnerware, napkins and glassware. 
There are pros and cons to both. We have created a breakdown to help you decide which option is best for your wedding reception and budget. 
Wedding Reception Table Needs
     ● Napkins
     ● Dinerware
     ● Silverware
     ● Table extras!
Wedding reception supplies can be "real" or disposable depending on your needs and budget.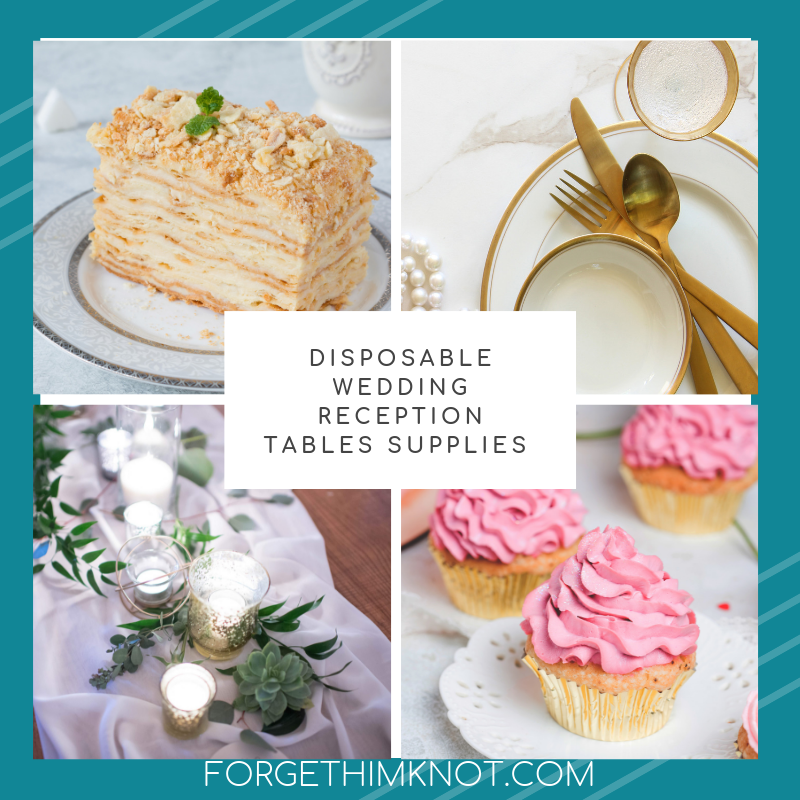 No matter what food items you choose for your reception, you're going to need napkins! That could be cocktail, dinner or guest towels size napkins. 
Your choice will be disposable or fabric napkins. 
We are big fans of disposable because it makes clean up easier, is more cost effective and more convenient for venues without a full service kitchen.  
These disposable napkins are a good price for 100 cocktail napkins. A cocktail napkin works well for finger foods, drinks, and even desserts. 
Basic white will match any decor style. You can find more colors and designs, but that usually raises the price.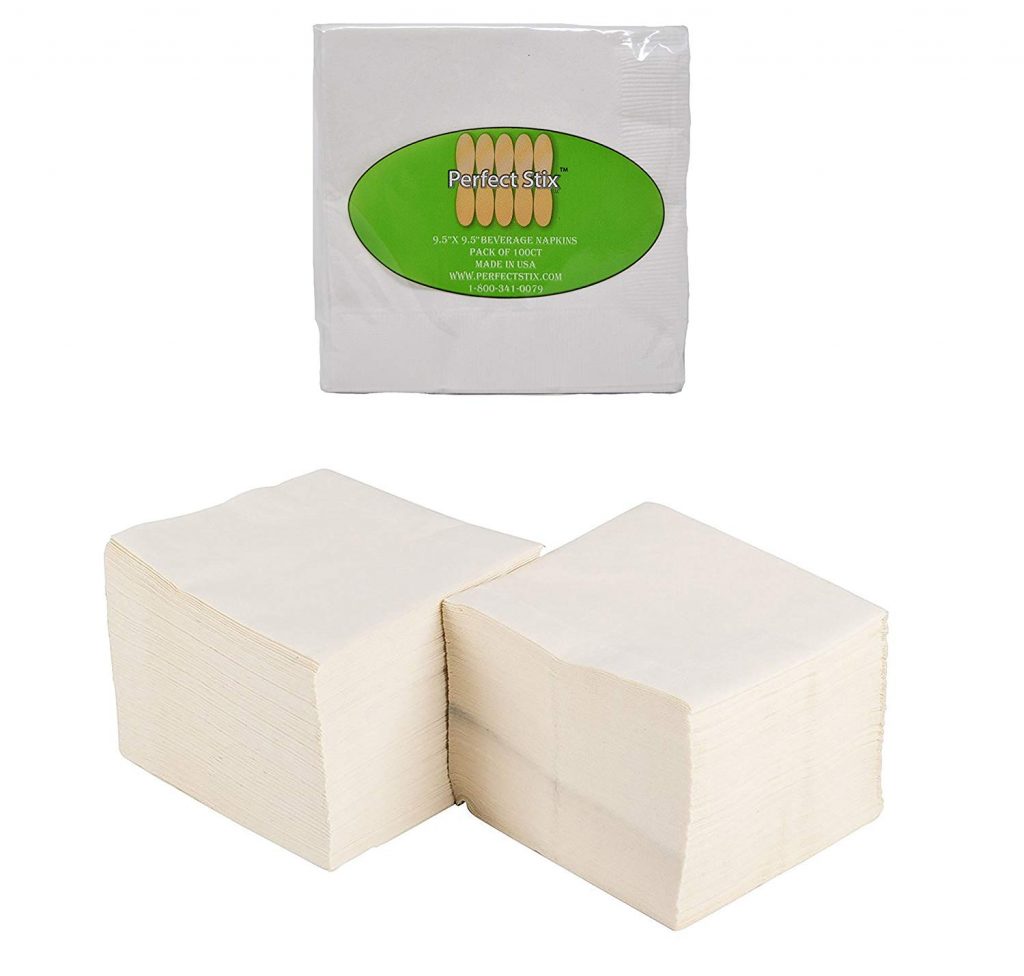 A cocktail napkin works well for finger foods, drinks, and even desserts.
Order extra for the cake table!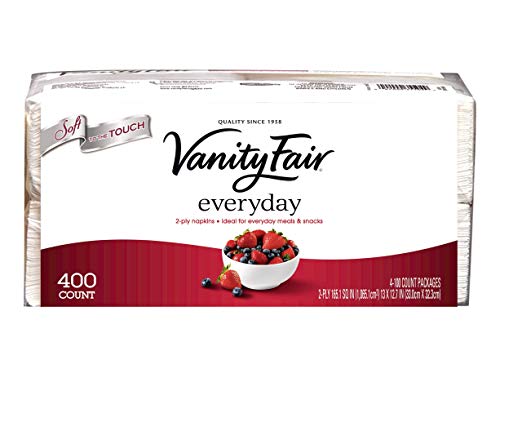 Dinner napkins are the perfect size for a buffet or served dinner. They can be folded or placed in napkin rings to dress up a table. 
You can even find printable napkin wraps with Bible verses in our Freebie Library!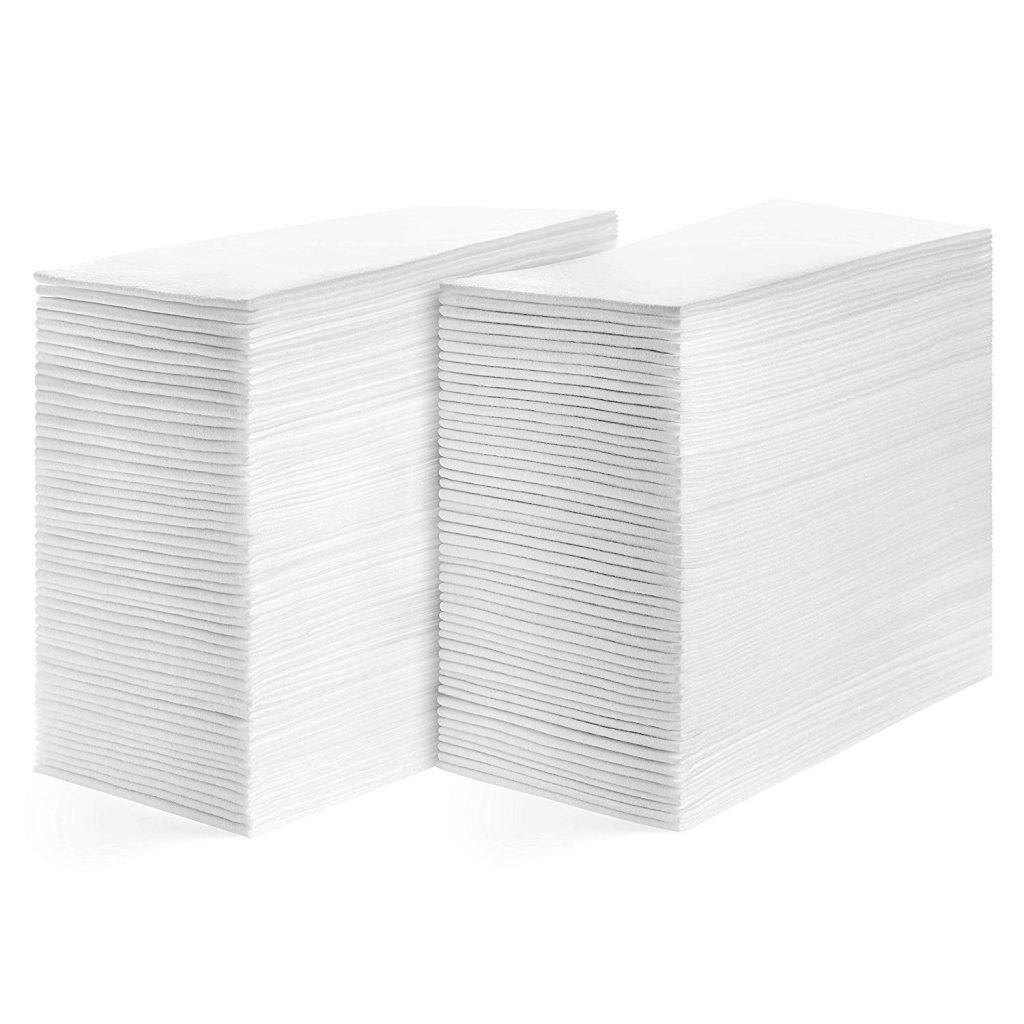 Guest towels are rectangular in shape and look very nice setting next to a dinner plate. You can place the silverware on the napkin or crate a napkin wrap for a personalized detail.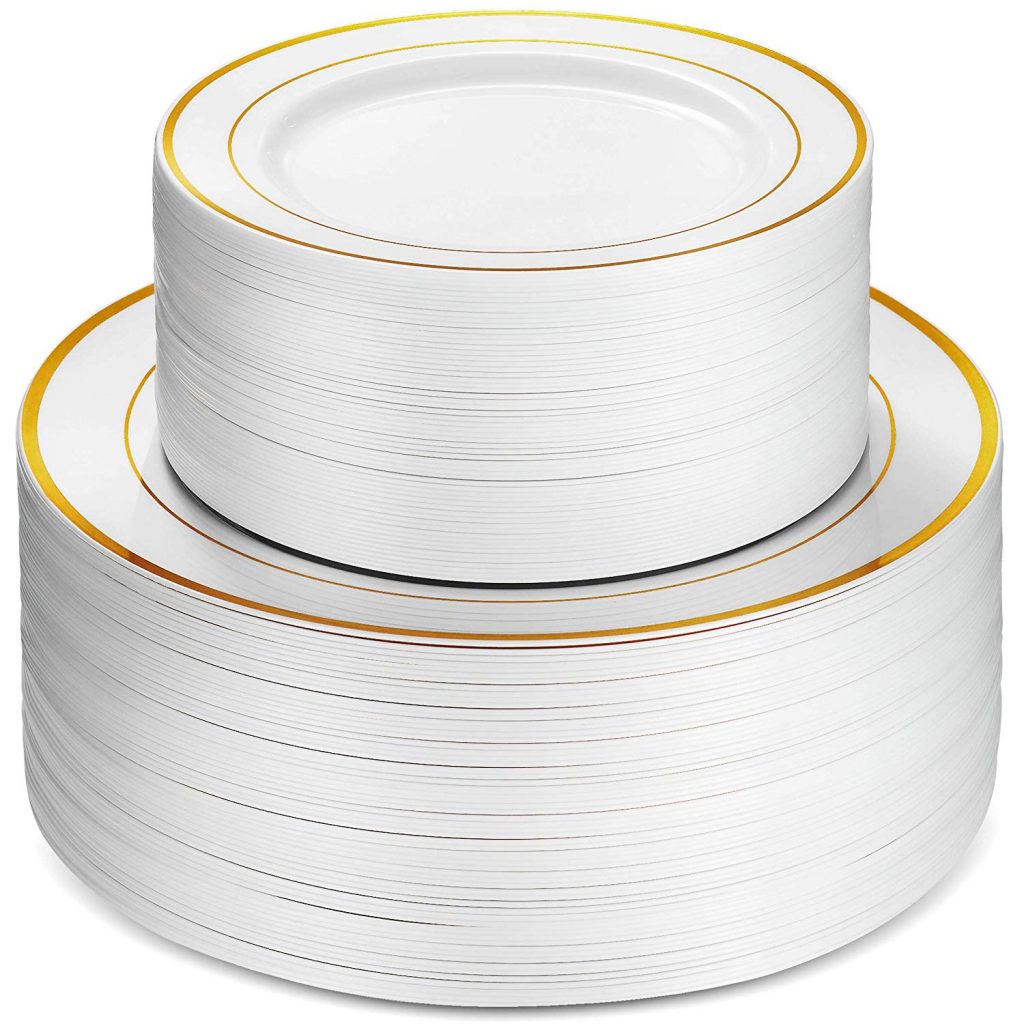 Simple white disposable plates with a gold rim make any meal look extra special. The metallic gold looks great with the gold cutlery or mix it up a bit with the silver! Disposable can still look expensive even if you're on a small budget.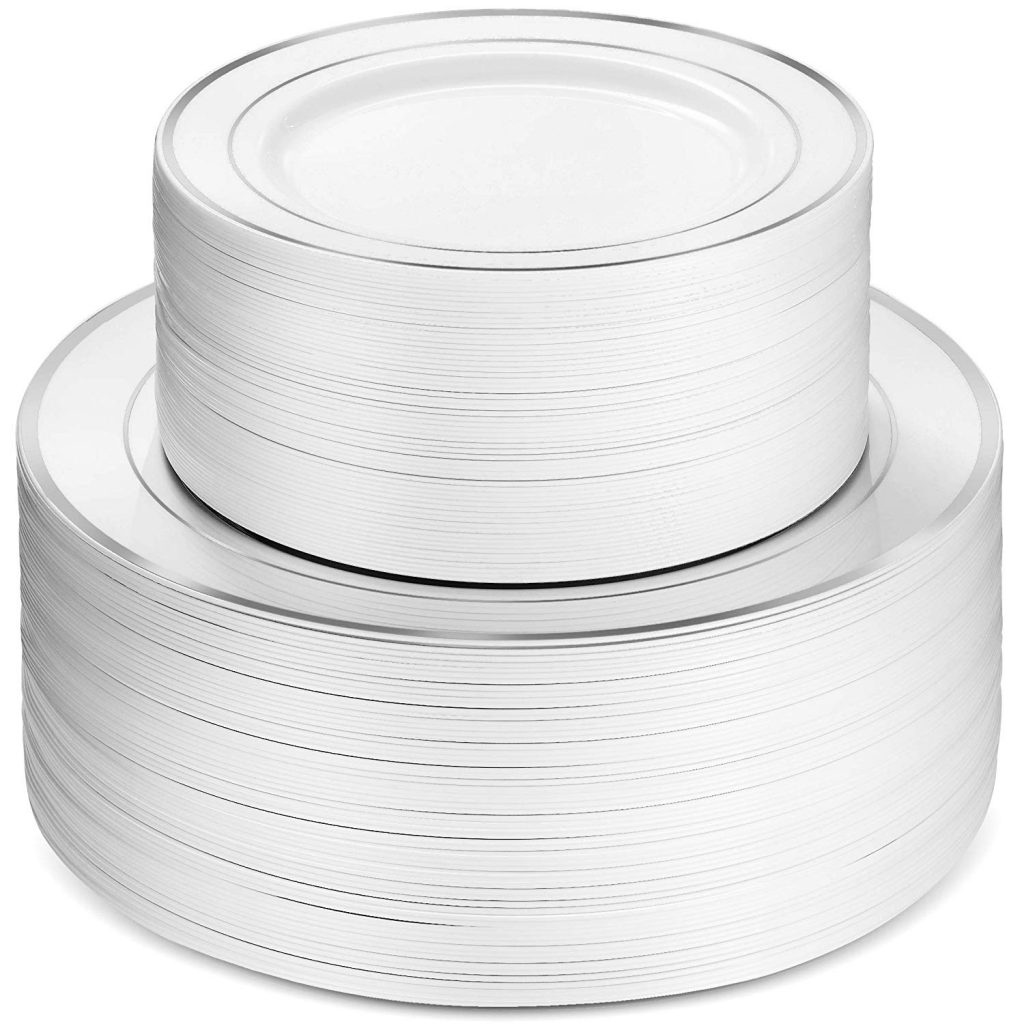 The silver metallic rim adds a touch of elegance without draining the budget.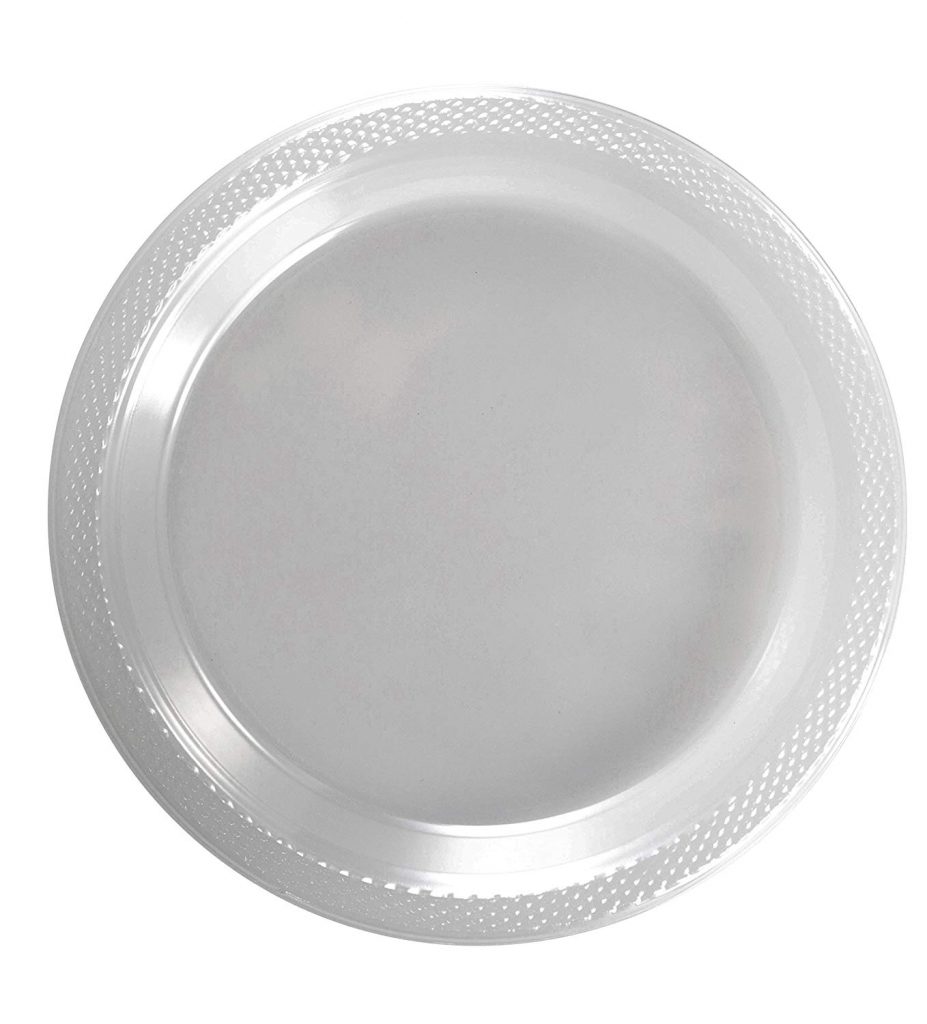 Clear plates are a great choice for a buffet reception. The clear plates do not add any contrasting color to the table and will complement any decor style. 
Disposable Drink Ware for Wedding Receptions
Drink ware is the one area that disposable can be tricky. There are some gorgeous metallic rimmed clear plastic drinking cups that have a crisp feel, but in truth are very thin and breakable. 
If you choose the hard plastic, make sure to order a pack or so extra for breakage. 
Others similar to these look like clear picnic cups. If you are needing drinking cups rather than punch cup size, this is the ones we like to use for dinner events. 
Disposable Cutlery for Wedding Receptions
Depending on your choices, the food selections for your reception, will determine the kind of cutlery you will need. 
A dinner will most likely need forks, knives and spoons. But if your menu is simple and a fork will be all you need, order the forks in bulk. 
Don't forget that if you are having cake, you will need more forks for each guest. 
Real v/s Disposable Reception Supplies
Your disposable dinnerware, silverware and napkins can be set on the  guests tables as any other place setting. 
Just because you are using disposable doesn't make them any less of an addition to your decor. Today's dinnerware options are just as pretty at first glance as real china. 
But when the dinner is over the dishes go in the garbage rather than needing to be washed.
We will be the first to admit some of the disposable dishes we've discovered through the years were pretty enough to wash!
Dollar Tree does have white ceramic plates that we both have in our own homes. If you choose to go with real plates, you will need someone to wash and repack those at the end of the event. 
Along with the real plates, they also have a great selection of drink ware. The real plates and glasses are more costly than disposable dishes, but far less expensive than renting from a rental company or party supply store. 
You can also resale the items to recoup some of your costs.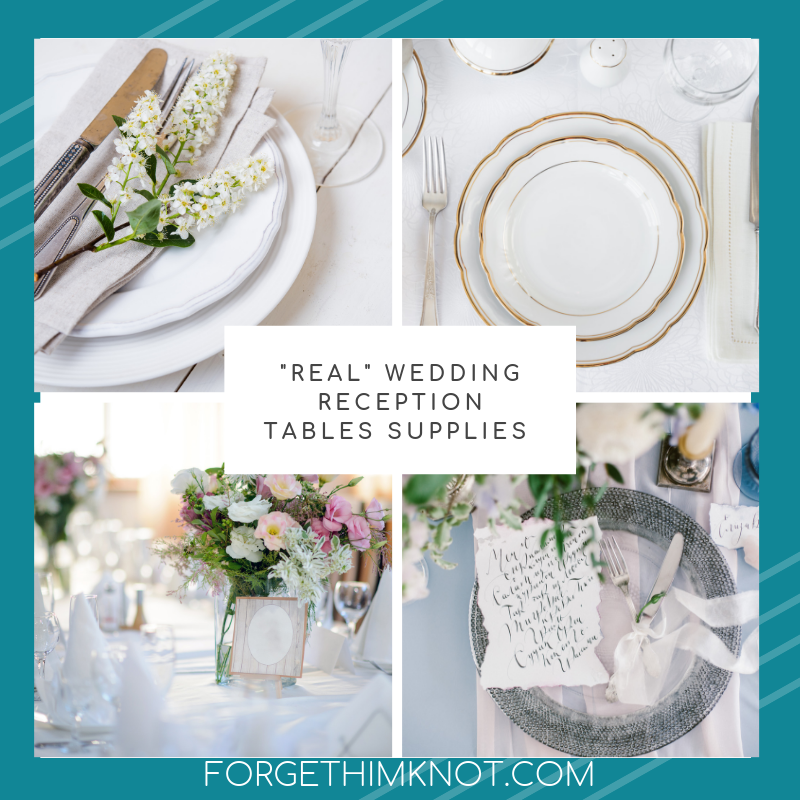 Real Dinnerware, Silverware, Glassware, and Napkins
First of all, you can make the decision to rent your reception table supplies from a local party supplier. The cost of purchasing your own tablecloths and dinnerware is cheaper than renting.
The con to not renting is you will have to wash all your items, pack and store them. 
You do have the options to sell or donate your supplies after your wedding and recoup most of your cost. 
Our go to place for inexpensive wedding reception items is the Dollar Tree. The Dollar Tree has ceramic white plates, white plates with gold rims, and many more great patterns for a wedding reception. 
Who are we kidding, we happen to own the white plates, silverware and glassware and use them as our everyday dishes! 
Cloth napkins are a nice addition to a more formal event, but are not a necessity. These match the tablecloths and dress up a table. 
After the event, sell them and get a return on your money, or donate them to a church or another bride.
Wedding Reception Table Extras
We are big fans of chargers! 
Chargers are the oversized plate look alike that hold your dinner plate and dress up the table. You can find them in various colors and styles. We love the metallic finishes of silver and gold, but when we find an interesting color or texture, we grab those too.
If you don't want to set your reception table with you guest dinnerware, a charger plate holds the place setting and finishes the table just like earrings do an outfit!
But, when on a budget, chargers are not necessary!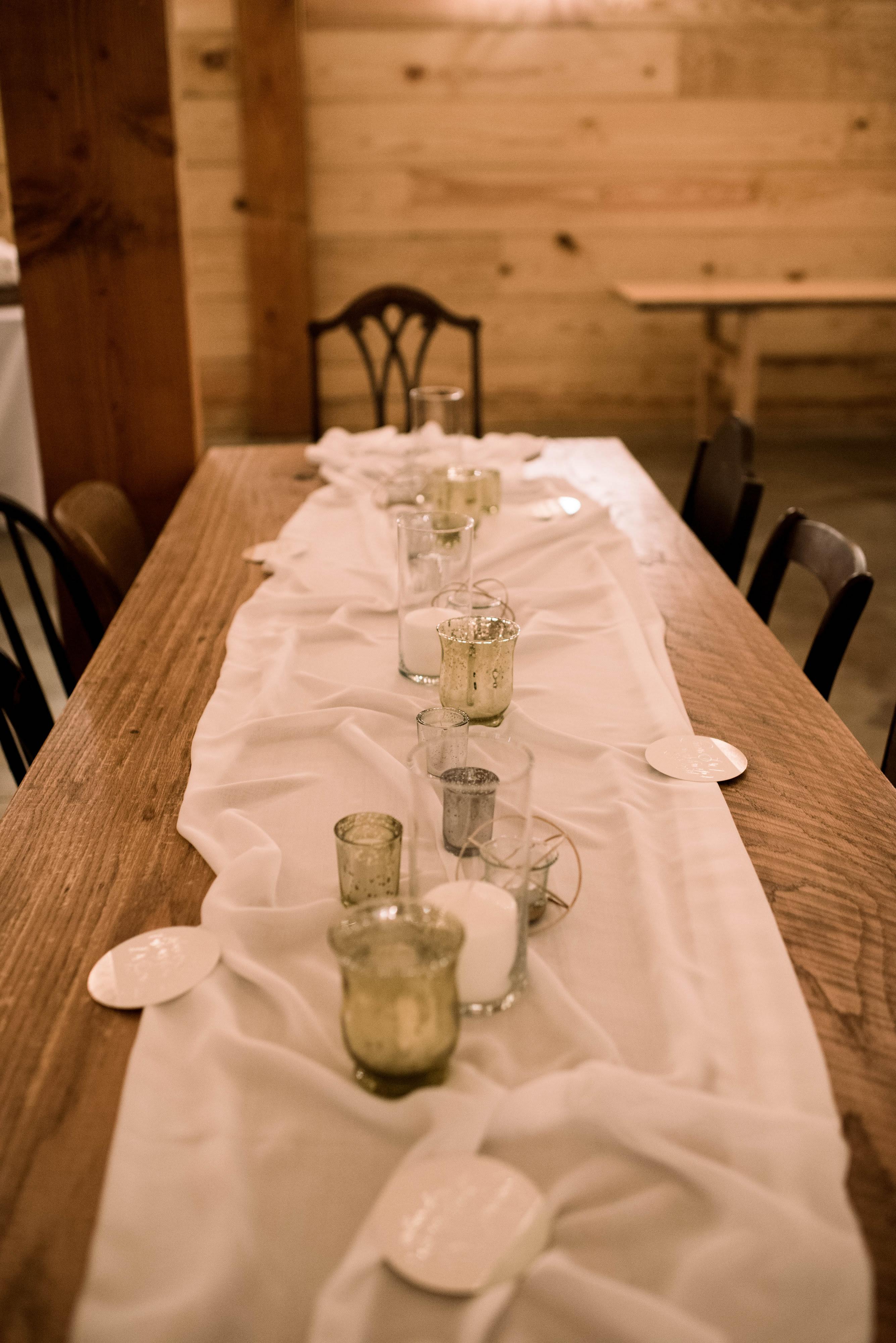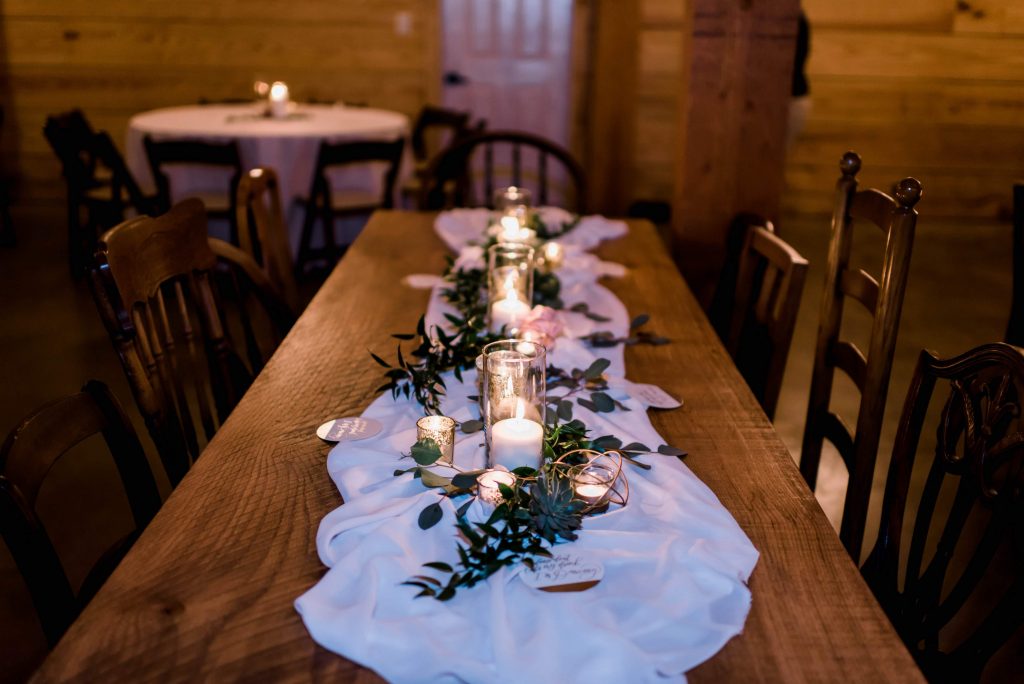 Seeded eucalyptus from Trader Joe's ($2.99 a bunch will do 2 tables= $1.50) You can see from the before and after of a recent wedding, adding the greenery really does make all the difference. 
Don't forget greenery from your yard is free!
We are not including the cost of flowers for tables to keep the centerpieces simple. Flowers are not all the same in cost. 
But if you walk into Trader Joe's, the selection of flowers is the best we've seen for individual flowers or pre grouped floral bouquets. 
On average, you're looking at $4.00 to $12.00 per floral bouquet per table depending on your flower preference.
Breakdown Cost of
Wedding Reception Tables
We're just going to breakdown a simple wedding reception table with a tablecloth, 3 cylinder vases with 3 pillar candles, and 2 small votives. The cost per table will increase $11.00 with a couple of votive holders, greenery and chargers. 
Add the extras we mentioned to the total below. 
Tablecloths 132″ rounds ( $12.oo each)
Cylinder vases or Candle holder combo of 3- ( 3 x $1.00=$3.00)
3 pillar candles for vases- (3 x 3.33= $9.99)
Votives for candleholders (.60 cents each x 2 =$1.20)
That equals $27.70 per table x 27 tables for a total of: $747.90.
Now let's break  down what will be needed for 200 guests.
A 6 ft round sits 8 guest/chairs per table. You will need a couple of extra tables to sit your guests (unless you are working a seating chart). You will have to weigh the time to create a seating chart verses the cost of a couple of extra tables.
 A family of 4 may struggle to find a table to sit all together with people spreading out and sitting at table. We're saying 27 tables would be needed and 216 chairs. That would mean:
     ● 27 Tablecloths
     ● 27 Centerpieces
Next you will need to decide what guests will need for their food and drink.
Your menu selection can lower this cost if you are only serving finger foods. The cost would rise if you were serving alcohol because you would need more cups and cocktail napkins. 
We're planning in our breakdown these items per each guest:
     ● 10″ dinner plate
     ● a fork, knife and spoon for cutlery
     ● a dessert plate for wedding cake and an extra fork for the cake
     ● drinkware
     ● 2 napkins 
"Real" v/s Disposable Guest Dinnerware
Small budget wedding ideas are help for a happy marriage!