Wedding Reception Serving Tables
Imagine the words, "I now pronounce you husband and wife."
The bride and groom run down the aisle excited to celebrate their marriage with a wedding reception.
It's time for food, fun, family and friends.The wedding reception is were you celebrate your wedding with others! Whether you are having small finger foods or a buffet, you will need serving tables and possibly guests tables to accommodate your needs.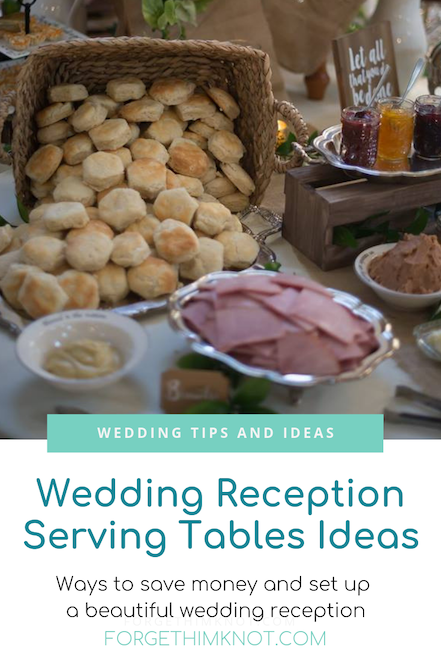 DIY Wedding Reception Tables
Catering costs can be a scary hit to your wedding budget. Not only are you paying for the wedding, but you are inviting everyone to dinner or snacks! Add in the cost of alcohol, drinks, eating supplies and cake and you will see the dollars adding up quickly!
We have found ways to make your wedding reception beautiful, and stay in budget!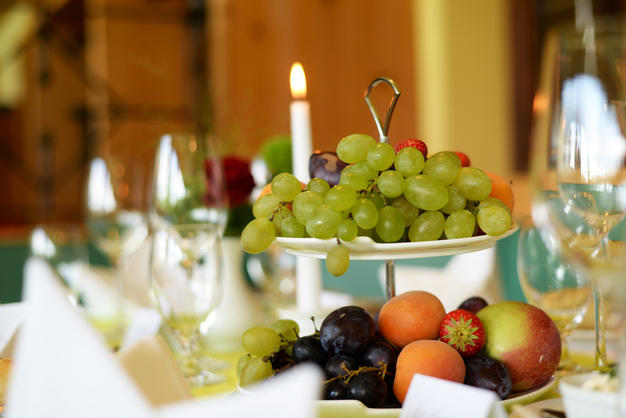 Wedding Reception Serving Table Resources
Our resource for supplies is Hobby Lobby, because of the huge selection of items you can use on your reception serving tables. Most people think it's just for home decor or craft supplies. Of course it's our favorite source for weddings, but the 50% off sales make it a budget friendly resource. We researched the store for great ways to display food beautifully and not break your budget!
When you are purchasing items to use at your wedding ceremony and reception, consider things that you can also use in your home! A platter or serving tier will be great at your reception, but you can also use it daily in your home or for special occasions!
Reception Serving Tables:
Wedding receptions are the party celebrating your vows! It's your party, so you can go simple or crazy, rustic to formal, or buffet to sit down dinner.
There are no rules! But there are a few considerations for your guests to feel comfortable. Food, drink and maybe a dry seat are possible top three priorities. The kind of food, amount and style of food is all up to you!
For the purposes of our mission to help you save money on your wedding, we will be walking through buffet style serving decor and serving table set ups. Items needed for a sit down dinner reception is usually covered by the caterer! 
Reception Food Serving Tables
If you are not having a plated wedding reception meal, then the buffet food tables will be the first place your wedding guests are headed. 
Chafing Dishes can be wire racks with disposable pans to institutional kitchen metal warmers. The latter can be rented from a party supply business! You can also rent warming boxes, coolers and portable warm and cool coolers depending on your venue's kitchen needs. 
Water is a definite must. You can set up water in drink dispensers and add lemon, lime or strawberry slices to make it pretty and infuse it with a little touch of flavor.
What makes a display interesting is levels. Incorporating various levels into your serving displays will be more eye catching and allow the eyes to travel because you are creating movement. It's Art!
Drink dispensers can be set on top of wood slices, wooden crates, boxes, or stackable items to lift them from the table. Setting your drink ware in trays or boxes keep them looking intentionally displayed rather than last minute set on the table. Have you ever been to an event and by the end of the night after people have set their drinking cups on the serving tables you can't tell what's clean or not? If the available cups are delayed in their own station, it looks more appealing to use!
If the dispenser will hold ice to keep your water cold, you might not need an extra container of ice, but if you do, a bowl or bucket will work just fine. You can even use something creative for your ice scoop!
Keeping coffee warm and fresh is key! If you are not hiring a coffee barista and their provisions, you will need an industrial coffee pot or you can use airpots to keep the coffee warm.
Coffee is fine for some people just black, but others need a cream, sweetener, and something to stir and mix! These can be displayed in smaller wood crates, galvanized tins, wood boxes, or something organic like a moss lined container to pull out a rustic theme.
Coffee cups can be disposable in styrofoam or paper. Disposable makes for an easier clean up and less expense. If you choose to have "real" coffee cups, you can purchase coffee mugs or rent them from a party rental company. The handling of real cups mean washing the cups no matter the decision and the added cost.
Canned, bottled drinks and drink dispensers.. Oh My!
Anything that can be poured into larger dispensers allows you the ability to get a larger amount of drinks out at a time for your guests and is usually the lesser cost.
But not all venues or styles of weddings make this the best route to go. Sometimes you need individual drinks in bottles or cans. These items store best and remain cold when on ice in large containers such as galvanized or metal buckets, plastic containers, or coolers.
Ice can be in containers or buckets with a creative scoop again!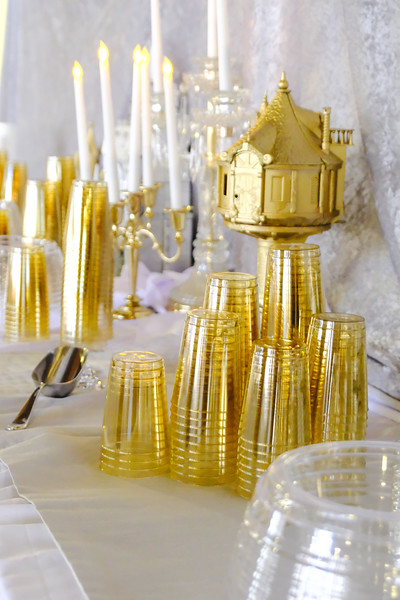 Your venue will have policies about alcohol served at events. Most venues have a minimum bar tender per person policy and some even require a price or guard to also be in attendance. So be prepared for those charges on top of the drinks and supplies. 
If you are doing the set up yourself, you will need something to keep the drinks cold, beer and wine bottle openers, cocktail napkins, and drink cups.
We aren't big fans of a plain tablecloth and then serving platters set flat on the table. We like some lifts and levels that create a movement across the table. 
We've scoured Hobby Lobby for unique pieces for serving tables no matter your decor style. *affiliate links
Create a rustic landscape with burlap, wood slices, wood crates and even pieces of granite. A farmhouse rustic style can be wood boxes and galvanized metal pieces.
Add greenery or any other organic materials to soften the hard edges.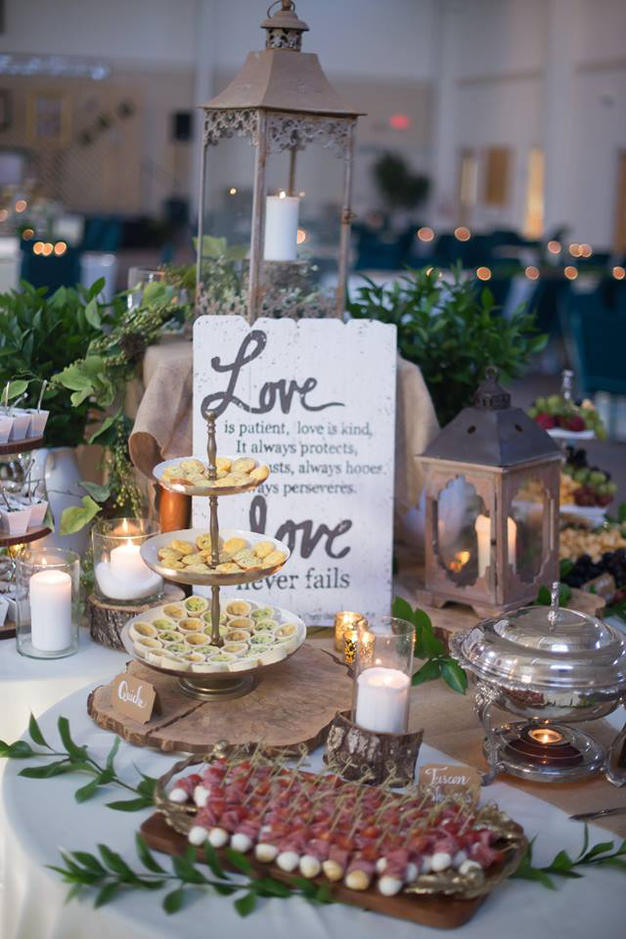 Use Boxes and solid items for lifts
Tier Stands to Display Food on Reception Tables
A tri stand adds height to a table display and allows the eyes to travel across the table.  We love to use tri stand for cheese and fruit, flowers or simple finger foods.  They are gorgeous when you cluster them together or place them around the reception room like an English Tea. 
Tri stand and even bi-stands (what do you call a stand with 2 levels?) can be found in metal, ceramic, wood and plastic.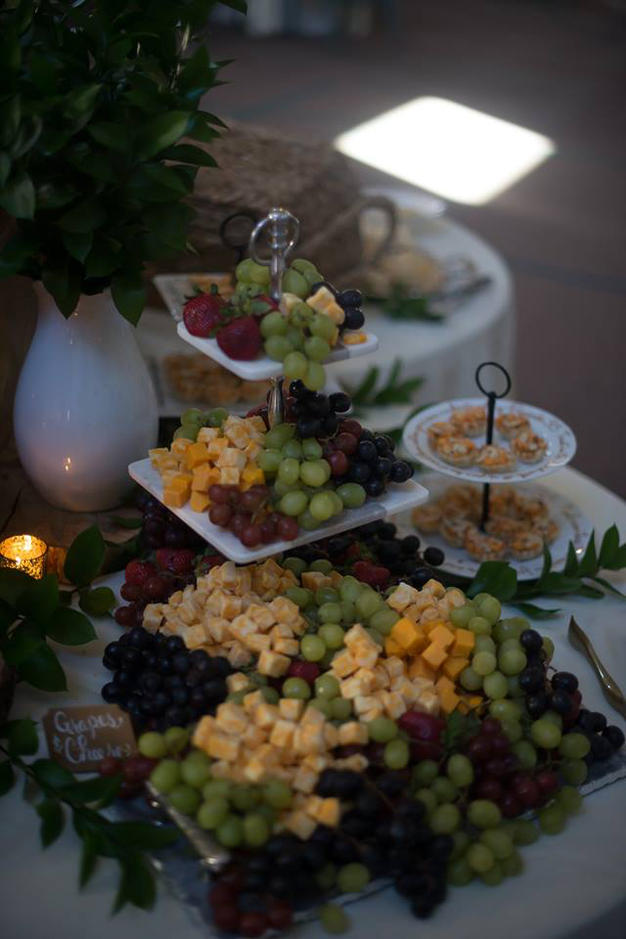 Reception Serving Table Decor
Light up the table with a focal point such as a floral arrangement or lanterns…. or both! Candles and flowers add ambiance to a room and make any event feel extra special.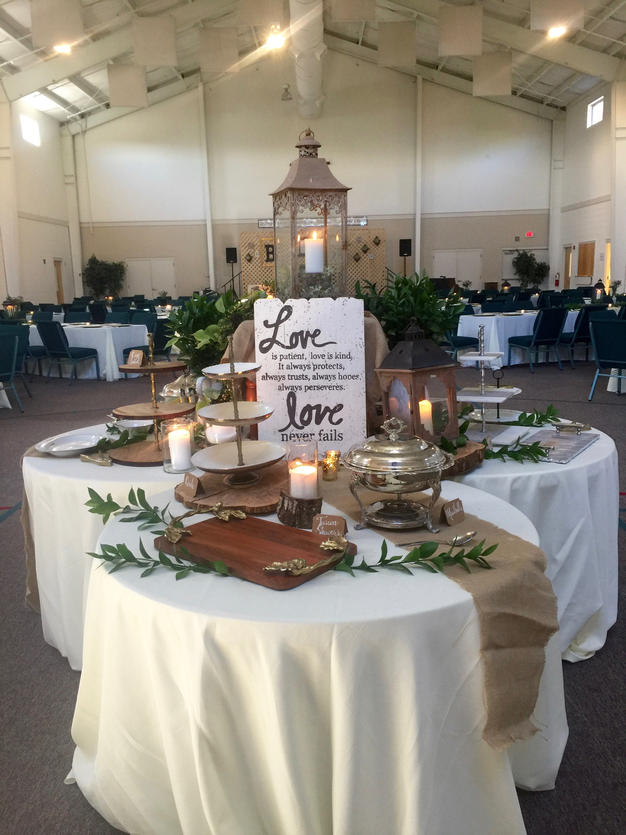 Photo by Mary Fehr
The styles change from season to season with lanterns. The styles range from rustic in wood and metal to elegant with gold and silver details. We love to light them up with candles or dress them with flowers! 
Reception Serving Table Signage
Don't forget to add food signage, greenery and candles!The reception tables are a great place to display Bible verse signage too!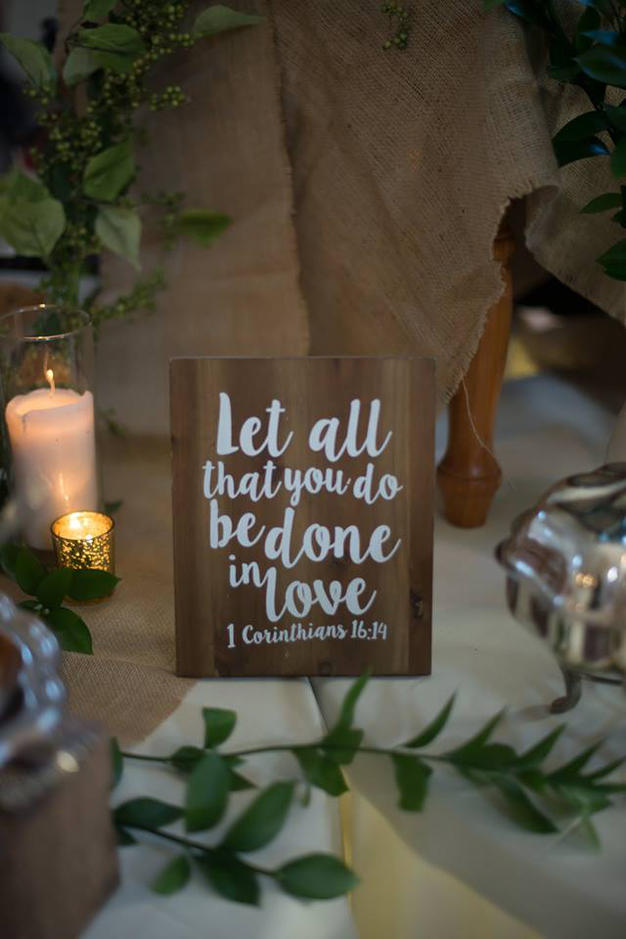 Reception Serving Table Supplies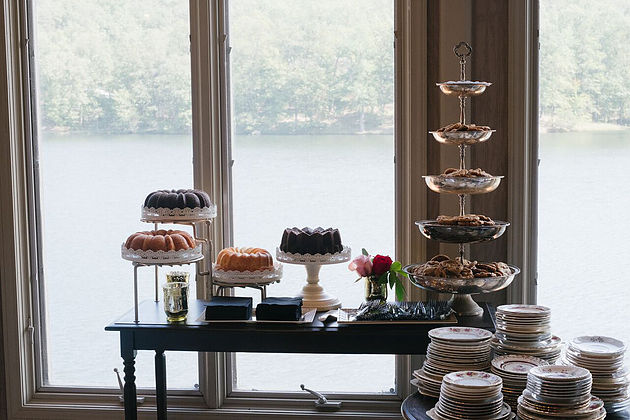 Have fun finding creative ways to display and set up your reception serving tables. Think outside the box for items you can repurpose in your new home together