At the end of the day's event… you're married! How would you like to exit your venue with guests of family and friends?
What is your bride and groom send off?
Will you light up the night with sparklers or glow sticks? 
Float through a cloud of bubbles? 
Sprint and duck from thrown bird seed?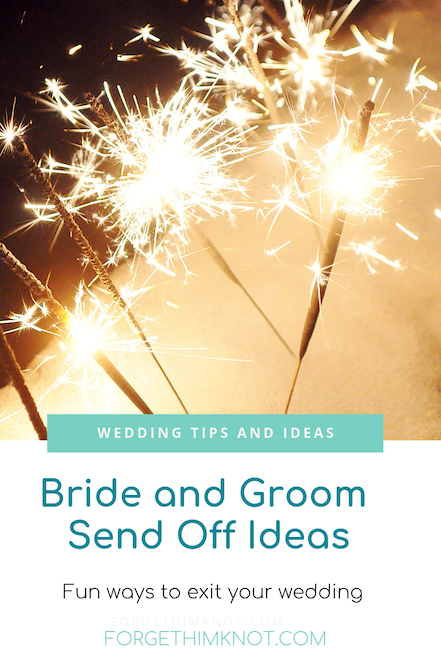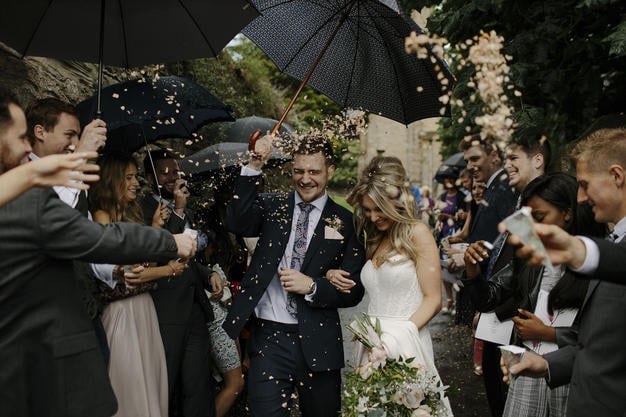 Hobby Lobby is our favorite place to find items and supplies for weddings. The options are endless to create something personalized with rubber stamps, paint, stickers and so much more.
We've tried to track down some of the top trends for couples exiting weddings. *post contains affiliate links
Bride and Groom wedding ceremony exit ideas
     ● Sparklers
     ● Glow Sticks
     ● Bubbles
     ● Balloons
     ● Lantern Release
     ● Confetti
     ● Bird Seed
     ● Dried Flowers
Sparklers!
You can't buy sparklers from Hobby Lobby, but you will find other supplies for this sparkly and somewhat dangerous exit! (only slightly kidding there).
Word of caution, sparklers are fun on the 4th of July when people are spread out, but for a wedding exit, people like to lean in closer to see you leave!
Because chiffon and mega hairspray are flammable, think about the layout for exiting the venue. 
The tunnels of light make beautiful pictures, but we hold our breath until the last sparkler burns out of flame. So far, no bride or guests has been set on fire. We would like to keep it that way!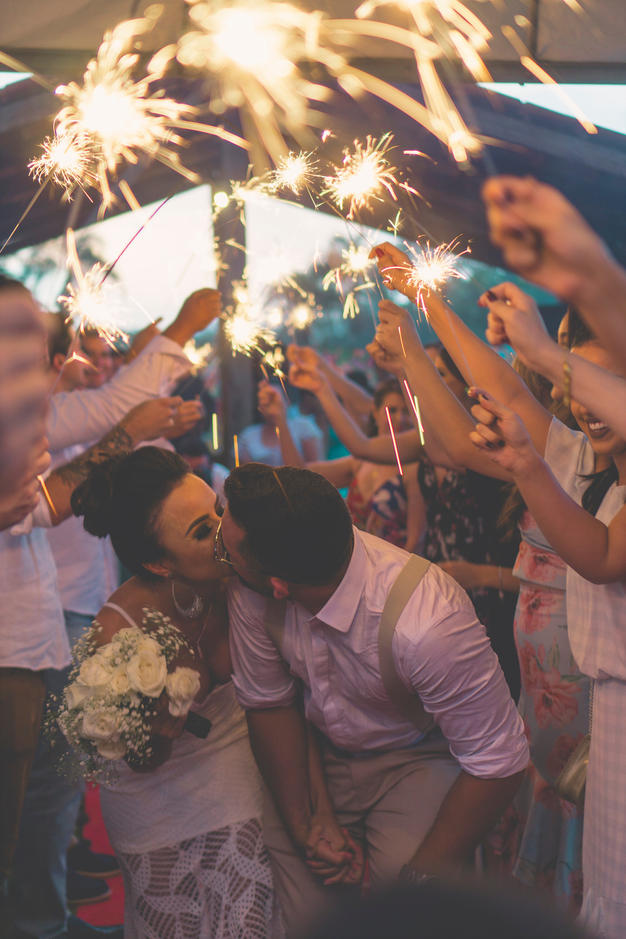 For a sparkler exit, you will need
     ● Lighters
     ● Sand
     ● Buckets to extinguish the hot sparklers into for fire safety. 
Your venue may provide these items so check with them first
When you touch a lit sparkler to an unlit sparkler, it will light another one. We recently discovered that arc lighters will light up a sparkler much faster than a standard lighter. 
Glow sticks
A great solution to a possible fire hazard is glow sticks. Many venues no longer allow open flame items or sparklers.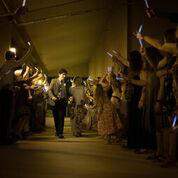 ( Photo by Evan Travers )
You can find a multitude of colors and sizes of glow sticks. They make pretty photographs without causing the photographer to change settings. 
All you need is something fun to hold your glow sticks such as a bucket or basket.
Bubbles!
Who doesn't love bubbles?
Iridescent bubbles floating in the air make kids of all ages happy. We find the bottle of bubbles with the wand make bigger and longer lasting bubbles raft than the small tubes.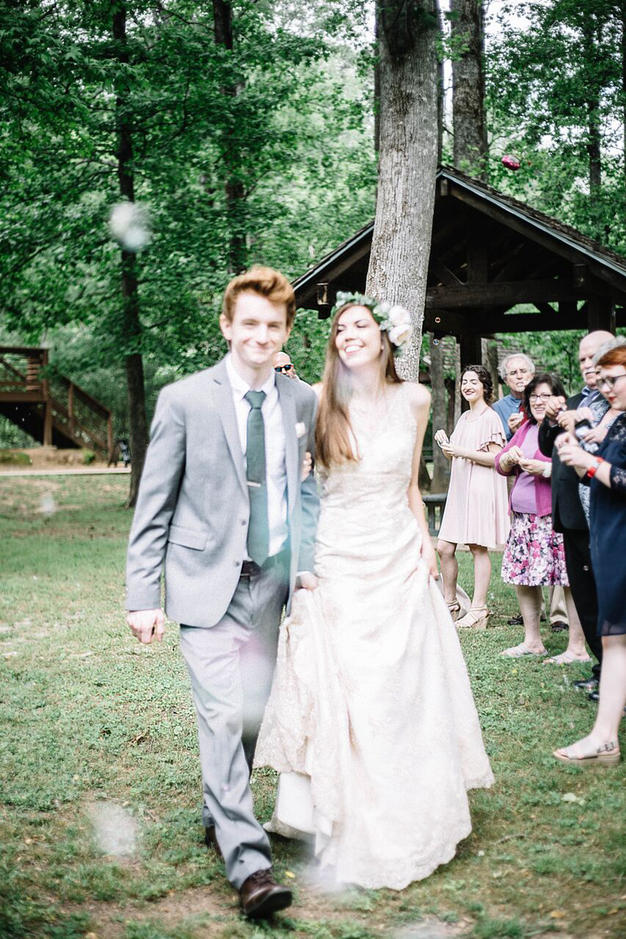 Hobby Lobby has the small container of bubbles is our go to for a fun bubble filled exit. Catch them on sale 50% off just about every other week. Add your color for ribbon to the bottles if you like, but it's not necessary.
All you will need is something to hold the bubbles for your guests to snag!
Bird seed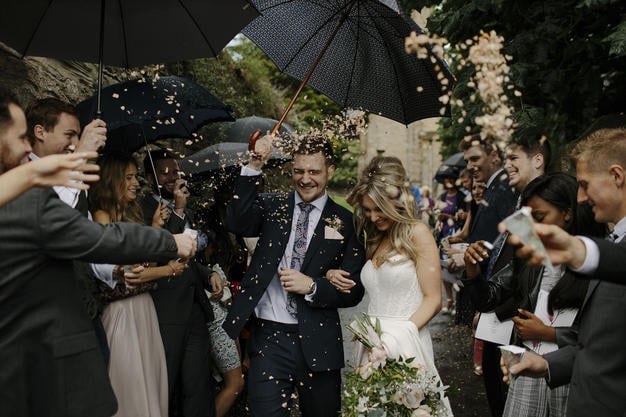 Dried Flowers
Rice was once the throwing method of choice but being kind to the birds and other animals has stopped this good luck exit. Birdseed replaced the rice as a rebuilt it is friendlier to the birds.
Although it's kinder for the fowls, not so much to the bride and groom exiting the venue.  We've have a bride in the emergency room immediately after leaving the reception. The birdseed was thrown and consequently went into her ear drum.
Dried flowers or lavender makes for a lovely and fragrant tossing item and less likely to hurt when over exuberant friends aim for your head. Fill paper bags or organza bags with your choice and personalize with rubber stamps or your favorite colors.
 

Balloons!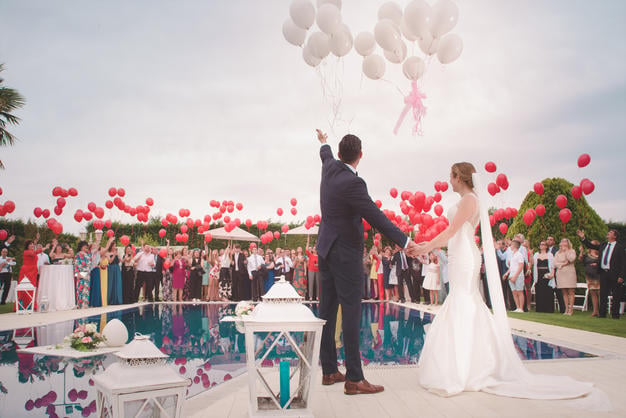 Who doesn't love balloons? Remember as a kid holding a balloon and setting it free into the sky?
Have a balloon release for your exit! Add glow sticks for a way to light up the sky.
 

Confetti!
Lot's of paper cut into smaller pieces makes a beautiful picture full of color! But it also leaves a colorful mess for someone to clean up. If confetti is your bride and groom send off, make sure you have a clean up plan.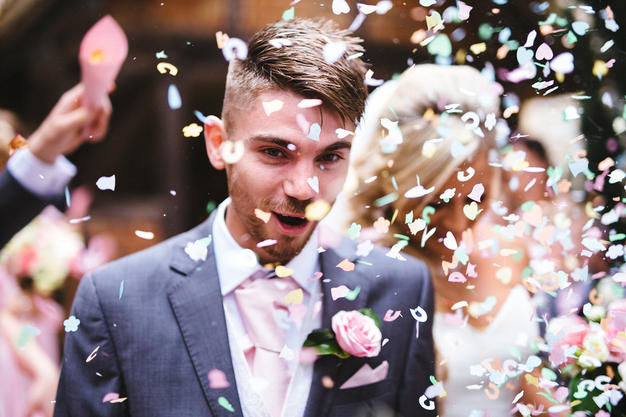 Bride and Groom Exit Signage
Don't forget you may need to direct your guests with signage as to where to go or what you want them to do.
Examples:
"Light up the night" with us.
"Please take one and form a line." 
Chalkboard Signs
Bistro chalk board signs  (cafe signs) and a chalk marker are great items to write your message. If you want to repurpose your sign throughout the day's events, just insert a piece of black poster board into the chalk board section.
This way you can flip the message or do a quick change for different words. 
Or a wood sign to point the way!
 It's funny how exiting a wedding brings out the kids in all of us. Who knew adults would be so excited to blow bubbles, snap glow sticks or release balloons! Have fun with whatever exit moment you choose!
Find more tips and ideas for wedding planning and make your day all that you have dreamed!