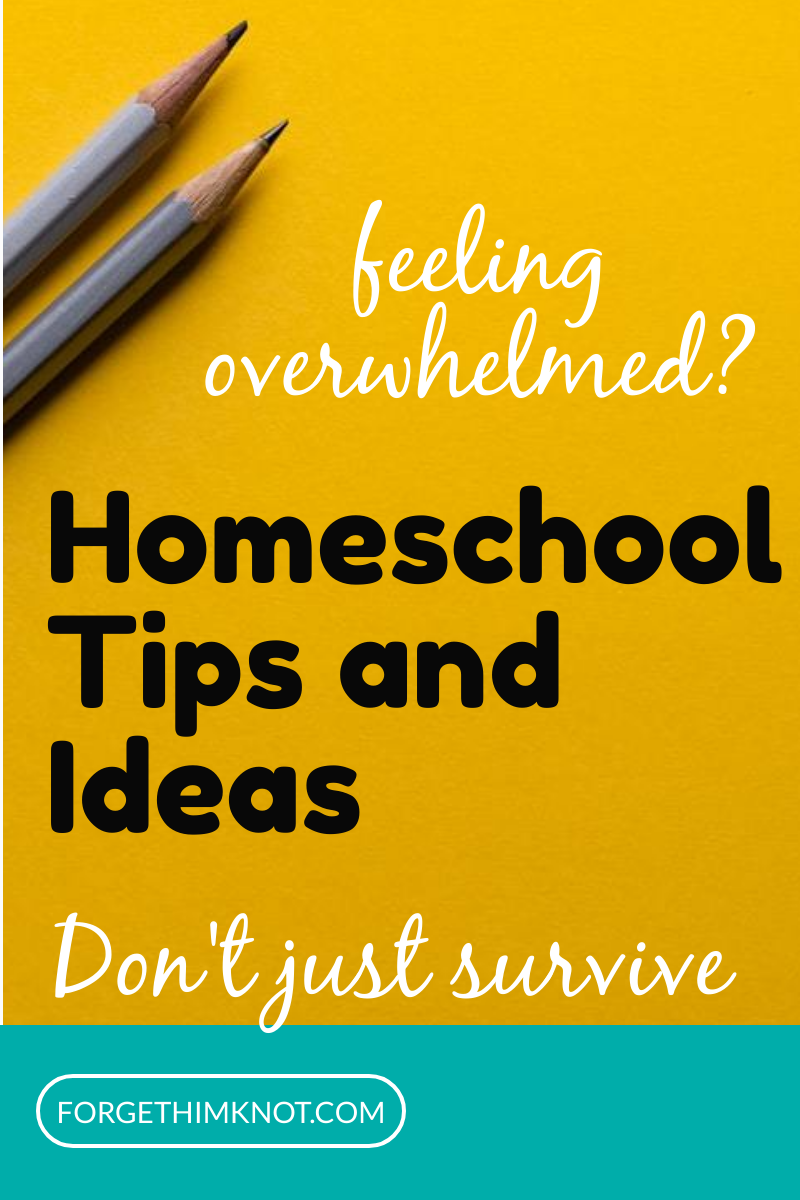 Homeschool is so much more than just Math, English and Science. A Christian homeschool opens up normal school subjects, information, and life to a new perspective.
Homeschoolers can learn about the creation and get to know the Creator of it all!
Christian homeschoolers have the ability to see God's presence throughout History, His fingerprints in all of creation, and how He has gifted people through the Arts and Sciences.
You are able to learn about the world and the One who designed it. 
All of our Christian homeschool tips and ideas are based in the Word of God. We find creative ways to place Bible verses in the hearts and minds of children.
Whether it is Bible verse memorization, copy work, coloring pages, our courses or encouragement, we want to help others forget not the Lord.
As a veteran homeschooler, you may be searching for some new Christian homeschool tips and ideas to add into your routine. 
Whether you or new or old to homeschool, we all discover that our rolls as parents and teachers blend together. School never stops just because the math lesson is done!
Truthfully, if you have a child, you're already a homeschool parent. 
How do I know if I am capable of homeschooling   my children? 
Homeschool can be grocery shopping, a visit with an elderly friend, raising animals, making dinner and so much more! Teaching opportunities are everywhere. 
When you doubt your ability to homeschool, just remember that God entrusted you with the precious child or children to raise. He will provide what's necessary. 
Who better than you to help your child learn?
As a parent, you began homeschooling before they were out of the womb. Every touch and the sound of your voice was a learning experience to your child. 
Parents teach kids the words yes, no, mommy, daddy, hungry, and I love you. You helped them smile, crawl and walk. Most likely, you've taught your child how to tie a shoe, ride a bike, and how to interact with people around them. 
Who but you taught them the dangers around them and how they should behave or deal with situations? 
It doesn't take you long to discover how they learn or process the information they are exposed to and how they handle it. 
● Do you have to tell a child something for them to learn it best, or do you show them? 
● How does you child like to discover things in the world on their own or when you read to them? 
● Does your child get overwhelmed or overstimulated easily? 
If you have more than one child,
chances are they have different learning styles.

Homeschooling does not come with a one size fits all approach.
Each one of us are fearfully and wonderfully made unique individuals. We have different personalities, abilities, ways we process information, and learning styles.
You do not learn exactly the same as your parents, spouse or even your children. 
Homeschool allows a parent the ability to teach to each child's learning style and challenge the areas where they are weaker in learning. 
With that said, homeschooling also provides the opportunity for a family to all learn together. Just because you don't have the same learning styles does not mean you have to learn separately. 
Learning together brings new perspectives! All Inclusive Homeschool.
Tips and ideas to help you homeschool. 
     ● Find an accountability partner to help you stay on track. 
     ● You need a "tribe" of homeschoolers to do some group activities
     ● Other people can teach subject areas that are not your strength. 
     ● Look for ways to help your child take ownership of their own learning!
Our goal is to continuously share tips and ideas from our experiences as homeschool moms. We teach homeschool Art classes each week at a tutorial and in our studio.
This keeps us not only applying what we have learned, but constantly learning with other homeschoolers. 
Help for Homeschool Struggles:
How to make your homeschool lessons come alive for the entire family. 
We share 5 of our best tips to help you thrive in your homeschool because sometimes this journey gets tough!
Homeschool Bible Memorization  and Printables
The most valuable and memorable activity we spent daily with our children was in memorizing, studying and discussing God's Word. We share how to make a Bible verse binder.
Other ways to help your child with Bible Memory Ideas. 
Free Homeschool printables
Throughout our homeschool blog posts, you can find free printables to help you in your Christian homeschool journey. Make sure you visit our Freebie Library for the full collection of printables. 
We love God's Word, flowers and sharing our coloring pages with others.  
Ways to keep your books, activities and supplies organized with your theme of study. Free printable!
 52 Back to School Bible Verses for Kids-
Arm your children with God's Word in the carpool line, your homeschool or daily routines.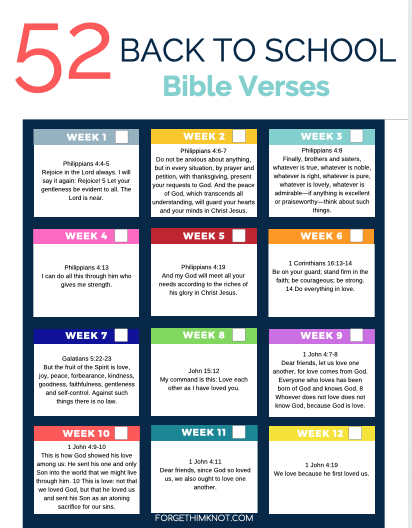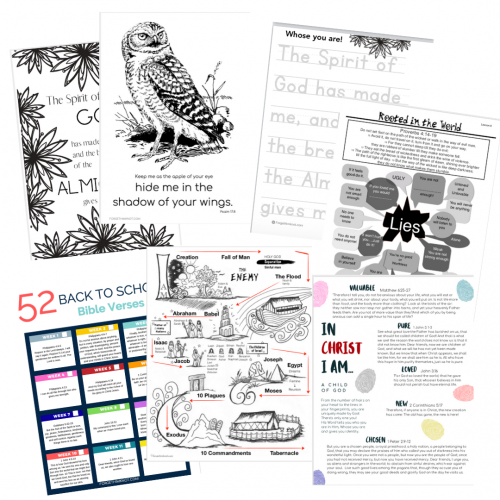 Visit our Freebie Library for Bible verse coloring page, worksheets and printables to help you forget not the Lord!
 A password email will arrive soon!
Christian Bible study resources
Homeschool Art and Creativity
Creative Energy Day is our way to inspire creativity in kiddos with toys art supplies and an imagination. We make it a special day and you can too!
Aluminum tape is not just for ductwork or a handyman supply! See what you can create with our Aluminium Tape Art for kids.
Grab the yarn and some glue for a fun family art activity, Yarn Painting.
Be sure to visit our Youtube channel for more art and meaningful ideas. We are working on adding new projects each week. 
Homeschool Art and Creativity Ideas is where we like to give you books, projects and ideas to find your creative inner child!
If you are still not feeling like a creative mom, be sure to subscribe to our Freebie Library where the HeART of You helps you discover the God given creativity you possess. Also you will discover your inner creative child in the heart of you. 
Homeschool Field trip ideas
Organize your state by field trips and categories with our free printable. We called our homeschooling days, "Van-school", because some days it seemed like we were always on the road learning. 
Christian Bible Studies and
Homeschool Resources
Christian Homeschool Bible Verse Reminders for Kids
Homeschool Ideas for the Holidays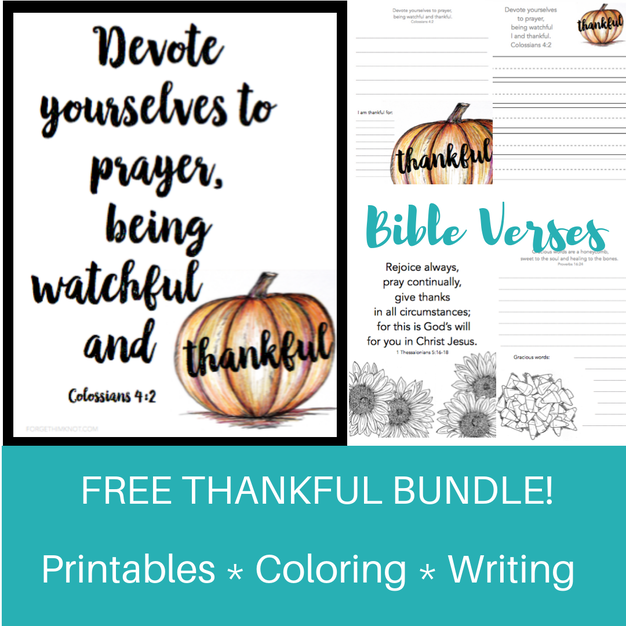 Art For Homeschool
Holiday Projects for kids
Bible verse printables, coloring pages and copy work pages for handwriting and Scripture memorization. Just print and create!
Create a fun pumpkin with the kids to write what they are thankful for during this Thanks-giving season. 
Use our printable templates for inexpensive ways to add thankful Bible verses to your Thanksgiving table decor.
Favorite Homeschool Resources and Homeschool Blogging Moms
Heather is a homeschool mom sharing advice, on marriage, homemaking, parenting and homeschooling. Beautiful printables. 
Jill has great advice and creative ideas for Grandparents from an experienced Grand! She even shows you how to have a Grandma Camp! Sign me up!
Kelli has built a site full of helpful homeschool resources, family activities and printables. 
Crystal has compiled everything from the "letter of the week" to daily meal plans!
Tiff helps moms make sense of Autism diagnosis.  She offers calming and behavioral resources from a first hand experience for kiddos on the spectrum.  
Michelle is passionate for encouraging moms to live life abundantly and experience more joy in special needs parenting. 
Beth has experience and a heart for helping people in counseling, but in a creative way.  She has words of encouragement and help with self care.