The Bible is full of stories. These wonderful stories are about God interacting with His creation. If you want to know more about God, there's no place better than His Word. 
Bible story books are great tools to guide you through God's Word, but they do not always paint the entire picture.  Publishers can only print bits and pieces or snapshots from a Bible story because there are too many exciting moments in the Bible to capture them all. 
Studying the Bible chronologically helps to fill in the places, people and events. Our Free Bible stories timeline helps kids see how the stories fit together.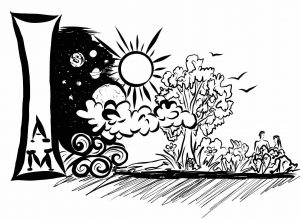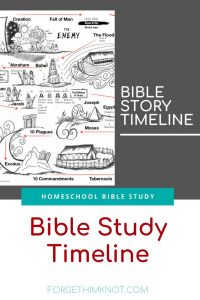 Many kiddos learn the "big" Bible stories in Sunday school such as Creation, Adam and Eve, Noah and the flood and Moses from a basket to the burning bush.
But, inside great Bible stories of hope and deliverance are small little stories creating an even bigger detail of Jesus.
Without understanding the timeline of the Bible, those wonderful stories remain just stories to them. It's hard to see how the Bible stories we learn as kids apply to our lives and relationship with Jesus today.
A timeline shows you a better understanding or where God was and is today. How was the events then leading to Jesus?
Bible Stories Timeline Printable
Digging deeper into the Bible, God's sense of humor can be felt in some of the craziest demonstrations of floating axe heads, a talking donkey, the disciples thinking Jesus is a ghost, and a fat enemy king dying on a toilet!
Sometimes the people in the stories say the funniest things that we might miss if we only read from Bible story books rather than from God's Word. 
When Lazarus had died and his sisters were weeping and mourning, Jesus arrives on the scene. One of the sisters who also very much loved and knew Jesus as a dear friend tells him that if He had been there Lazarus would not be dead. She believed that Jesus could have healed him.
But, when Jesus tells Lazarus to "rise and come forth", that sister quickly lets Jesus know that he had been dead for a few days and would stink.
In other words, "Jesus, you can heal and do amazing things such as raise the dead, but you can't do anything about the smell!"
We humans are funny creatures!
Sign up to access the Bible Stories Timeline
Why A Bible Stories Timeline Is Important for Visual Learning
Studying the Bible in Chronological order and with a timeline helps us to understand History. 
 History began "In the beginning" Genesis 1. From "the beginning", every ancient civilization that has lived on this earth can be found in the Bible.
God's Word was not put together in reading order of events, or chronological order. 
That's why it is important to study the Bible and Bible stories in their Historical order. This helps kids connect the Bible stories with what God was doing and is doing in their life today. 
The Bible needs to be studied in chronological order!
The Bible and History reflect each other and complement each other. Studying God's Word in chronological order helps us to understand how every part of history reflects where God is and what God is doing. 
The Old Testament holds stories that demonstrate God's power as the Creator and protector of the world. 
The New Testament tells of His humanity, as He came down to earth to dwell with us. 
Together the Old and New Testaments, show us a God of love, power, mercy, grace and the willingness to die for people who did nothing to deserve His grace and forgiveness.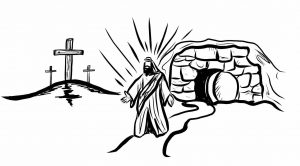 The saying goes, "All roads lead to Rome." But, the truth is, all Bible stories lead to Jesus!
The Bible tells us of how a relationship with Jesus will transform our lives. 
If you want to know more about someone, go to the source!
What the Bible stories teach us about today's life
● The Bible tells you who you are and whose you are!
● Helps us to understand History's events, people, places and things and how they affect you today.
● Why we will never have peace in the Middle East.  
● Explains arguments over land and territories. 
● Why Egypt's historical records are missing a couple of hundred years! Also you can discover why there are chariots wheel and fossils in the Red Sea.
Without the Bible, there would be no foundation for basing basic life choices and consequences. 
Why do most people, countries and even non Christians believe it is wrong or a punishable offense to steal something that does not belong to you? 
Where does that train of thought originate? Why is is bad to murder? 
Who said this was bad? God did!
Why it's important to study
the Bible with your kids
To point your children to Christ (In Christ I Am)
Shows them how to be a light in a dark world.

Brings Wisdom, Truth and Instruction in their lives….not just as children, but as they mature into adults

God's Word will continue with them because it never changes even when man's rules can.
Bible will affect your life, as it draws you into a closer relationship with God. 

The relationship you have with God allows you to impact the lives of those around you.

The Bible allows you to walk through History. There are so many amazing "happenings" in the Bible to discover such as Abraham would have seen the great pyramids of Egypt. There are the accounts of a worldwide flood…that the sun stood still a whole day…the earthquake and darkness when Christ died on the cross and more amazing moments recorded in history.
Training up a child in the Lord is a great responsibility and calling.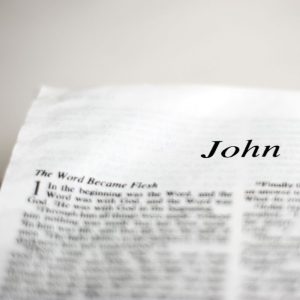 Hebrews is a walking timeline! If you are not familiar with the stories of the Bible or the people and their faith in God, read Hebrews 11 and 12. This is a great place to begin getting familiar with many Bible stories, similar to cliff notes! You can read Paul's telling of  the "heroes of faith".
If there was ever a wall of faces for us to view and read about like a paintings in a museum, it's those 2 chapters. 
Hebrews was written by the Apostle Paul. Sometimes, he has a tendency to be a little long winded…. maybe a little like this blog post or a conversation with us. (smile)
Long winded or not, Paul was filled with the Holy Spirit preaching Jesus wherever he traveled…. even prison. Many times throughout his writings, he tells the events leading to Jesus. Why? 
Because the stories have a purpose and plan to lead us to Jesus!
Our Bible Story Timeline is a sampling of the stories in the Bible. We tried to pull the ones into an illustrated visual that helps you see Jesus! 
How to use the Bible Story Timeline
Read the chapters that go along with the visual with your children.
A chronological Bible makes this easier if you are reading aloud together.
Talk about where God is, what He is doing, where man is and what he is doing…..or should be doing.
Find ways help your children remember the Bible. Make hand movements that go along with the timeline to help you and your children remember the order of events.
Favorite Bible Study Tools
We are always on the lookout for Bible study tools to help us and others learn more about God's Word. Look for meaning of words from the Hebrew and Greek by using a Strong's Concordance. Compare the meaning of words with various Bible translations. 
Online Bible Studies- ReMEMBERers
Take a peek inside our Membership
We would love to tell you more about becoming a ReMEMBERer.
Access our online Bible studies and resources anytime and anywhere. 
Our desire is sharing God's Word and love through creative resources for all learning styles. 
Bible Verse Coloring Books and Dot Markers Books