Homeschool

 Art & Creativity 
As Art teachers and homeschool moms, finding ways to inspire a child's God given creativity can be exhilarating and exhausting! With so many fears and insecurities distracting kids from their own abilities, helping a child find their own creative ability and personality is our mission.
Our favorite art supplies gift guide for kids and kids at HeART!
Through the years, we have incorporated multiple artists and their works into our lesson plans. We cannot take 100 kids a week to the art museum, but we can bring the art museum to them. 
We want them to be inspired! But we also want them to see that if we present 24 artist's renditions of flowers, no two flowers or styles of art will be the same. 
We are all individually made with our own DNA and fingerprints. Your art will not be exactly like someone else's art, because you are you! 
Homeschool Art Education and Creativity Ideas
Unlock Creative Blocks Your Homeschool Art Education

 
Our experience as Homeschool moms and Art teachers to hundreds of children.
Tips to Inspire Creativity in the Logical Child
Advice for the logical child struggling to find their own creative expressions.
Teaching Homeschool Art to Left and Right Brain Thinkers
We have two sides to our brains, the left being more analytical, organized and logical and the right side where we get our movement, colors, rhythm and arts. 
A special day to inspire creativity with toys and art supplies…should be a National day.
Our homeschool Art curriculum, Young at HeART was written with the mom in mind who does not have a background in art, but wants to learn and teach her children Art and the Bible! God gave us all the ability to be creative and we want to give you the tools to express it!
We connect the elements of art to the heart through God's Word. Bible verses lead the direction of each lesson. This course is filled with multiple guides using worksheets, book ideas, easy art supplies, projects and extra activities.
Art Projects for Kids:
A fun texture project that creates a metal relief using aluminum tape from the hardware store and some yarn.
Painting doesn't have to be only paint! Add color and texture to art with yarn. 
Grab those plain white sneakers and add designs with colored Sharpie Markers.
Our tea towels have coloring books floral designs that are fun to color.
Bible verse coloring pages-
Print our free coloring pages from our freebie library, all with Bible verses. 
Holiday Art,  Crafts and Creativity
     Create a Christmas ornament artwork with scrapbook paper and pens. 
     Ornament template made with scrapbook paper and beads. 
     Print our template and created a thankful pumpkin for your Thanksgiving table!
     2017's list of our favorite art and creativity toys, but they are timeless to us. 
Art Books for Kids -Highlighting the Elements of Art

We have selected some of our favorite children's books for each Element of Art illustrated through stories. Kids love a good story and the books help the visual and auditory leaners in their art education. 
What inspires your art and creativity? 
Forget Him Knot!
Free Art Course: The HeART of You!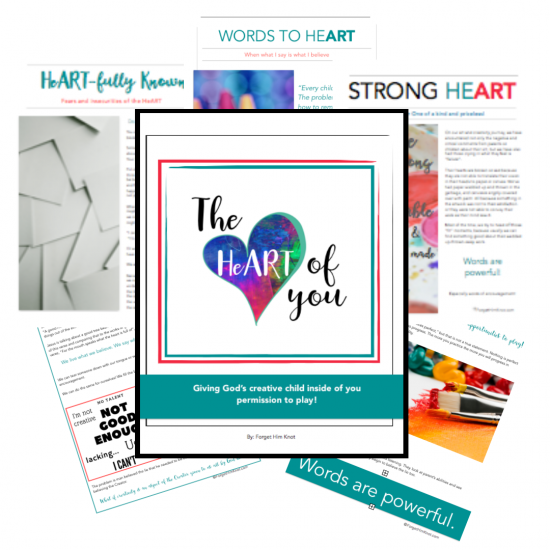 A FREE creativity inspiring mini course to help you find the creative HeART of you. You are surrounded by God's Art everyday and amazing things to inspire you. You may even already enjoy an  art medium, but never realized it was a creative outlet! 
We hope you will work through the course at your own pace and share with your children. He is the heart of our art! 
Visit our Freebie Library for The HeART of You and more free printables!