This bright, simple and fun art project is about your children. God created each of us to be fearfully and wonderfully made, -unique! 
There's only one you! 
In the beginning, the Creator of the world planted a garden. He gave everything in creation details. Every plant, flower and tree has unique beauty and purpose. 
If God would give flowers and trees such detail and care for us to enjoy, shouldn't we also see the care, detail and love He has given people created in His image?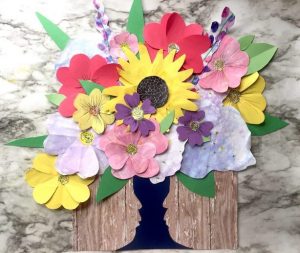 God knows every single detail about you from every hair, every freckle, every struggle and every thought. Nothing about you is hidden from His sight or knowledge!
Psalm 139:14
I praise you, for I am fearfully and wonderfully made. Wonderful are your works; my soul knows it very well.
Bouquet of Me is an art project, guiding you to create a floral bouquet from some of the unique details God has made in you.  Kids will use their handprint, fingerprints, hearts and even their breath to make flowers and their faces will make the vase.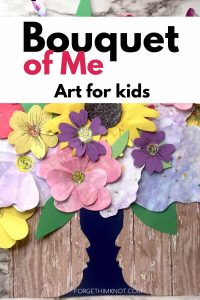 How unique is this masterpiece? Very You-nique!
The video below was a great opportunity to partner with…
Jill from Adventures in Nanaland  and Beth from Moore Wellness
…on a "bouquet of me" art  session. With a bowl of chocolate, Jill encourages her grandkids over a video chat through the steps to make the flowers. Beth is with her grandkids over a video chat and a couple of them sitting with her. 
The two of us? Well, we were up to our usual crazy antics.
You too can grab the kids, art supplies and even a bowl of chocolate candy and create your own bouquet with us!
Supplies Needed for a Bouquet of Me
To make a Bouquet of Me, you will need paper, pencils, scissors and a glue stick. That's the simple list.
For more options,  construction paper, scrapbook paper with patterns and color and card stock will add more uniqueness to your floral bouquet. 
Art supplies such as crayons, colored pencils and even watercolors will allow you to create your own colored or patterned paper for your flowers. 
How to Make a Bouquet of Me
The two of us have made this bouquet many times through the years with our Art classes. When we decided to create a video tutorial, we were thinking it would be just a few minutes of "how to" and that would be that. 
Then we decided to collaborate with two sweet blogging friends. What we ended up with was 3 perspectives and ways to accomplish this art we had not considered. 
Not all plans and ideas end up like you may expect. Sometimes they are better! This was one of those times. It's always better when the Lord is present!
When you bring children into the plans or art lessons, you never know what you will get, but that's okay! What you see will not be what they see. 
Remember to be flexible and allow their creativity to shine. After all, this project is a bouquet of them!
I praise you because I am fearfully and wonderfully made; your works are wonderful, I know that full well. Psalm 139:14
Your face profile is the perfect shape for a vessel! All you need to do is trace your face and cut it out!
You will need 2 shapes of your face to create your vase. Now say that 5 times fast!
The shape of your face makes an illusion that was used in the Op Art and Pop Art movement. It can also be called illusion art. It is a positive and negative technique best defined as one of the elements of art "space". 
You can use patterned paper such as scrapbook paper, solid cardstock, or create your own paper designs to decorate your vase. 
We used blue card stock for the vase in the video below from the profile of Carrie's sweet grandbaby boy. 
The picture below demonstrates the face/vase concept. 
For a fun variation, use a pretty patterned scrapbook paper for your vase. What colors match your home decor? We also love shiny metallic finishes. Aluminum foil wrapped and taped to the backside of your vase will give you a beautiful silver vase. 
Hydrangeas are a temperamental flower. They are gorgeous, fluffy, delicate snowball shaped flowers that are made up of multiple smaller flowers on tiny stems. Those lovely flowers require large amounts of water.
Hydra means water…. so they drain the vase dry of hydra (water).  We use these in weddings many times and we feel the need to pray over them and purchase extra in case any die during a wedding day event. 
You will not need to worry about your hydrangeas in today's art lesson. Although we will be using water to make them, they will not drain the vase dry!
      ●To create our hydrangeas we will be mixing a cup of water, a tablespoon of dish soap, and your favorite color of paint or food coloring.  
There is a subtle amount of color distributed to your paper due to the bubbles we will be making so you won't be getting a saturated color finish. But you will get a fluffy 3-D effect that will make beautiful hydrangeas from your breath!
     ●Once you have your colors mixed with soap and water grab a straw and lightly blow through the straw to fill the bowl up and over with bubbles. 
     ●Next, grab a piece of white paper and gently touch the bubbles in the bowl. You can continue to blow bubbles and fill the paper with your layers of bubbles. Be careful not to get the paper wet in the water, just the bubbles. 
Have fun mixing the bubbles on the paper with the colors overlapping.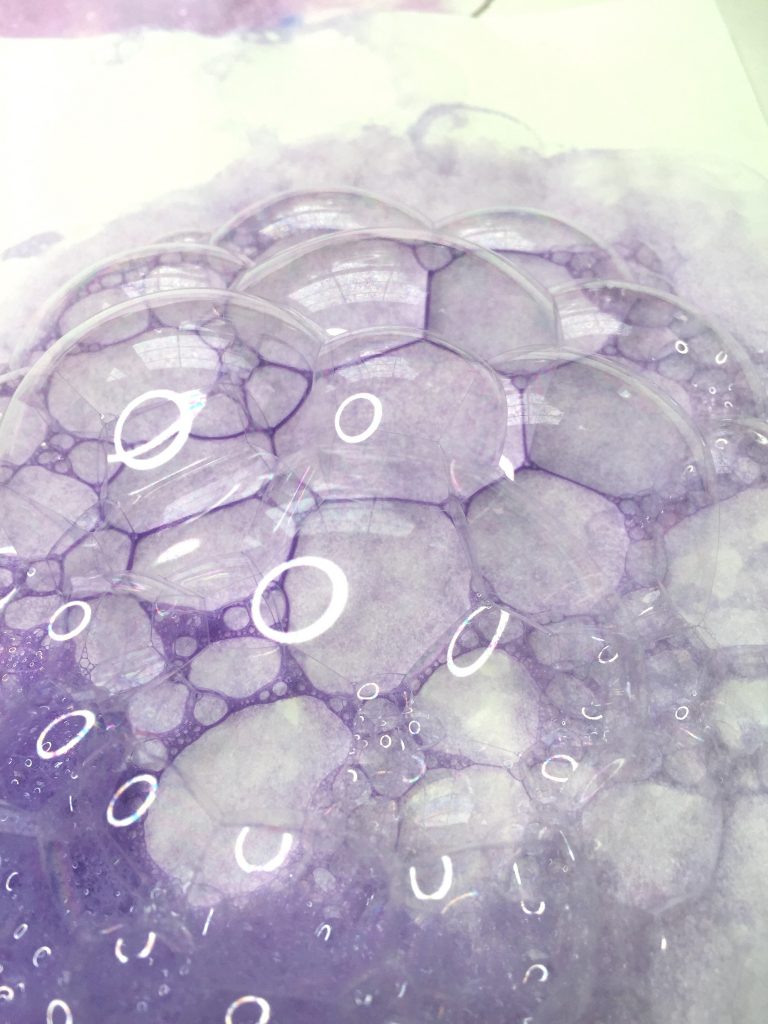 Allow the bubbles to dry on the paper and then you can cut out clusters of bubbles. Don't cut a circle. Take the time to cut around the shapes of the bubbles and you will have a much prettier shaped hydrangea.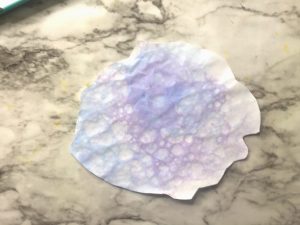 Lastly, you just need to add a few dots of paint to the centers for some of the clusters to have those miniature flowers within a bigger flower.
Petal flowers are probably the easiest flower you will make in this project. You just need to cut big and little heart shapes from paper. 
If you would like to paint your own colored paper, water color makes beautiful unique flowers. But you can also just use construction paper or scrapbook paper.
     ● Cut 5 equal heart shapes from your paper.
For multiple sized flowers for your vase arrangement, just cut slightly longer, thinner or fatter shaped hearts. It looks best if you keep the same sizes of your 5 petal flower the same size per flower. 
     ●You will also need to cut a circle from paper to create the center of your flower. Your circle size will vary depending on the heart size you cut. 
     ●Once you have all your pieces cut, use a glue stick to glue the petals to the circle. 
     ●Add details to your heart and flower center with small lines and circles. 
Assemble your heart flowers by gluing each heart to another heart.  Then add the center circle. 
For a completely new type of flower, layer the small hearts on top of the big hearts! You can add 2, 3 and even 4 layers of hearts to create so many variaties of petal flowers. 
Add wispy black lines for more detail to your petals or just leave them in their pretty colors.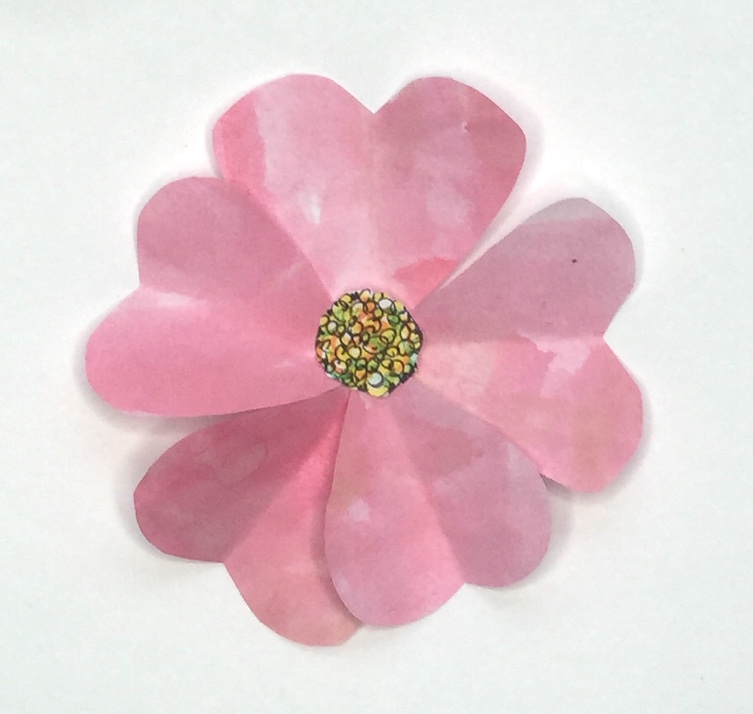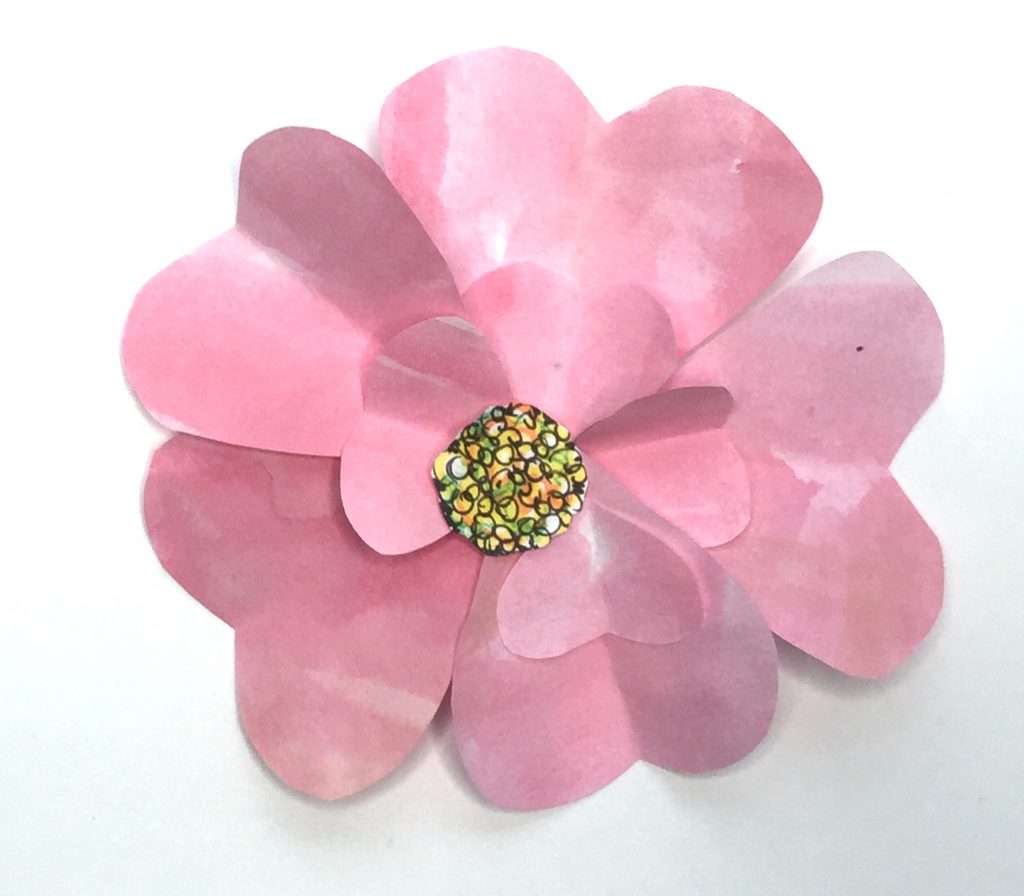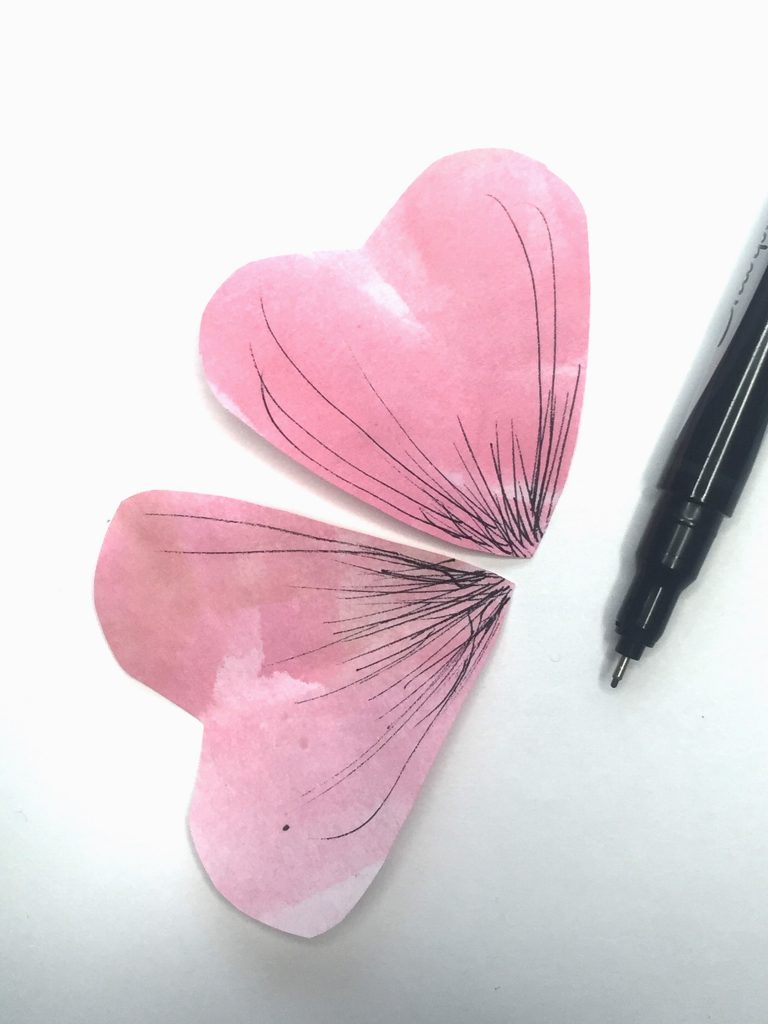 This technique can be used to create lots of different shaped flowers. A Hyacinth is a taller flower and adds height to our arrangement, but other types of flowers would be beautiful too. 
Whatever flower you choose, we will be making the flowers with our fingerprints. 
If you have an ink pad in the color of your flower of choice, just press your finger into the ink and then stamp onto to paper. Keep your flower shape in mind and allow your fingerprints to create the desired shape. 
If you do not have an ink pad, a washable marker will work great. Take a washable marker and color the pad of your finger. Then press your finger to your paper.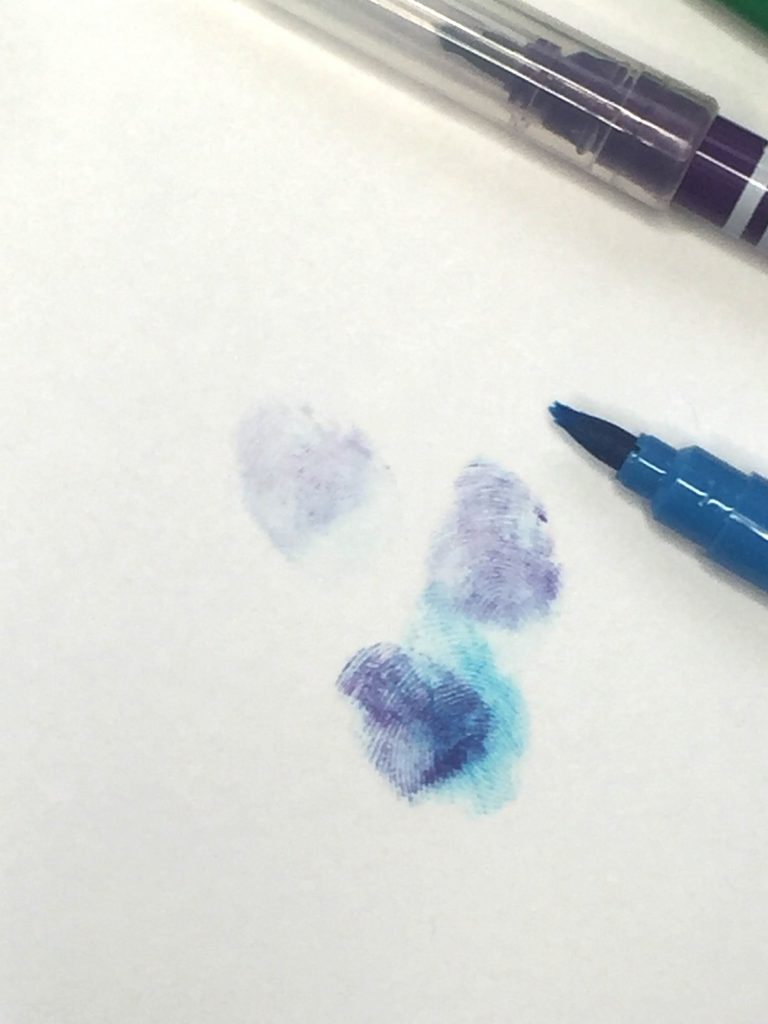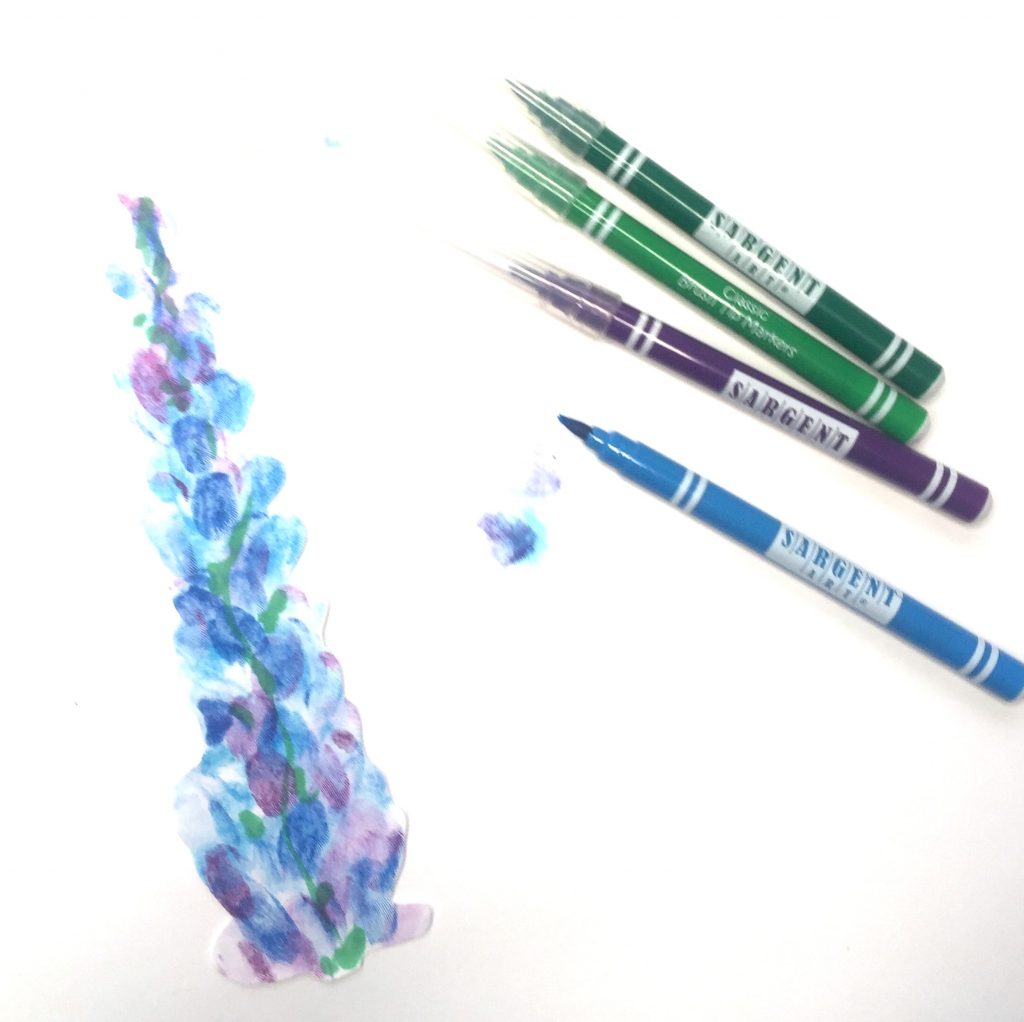 Sunflowers are amazing flowers. They are phototropic which means they follow the sun's light. From the morning till the sun sets, their flower heads will reach and turn to stay facing the sun. They stand tall over all the flowers holding their crown like heads to follow the source of life. 
We should all be like sunflowers. following the Son of God! What if each morning we rose to stand tall, face the Son with our bowed crowned heads, and followed wherever He leads.
He is King and we are His people. 
Another unique aspect of the sunflower is they have seeds to feed not only animals, but even people. Do you like sunflower seeds? 
When you look at a sunflower from a distance, they appear like a crowd of people. They stand tall with heads high and their large leaves like hands. We can imagine that if a sunflower was able, they would clap their hands each day praising God for the beautiful light. 
Sunflowers do not have hands, but you do. We can make our sunflowers with our hand shapes. 
      ●Grab a sheet of yellow paper and trace the shape of your hand.  You will need about 6 hand shapes to form your sunflower.
      ●Now cut a circle from a dark brown, black or dark patterned paper. this will be the center of your sunflower. Add "V" lines in the cirl or squiggly lines to detail the sunflower's seeded center. 
      ●Once you have your pieces, glue the hands into a circular shape and add your circle center. 
      ●Curl the finger "petals" slightly with a pencil or the handle of a paint brush. This will make the petals curved like a real sunfl
Leaves come in all shapes and sizes and no two leaves are just alike! Draw the leaf shapes you like for your floral arrangement onto paper. Leaves can be traced from actual leaves you find outside or you can draw simple shapes on your own. 
      ●Just like the flower petals, if you would rather paint your own paper, use scrapbook paper, or draw and color with markers, the results will be gorgeous. 
      ●Add detail to your leaves with a pen, marker, colored pencils or  your favorite medium.
      ●Cut out with scissors and glue to your arrangement. 
Assembling the Bouquet of Me
Now we can assemble our bouquet with all of our flowers we have made. 
First you will glue your vase to your card stock background. 
Next begin placing your flowers onto your background. It is best to work with the bigger flowers first as they take up more space. Don't be afraid to overlap flowers or petals! Start gluing!
Then add your leaves in areas for a beautiful unique bouquet of you!
This artwork would make a lovely gift for moms and grandparents. 
We hope you enjoyed this fun art project. Each piece represents part of your child and can be used as reminders for how uniquely made they are by God. He loves each person and has given us all details that are unique to each person. 
He is amazing!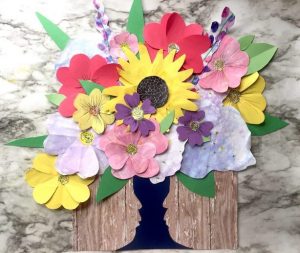 We wrote a poem that explains all the pieces in this project to remind us that we are fearfully and wonderfully made by a creative God. We are a vessel that is filled with the love of Jesus and we are to share that love with others. 
Where we focus is what we see
what we see is what we believe.
But faith in God is believing
in things that can't be seen.
Give us a new perspective LORD
open the eyes of our heart.
Remind us to know more of You
as we study this work of Art.
As you view this "Master's piece",
there is positive and negative space.
Do you see silhouettes of faces
of the present of a vase?
One flower is made of fingerprints
unique and one of a kind
To remind you that by God,
I am wonderfully designed.
The sunflower is made of handprints
follows the light of the sun
To remind you my hands and heart
will follow Jesus, God's Son.
One flower is the bubbles made as
my breath blew paint through a straw.
To remind you of God's Spirit, His breath
who desires to live in us all.
This lovely Bouquet of Me
is made with parts of my life
To remind you I am a vessel
filled with the love of Christ
By: Carrie and NIna- Forget Him Knot
We wanted to thank Jill at Adventures in Nanaland for partnering with us on this Bouquet of Me art project. She was able to work with her grands long distance over Zoom to create their flowers. Watching her interaction with her sweet grand boys made our hearts full. Visit her site and let her take you on an a grand adventure! She shares so many wonderful ideas and advice on her blog to help grandparents connect to their grandkids even those long distance ones through technology. 
Some of her inspiring tips are helping grandparents set up camps to do fun things with the kids. She shows you how to set up a grandma camp from the theme to the food and everything in between.  
---
Also a big thanks to Beth with Moore Wellness for partnering with us in her flower making to add special touches to our floral bouquets. Beth uses creative play and activities in her therapy sessions to inspire wellness in mind, body and spirit. Her joy shows in her smile! We appreciate her reminding us to be flexible and enjoy the process!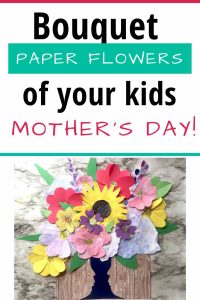 Visit Forget Him Knot's Youtube channel for more art ideas to do with your kids. We look for fun ways to be creative from crayons, chalk, colored pencils to watercolors.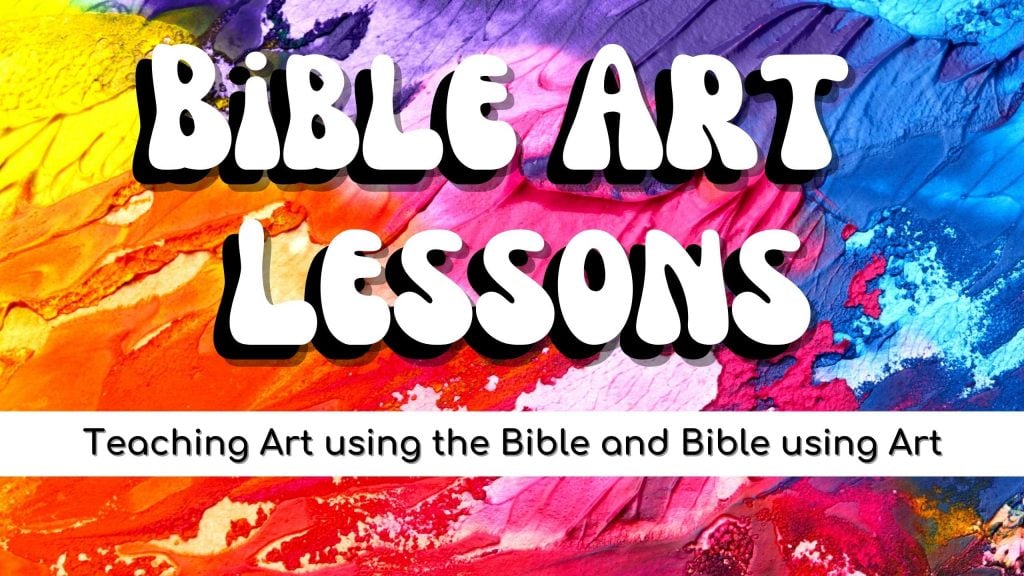 Take a peek inside our Membership
We would love to tell you more about becoming a ReMEMBERer.
Access our online Bible studies and resources anytime and anywhere. 
Our desire is sharing God's Word and love through creative resources for all learning styles.