What would you do if you were told to use your creativity to make a work of art with lines, but without using makers, crayons, pencils or paint? 
How about yarn?
Yarn painting is a creative art project to demonstrate the element of art with lines!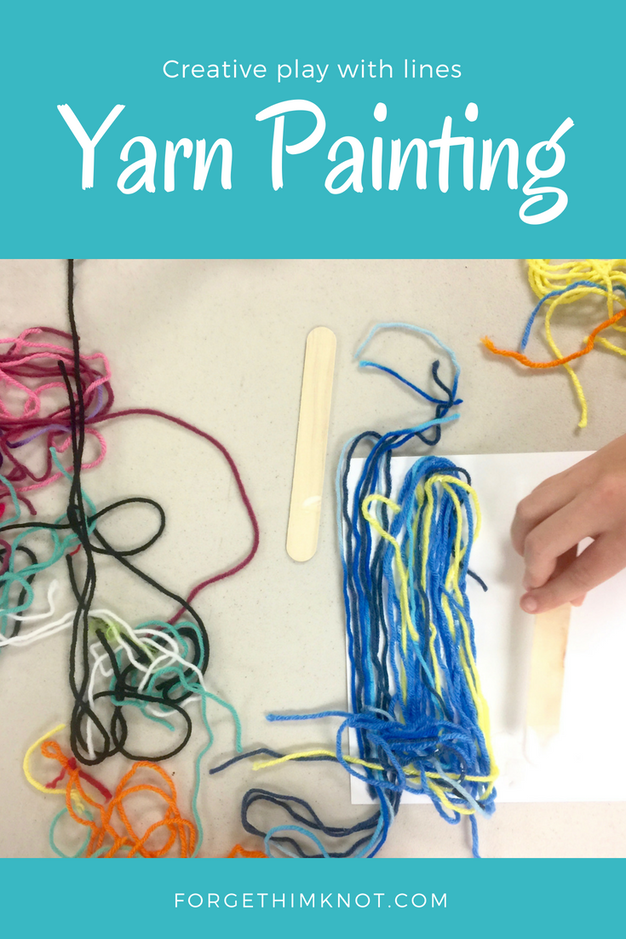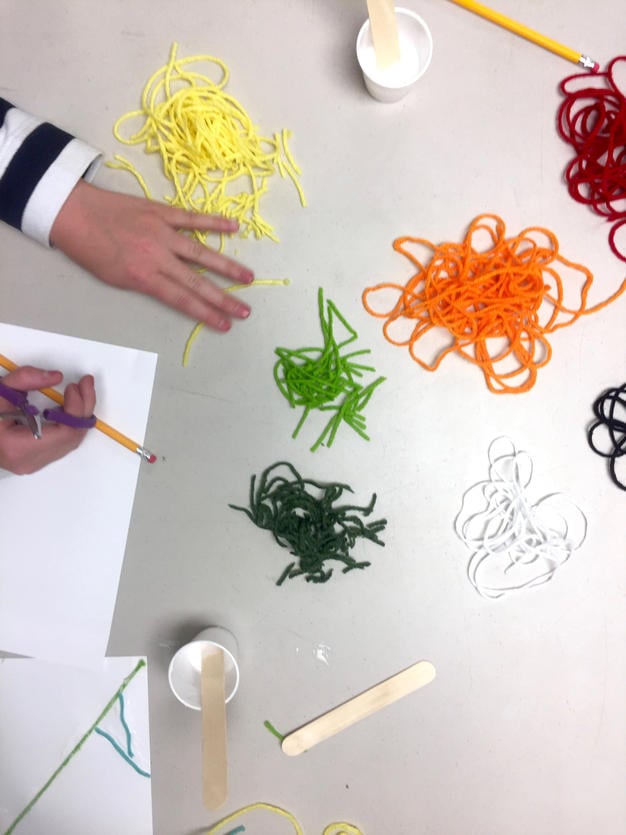 Painting with yarn makes great lines because it is one big pliable line! You can bend, twist, swirl,wave, zig-zag…etc. We used it just like pencil lines and paint.
For supplies, we gave the kiddos either black or white card stock, glue and a tongue depressor to apply the glue.
We wanted the kids to think outside the box …. or lines, and use their motor skills in a tactile exercise. 
It may sound like a simple assignment to glue yarn to a piece of card stock but it's actually more involved. Some kids may even say frustrating! (smile)   
 One of the most stressful and intimidating thing you can give a person is a blank piece of paper or a white canvas.
"What do I draw?"
"I don't know what I want to make?"
"What do I put on this paper?"
"How do I make a _____?"
"What colors do I want?"
"How do I draw _____?"
Sound familiar? Oh trust us, these are the questions that come to our heads too!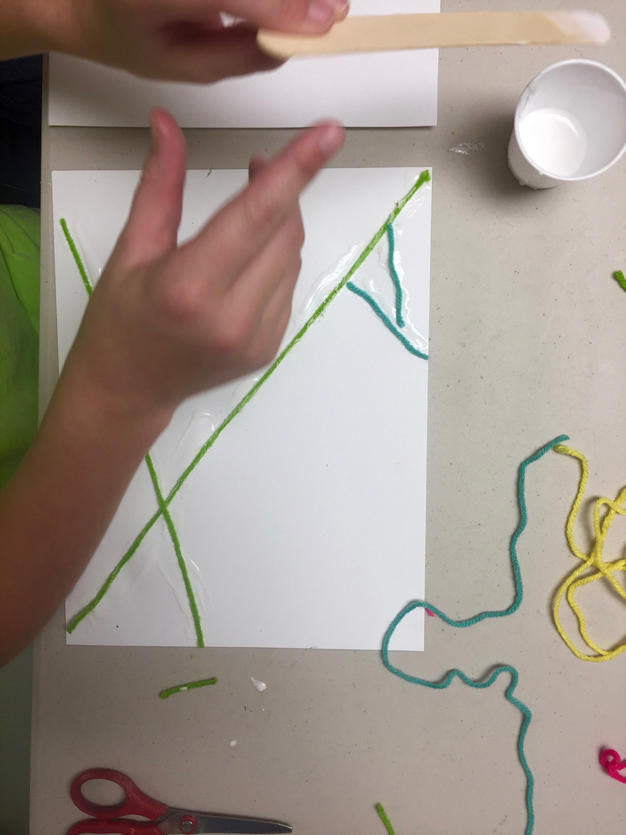 Add to those questions, abilities, motor skills, abstract concepts and…
"How much time do I have to do this?" and you have a panic attack moment!
Or at least a creative melt down!
We should add too this concept that we did not tell the kids WHAT to create….. just paint a picture with yarn. 
For us, it's not about what they made at the end of the class. Not that we don't care or want them to make some fantabulous art.
But how they feel, what they realize they are capable of doing, what they discover about the yarn, glue or whatever mediums we use, and each one's individual panic conquering moment….. that's our goal.
Because when we allow them to play with the process, they allow us to see their inner  creativity. Hopefully they will use what they discovered at home or in art from now on!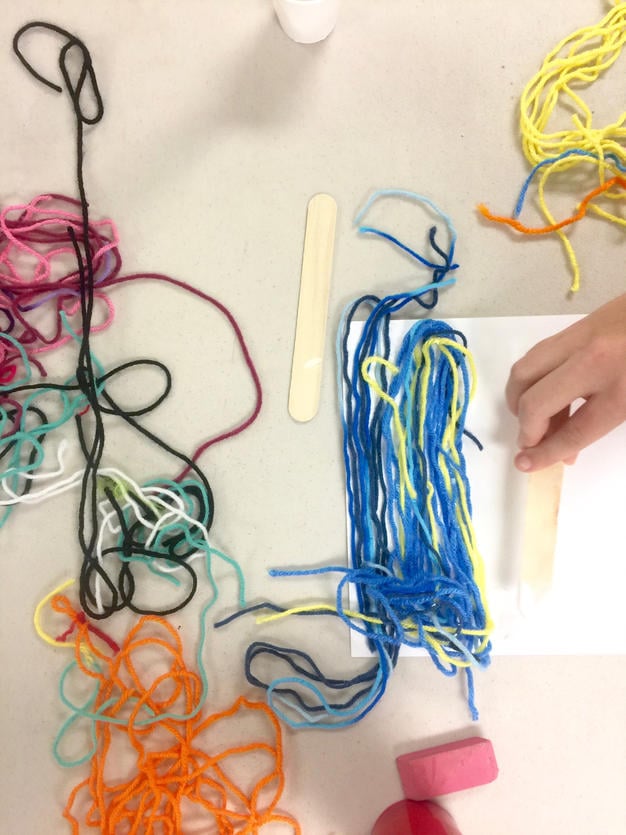 After all, we've been paid to paint on the walls of schools, businesses, homes and a few other interesting places not to mention teach kids art for years.
Who knows what your kiddos will do with their own creativity!
Grab some yarn, glue, scissors and card stock for your own yarn art!
Starry Night with a Cross Yarn Painting
We recently decided to do a yarn painting inspired by Van Gogh's Starry Night. This makes a fun family project!
The process is simple. We drew our design onto a piece of card stock. You can use black or white card stock for this artwork or even a piece of cardboard. 
The entire surface will be covered with yarn, so the color of paper does not matter.
We have included a template for you in our Freebie Library. Just print onto your card stock and you are set to yarn paint!
Working in small areas, trace over your lines with glue.
Then lay pieces of yarn onto the glue lines. 
Fill the entire background with your yarn. 
Glue your cross to the top of your painting. 
Once dry, trim your edges!
Visit our Freebie Library for Bible verse coloring page, worksheets and printables to help you forget not the Lord!
 A password email will arrive soon!