Acrylic pouring has become a popular painting method on YouTube. A quick search will result in hundreds of amazing paintings of flowers, landscapes and incredible abstracts. Let's look at some easy acrylic pouring Bible Art lessons for kids to see how their artwork can remind them of the Lord. 
You will find acrylic pouring under other techniques such as Dutch pour, paint pour and supplies used such as Floetrol, school glue, silicone oil, spray paint or water. 
Now we will admit that paint pouring can be extremely messy. But don't let that stop you from trying it because there is a wonderful message in the mess!
Acrylic pouring projects can remind us as Christians that life is messy, but God has the details of the masterpiece of your life. We cannot always see how the end painting will look in paint pours or life, but we can trust Him in the process. 
That is why we love using acrylic pouring to help kids remember the Lord in Bible Art lessons to teach ART using the Bible and Bible using Art.
We've pulled together acrylic pouring art ideas for kids of all ages to inspire their heART with Bible verses and add color to your creativity. You will also find interesting facts about the paint pouring process and why the different art supplies react to one another (Scientifically speaking).  *Post contains affiliate links.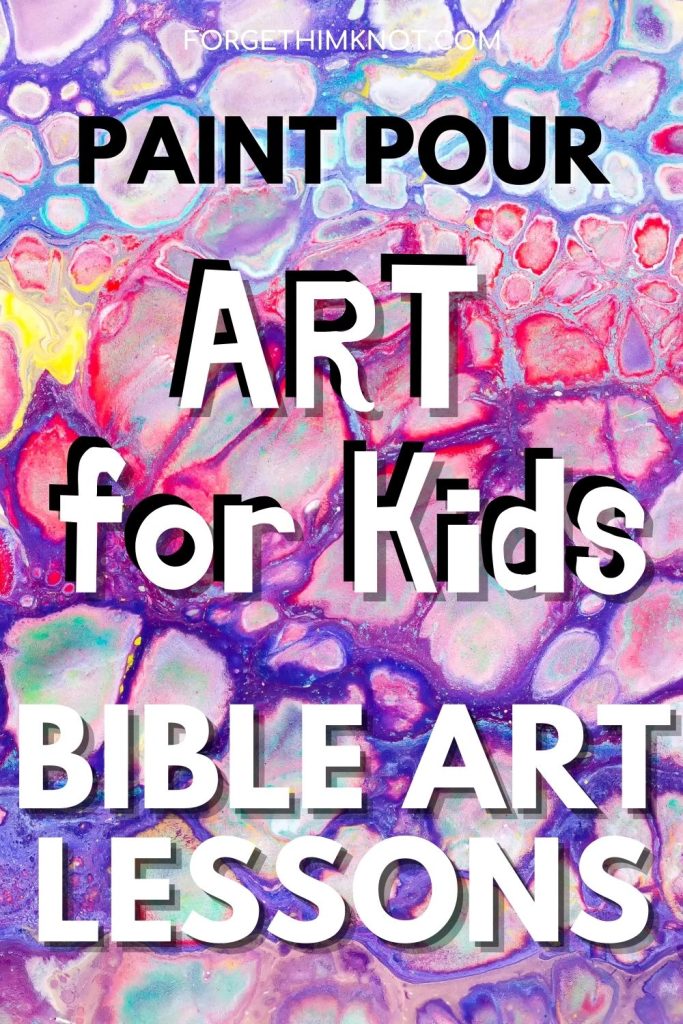 Acrylic pouring has a few items that use reactions to create Art. Because acrylic paints are water based they can be diluted with water to allow them to flow on a canvas.
This will allow your paint to move by moving or tilting the canvas or by moving the paint by blowing it with a force of air. 
When you add a base coat of paint to a canvas and pour your paint on top of the wet base coat, you have a thick layer of paint to move which will mix and push the paint you pour on top.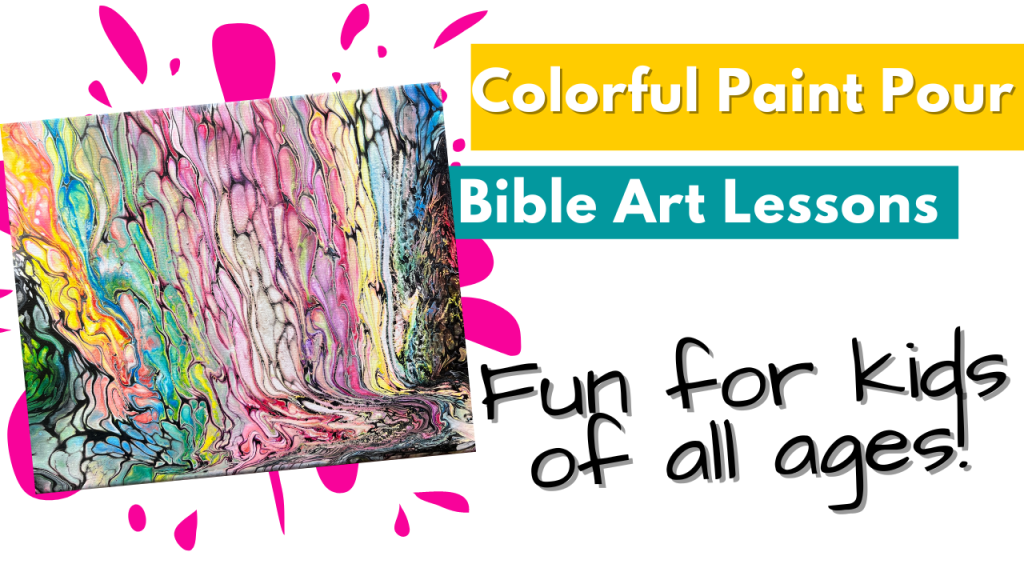 Acrylic Pouring with Flow Medium
Another method of acrylic pouring is to add a flow medium which has been made to allow the acrylic paint to "flow" or move and create "cell" or color bubbles in your painting. You can get even more cells of color when you apply heat. 
The flow medium also keeps the paint wet and thins it for the pouring process.
Other methods of acrylic pouring can be achieved by spraying a glossy spray paint into your paint thinned with a little bit of water. Spray paints and water react against each other but the final result works wonders in an artwork.
We love to use a simple, inexpensive method for acrylic pouring by mixing school glue with water and then adding acrylic paint. 
To make the base coat for your paint pour, you will need to mix 60% school glue with 40% water. Stir until it is well mixed. 
Once you have your base you divide and pour it into multiple cups. 
Leave one for your base coat color. We mostly use white acrylic paint as our base color. Cover your canvas with the base color mixture. 
In the other cups with base, you will add an acrylic paint color of your choice to each one. Stir until they are each mixed throughly. To each of your color cups, you can add 3-5 drops of silicone oil. 
The oil and water will react and create paint cells and even more when heat is applied to them. 
Then you can pour, puddle, splatter, drip, squash, smash, dip, pull blow, spin…. you get the idea, the paint onto your based canvas.  And that's it!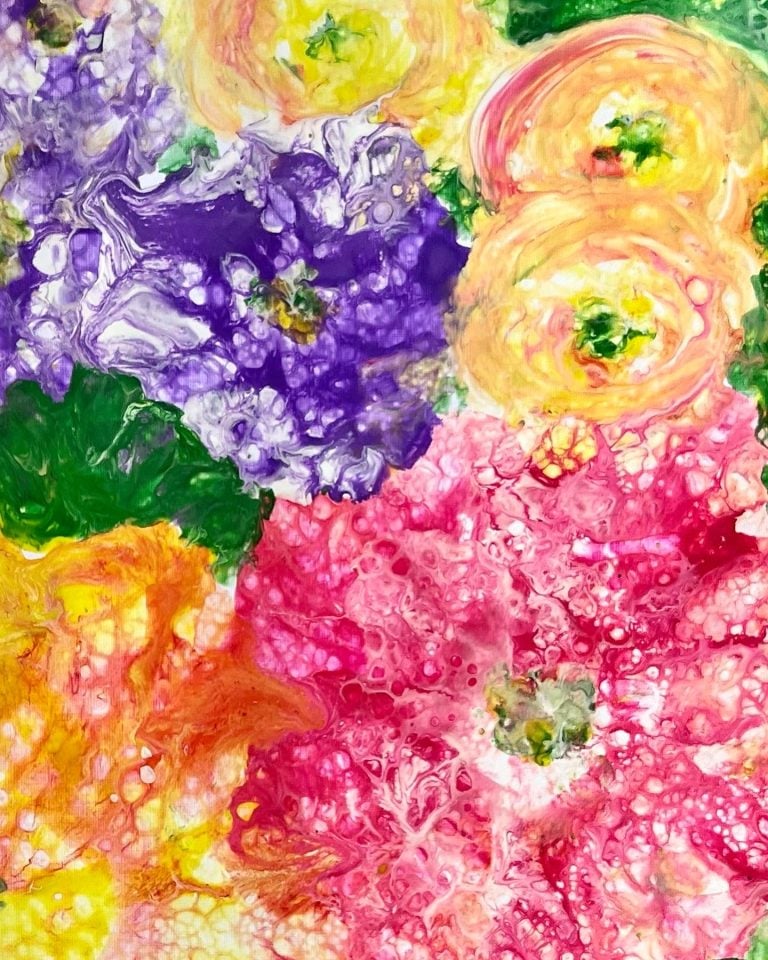 Acrylic Paint Pouring Ideas
The mixture and method we mentioned above is the basic idea to acrylic pouring. But there are some other tips to try in your painting process to help with the mess and the experience. 
Add push pins to the back of your canvas. This will lift it off of your surface and allow the excess paint to drip. 
Speaking of your surface, we did mention that acrylic pouring is messy. Be sure to cover the surface you are using with extra paper or a drop cloth. We like to use a piece of cardboard or a cookie sheet under our canvas for easy clean up. 
Condiment bottles make great containers for paint pouring because you have a little more control than a cup which can drip unwanted paint placement. 
When you mix the silicone oil into your base and paint mixture you do not want to over mix it. Just a few gentle stirs. 
For a cool result to your acrylic pouring, swipe the paint across your canvas. We use a piece of plastic or a page protector (a piece of paper inside to make it sturdy). Gently press the sheet protector onto the paint allowing it to float on top of the paint. Then slowly swipe it across your canvas. When you apply heat, it will create beautiful color cells.
When you tip or tilt your canvas to move the paint to other areas or stretch the cells, be sure to keep your eyes on the areas you like. If you are not careful, you will drip your good area right off the canvas and you may not be happy with the results. 
Acrylic pouring with school glue may have a small amount of texture to the finish, but most of the time it self levels. This will allow you to paint or draw on top of your paint pour to add details.
To add heat to your acrylic pouring, you can use a hair dryer on the hottest setting or a heat gun
Blowing the paint with a straw gives you more control to small areas.
Now let's talk about the mess. 
How messy is acrylic pouring?
Very! (smile) But it is so much fun and the results are amazing to kids of all ages.
You can prepare for the mess as we mentioned, but you have a little less control over the artwork results.
You see, even though you know what the supplies "CAN" do in art, you don't always know what the final piece will look like because the process is reactions that create a unique result each time.
You cannot really duplicate a painting exactly using acrylic pouring.
Acrylic pouring is a great reminder to us that life has messy moments.
You can know the pieces in your life, but you don't always have control over the events. Sometimes we don't even have great control over our reactions in the moments we experience.
But God knows! He is in control and has the final painting for your life. Let's face it, we find ourselves in some messy situations and life tilts, smashes, mixes and runs out of control. Sometimes we react in heated moments in ways that aren't so pretty as the paint cells in acrylic pouring.
Trust Him in the process and the mess you experience in life could be the message He wants your life to be for Him.
Proverbs 3:5-6 tells us to:
Trust in the LORD with all thine heart;

and lean not unto thine own understanding.

In all thy ways acknowledge him, and he shall direct thy paths.
Trust the LORD with your all. Don't lean or depend on your own understanding or how you think something should be. Maybe that can also mean trying to control everything too. In everything you do acknowledge Him…. give Him the praise, glory and honor. While you're at it, give Him your mess too!
He will make your way known!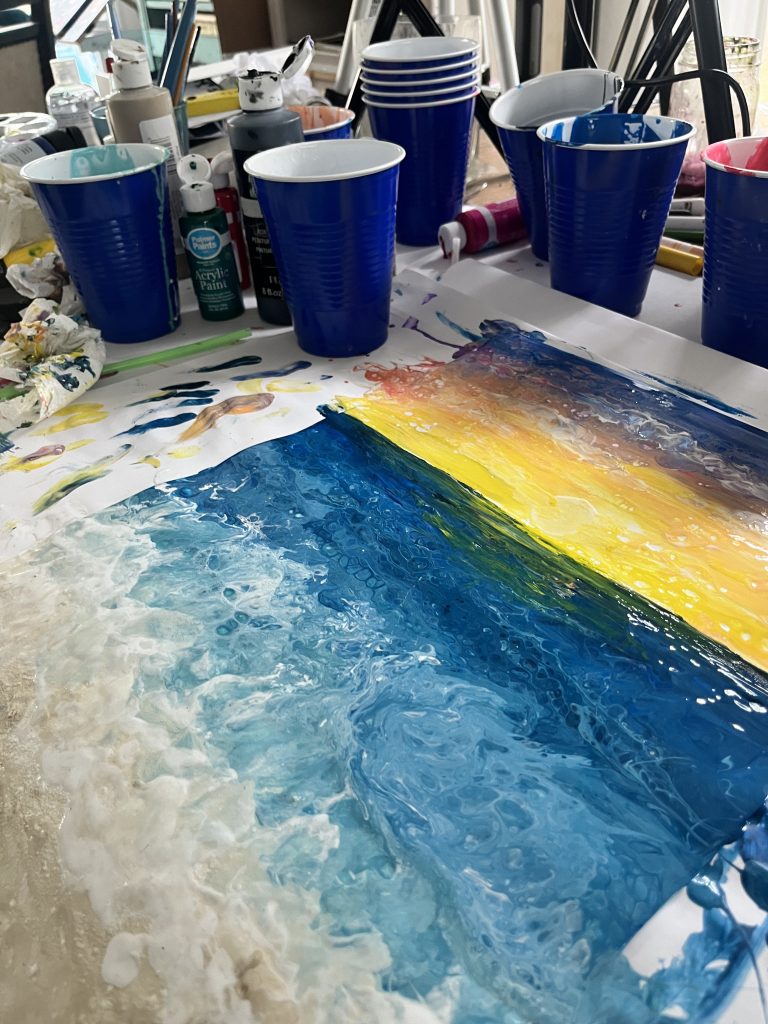 Acrylic Pouring Supplies:
Canvas (we've also used acrylic paper)
School glue (we like to buy it in the gallons)
Acrylic paints
cups and popsicle sticks
or condiment bottles to hold your paint
silicone oil 
or flow medium 
push pins
hair dryer on the hottest setting or a heat gun 
Free Bible Verse Coloring Pages
Bible Art lessons to inspire your God given creativity is what we love to make. If you need ideas for your acrylic pouring or want to start small with your art, try coloring pages. 
We have created Bible verse coloring pages in our Freebie Library for you to print and color as much as you like. Coloring pages are a great way to memorize Scripture for a visual learner.
We loved reading to our children while they colored to keep their attention and focus. 
You will also find free online Bible Art lessons to inspire your God given creativity. 
We invite you to also visit our Bible Art membership for more Bible Art lessons and reminders to forget not the Lord each day!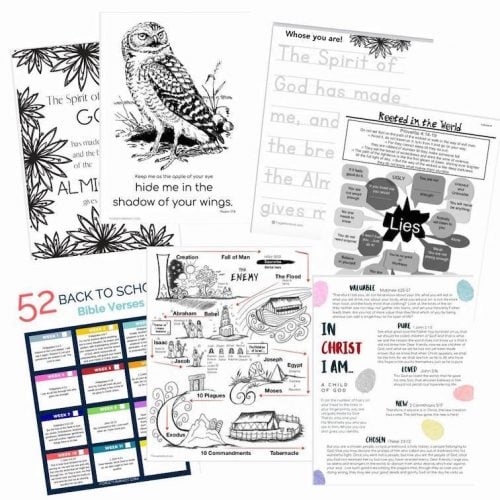 Visit our Freebie Library for Bible verse coloring page, worksheets and printables to help you forget not the Lord!
 A password email will arrive soon!
Take a peek inside our Membership
We would love to tell you more about becoming a ReMEMBERer.
Access our online Bible studies and resources anytime and anywhere.
Our desire is sharing God's Word and love through creative resources for all learning styles.
Bible Art Lessons for Kids