Every year we try to find a new Art project for the classes we teach using something new. We could paint a canvas, but eventually our kiddos run out of wall display space! The aluminum tape art was a fun medium to work with last year so this year we decided to try aluminum tape Christmas decor for ornaments and garland.
Aluminum Tape Christmas Ornaments
The aluminum tape can be purchased online or in a local hardware store. It is a quirky item to work with, but with a little patience it can allow you to create easy and fun projects that resemble punched tin.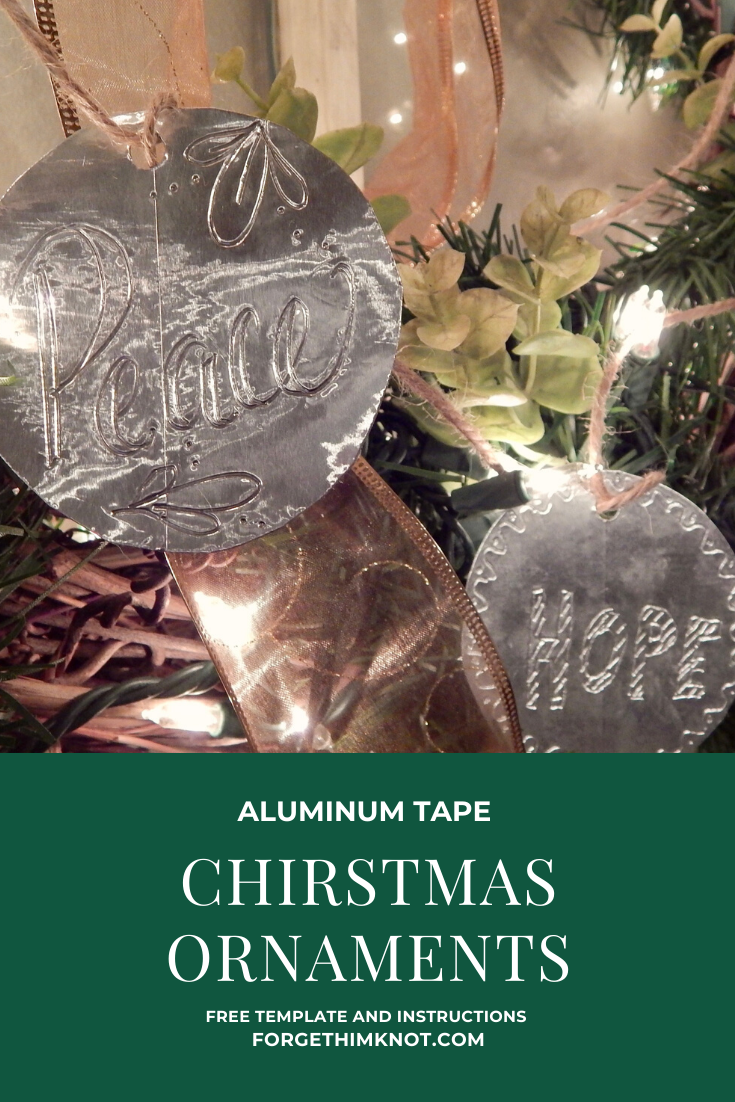 de
Aluminum Tape Christmas Ornaments
The Christmas season brings people together. A great way to remind your guests and family of Jesus is decorations around your home and Christmas tree. This project can be made into garland, tags for stockings and gifts, or ornaments on the tree.  Be creative and make Christmas cards and artwork.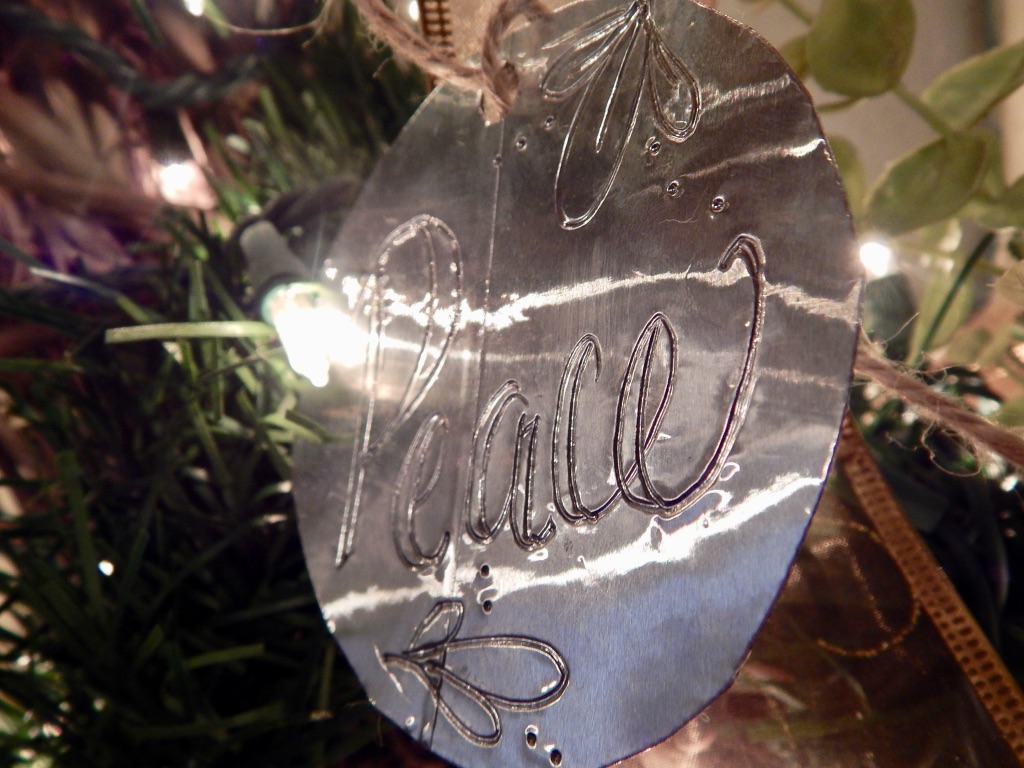 Aluminum tape is used for air ducts and sealing areas such as a dryer vent. It is a thin sheet of aluminum with a very sticky adhesive backing. The tape has a layer of a wax paper to peel from the adhesive.
The hardest part of working with the tape is the stickiness and not allowing it to stick to itself. To work with this, be patient and only peel the paper off the tape as you use it. It works best if you roll the wax paper backing underneath the tape as you go. *affiliate link
The tape is not structurally strong on it's own. You will want a piece of cardstock to hold the tape. 
Once you stick the aluminum tape to the cardstock, you are able to cut it into the shape you desire, so don't worry about getting the edges and shape perfect.
If this is being used for artwork to display, cardstock comes in various sizes. Hobby Lobby carries cardstock in the scrapbook section in postcard sizes, printer paper size and even 12″ x 12″ squares. They also carry pre made tags and interesting shapes of pre cut cardstock. You can cover just about any cardstock, chipboard, and even wood shapes with the aluminum tape. So get creative!
Once you have your plan for the aluminum tape idea for your project, you need to decide how  to decorate it. 
Encouraging Words
Words add beautiful meaning to your decor. Jesus gives us so many blessings that can be reminders made with simple words.
Love
Joy
Peace
Hope
Grace
These are words that remind us that we cannot make it in this world without Him. 
Add words to your aluminum tape ornaments.
If you are creating artwork, you're only limited by the amount of space of your project. We made this landscape and tree scene on regular printer size cardstock.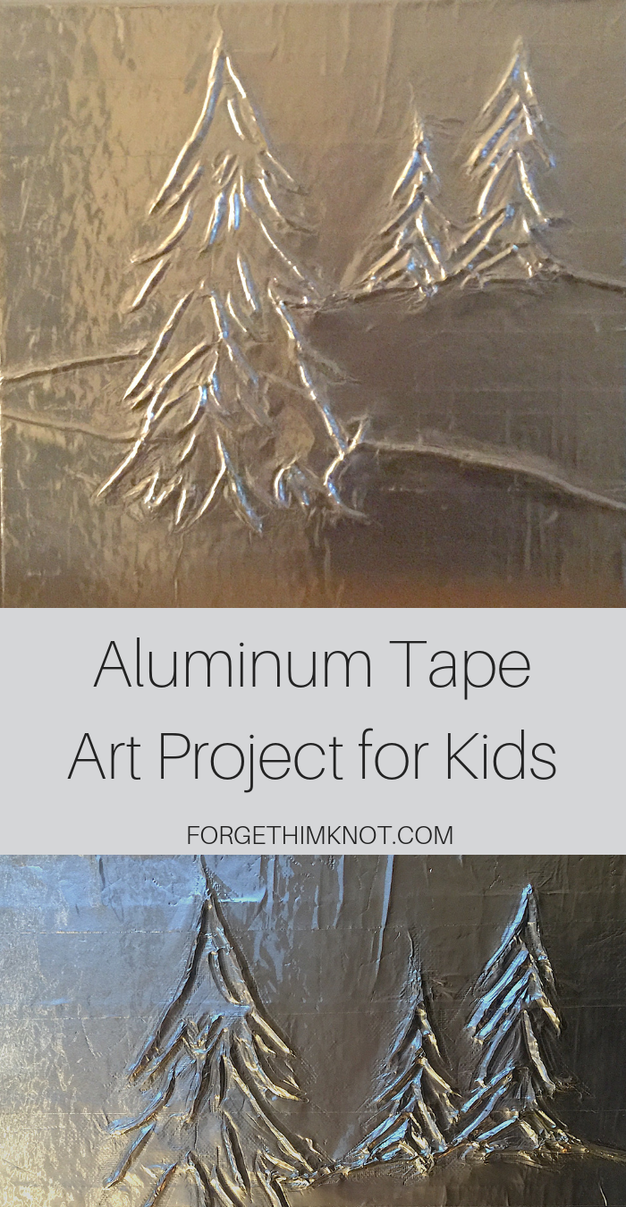 Doodles
You can draw just about anything you like into the aluminum tape. Doodles and patterns create a punch tin effect
Step 3- Choose your medium
We're going to demonstrate how to use the aluminum tape onto cardstock by making a square with the word JOY. Then we can show you the possibilities you can be inspired to create!
Inscribed aluminum tape art:
The tape is think enough that it will hold your drawing into it with a roller pen. You can also use an orange stick or wooden stilus.  The end result will be a subtle design on your artwork due to pressing the tape down to the surface you adhere it to.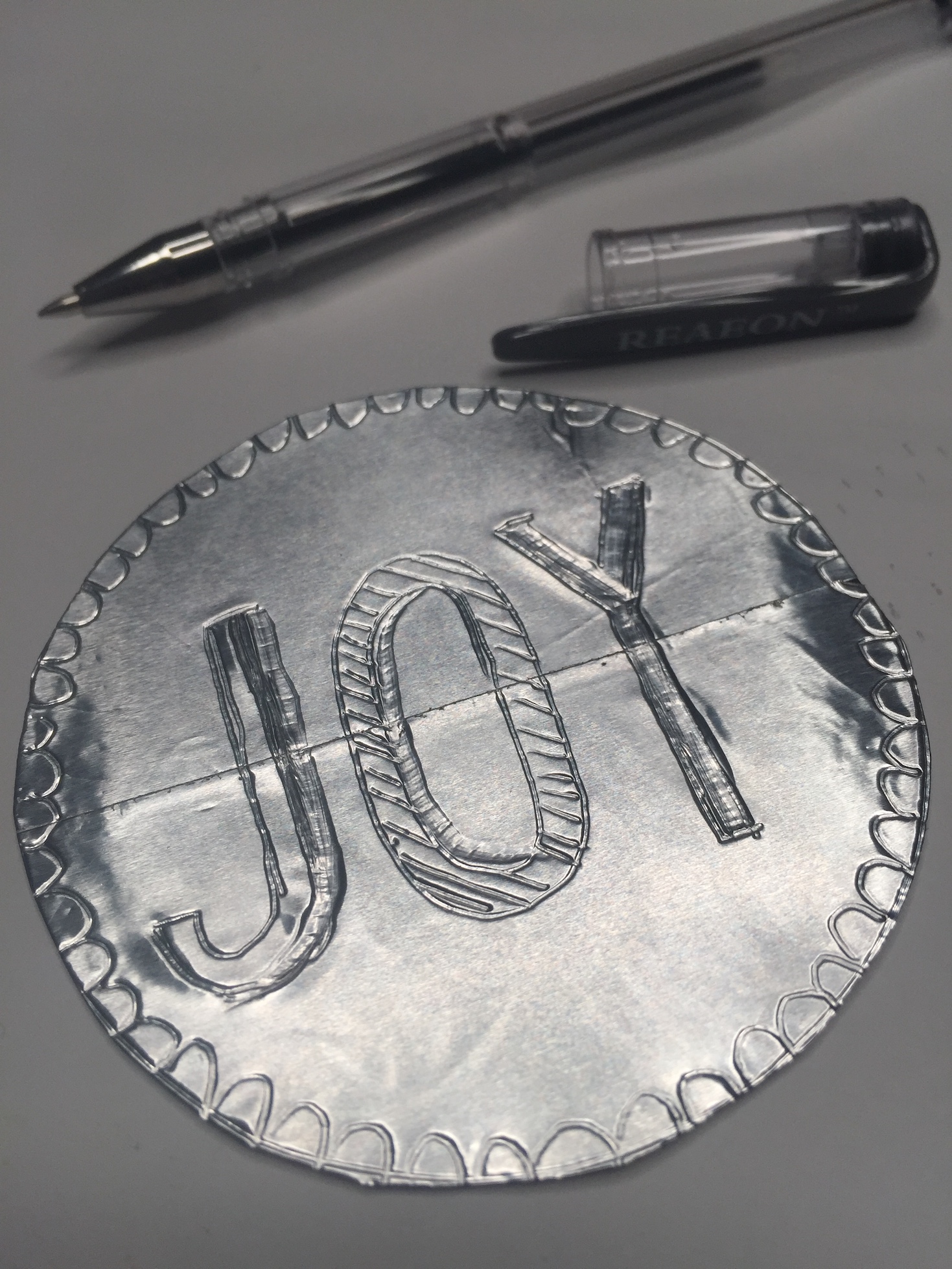 How to inscribe the aluminum tape. 
 Cover your cardstock with the  aluminum tape. Cut into the desired shape and then with a pen draw into the tape. The tape allows you to scratch into it easily creating a tin effect. You can then punch holes and decorate!
Embossed aluminum tape art:
For an embossed look, layering something between the cardstock and the tape will create a 3D effect that is raised above the background surface. We just cut cardstock letters and glued them to another piece of cardstock.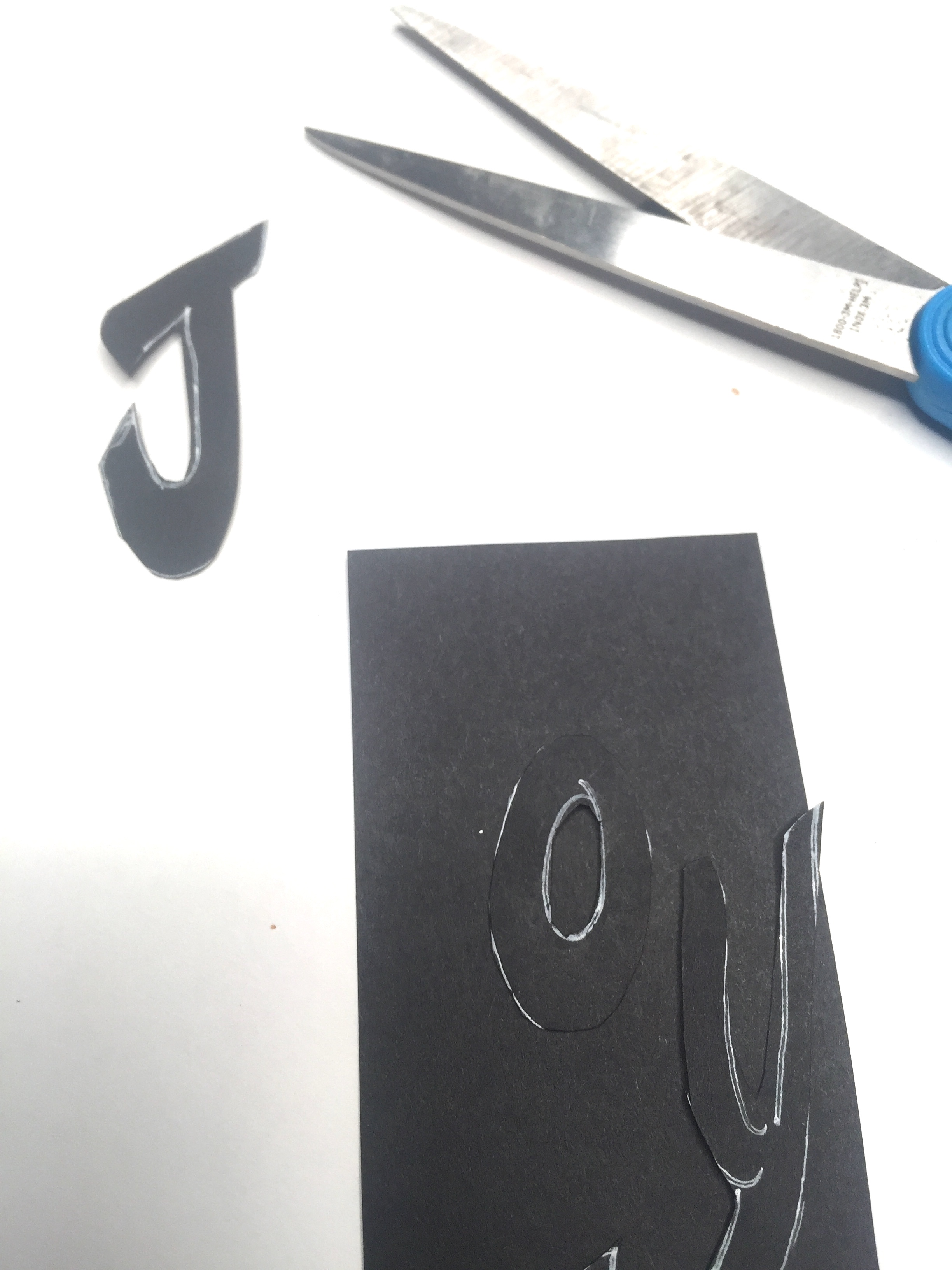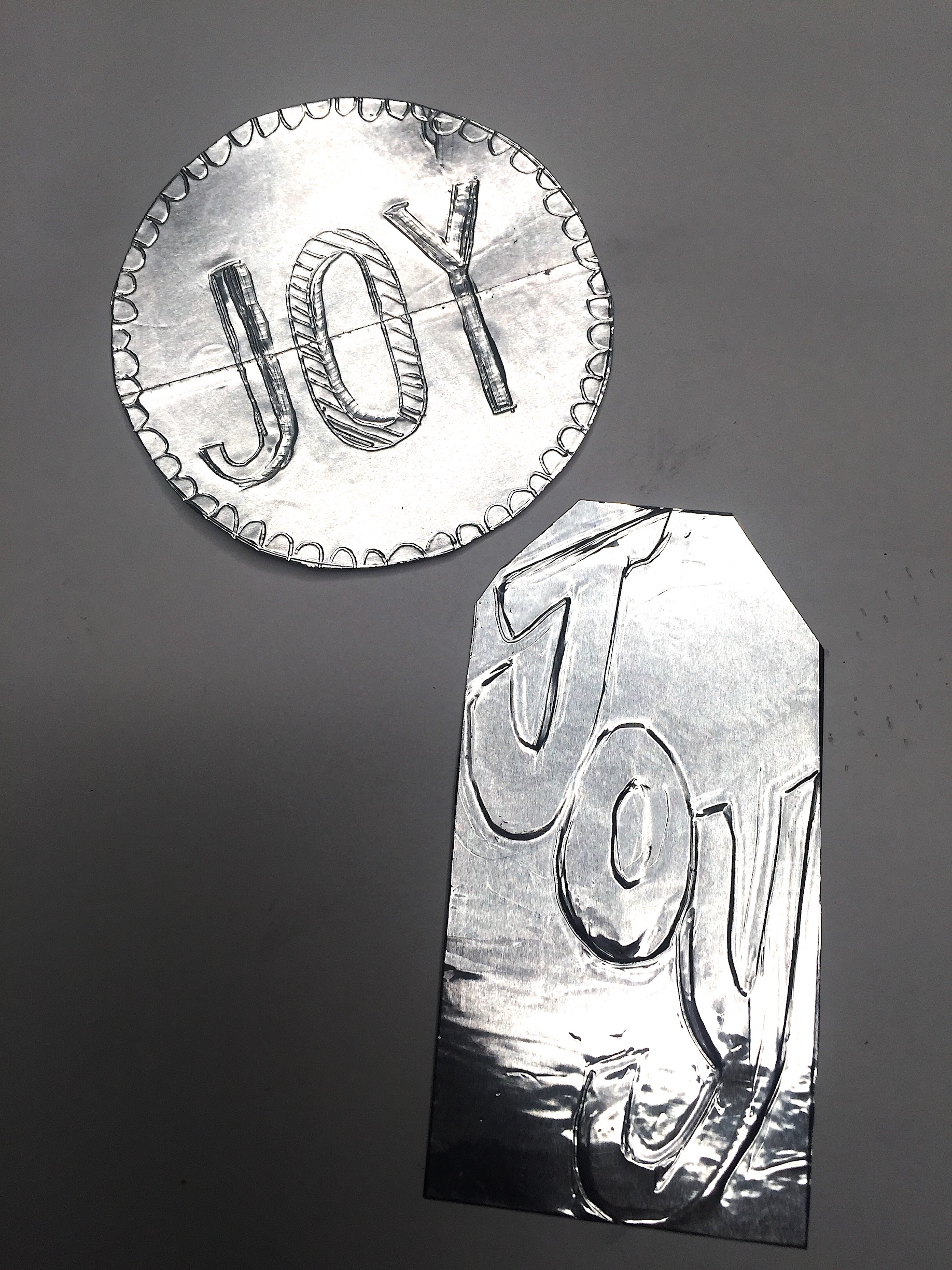 •Layering a cutout from cardstock, stickers, fun foam letters and even yarn or pipe cleaners will work perfectly. Chipboard shapes and even some think wood shapes will work, but if the object is too thick, you will lose the detail of the edges with the aluminum tape. 
The tape can be torn and layered. Just remember the edges of the tape will show rather than a smooth one piece result. 
Yarn makes great lines and is easy to glue to cardstock. This was the method used to make our aluminum art landscapes. Draw your word or design onto cardstock. Cut and glue the yarn over the lines. Then place the tape over the yarn. Once you have it adhered to the cardstock, use your fingers to make the yard pop up under the aluminum tape. 
Step 4- Assembling your aluminum tape Christmas designs
We like to use a mixture of inscribed design and embossed because, why not?
A pair of scissors will cut the aluminum covered cardstock into any shape you like. You can also use a hole punch or needle to create a hole for looping and hanging. 
Aluminum Christmas Ornaments
We love to add wire loops with beads and crystals to dress up our designs. 
A hole punched in the top of your shape will allow for a wire hanger, ribbon or twine!


Aluminum Christmas Tags
If you are creating tags for gifts of adding to decor, you only need a hole punched in the top and then tie it with ribbon, twine, curling ribbon or layer with a brad onto more paper. 
You can cut your tags into any shape. A rectangle with the top corners cut makes a lovely vintage tag. 
Aluminum Christmas Garland
Stringing the ornaments, letters, aluminum shapes or tags onto yarn, strong, twine or ribbon will create a fun and easy Christmas garland.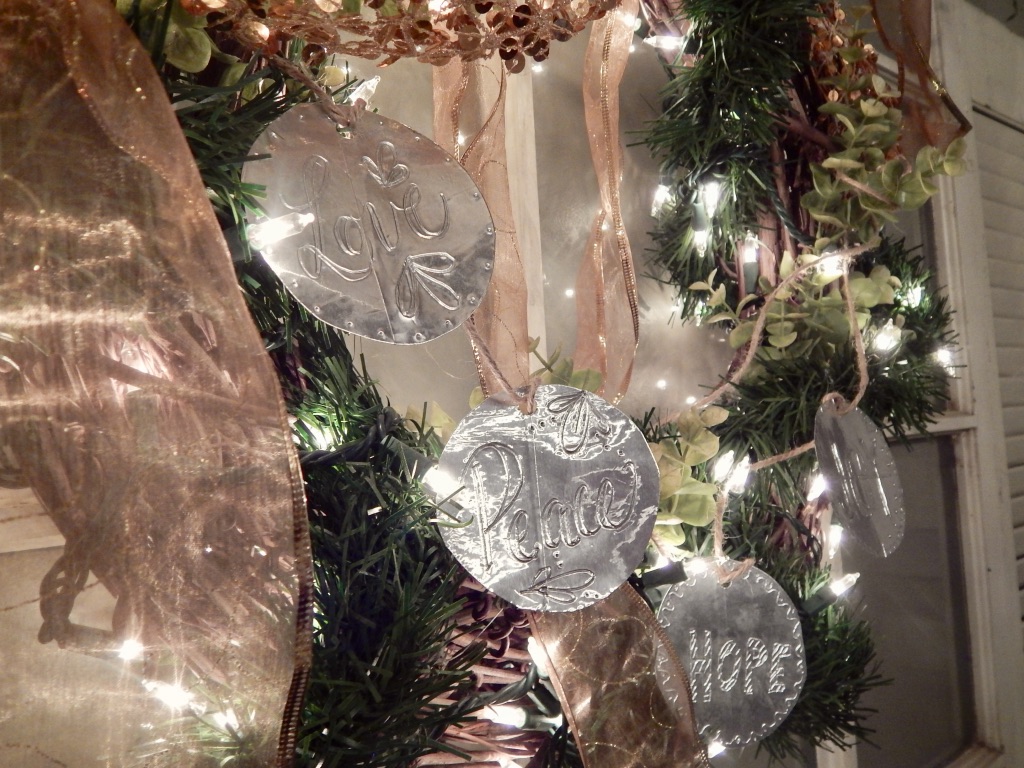 Aluminum Tape Christmas Paper Chain
Kids in school learn to make paper chains from strips of construction paper. We decided to give a paper chain a makeover with the aluminum tape for a vintage tin effect. By itself, the tape is too thin to make the chain, so we recommend applying the tape to cardstock, cut into strips and then staple the ends together. 
Once you have a strip stapled into a circle. interlock the next piece through that ring and then staple the new ring together. Keep adding strips and links until you have the desired length for your paper chain.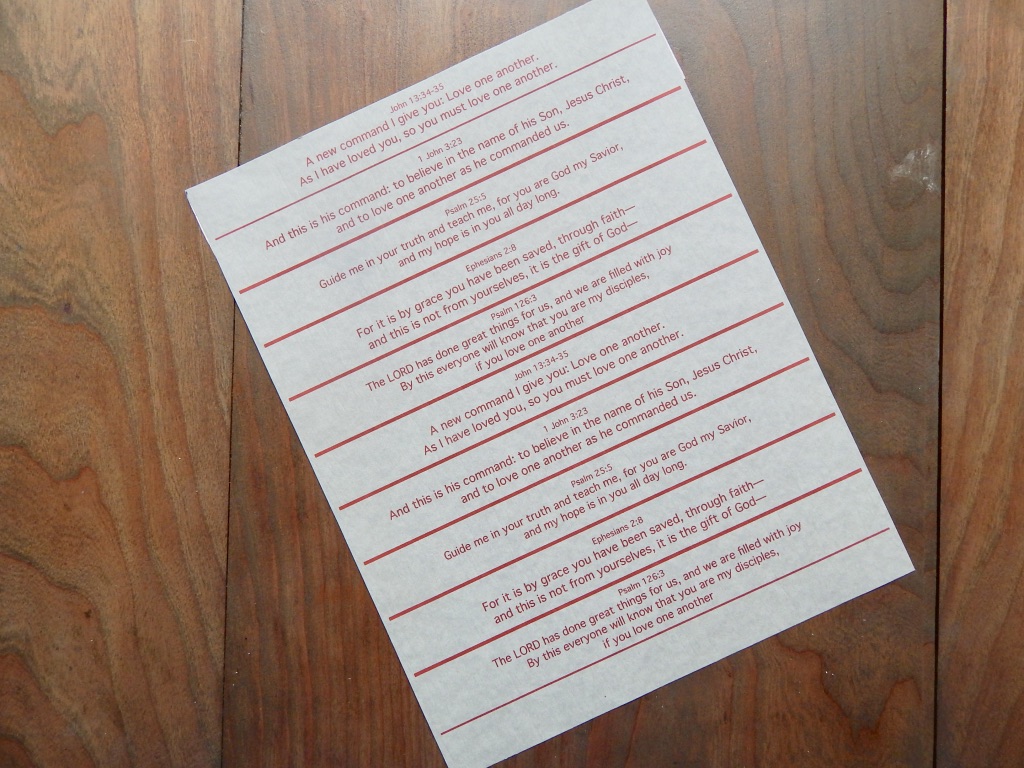 Apply the tape to the back of the full sheet of Bible verses printed from our template rather than making one at a time. Trust us, this is much easier and less sticky!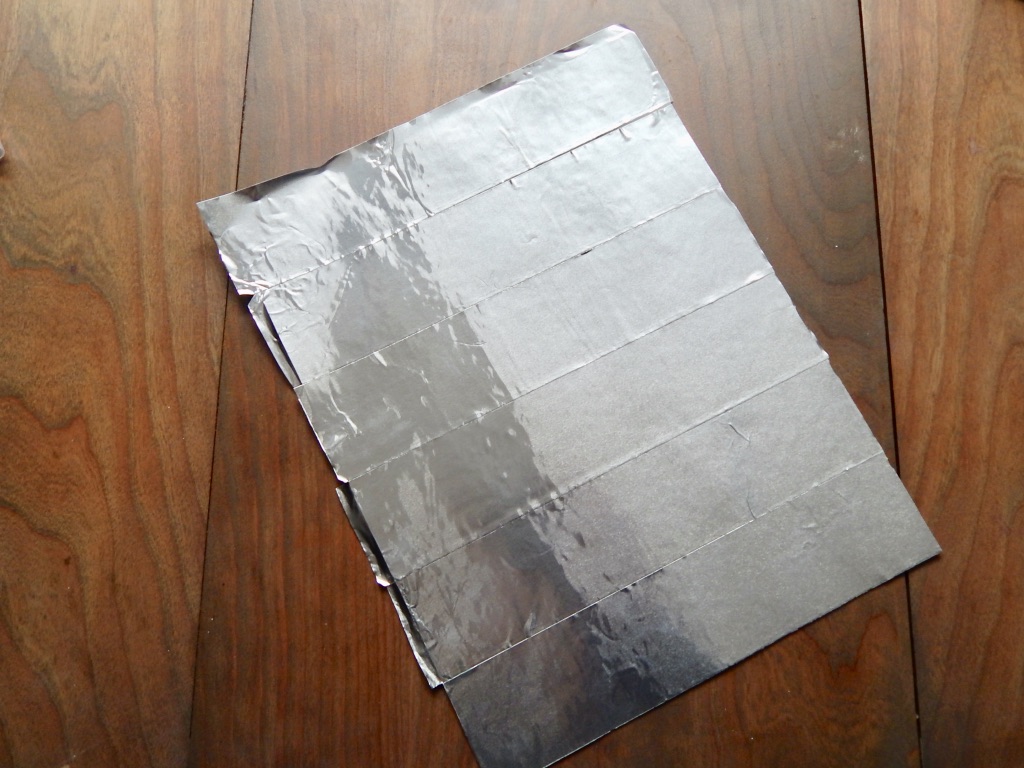 Cut Bible verses into strips and staple the ends together.
Etch or inscribe your words and design into the aluminum tape.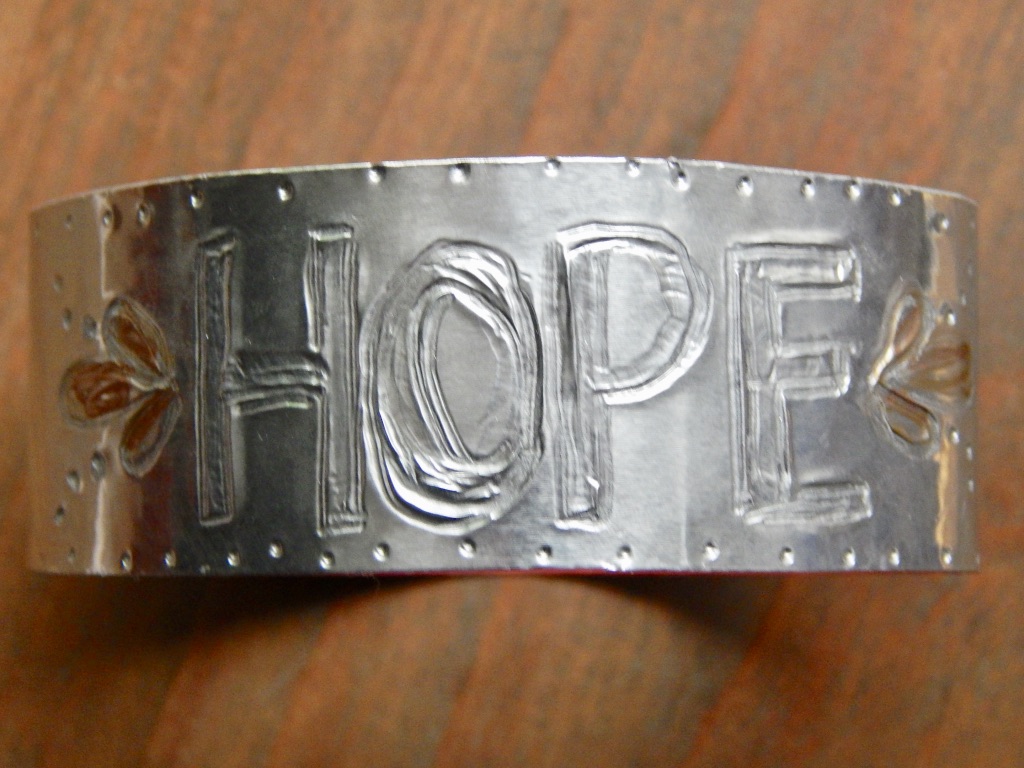 We printed Bible verses on a piece of cardstock. On the backside, we layered the aluminum tape. Then we cut the Bible verses into the strips needed to make the paper chain. This allows the verse to be seen inside the links and a word etched into the outer aluminum side.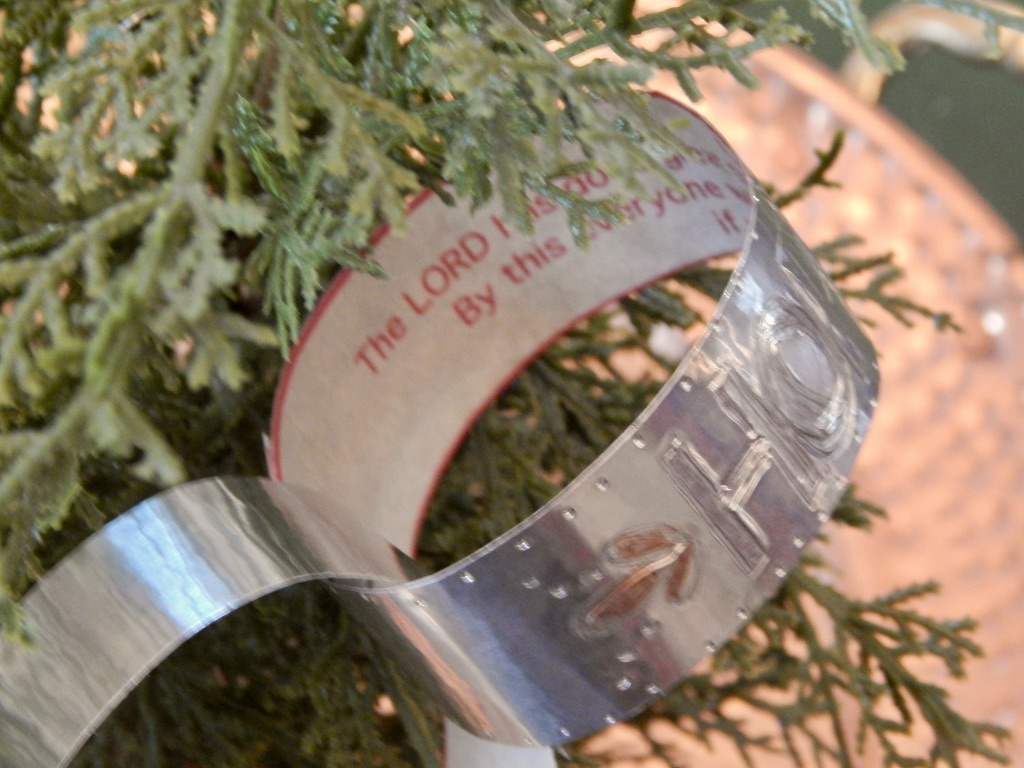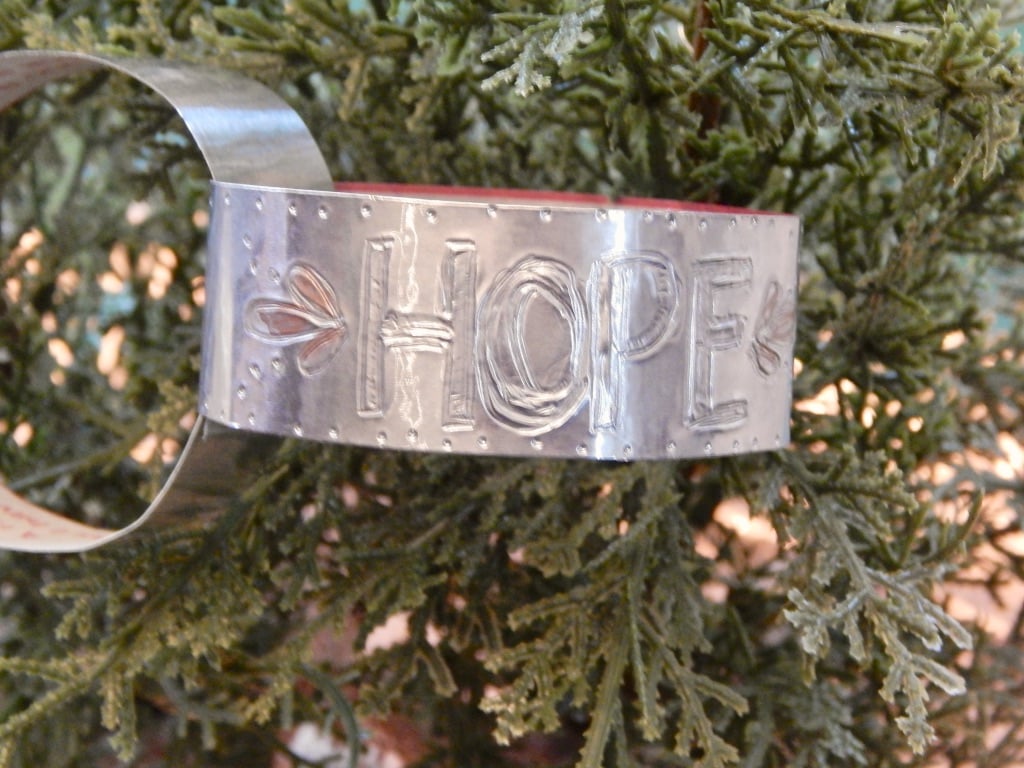 Aluminum Christmas Art
If you want to design cards, artwork or gifts this Christmas season, the methods mentioned above work the same just on a larger scale.
Balsa wood shapes can also be covered and then glued to another aluminum or painted surface for a vintage art piece. 
Wrap a piece of cardstock with the aluminum tape and design your own Christmas cards. 
Step 5- Decorating Aluminum Tape Christmas Decor
Aluminum tape is pretty on its own. It resembles punched tin or galvanized metal. 
But if you want an antiqued or vintage look, you can wipe the tape's inscribed or embossed designs with paints, markers and inks.  Apply your color and then rub it off gently. It's easier to add more than to take away the color. 
Metallic Sharpie Markers make beautiful metallic finishes on the aluminum tape. We apply the marker and then rub with our fingertips. Yes it makes a mess on your hands, but it washes eventually. (smile)
For a more festive look, add the marker and don't wipe it off!
Our Aluminum Christmas Ornaments
You can make these ornaments with our templates and using any of the inscribed or embossed methods mentioned above in this blog post.
The front embossed (raised) design of our ornaments can be made with yarn, scrapbook letters, Then adding the tape to the top we smooshed it around the edges of our mediums. 
For an inscribed effect, we covered cardstock with the aluminum tape and the used the template to cut into a circle. You can rub out small wrinkles.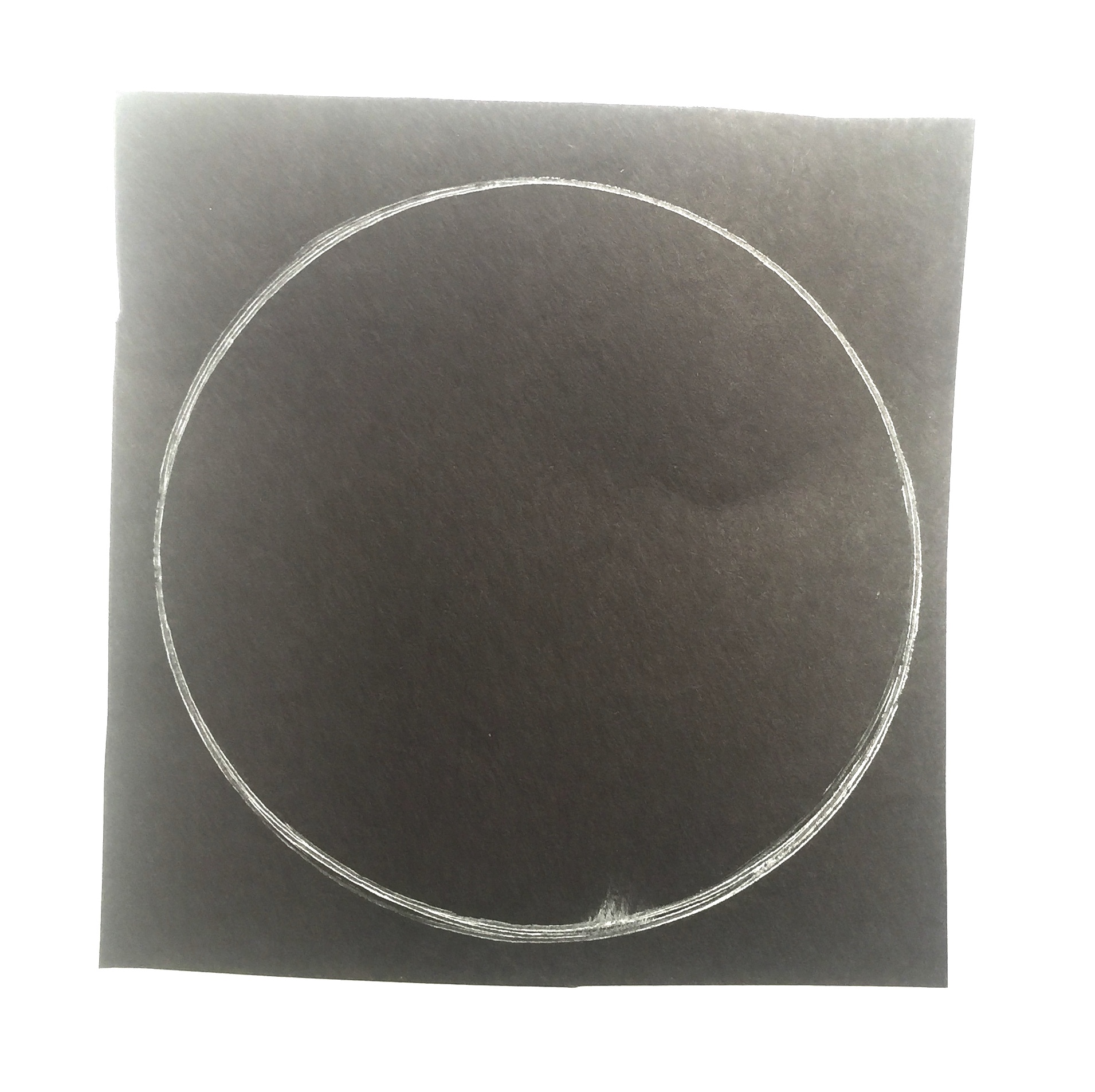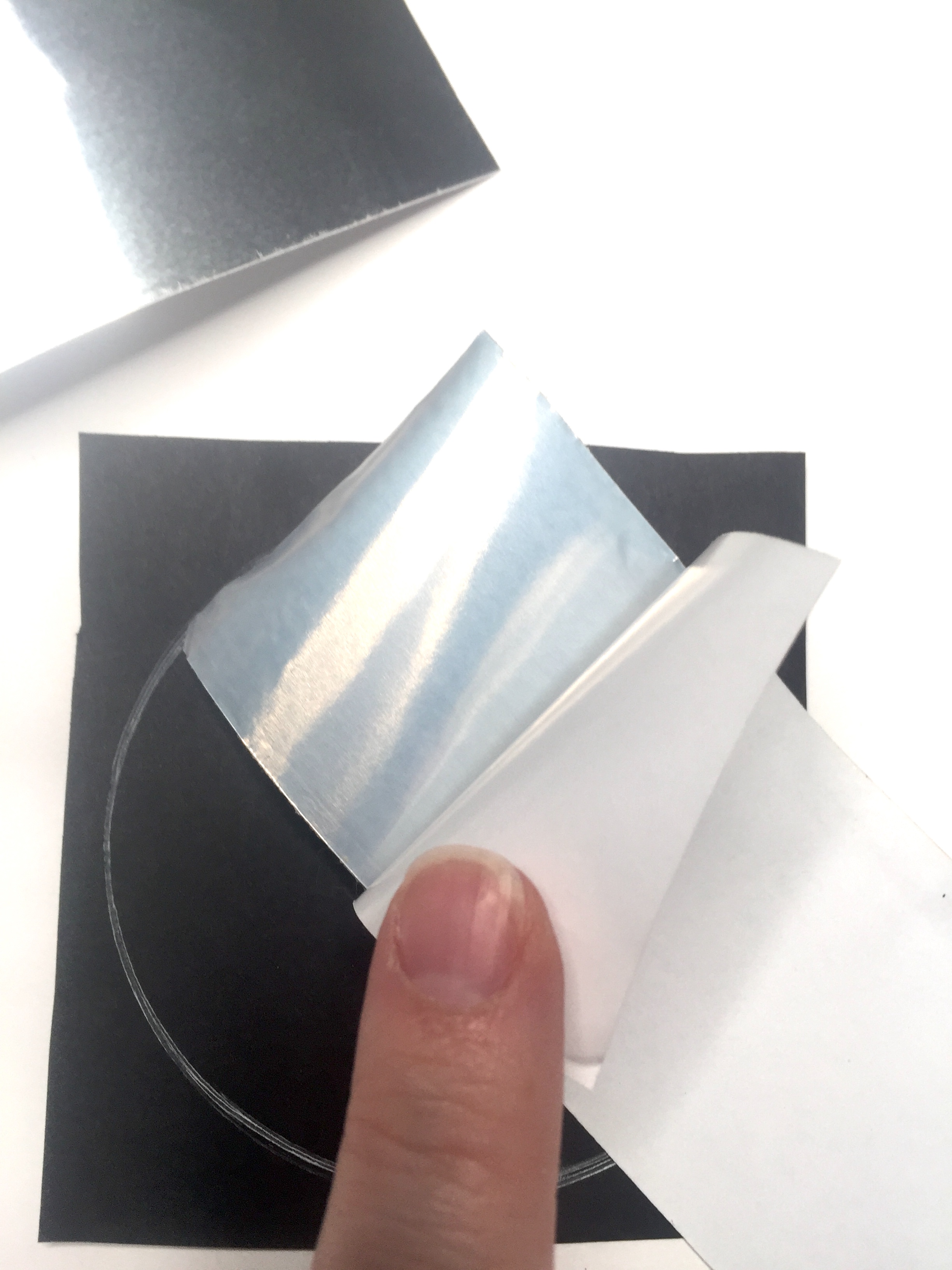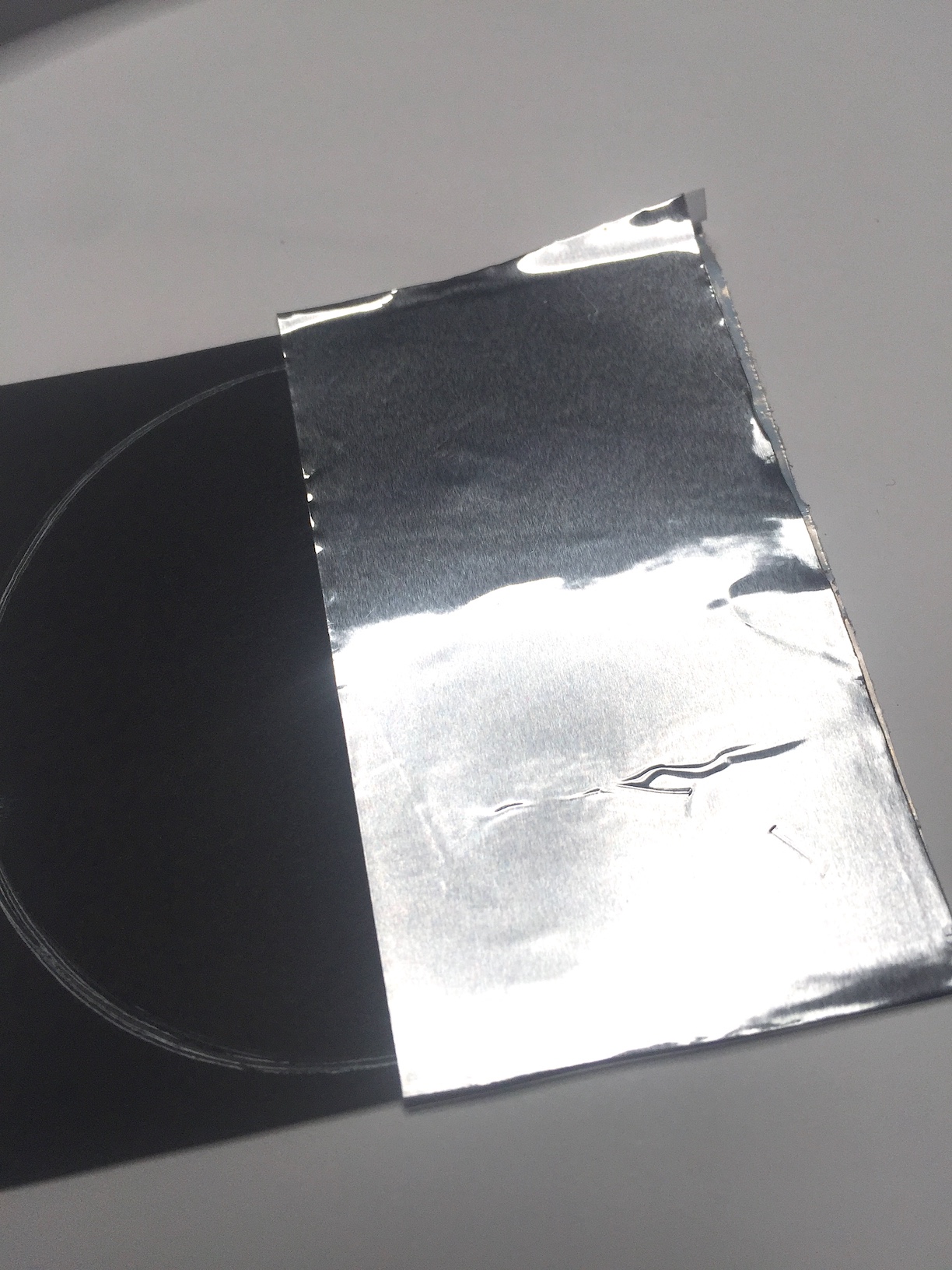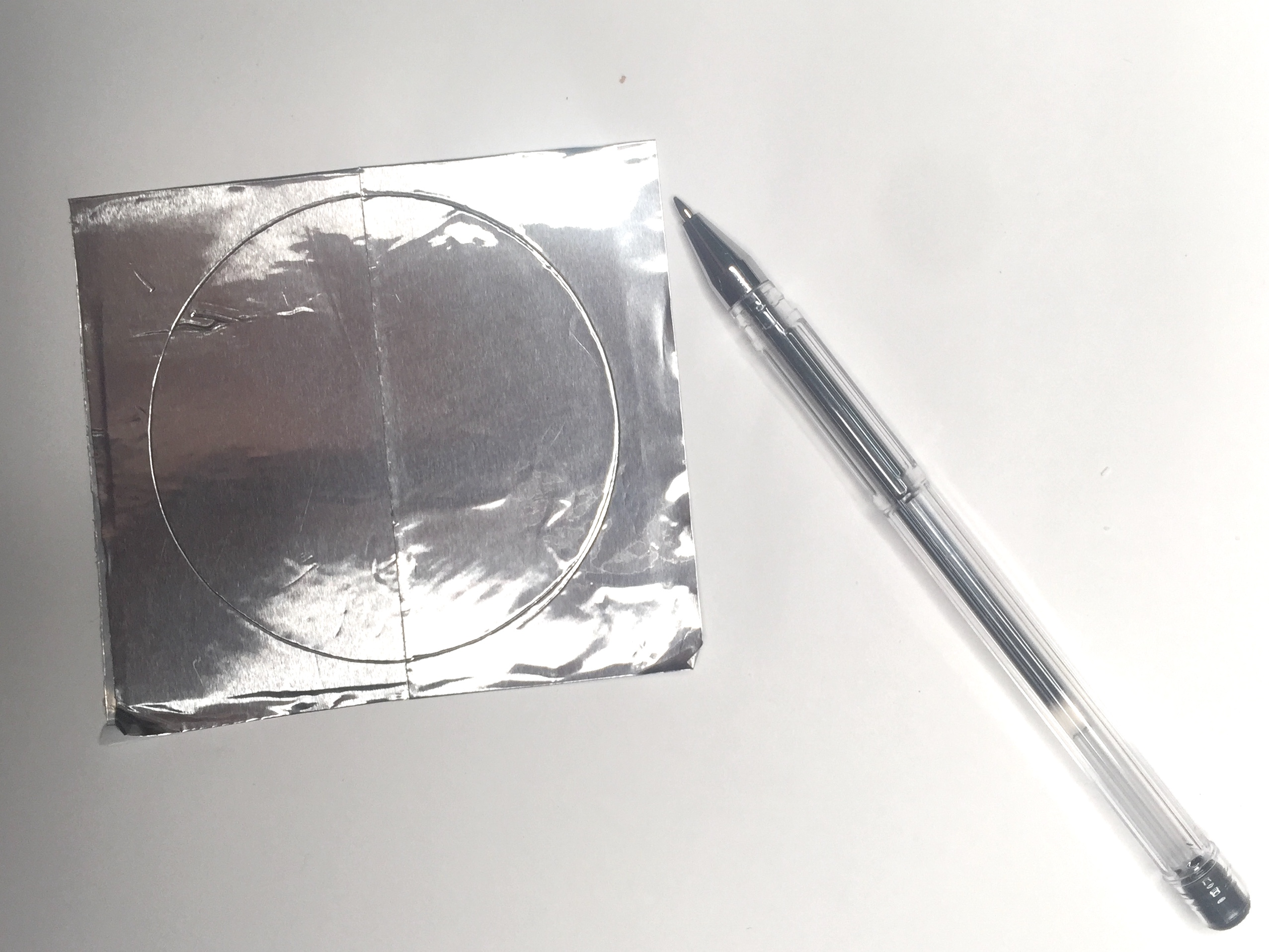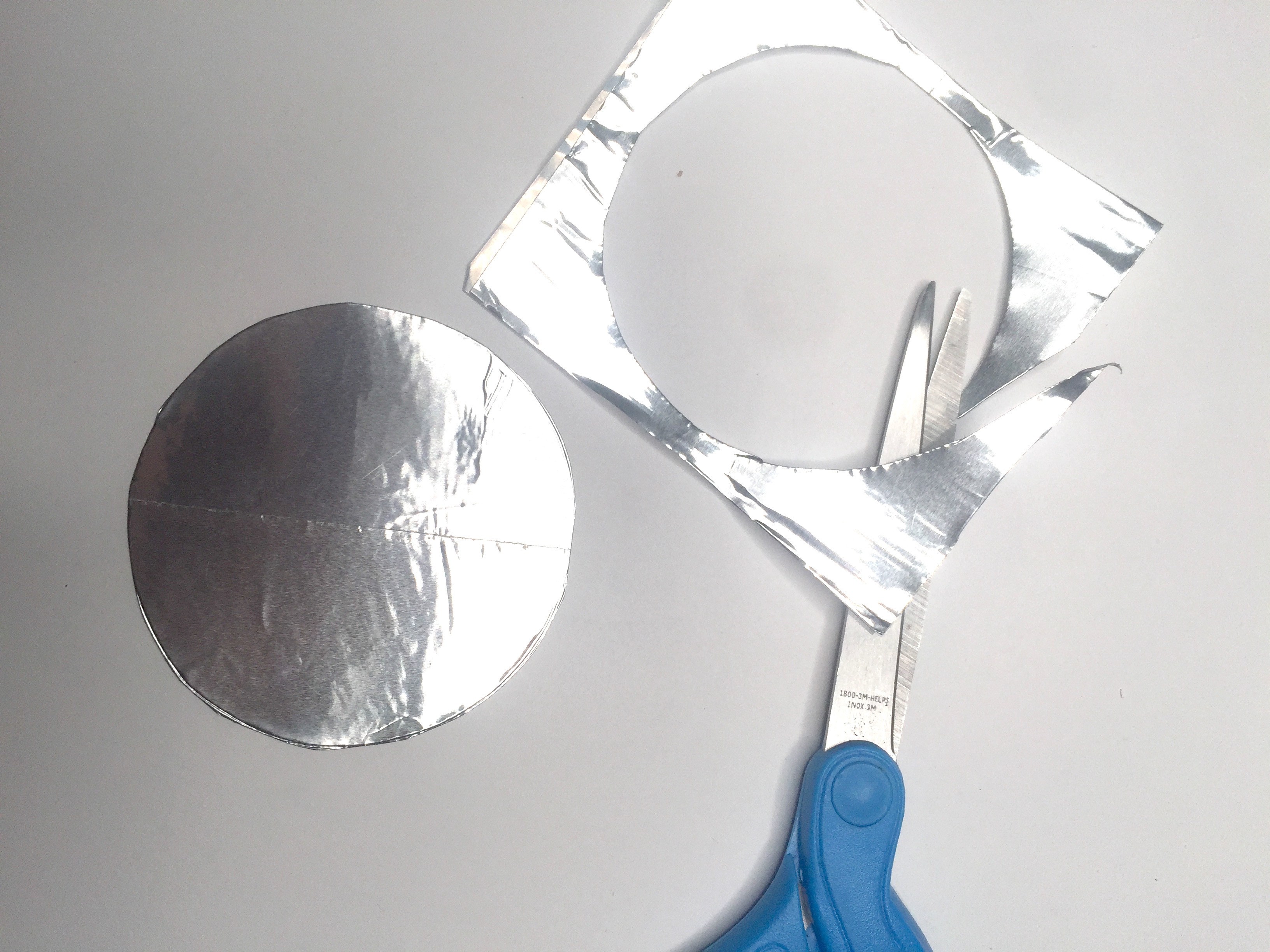 We made a template available in our freebie library to help with size and words for the Christmas ornaments. Print the templates, cut and lay the paper on top of the aluminum taped circle. Them draw  on the paper to transfer the word through the top layer of the aluminum tape. Add designs or drawings as you like!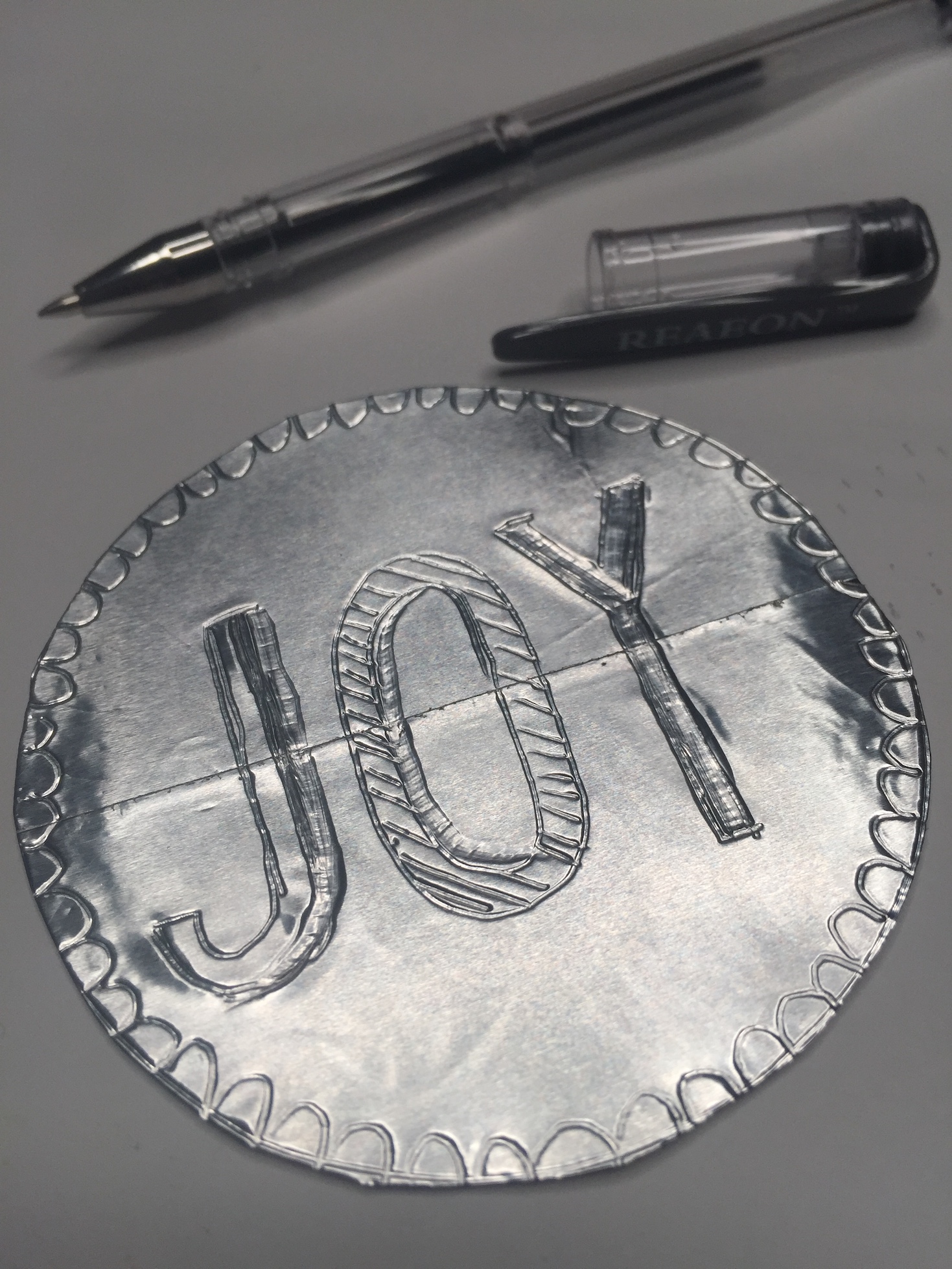 Punch a hole in the top and you are ready to hang your ornament!
The back of our aluminum Christmas ornament is a printed cut out of our Bible verse on pretty paper. We cut out the paper and glued it to the tape. Now when the ornament is placed on the tree or used as garland, we have a reminder of hope, love, joy, peace and grace from God's Word. 
We are all about adding Scripture any where we can.
Bible verses for your aluminum Christmas art
We have made a few templates for you to use to make multiple items. Included is the Bible verses we love to share with others to display the meanings of the words. 
LOVE
John 13:34-35
"A new command I give you: Love one another. As I have loved you, so you must love one another.
35
By this everyone will know that you are my disciples, if you love one another."
1 John 3:23
And this is his command: to believe in the name of his Son, Jesus Christ, and to love one another as he commanded us.
JOY
Psalm 126:3
The LORD has done great things for us, and we are filled with joy.
Psalm 28:7
The LORD is my strength and my shield; my heart trusts in him, and he helps me. My heart leaps for joy, and with my song I praise him.
HOPE
Psalm 25:5
Guide me in your truth and teach me, for you are God my Savior, and my hope is in you all day long.
Romans 15:13
May the God of hope fill you with all joy and peace as you trust in him, so that you may overflow with hope by the power of the Holy Spirit.
PEACE
Isaiah 9:6
For to us a child is born, to us a son is given, and the government will be on his shoulders. And he will be called Wonderful Counselor, Mighty God, Everlasting Father, Prince of Peace.
2 John 1:3
Grace, mercy and peace from God the Father and from Jesus Christ, the Father's Son, will be with us in truth and love.
GRACE
1 Peter 4:10
Each of you should use whatever gift you have received to serve others, as faithful stewards of God's grace in its various forms.
Ephesians 2:8
For it is by grace you have been saved, through faith—and this is not from yourselves, it is the gift of God—
Let us know how your used aluminum tape this Christmas season. Enjoy this activity with you family.
Visit our Freebie Library for Bible verse coloring page, worksheets and printables to help you forget not the Lord!
 A password email will arrive soon!
Take a peek inside our Membership
We would love to tell you more about becoming a ReMEMBERer.
Access our online Bible studies and resources anytime and anywhere.
Our desire is sharing God's Word and love through creative resources for all learning styles.