Knowing God's Word is vital to living. It is how we learn more about God, life and whose we are. Bible study does not have to be complicated. We created a Bible study for beginners with a free Bible lesson. 
When you are beginning to study the Bible with your kids, the complication can be where to start, what to teach and how to add it into your day. 
Bible Study for Beginners
When both of our families were little kiddos, we struggled with finding how to study the Bible with our kids. Have you ever tried to read Genesis completely to your children? 
There's some subjects that are tough to explain to a child.  Yet, for many years, Hebrew children would have sat with their parents memorizing the first 5 books of the Bible by heart.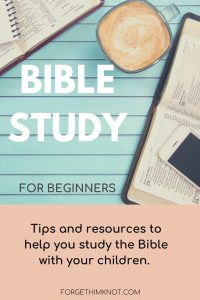 When we began homeschooling, (visit our Christian homeschooling tips and ideas) we couldn't find a Bible curriculum for all our kids. Many studies were written too old for them to grasp or too diluted and busy.
The message of God's Word is for even a child to hear, believe and understand. The Bible contains the instructions to help us in this life. Most importantly, God's Word tells who you are and whose you are or better yet, who God is and who you are in Christ. 
We discovered that there was no "one way" to help our children learn about the Bible. In truth, we utilized several methods to Bible study with our kids. We hope these tips will help Bible study for beginners to be a daily routine! *Post contains affiliate links.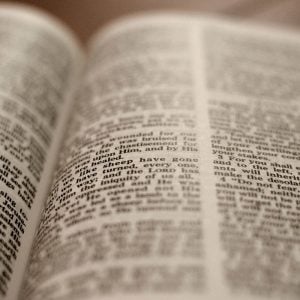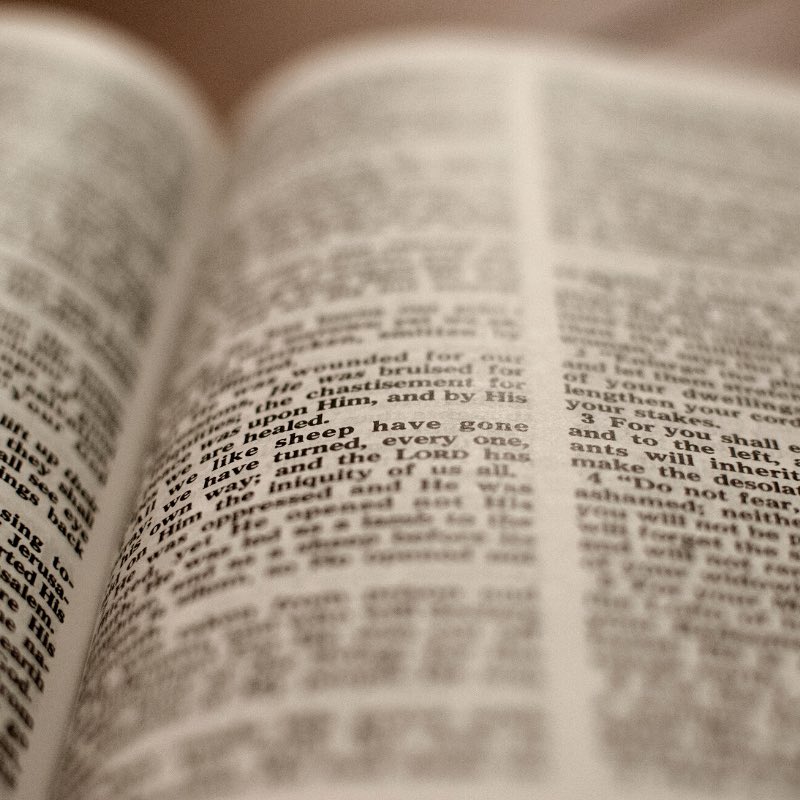 Ways to incorporate the Bible into your day
• Dig deeper into the Bible to understand what you are reading.
First, find a Bible that you can read and understand. There are many opinions on what translation is accurate. If you are beginning Bible study, the King James Version of the Bible may not be easy to read. In truth, many people are turned away because they cannot read past the "thee's and thou's" to understand what the context is about.
Others say the Message Bible is too far to the "left" of correctly delivering God's message. 
God's Word is meant for us to read, eat, and live on so that we can have all we need while on the earth.
2 Timothy 3:16-17
All Scripture is God-breathed and is useful for teaching, rebuking, correcting and training in righteousness,

17

so that the servant of God may be thoroughly equipped for every good work.
We recommend that you purchase the Bible that you can best read and follow. Then as you read, compare the verses or passage you read with other translations such as the
King James Version, New International Version, New King Jame Version and the English Standard Version.
We both have a comparison or Parallel Bible that has 4 translations in one "book". Each side by side page has 2 columns of 2 translation allowing you a 4 column view.
We use the King James Version to study deeper words and their original meanings with a Strong's Concordance. 
One of our favorite Bible to read through and toss around in our minds is the Amplified Bible. As you read, definitions of words are in brackets to help you see the meanings of words.
It's not a book to read aloud because it can drive people crazy! But it is a great way to see the meaning of words in the verse as you read.

You can choose from many translations that have been added for comparison. 
When you read in each translation, look for what each translation is saying and compare what they are not saying.
Next, we like to dig into the words in the Word by going to a Strong's Concordance. With this tool, you can click on words to discover their meaning, origin and how they are used in the verse. You will also be able to click on other verses that use the same word and begin to connect their message.
After we have dug into the words and their meanings, we like to read commentaries to see if we read and understand as they do and if not, what did we discover instead?
Both the Strong's Concordance and Commentaries can be found on these favorite tools.
• Make an intentional effort and plan to read the Bible together.
Dreams of a fireside chat with dad reading the Bible and mom and children listening intently, are not everyone's reality. Making intentional time in the Word is how we learn more about God, His love, His plan for our life and how to deal with relationships. Spending time with the Lord in His Word is not a chore, but a choice!
This can be a Bible study, devotional, topic, theme, or just beginning to read Genesis to Revelation, from Creation to Christ and His Church in chronological order. Helping kids understand a Bible timeline order of the Bible helps them to understand where God is in their life today.
We have created a black and white illustrated Bible Stories Timeline to get you started! Sign up below to access our 4 page Biblical Timeline of events that you can download, print and color.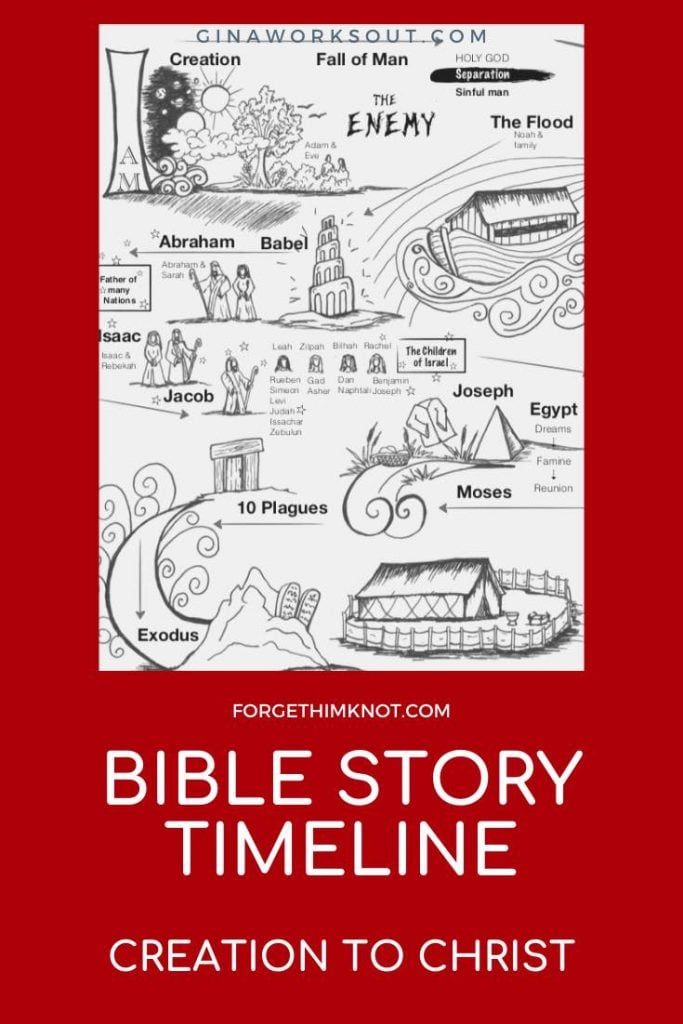 A Chronological Bible helps you to read the stories and events in order.
Bible story books are great ways to familiarize young children with the people and events in the Bible, but this should not be their only resource for learning about Jesus. The Bible really is your best source for learning about God and life.
 Younger kids may enjoy reading an illustrated Bible along with  your translation of choice. There are many levels of illustrated Bibles that read like a graphic novel. There are not meant to replace God's Word, the Bible, but can be a tool or resource to add with your study
Our Favorite Bibles to Begin Bible Study
• Ask questions that stir conversation and discuss what you read.
It is amazing the questions a child can ask. Why? Why? Why? Is one word that a kid can ask 100 times a day! One question from a child about the Bible and God can begin hours of deep conversation. Sometime you don't even need anything other than the Bible and a child for a deep discussion.
The best example you can give you child is not the answer to their questions, but the ability to find their answers!
We don't have all the answers, but we do have the Word to help us dig deeper and find a new "thing" we did not know. Each time you read or study God's Word you discover something you didn't see or know. 
It is important to train your children up in the Lord by studying the Bible together. Teach your kiddos how to study their Bible and learn more about God by watching you! 
Bible studies and devotionals help guide different learning styles to a better understanding of God's Word. 
We love a good Bible study that helps to connect and relate to God's Word or provides deeper understanding through historical events, accounts or geographical insights. 
Above, we mentioned a chronological Bible, but we also love a good Bible timeline. We have one that we have used with our kiddos and in our classes in our Freebie Library. Through the years we have used it to study in many ways.  Having a visual helps many enjoy seeing the Bible illustrated in order.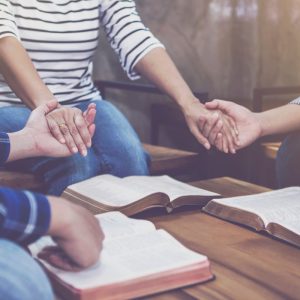 • Pray together.
Teaching your children how to talk, praise and thank  God for the little things will help them do so as they grow for the big things.
Open prayer in the morning together and talk to Him all day. Then close your prayer at night right before you close your eyes to sleep! Help you and your children develop the ability to always seek God first so they remember Him in all they do. 
Prayer over some of the verses you read and ask God to give you clarity and understanding. Tell Him what you discovered and praise Him for the relationship as you are drawing closer to Him. 
Discover our 5 steps to beginner Bible study and our 7 easy steps to understanding how to study the Bible. We share more details to help you work through God's Word and the tools and resources we use most.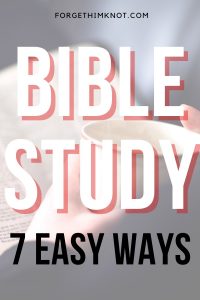 • When a heart issue or situation arises, research and dig deeper into the Word for answers and direction.
It's not a matter of if hard "things" will happen, but rather when they do, God has provided what we need to handle them. Add emotions and desires to the mix and we have plenty of things that we need help to navigate. A Bible concordance is a great way to research a word or verse.
Biblestudytools.com,
BibleGateway.com,
and BlueletterBible.com are a few our our favorites to use.
These online tools allow you to type in the search bar a word or verse. If your child is struggling with jealousy, anger, hurt, heartache or even love and joy, type the word into the search to see what God's Word says about it.
Dig deeper into a word and its meaning by the Strong's concordance to see how the word was used in the original Hebrew or Greek.
Why is that important?
Because many words in our English language have more than one meaning or the use of the word has changed. God's Word has not changed, but some versions can substitute a word that is close to the meaning.

• Bible verse memorization!
Memorizing verses is wonderful, but if you don't know how to use them, you just have a lot of good words in your head. We are all for memorizing Bible verses, and finding creative ways to do so, but we like to also talk about the verse or verses and understand them. Then when they face a struggle, they can put the Word to work. 
Memorize the order of events in the Bible, names of God, verses that help you in a struggle or remind you to be thankful. 
Look for passages that help you love God, yourself and others. 
We love to put a Bible verse memorization binder together to help our kiddos remember better. Since we all have different learning styles, we found that drawing the verse, coloring a visual, or finding a creative way to help a verse stick in the brain can be a great way to work with multiple kids. 
Bible Memory Verse Printables
Understanding the Bible for beginners
• Connect the Old and New Testaments together to discover more about Jesus.
You can't read a book by a page here and there or a sentence on page 34 and on another day a sentence from page 506 and understand the story or anything about the author. Our favorite is to see a word or phrase with fresh eyes and discover amazing details. 
Now let's show you how we would pull this together for our kiddos in the following Bible study. 
Find hands on ways to help you and your child work through the Word in each individual learning styles or combination. 
What does that mean? 
Not everyone is a strong reader. Some learn best when they hear a concept taught. Others learn and understand with a hands on or kinesthetic illustration and others are more visual. 
As adults, we have developed ways to help us remember something by making  writing it down on paper, setting a timer to remind us, making a list to mark off as completed, journaling, drawing, repeating something aloud or making a voice message to remember what we need to do. 
During a Sunday sermon, you will find one of us drawing and doodling notes on paper or an ipad. What looks like diverted attention is actually a self discovered exercise to better remember what is being taught aloud. 
Jesus knew we would all learn in different ways. That's why we have examples of routines in the Bible that God's people were to follow. He set up different reminders to prompt their brains to remember what He had done such as stacked stones, celebrations, festivals, feasts and something as simple as a blue knot sewn into the bottom of their clothing. 
In the New Testament, we have Jesus telling parables and stories to illustrate what He was teaching. Sometimes He performed miracles such as calming the storm, healing the sick, raising the dead, feeding the thousands, turning water to wine, and something as simple as a fig leaf to demonstrate the power and ability of God. 
And then there were those moments that He would ask a question, write in the dirt, accept water from a woman at a well, tell a man he saw him under a tree, give bread and wine at a table and walk on water to remind someone of who they were. This would be such  small illustrations of power, yet it would create a ripple effect of a tsunami. 
Reading aloud to your child will not always land what you want them to know. Some kids may need to write notes, illustrate a verse, work through the verses by marking them, journal or copy the verses by hand. Others may need to read the passage aloud to you while another may do better with a dramatic recording using different voices as a story is told. 
We all learn differently. 
Find ways to learn more in God's Word for you and your children.  
Grapevine has stick figure studies to draw the stories from the Bible. We love the creative ability to remember with a visual and a hand motion for the brain!
Our Freebie Library has worksheets and coloring pages filled with Scripture. We also provide Bible verse copy pages, draw the Word, Work the Word and activities to help you help your children in their learning styles remember the Lord. 
And our Online Bible Study for Beginners will walk you through many of our resources to help you understand the Bible and your identity in Christ.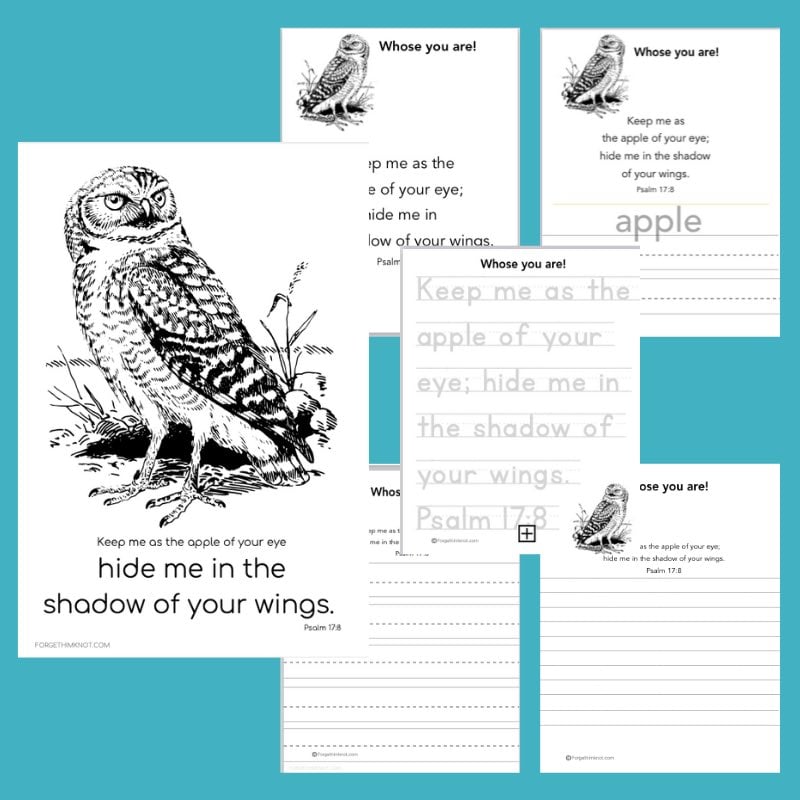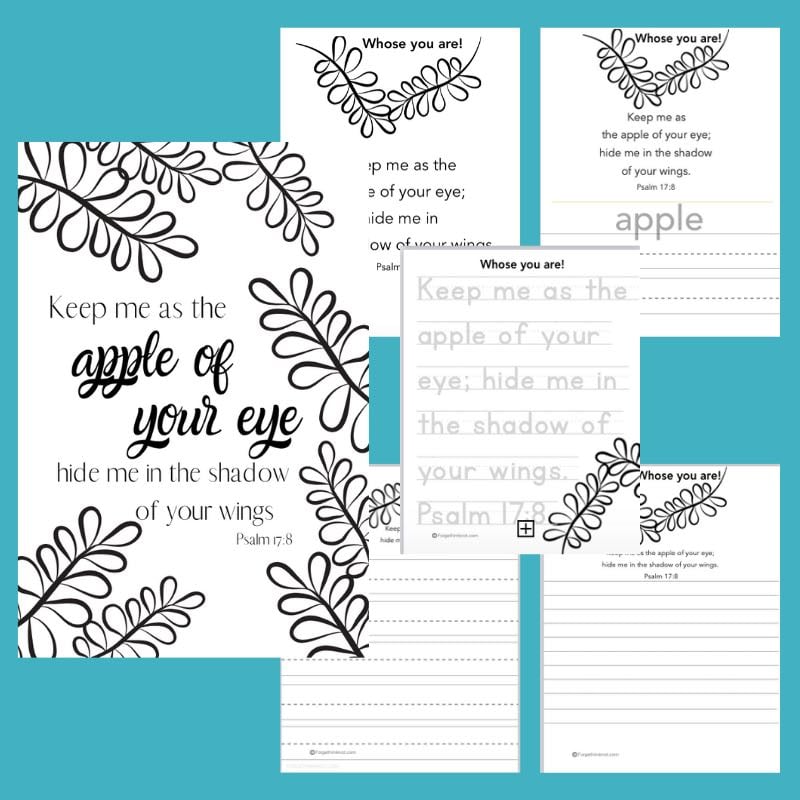 Free Online Bible Study for Beginners
We can read in the Old Testament in the very first verse of Genesis about who God is. 
Genesis 1
In the beginning God created the heavens and the earth.
• He is the Creator of the heavens and the earth. 
• He was in the beginning. 
Continue reading the first chapter and jot down your discoveries.
One day God created by speaking the world into existence and two days later He fills that very object of creation. 
Look at the order in which He chose to create and then fill. Day 1, there was light, but there was no sun, moon or stars. What was the light source? 
In verses 26 and 27, who is the "us" and "we"? 
Dig through this chapter and talk about all the details that come to mind. 
Are there other chapters in the Bible that discuss creation? 
---
Now compare with the New Testament,  John 1. 
John 1:1-3
In the beginning was the Word, and the Word was with God, and the Word was God.

 

2

He was in the beginning with God.

 

3

All things were made through him, and without him was not anything made that was made.
This section of Scripture gives us more details into the "us" and "we", from Genesis 1.  You can also see that the phrase, "In the beginning", is used here and repeated. 
We always tell our children that when God says something once it is important and if He repeats it, it is vital that we get it.
What other details can you see in John 1, that shed light to Genesis 1? 
---
Lastly, tie these two verses together with Hebrews 11.
Hebrews 11:1-3
Now faith is the assurance of things hoped for, the conviction of things not seen.

 

2

For by it the people of old received their commendation.

 

3

By faith we understand that the universe was created by the word of God, so that what is seen was not made out of things that are visible.
This passage gives you an amazing definition to the word "faith".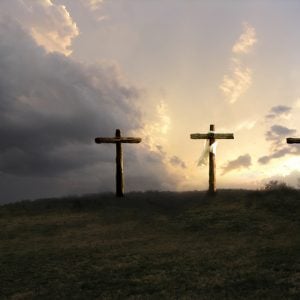 What God has done for you
"For God so loved the world, that he gave his only Son, that whoever believes in him should not perish but have eternal life.

17

For God did not send his Son into the world to condemn the world, but in order that the world might be saved through him.
If you can print out the section of verses or have a journal Bible, begin what we call "Work the Word". 
1. Circle all references to God in red. 
2. Underline what God is doing or will do in red. (Don't forget words such as LORD, Jesus, name of God, and pronouns)
3. Circle all references to God's follower in purple.
4. Underline all things God's people should do or commands in purple to remind you of your purpose. 
5. Look for repeating words, themes, commands or rephrasing of the same concept in the passage. We always tell our children that if God says something once, it's important. But when He repeats it, it's imperative that we "get" it. 
Use this concept for working through God's Word for all the verses in this lesson.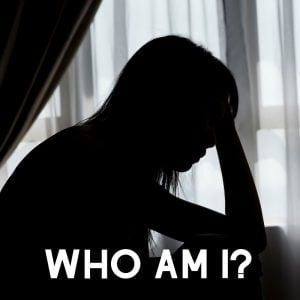 You are His creation.
He is the Creator of the world and all that is in it. Once sin distorted the creation of man being in His image that God had made, but  Jesus died to make you a new creation. 
2 Corinthians 5:17
Therefore, if anyone is in Christ, he is a new creation.The old has passed away; behold, the new has come.
Colossians 3:10
and have put on the new self, which is being renewed in knowledge after the image of its creator.
You are His child.
God is the Father and as a follower of Him, you are His child.
1 John 3:1
See what kind of love the Father has given to us, that we should be called children of God; and so we are. The reason why the world does not know us is that it did not know him.
You are His servant. 
He is King of Kings and Lord of Lords, so that makes you His servent. But since you are a child of God, you are also royalty! That's a strange concept to grasp because the world makes you think you can be only one. You are either a servant or royal, prince or pauper. But that is not how God thinks. 
1 Peter 2:9
But you are a chosen race, a royal priesthood, a holy nation, a people for his own possession, that you may proclaim the excellencies of him who called you out of darkness into his marvelous light.
You are loved by Him so much that He gave His life for you. 
1 John 4:10
In this is love, not that we have loved God but that he loved us and sent his Son to be the propitiation for our sins.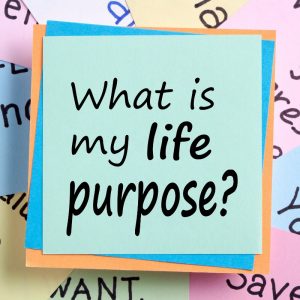 because it was and still is important that they loved the Lord and sought a relationship with Him.
It's actually the most important commandment we as parents can obey and teach our children to obey. 
Mark 12:30-31
And you shall love the Lord your God with all your heart and with all your soul and with all your mind and with all your strength.'

 

31

The second is this: 'You shall love your neighbor as yourself.' There is no other commandment greater than these."
Remember God had instructed Moses with those very words thousands of years ago to teach the people. 
Deuteronomy 6:4-9
"Hear, O Israel: The LORD our God, the LORD is one.

5

You shall love the LORD your God with all your heart and with all your soul and with all your might.

6

And these words that I command you today shall be on your heart.
7

You shall teach them diligently to your children, and shall talk of them when you sit in your house, and when you walk by the way, and when you lie down, and when you rise.

8

You shall bind them as a sign on your hand, and they shall be as frontlets between your eyes.

9

You shall write them on the doorposts of your house and on your gates.
He tells them to "Teach them diligently to your children", and then how and when to make that possible!
Let's face it. If you don't teach your children life from the Word of God, they will learn life from the world. 
How can the world teach your children about love when it doesn't know what love is without God? 
1 John 47-9
Beloved, let us love one another, for love is from God, and whoever loves has been born of God and knows God.

8

Anyone who does not love does not know God, because God is love.

9

In this the love of God was made manifest among us, that God sent his only Son into the world, so that we might live through him.

10

In this is love, not that we have loved God but that he loved us and sent his Son to be the propitiation for our sins.

11

Beloved, if God so loved us, we also ought to love one another.

12

No one has ever seen God; if we love one another, God abides in us and his love is perfected in us.
Our prayer is that from God's Word, you see who He is, what Jesus has done for you, who you are and your purpose. 
You are so loved!
"Scripture quotations are from the ESV® Bible (The Holy Bible, English Standard Version®), copyright © 2001 by Crossway, a publishing ministry of Good News Publishers. Used by permission. All rights reserved. May not copy or download more than 500 consecutive verses of the ESV Bible or more than one half of any book of the ESV Bible."
Take a peek inside our Membership
We would love to tell you more about becoming a ReMEMBERer.
Access our online Bible studies and resources anytime and anywhere. 
Our desire is sharing God's Word and love through creative resources for all learning styles. 
Other posts to help you with whose you are!