Have you ever looked at a Dr. Seuss book and wondered what sort of mind comes up with the amazing worlds and characters he created? 
A strong creative mind!  He has inspired many people through his books to see, think and experience creativity.  
Look through Oh the Places You'll Go and discover "places" and "things" with a new perspective. Stripes, dots and shapes that look like liquid are just some of the illustrations he used to create trees, characters and imaginary new creatures. 
Art books can inspire a kid's creativity!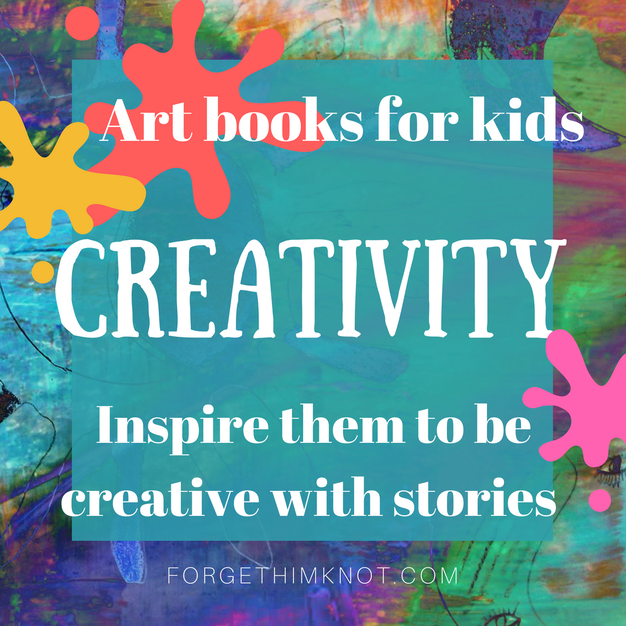 Creativity Art books for kids
What books inspire your creativity? 
We have picked some of our favorites for multiple reasons. Sometimes we are inspired by the illustrations, that's the first thing you see, but sometimes it's the story, a character, a theme, the paper …etc.
Inspiration can come from many areas.
We've linked these books to Amazon so that you can read the publisher's description and customer reviews. *They are affiliate links
As Art teachers, we love these books for kids (and us) and how they inspire creativity.  A book can take you on an adventure, discover a new world, meet new people and think in a way you've never considered.
But our hope is these books will inspire you to get out your crayons, markers or pencils, grab some paper and get your creativity flowing.  
Or maybe your creativity is a different medium such as gardening, sewing, dancing, building, singing, playing an instrument etc.
No matter what your medium is, just get out there and create! 
Our favorite art books for creativity!
Grab a book, art supplies and snag a little time for creativity. Be inspired by a story and the permission to enjoy some creative playtime.  
Art books on the Elements of Art
Take a peek inside our Membership
We would love to tell you more about becoming a ReMEMBERer.
Access our online Bible studies and resources anytime and anywhere. 
Our desire is sharing God's Word and love through creative resources for all learning styles.