We love a meaningful gift and especially when we are the gift givers. But we also know how hard it can be to find the perfect gift to give.
For us, giving something with a Bible verse can be not only meaningful to the receiver, but it is also a great way to remind them who they are, who God is and what's most important in life.  That's why we have curated a Bible Verse Christian Gift Guide to help you give the gift of God's Word to someone you care about.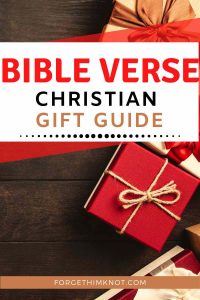 You can use these items for Birthday or Christmas gifts, stocking stuffers or gifts to remind the receiver you love them and God loves them too. 
Bible Verse Gifts for the Home
You will find Bible verses in both of our homes either on the wall, on pillows, on a throw blanket, or as a reminder on an item.  We aren't afraid to place a Bible verse in every room because we have yet to find a place in our homes or this world where God's Word is not needed. 
Bible Verses for the Kitchen
Tea towels are great Bible verse gifts because they can be used in kitchens and bathrooms. Most are white or cream with simple verses in cursive or print fonts which make them easy to read and neutral to match any decor. 
Wall art can range from laser cuts, canvas, wood signs, prints or framed photographs. You can find just about any style to complement a room's decor from kids rooms to family rooms.
We are curating more Bible verse pillows than many other items because pillows are so versatile in decor. A simple pillow can add color, texture, pattern softness and warmth to a room just by sitting on a chair. Pillows can also add meaning to an area with God's Word added to them.
A pillow can be placed in a chair, on a couch on a bed or on a bench. They can easily be switched from room to room which makes them a great gift to give.
Who doesn't love a cozy soft throw blanket while curled up on the sofa or bed? These wonderful Bible verse throws will wrap you in God's Word for a strong security blanket!
Bible Verse Bathroom Ideas
The bathroom is an area where people spend a good bit of time! Why not display Bible verses for guests to see? 
Bible Verse Ideas for Children's Rooms
and Nurseries
We recently discovered the use for the pop sockets on a cell phone. These little inventions are a handy way to relieve the tension from holding a cell phone for long periods of time. They also make a great stand for your phone to prop it up when it is horizontal. 
They come in so many colors, styles and with various Bible verses! 
The home is a safe place to display Bible verses because it is your place and you invite into it whom you choose. But the office is filled with many people with different thoughts, opinions and beliefs. Why not show the office who you follow?  There are so many Bible verse gifts for the office to choose from. 
Sticky notes are a great way to place reminders anywhere. You can stick them to a mirror, a book, a screen or any place or surface where it can be seen and read. 
We've placed reminders  for our children in the places listed and then in the not so obvious places such as a lunch box, the bottom of a bunk bed, a drawer and in the car!
Our keys go with us wherever we go, so why not use them as a reminder that God is with us too! We love these Bible verse key chains!
Retractable Nurse Badge Holder
Doctors and nurses are on the front lines of essential workers. They love on and care for people in their most vulnerable states of life. Not only will these Bible verse badge holders be reminders to the nurses and doctors who wear them, but it can also be a message of hope to those in their care.
Many Bible verse journals will have a verse not only on the front cover, but also printed on the pages inside them. Some will even have prompts or questions to guide someone to deeper writing. Sometimes, we find them with lines for writing or no lines which then become places for us to doodle. 
We all have various learning styles. There are many people who love a word search, crossword of some other puzzle book they enjoy spending time doing. We love a creative Bible verse puzzle book for gifts!
Bible Games for Family Time
Family game nights can be also family learning more about God's Word nights with these Bible verse or Bible trivia games. 
Puzzles are a great way to spend some quiet time with the Lord. We love seeing a beautiful puzzle with a Bible verse! They come in all ages and puzzle piece amounts to challenge any level!
See our other gift guides!