Thankful Bible Verse Table Decor Printables
  It's the time of year when the world gathers together and remembers to be thankful! Thanksgiving is a wonderful time of the year to remember the Lord and all He had done! 
We created free "Thankful" printables for your table decor that are easy, inexpensive and fun to do with the kids! This set includes place cards, table cards, napkin wraps and a 3-D thankful pumpkin all with Scripture.   
But wouldn't it be more wonderful if we could daily remember the Lord and His benefits?  
We both grew up with the hymn "Count Your Blessings", by Johnson Oatman Jr. 1897.  "Count your blessings name them one by one. Count your blessings see what God has done."   
When we can count and name our blessings, we find a more thankful heart! 
Thankfulness doesn't have to be just one season or one day a year! We can all display  a more thankful heart and thankful decor in our homes year round.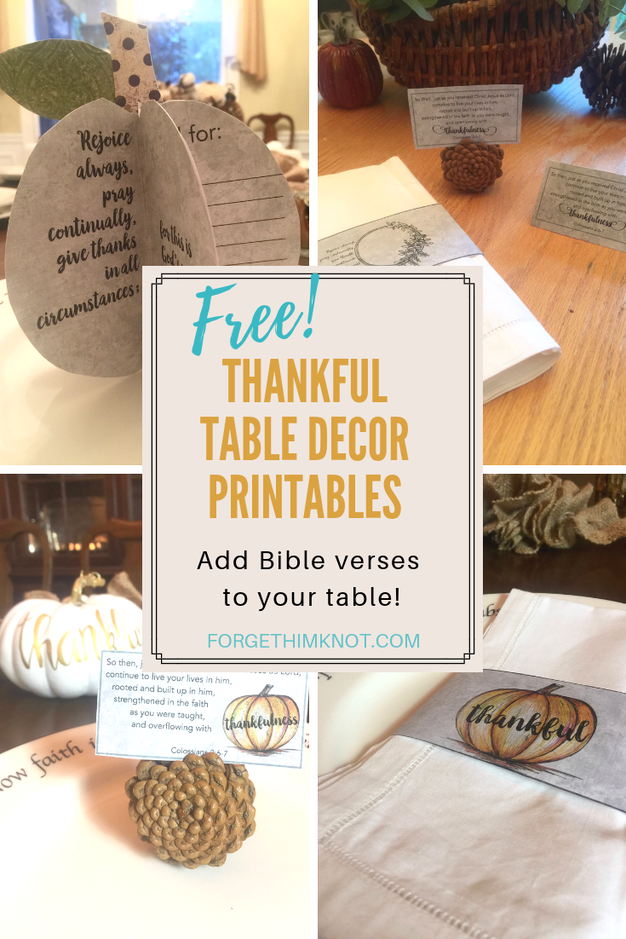 We used a galvanized grey tone scrapbook paper from Hobby Lobby Verse Place Card: 
The place cards can be printed on cardstock or a paper that matches your table decorations. If you are using paper, you might want to glue the paper to a piece of cardstock to stiffen it's structure.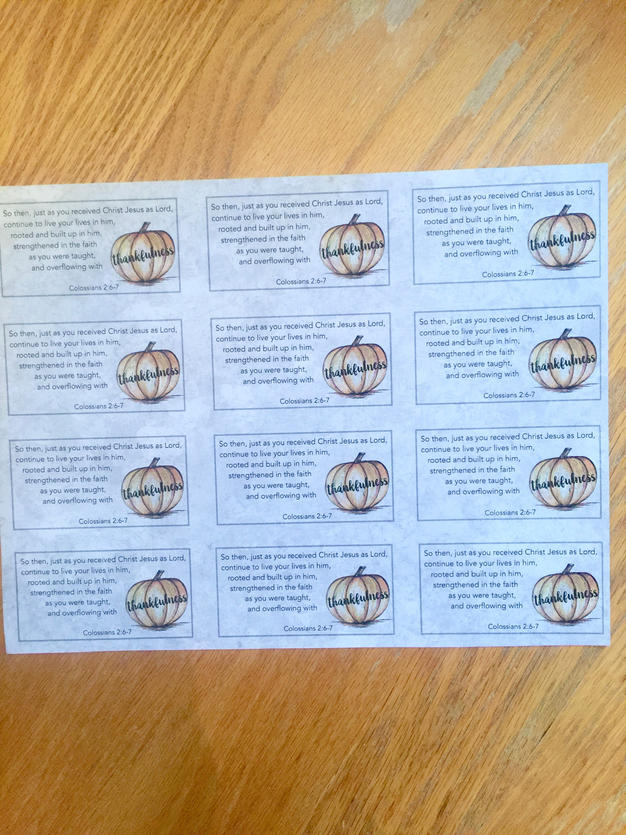 Once printed, cut out the place card. We like to leave a small area of space on the outside of the card. 
We brainstorm creative ways to display a simple place card. Pinecones, faux apples and pumpkins, wine corks and wire are just some of the ways to hold a business size piece of printed card stock. It doesn't have to be fancy to make a statement.  
We use this idea at events and weddings along with our own dining room tables. Folding a piece of card stock in half will allow it to stand.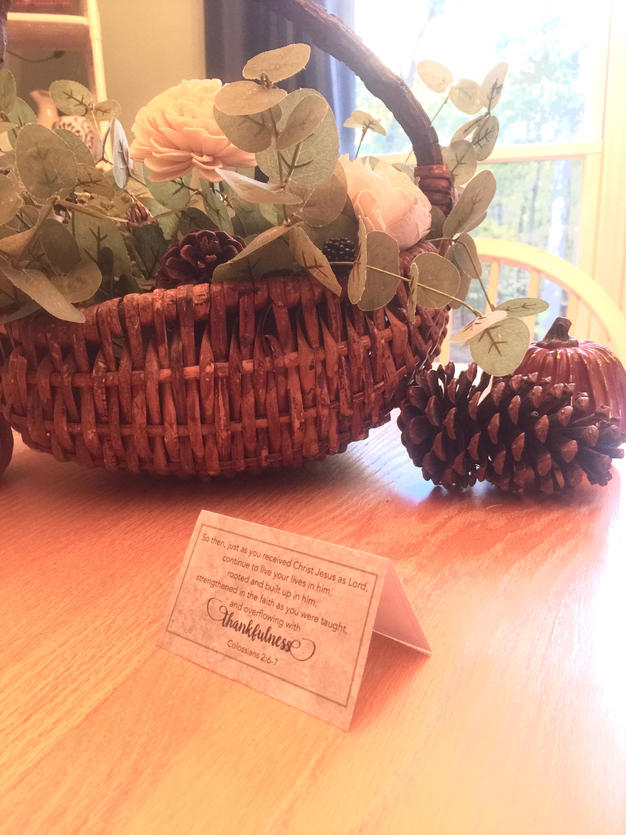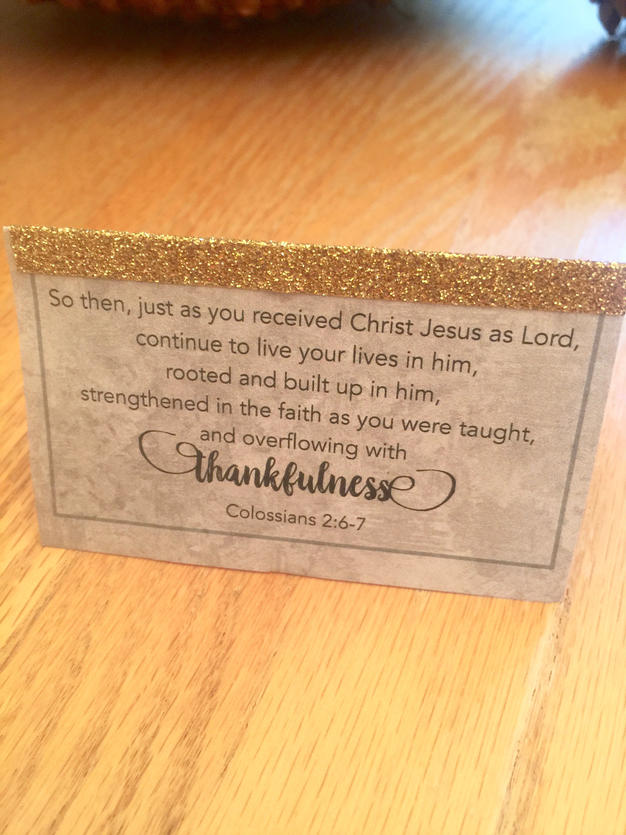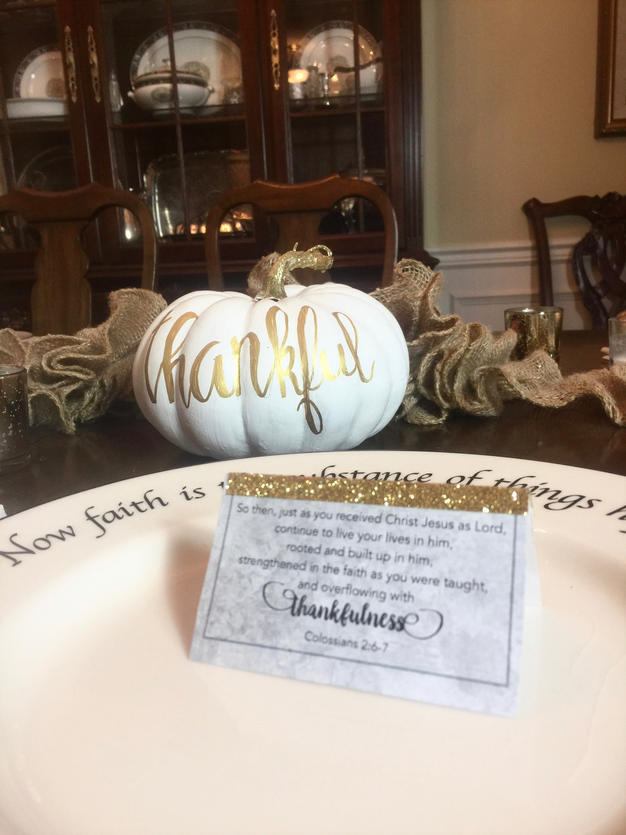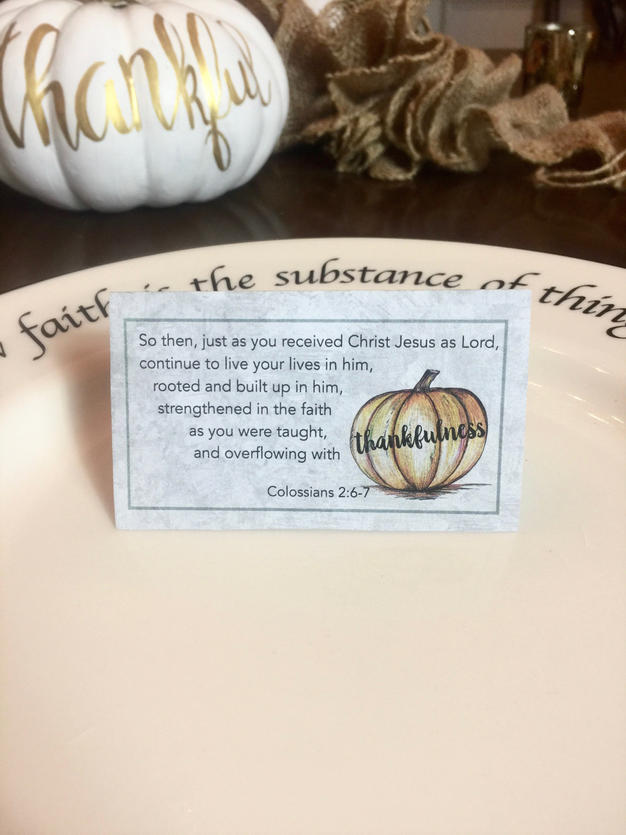 How to make the verse cards for your table
We created two Bible verse table cards for you to fold and stand on your table. You can add a thin strip of decorative tape, gold foil or any other decorations to match your style.  Simple and fun to make!  
Print the Bible verse table cards. 
Cut out each set. Because you are folding the cards to stand up, one verse will be facing one direction the opposite side will face upside down to it's companion.  
We leave a small amount of the card's edging all around the cares to allow space for glitter tape.
Fold  in half.  
Decorate or just set the Bible verse cards on the table! 
Simple and easy to do napkin wraps are a great area to add Bible verses to your table decor. Paper is inexpensive and you can change out your paper to match the seasons.  
We designed two different styles of wraps for the "Thankful" designs. One with an embroidery hoop and greenery design and the other with a Thankful pumpkin.
Print the number of napkin wraps you need for your table on the paper of your choice. A lighter color or patterned design will be easier to read. 
Cut out the wraps. 
Fold your dinner napkin and place the wrap around it leaving the printed design face down on the table.  
Fold your wrap to fit the napkin.  
Place a small amount of glue to the wrap to connect your ends. 
Napkin wraps are that simple! Done! 
You can add water color, gel pens, decorative tape or any fun details to make the wraps your personality and decor style! 
We would love to see your Thankful table setting! Send us a picture!