While planning a baby shower for a mother to be, we asked, "What is your style and what do you like to eat?  
Her reply was, "Rustic but girlie… and I love quiche and Mediterranean.
"We decided a Mediterranean charcuterie grazing table would be our baby shower theme.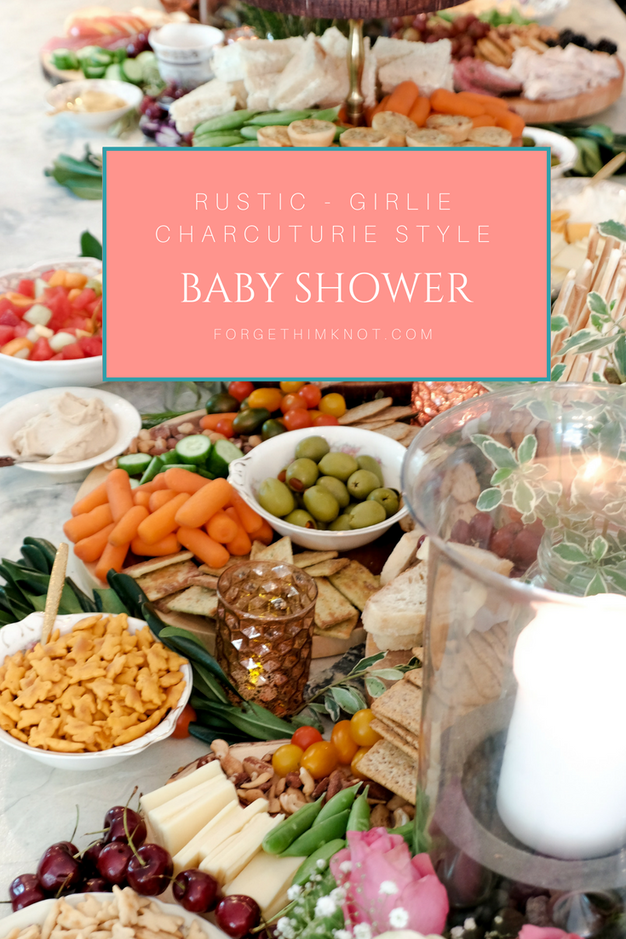 Baby shower charcuterie board
Setting up a charcuterie grazing table 
Carrie's faux marble island was the base for wood slice serving platters and vintage china serving bowls of various sizes. This created a rustic and girlie!
Layering the pieces at different levels allows your eye to travel the display rather than just sitting flat on the table top.
We added greenery in teapots and glass containers and also around the wood slices.
Our favorite rose gold mercury votive holders from Hobby Lobby added some candle sparkle!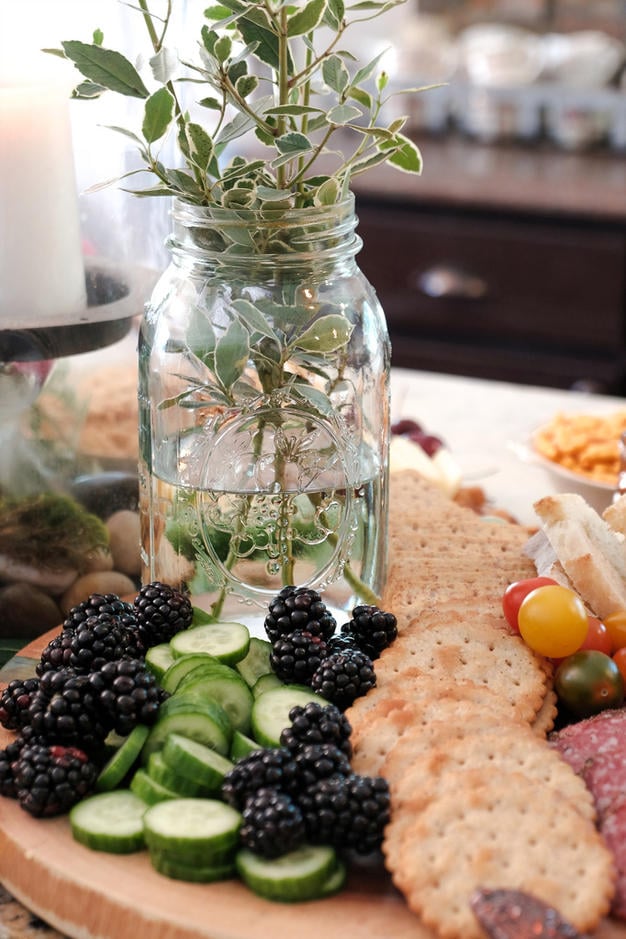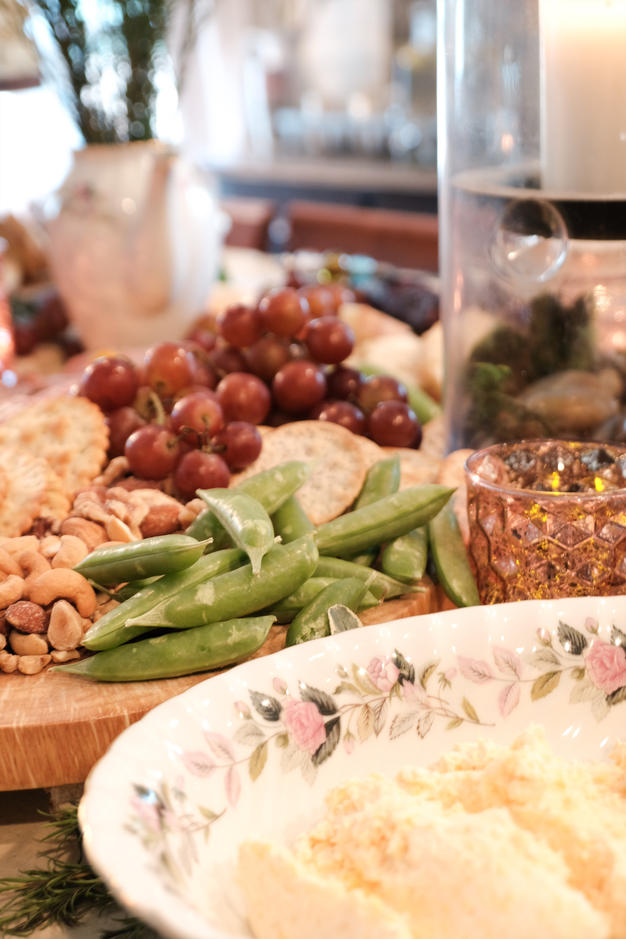 Make the grazing table food visually appealing
The beauty of this style of setting up food for display is the colors and textures.
We art teachers appreciate colors, shapes and texture from the Elements of Art!
Spreading out the textures of crackers and breads mixed in with the colorful veggies helps to make the overall appearance look fancier than a meat, cheese and veggie tray!
You can find a charcuterie board on a wooden board setting flat on the table. We like to do that style too, but for this baby shower we wanted to create levels to allow the eye to travel up and down the entire table scape.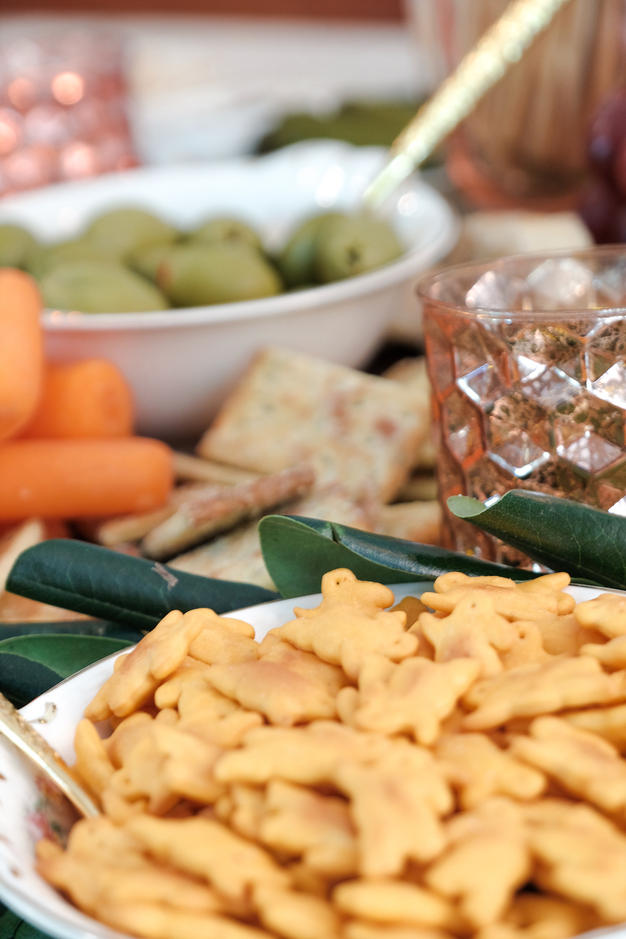 Menu Ideas to create a charcuterie grazing table for a baby shower
The menu is what we call a happy plate with meats, cheeses, crackers,  fruits and veggies full of flavor along with condiments.
Meats
Prosciutto Salami 
Thinly sliced roast beef and turkey
Sandwiches/ Bites
This can be finger sandwiches such as cucumber, pimento cheese or simple ham and cheese!
Mini quiche
Cheeses
Smoked gouda 
Apricot cheese
White and sharp cheddar 
Homemade cheese spread or cheese ball
Goat cheese with blueberries
Crackers
Sesame crackers and party variety crackers
Tuscan cheese crackers
Annie's bunny crackers
Breads
Crusty bread
Olive loaf
Sourdough
Bread sticks
Veggies
Caprese salad
Snap peas
Carrots
Cucumbers 
Garden grape tomatoes
Caprese kabobs
Green and black olives
Sweet and Dill Pickles
Fruit
Fruit salad
Grapes
Dates
Cherries
Blackberries
Apples
Nuts: Salted, roasted mixed
Cashews
Walnuts
Brazil Nuts
Almonds
Dips and Condiments
Hummus
Mayonnaise
Spicy brown mustard
Pesto 
Honey
Desserts for a baby shower
The desserts were our easy one bowl cake recipe but this time we blobbed and marbled a white cake with a strawberry cake for a pink and white marble effect inside.
So moist and yummy we topped it with a buttercream mixed with some strawberry preserves for a slight "naked cake" effect.
Total truth and transparency here…. the cake was wop-sided!
That translates to uneven… slightly sunk in and leaning to one side.
So we covered it with roses and greenery! Hide the ugly! Get creative with the unplanned!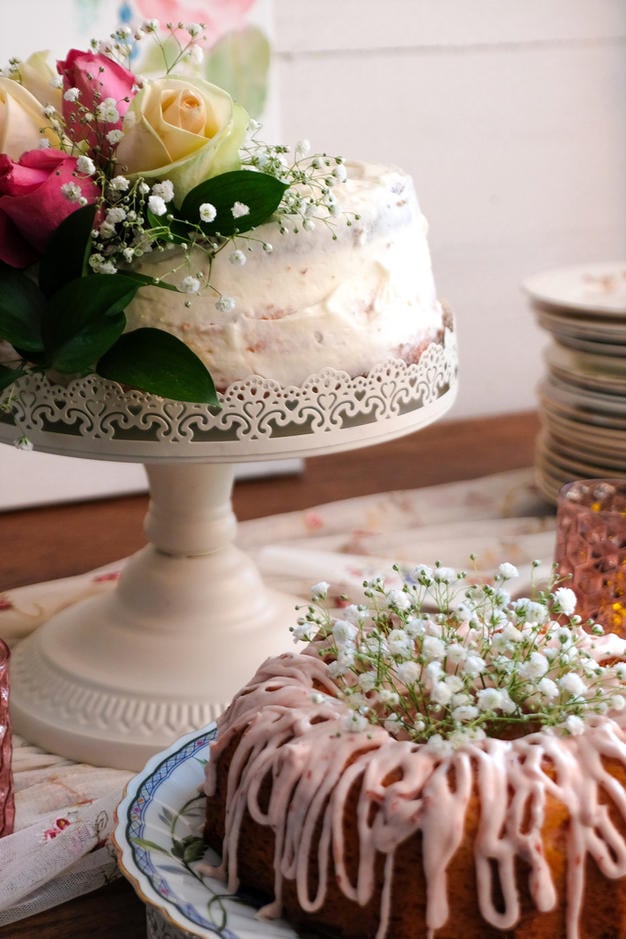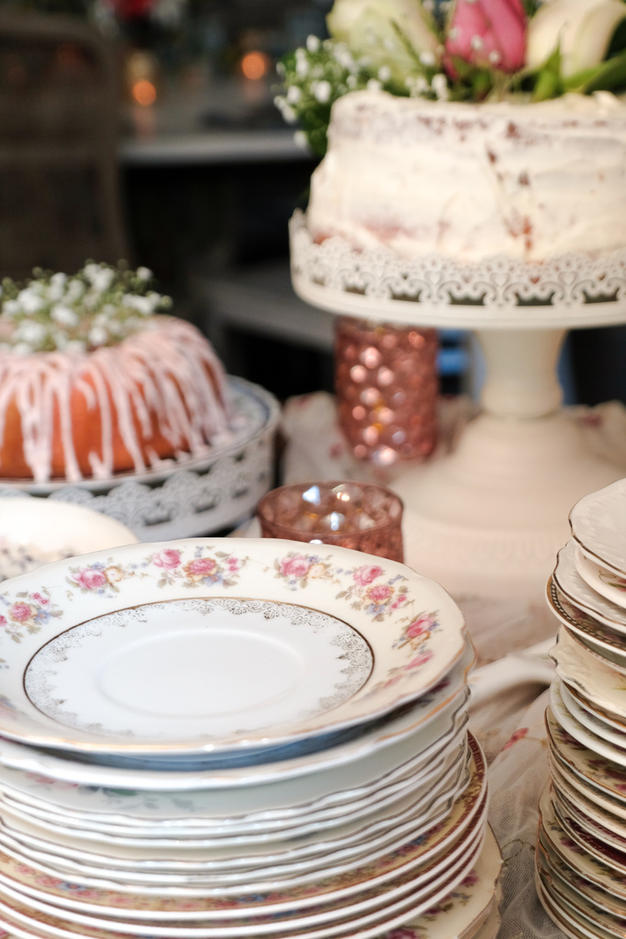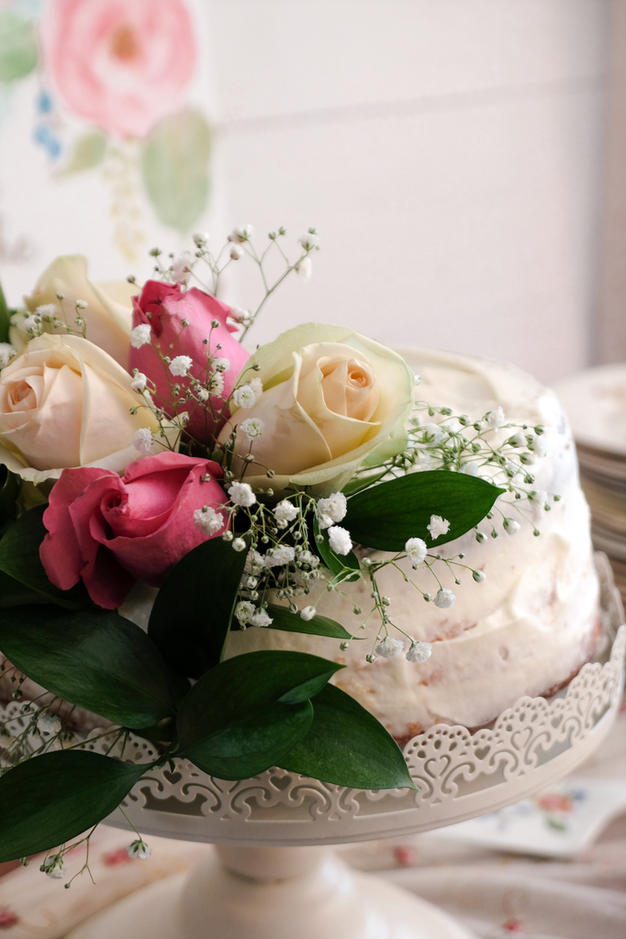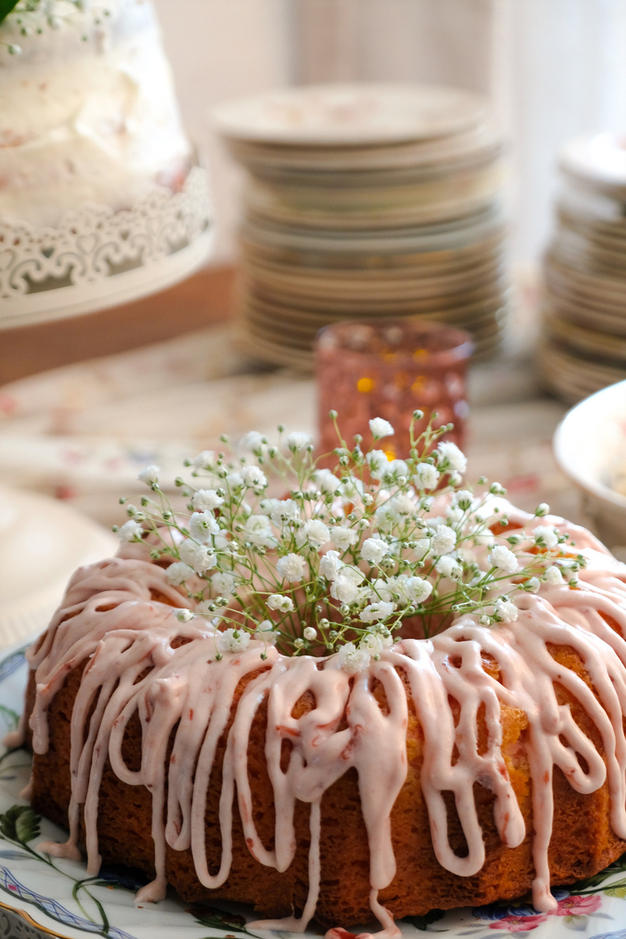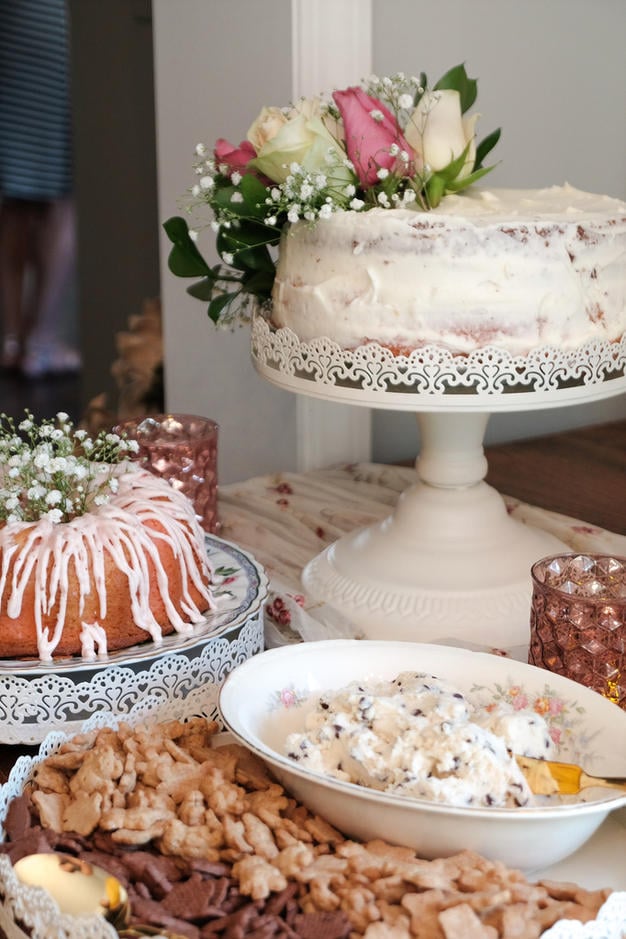 Bible verses for baby shower
Guests signed and wrote encouraging words on the back of these Bible verse ABC cards that came with a mini easel.
The mom to be wanted Psalm 121:1-2, so we painted and lettered a canvas for a "forget not the Lord" reminder.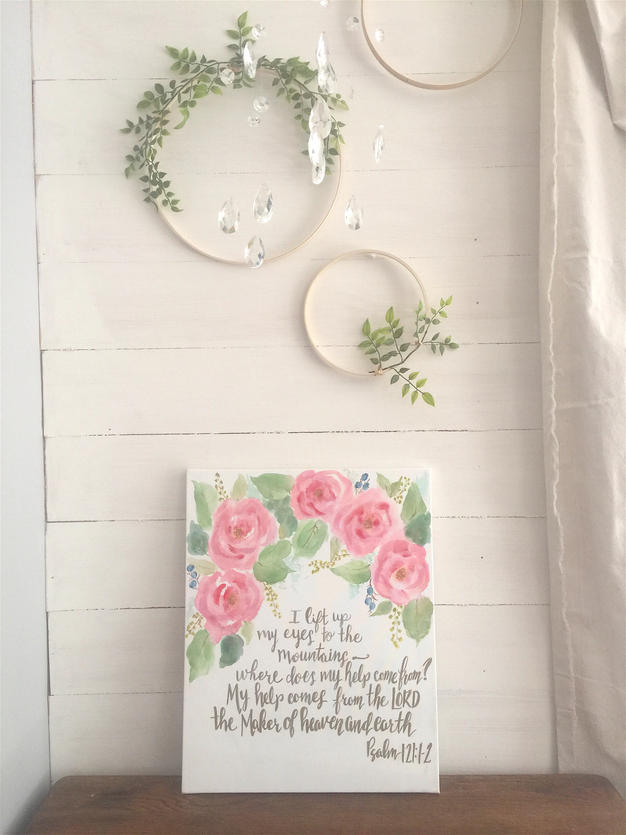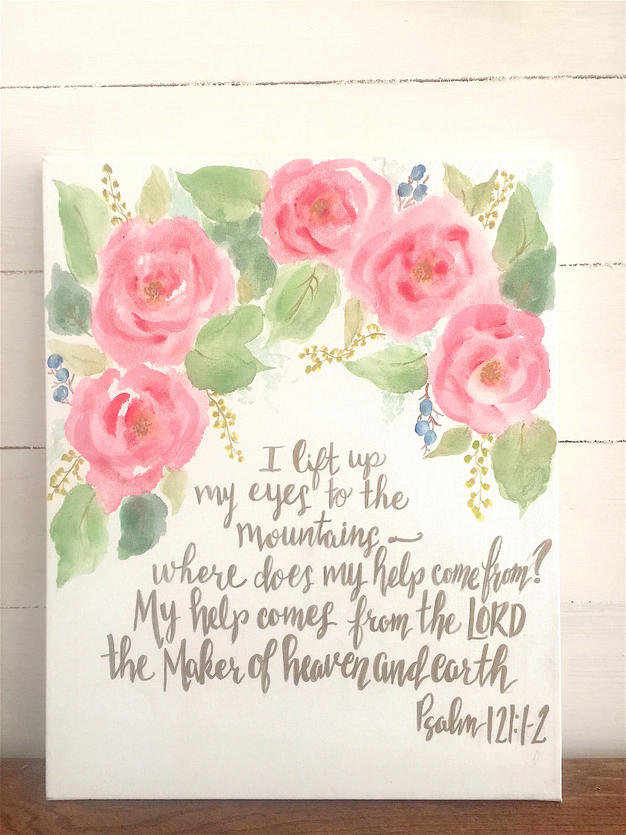 Resources can be found at Hobby Lobby and Amazon. *affiliate links
If you cannot paint a Bible verse sign, Hobby Lobby has a great selection to add God's Word to your event!
 forget Him Knot