Christmas is the time of the year where people remember and celebrate Jesus. Many celebrate His birth while others also remember His gift of grace. 
We want to remember, celebrate and remind others that everyday is a good day to remember the Lord. The following names of God ornament ideas are creative ways to add who God is to your day. 
Our goal was to create crafts for kids of all ages using art supplies that are in most households and maybe a couple of items from the hardware store. All are inexpensive ideas to make your own Names of God Ornaments.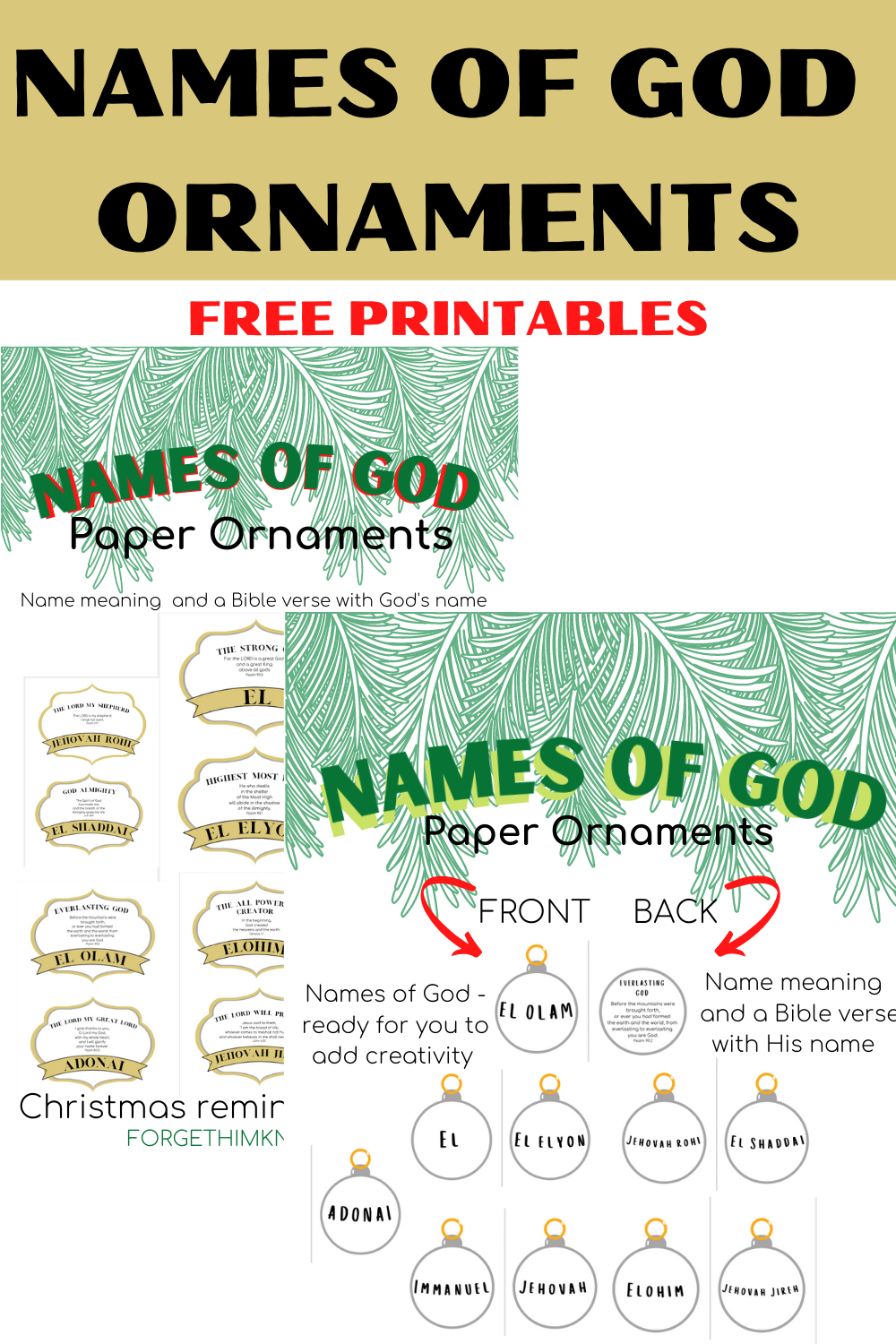 Names of God Ornaments with Bible Verses
The easiest and least expensive way to create names of God ornaments is out of paper. Scrapbook paper printed in Christmas theme allows you to coordinate your ornaments with your holiday decor style. 
We have pulled all the research for you to learn 12 names of God, their meanings and a Bible verse where that name is located. 
Simply print the names of God and then write them on your cut out paper ornament shapes or cut and glue your printout onto your ornament. 
We have also provided you with our Names of God printable ornaments to print, cut and add to your Christmas decor! You can find them and the 12 names of God printable in our Freebie Library. 
Below you will find other ways to incorporate the Names of God into some fun mediums of Art such as wood and Plaster of Paris.
Paper Bible Verse Ornaments Printable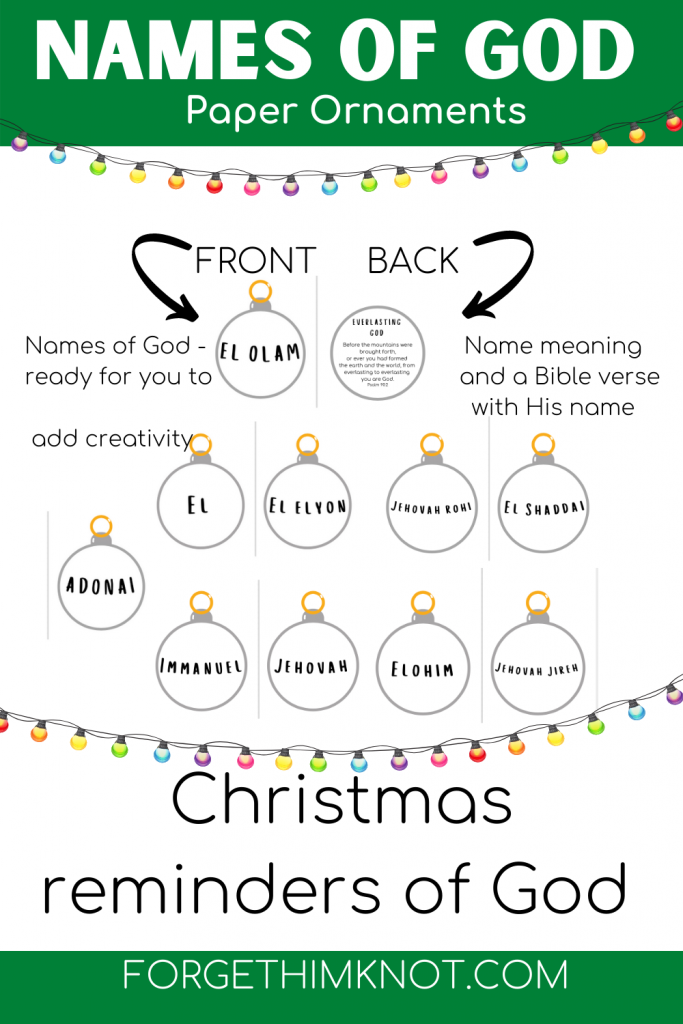 Names of God Ornaments Printable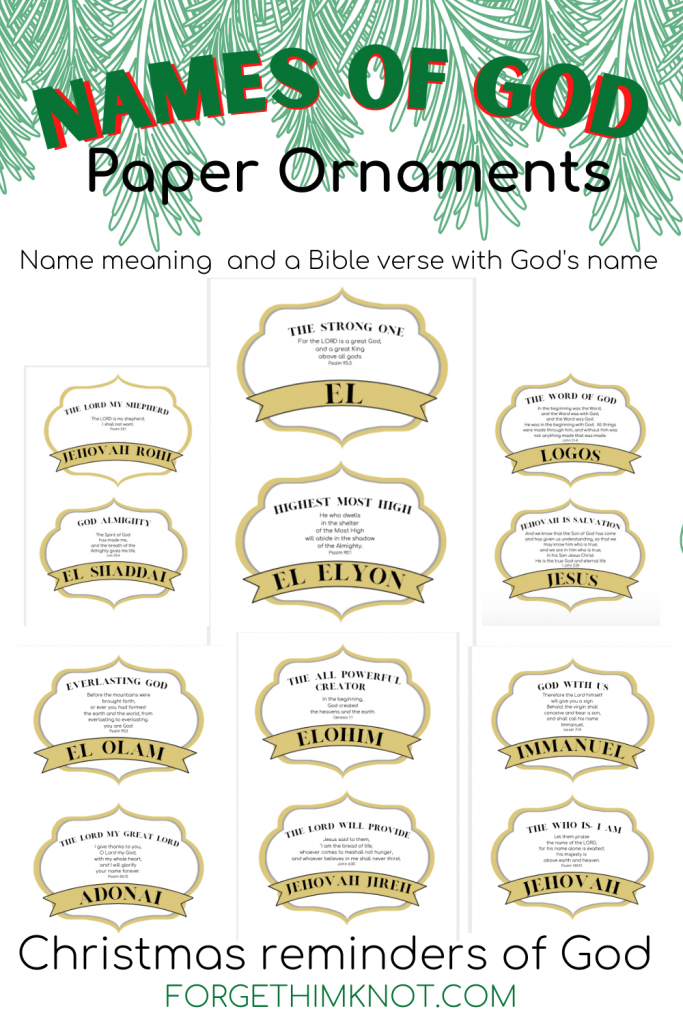 Names of God ornaments on Christmas garland
Using the Names of God printable, we cut out the ornaments and glued them to colored cardstock. Then we cut around the ornament leaving some of the colored paper showing. You could cut them into rectangles or even ovals too. 
Then we punched a hole and strung beads on wire to create a hanger.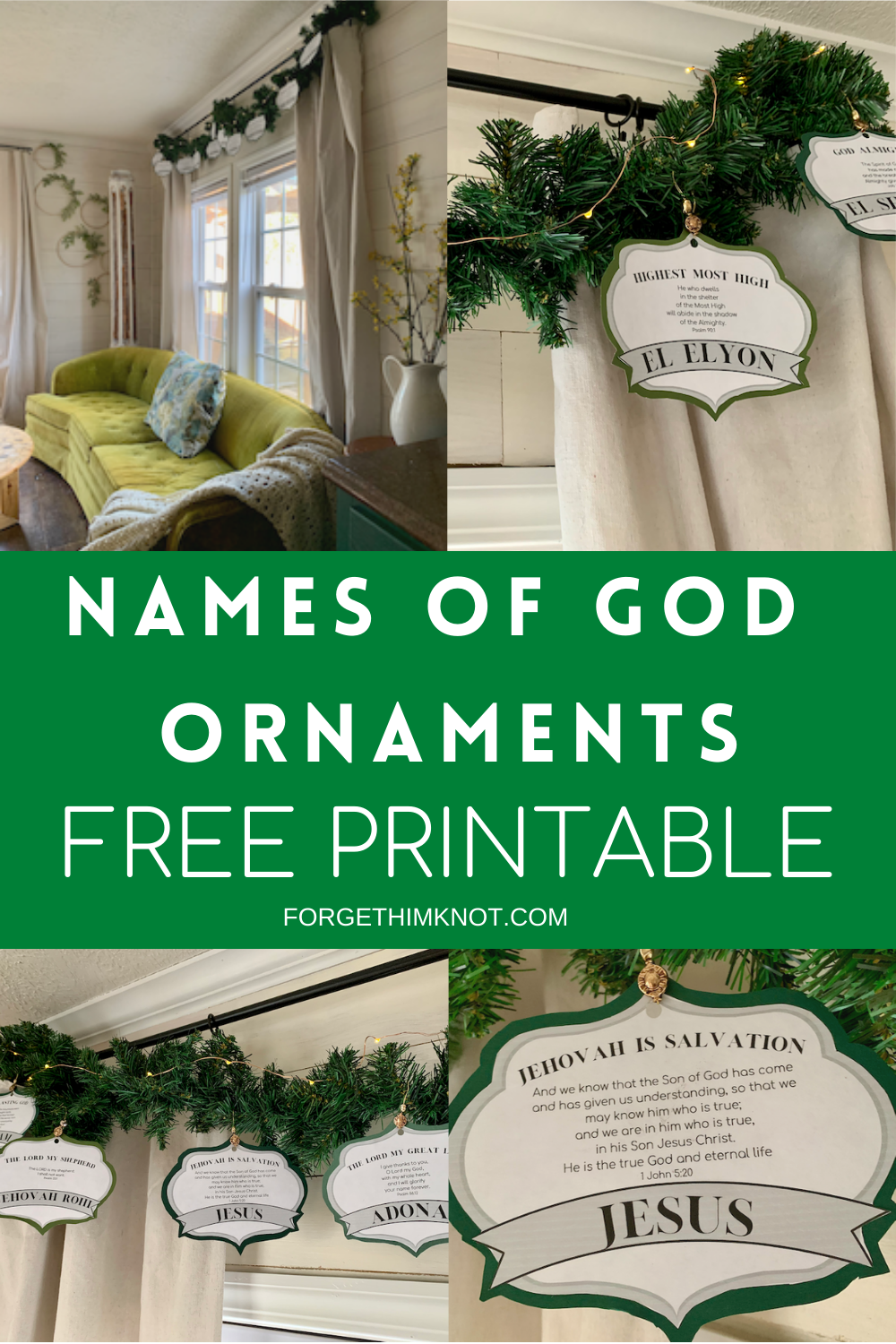 We love finding new ideas and ways to add God's Word to our homes and areas in our life. Hobby Lobby, Amazon and the Dollar Tree are three avenues that we search for things to craft or make into reminders. 
Unpainted wooden signs, paper, metal, premade signs ready to add your Names of God to and even Plaster of Paris or aluminum tape are just some of the fun ways to bring God's Word to your decor. 
Use our Names of God printables to create your Christmas ornaments or bring your own creativity to make your own designs. Either way, you can use our printable to add meaning to your Christmas designs. 
Plaster of Paris Christmas Ornaments with the Names of God
Bible Verse Christmas Ornaments
Use our printables to add Bible verses to anything you can turn into a Christmas ornament. We love these from Amazon, Hobby Lobby or the Dollar Tree. You can use all sort of mediums and supplies to make your own one of a kind Christmas ornaments and add a Bible verse or the names of God. 
How cute are these unpainted laser cut ornaments? Just about every shape and style can be found here. 
When the crafting bug hits, you will find us in Hobby Lobby. These are just a few of the wooden shapes you can find there. But don't limit yourself to just wood. Look for metal, ceramic and even glass ornaments to add the Names of God. 
You never know what new items you will find at the Dollar Tree. These wooden shapes make great ornaments with a little glue and ribbon and your creativity. 
Using the same printables from the Names of God Ornaments above, we cut, glued and glittered them to wood cut outs.
No matter which supplier you purchase your supplies from, you can hang your Names of God Ornaments with ribbon, twine, rope or wire by placing a little hot glue to the back of your ornament. 
Add beads or charms to take them up a notch or make them fancy with glitter. 
More Ideas for Bible Verse
Christmas Ornaments
Visit our Freebie Library for Bible verse coloring page, worksheets and printables to help you forget not the Lord!
 A password email will arrive soon!
Take a peek inside our Membership
We would love to tell you more about becoming a ReMEMBERer.
Access our online Bible studies and resources anytime and anywhere.
Our desire is sharing God's Word and love through creative resources for all learning styles.