Here's our 2 cents…. for an easy diy penny stove backsplash! Pennies are a beautiful medium of copper tones. They're also a rather inexpensive way to a add a unique sparkle to your kitchen.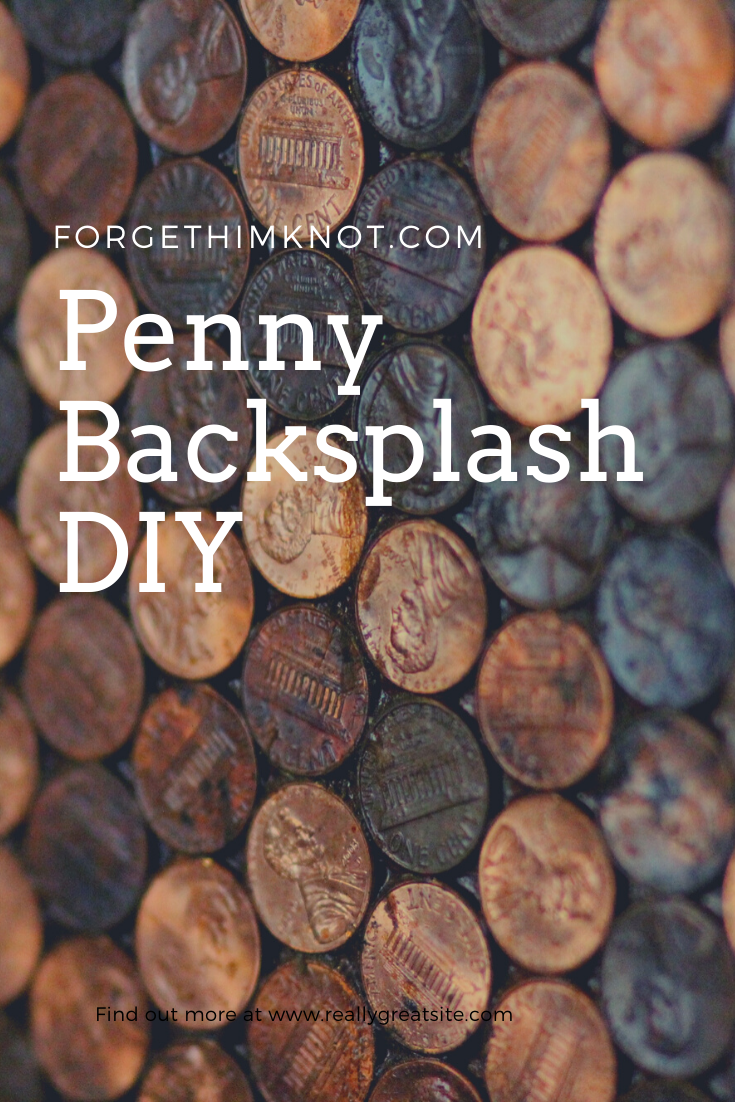 Pennies were the perfect match to our tile black splash. The stacked slate tiles were too thick to put behind the stove and allow for pots and pans. (no need for my family to comment here about how often this is a problem with the amount of cooking I do!)
I have seen pennies for floors, back splashes, table tops and room decor and I've admired them all. Copper is just gorgeous! Pinterest is covered with bloggers and crafters giving their 2 cents about pennies.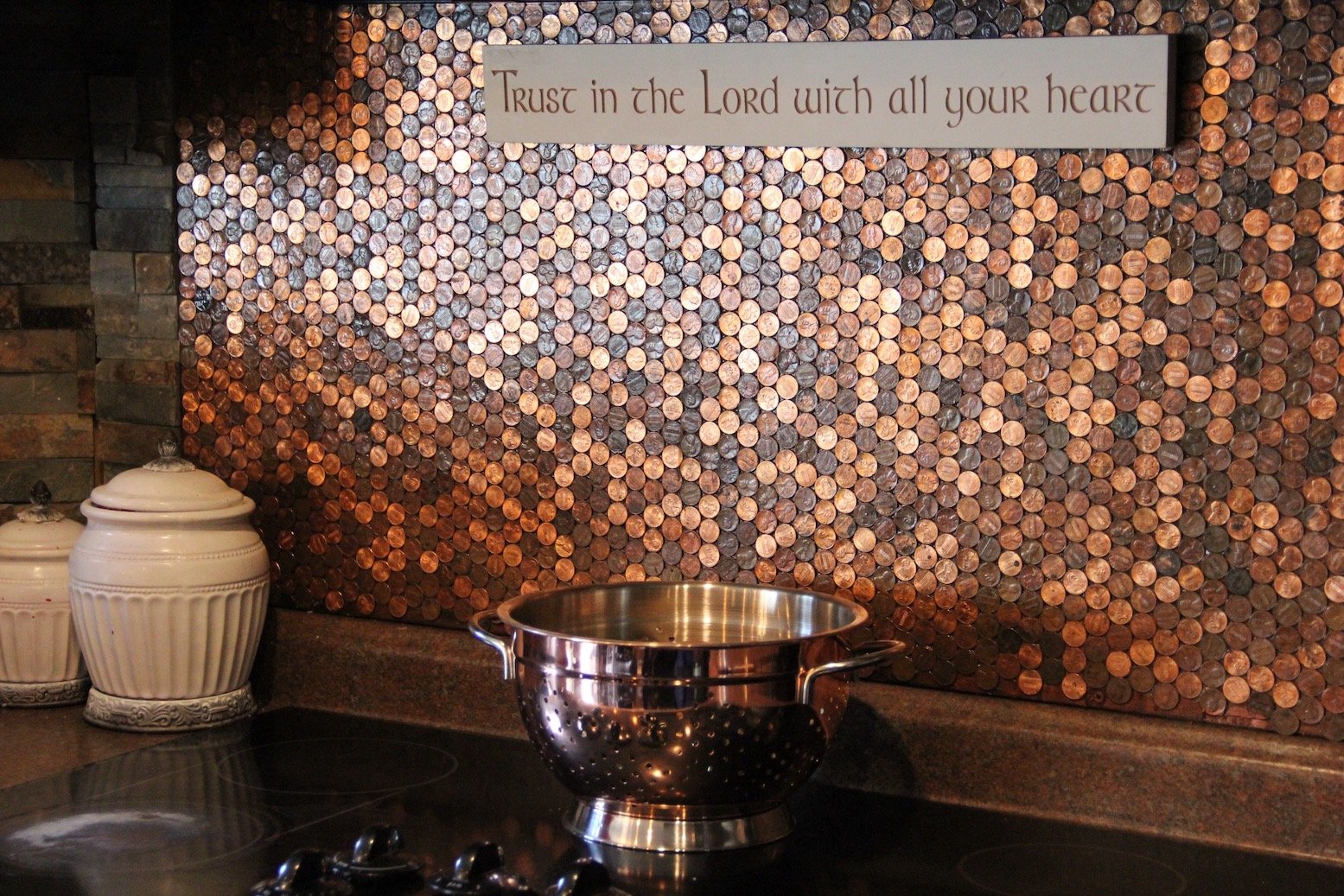 Copper pennies make a great kitchen backsplash
I decided to use pennies for an accent wall behind our stove top. Our back splash was previously painted sheetrock. Nothing wrong with that look, but it was just plain looking and lacking texture for me.
We tiled it with Anatolia Tile Oxide Ledgestone Wall Tiles from Lowes.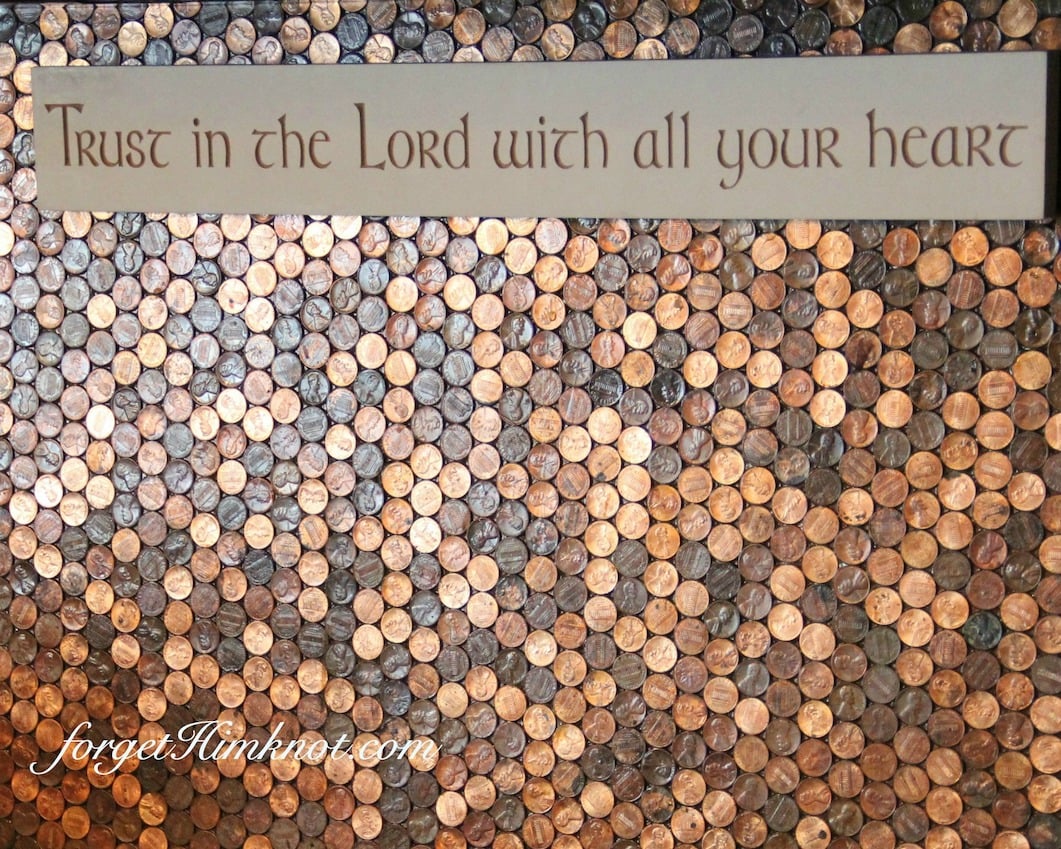 You too can create your own penny wall and it's easy and less expensive than you may think. I decided not to permanently adhere the pennies to the sheetrock. Because I'm a woman who likes to change her mind! I need options. So I made mine detachable.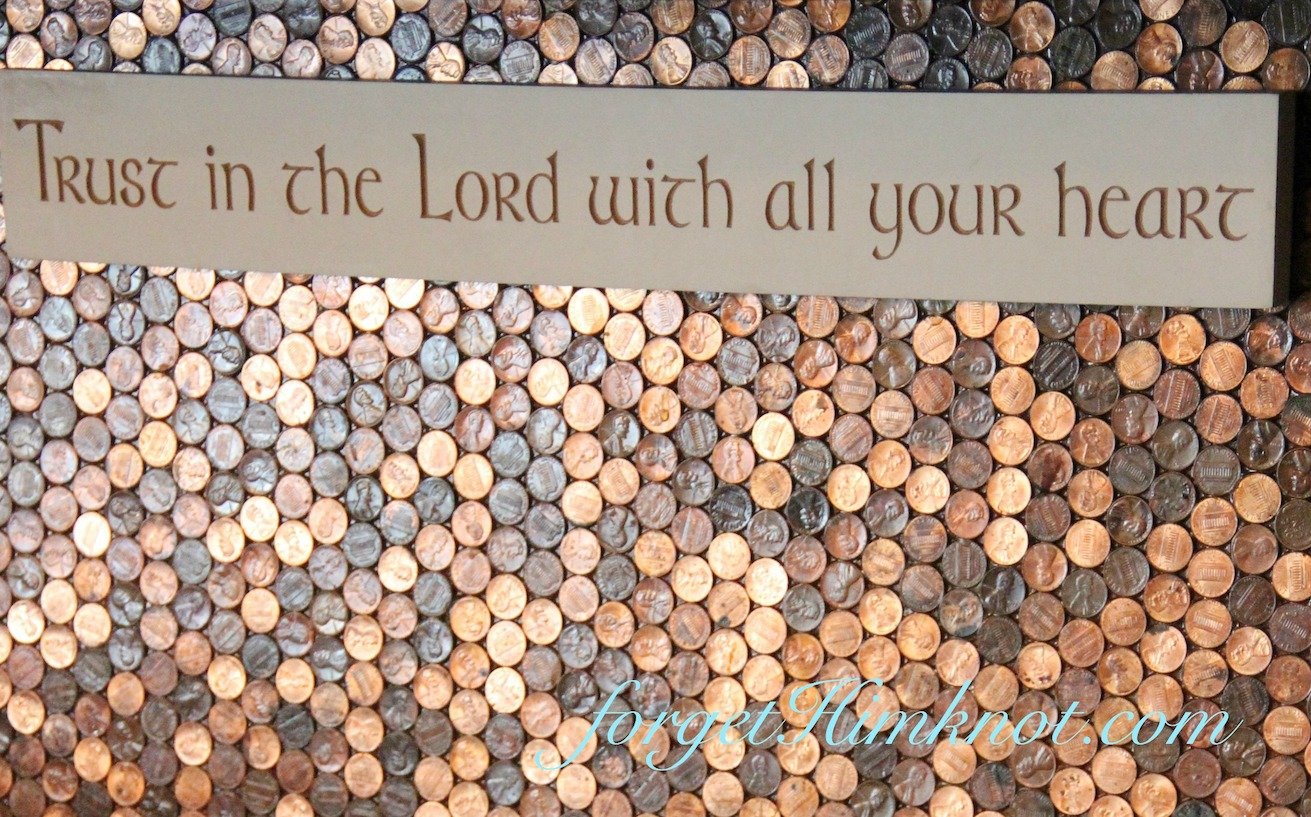 Step 1
Measure the area you want to cover with pennies. You can glue straight to the surface or make a detachable backsplash. 
 I cut a piece of luan to fit the space. Two things are accomplished by making the backsplash non-permenant… you can remove it when you are ready and the project can be taken to any workspace. Standing at the stove for hours and gluing did not appeal to me.
Step 2 
Stain the luan with a warm color wood stain because the space between the pennies will show. Let this dry over night!
 

Step 3
Decide your penny pattern. (See *Decisions below) 
Then with a metal to wood transparent adhesive ( E600  ) glue pennies one at a time. *affiliate link
( I realized after the first few rows that this would take a little longer than I had thought. Stick in your favorite movie/s and get lost in gluing.
Note:– Pennies are not a very big surface to apply glue to and hold at the same time. Unfortunately, I glued my fingers every other penny.
Remember to leave a penny space empty at the "attaching to your wall areas" to allow for screw holes. That's where you will screw the luan to the wall.)
Step 4
Allow to dry.
Gravity has a tendency to take over if you try to install this backsplash before the glue dries.
Step 5
Clear coat the entire surface with 3 coats of polyurethane. This seals and protects the project. Poly makes it easy to wipe clean and keeps it shining.  
 

Step 6
With a drill and screws, attach the luan to the wall.
Step 7
Apply pennies over the screws and touch up with poly.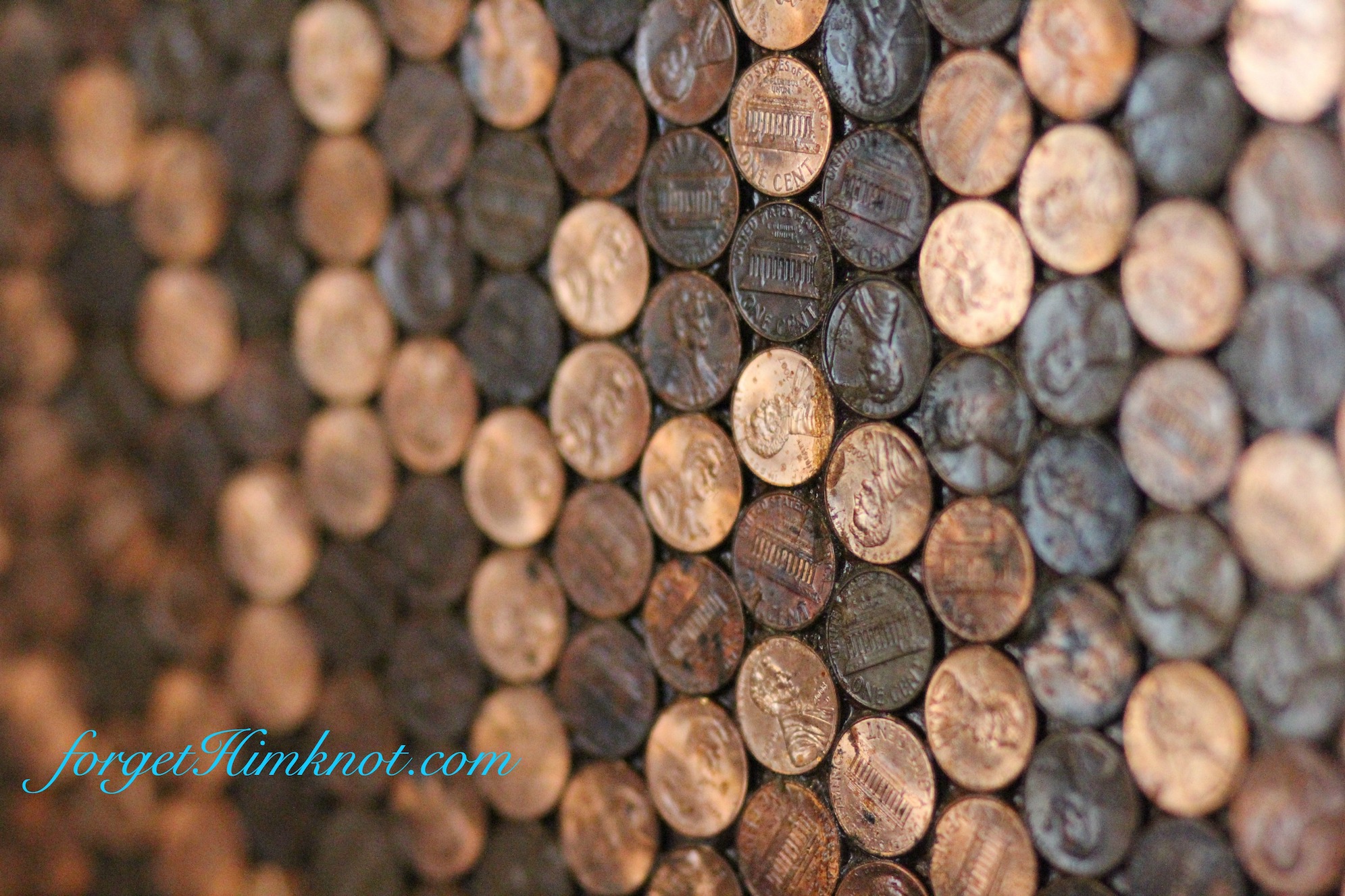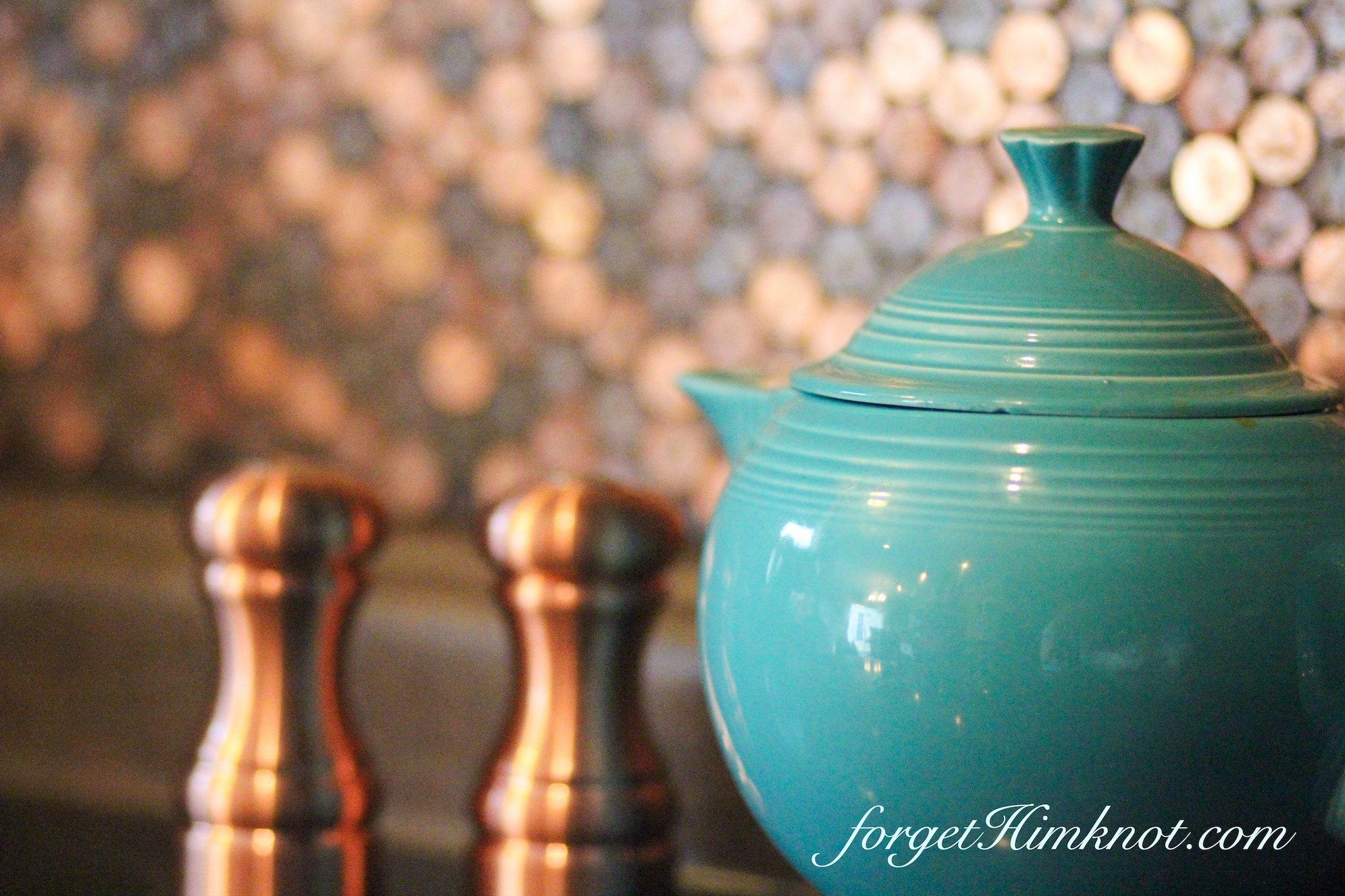 How to design a penny backsplash
• Decisions in design
Depending on your personality type and the look you want to achieve there are several things I learned and decisions had to make.
• How important is it to you that each penny is the same color?

Shine? Tarnish? etc.
For me….I liked the variety of color and designs on the pennies. I liked the difference is age and tarnish. Also, I like to aggravate my family with the little things for fun,…..like the one really tarnished green colored penny. (smile) 
• How essential is it that each penny be on the same side?
Do you want the pennies to be all heads or all tails? (You know what we mean, because a penny doesn't have tails.) Or would you be organized and alternate your sides? My penny backsplash was completely random. 
• H

ow about the same direction?
I have "In God We Trust" about 1100 times in a small space! Just another way to remind me in all that I do whether it's cooking, cleaning or admiring the copper colors in my kitchen, to forget not the Lord!
The good news about using pennies is you get three choices in design…. stacked, staggered or styled?
Pennies are round. You can stack them in rows, stagger them a bit or you can create a pattern. 
All in all…. this project came in at a total of $15.44 cents with pennies, luan and glue! Some people think pennies are useless and should be retired.
It might be a .01 coin, but when placed with others and given a purpose, it looks like a million bucks! (at least it does to us). *3 years and still looks like new and cleans with soap and water.
Proverbs 3:5-6
Trust in the LORD with all your heart and lean not on your own understanding; in all your ways submit to him, and he will make your paths straight 
Photography by: Chelsea Ray Photography