Have you ever noticed that one of the first sounds a child makes is the "vroom" of a car or truck? After watching toddler grandboys fascinations with not just cars, but rescue and construction vehicles, we realized every vehicle has a purpose and is on the go! 
And then it dawned on us, every vehicle can remind us of the Lord, connect to Bible verses and prompt us to be on the go with God. Let's help kids see the vehicles used everyday around them that can be reminders of the Lord. You will find more Bible verses about anything and everything to help you forget not the Lord.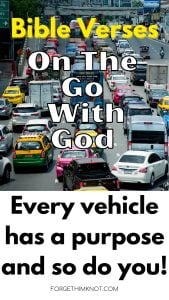 Bible Verses On the Go With God
Let's look at a construction site and the vehicles on the go and hard at work.
An excavator has a scoop that can dig into the ground. Then it can place a pile of dirt from one area to another. It does good work by doing what it was designed to do.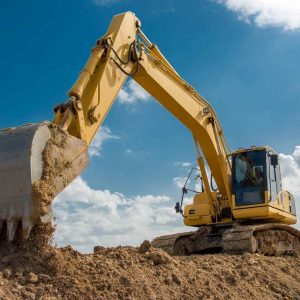 Excavators can remind us to do good work as we were created to do in Christ.
Ephesians 2:20
For we are his workmanship, created in Christ Jesus unto good works, which God hath before ordained that we should walk in them.
When you look at a bulldozer, maybe you see a heavy machine pushing the dirt to make a road or path. But that bulldozer can also be a visual reminder of God found in Proverbs 3:5-6.
Trust in the LORD with all thine heart; and lean not unto thine own understanding. In all thy ways acknowledge him, and he shall direct thy paths.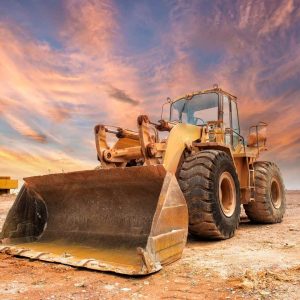 Bulldozers can also scoop up a load and place it into a dump truck which carries that heavy load down the road. A dump truck can remind us of Galatians 6:2.
Bear ye one another's burdens, and so fulfil the law of Christ.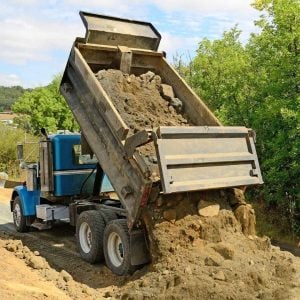 We can be dump trucks for one another helping to carry the heavy loads we face in life.
When a construction site needs a heavy beam lifted in the air, a crane is called to do the job.
A crane can remind us of James 4:10. The Lord will lift you up when we are humble in His sight.
Humble yourselves in the sight of the Lord, and he shall lift you up.
Rescue Vehicles on the Go With God Bible Verses
Construction vehicles are not the only vehicles on the go. Rescue vehicles have a great purpose that can also remind us of the Lord.
When you are in trouble, have an accident, or face a harmful situation, you dial 911 for the police. A police car can remind us of Christ because He is our help in trouble.
Psalm 46:1
God is our refuge and strength, a very present help in trouble.
We experienced a house fire several years ago. Who do you think was the first call we made? You guessed it, the fire department. Their job is to be ready to put out a house fire, help someone who is trapped and help in critical situations who need saved.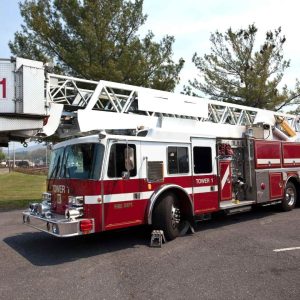 A fire truck can help remind you to know that God saves you in your time of need.
Psalm 55:16
As for me, I will call upon God; and the LORD shall save me.
Have you ever broken down in your car and need someone to help you? You probably would call a wrecker service. A wrecker can pick up or tow a broken vehicle that cannot continue and take it where it can be repaired.
Wreckers can remind us of the Lord because when we are brokenhearted, the Lord is near to us.
Psalm 34:18
The LORD is nigh unto them that are of a broken heart; and saveth such as be of a contrite spirit.
But sometimes we need healing because we are sick. An ambulance is called to take a sick person to the hospital to see a doctor. When you see an ambulance with it's flashing lights and hear the siren, think of Psalm 147:3.
He healeth the broken in heart, and bindeth up their wounds.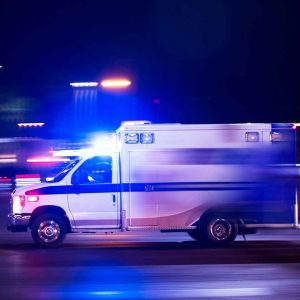 Jesus is the Great Physician and our healer.
Bible Verses for Transportation Vehicles on the God With God
Not all vehicles are construction or rescue, but they still are on the go and serve a purpose. Many vehicles are service or transportation such as the mail truck, a school bus, an airplane or a garbage truck.
How can a garbage truck remind you of Christ? That doesn't sound like it should, right? Well it's probably one of the most visual vehicles we can think of to remind us that Jesus took away our sins.
A garbage truck takes away the trash. Jesus took away our sins which is the worst trash we can have.
1 John 3:5
And ye know that he was manifested to take away our sins; and in him is no sin.
Every Vehicle has a Purpose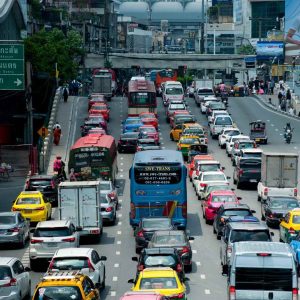 The mail truck can bring bills, flyers and cards with good news. Mail trucks can remind us of the Gospel and the great commission to tell the Good News of Jesus.
Mark 16:15
And he said unto them,Go ye into all the world, and preach the gospel to every creature.
An airplane transports people from one place to another by riding the wind with wings. When you see an airplane remember Isaiah 40:31.
But they that wait upon the LORD shall renew their strength; they shall mount up with wings as eagles; they shall run, and not be weary; and they shall walk, and not faint.
Every day of the school year kids ride a bright yellow school bus to school, the place to study and learn. A school bus can be a visual reminder of 2 Timothy 2:15.
Study to shew thyself approved unto God, a workman that needeth not to be ashamed, rightly dividing the word of truth.
There's a few more vehicles that are on the go to remind you of God.
A sailboat that rides the mighty waves. But God is mightier!
Psalm 93:4
The LORD on high is mightier than the noise of many waters, yea, than the mighty waves of the sea.
A tractor can remind you to not be weary in doing good!
Galatians 6:9
And let us not be weary in well doing: for in due season we shall reap, if we faint not.
A space shuttle is launched into space to visit the moon, study the stars and orbit the earth.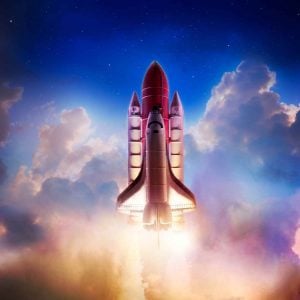 But is can also be a great reminder to consider God's heavens and celestial wonders.
Psalm 8:3-4
When I consider thy heavens, the work of thy fingers, the moon and the stars, which thou hast ordained; What is man, that thou art mindful of him? and the son of man, that thou visitest him?
We hope this post of vehicles on the go reminds you of Christ and how you can see Him everywhere. Helping kids look for ways to remember the Lord is important training to live life as God desires.
Oh… that reminds us of a train!
Proverbs 22:6
Train up a child in the way he should go: and when he is old, he will not depart from it.
You have a purpose to be on the go with God! Know Him, trust Him, and follow Him everywhere you go!
Bible Verses for Training Up a Child in the Lord
In our Bible and Art membership, ReMEMBERers, we have hundreds of Bible Memory Verse Bundles and printables to help train up a child in God's Word.
Bible Verse Coloring Books-
On the God With God
Bible Verse Dot Markers Coloring Books- On the God With God
Vehicle Items for Enrichment