Bible Verses for Feeling Overwhelmed
Wouldn't it feel good to just be "whelmed" rather than "overwhelmed".
Where exactly was the point that over took us beyond whelmed? 
When you are over being overwhelmed remember who God is!
Can we just say, "We're over being overwhelmed"…. or would it be more accurate to say, "We're over being whelmed in general?" 
After feeling overwhelmed ourselves, we pulled together 7 of our favorite Bible verses that remind us of Who God is when we feel overwhelmed. We all need the reminders! You will find more Bible verses about anything and everything to help you forget not the Lord.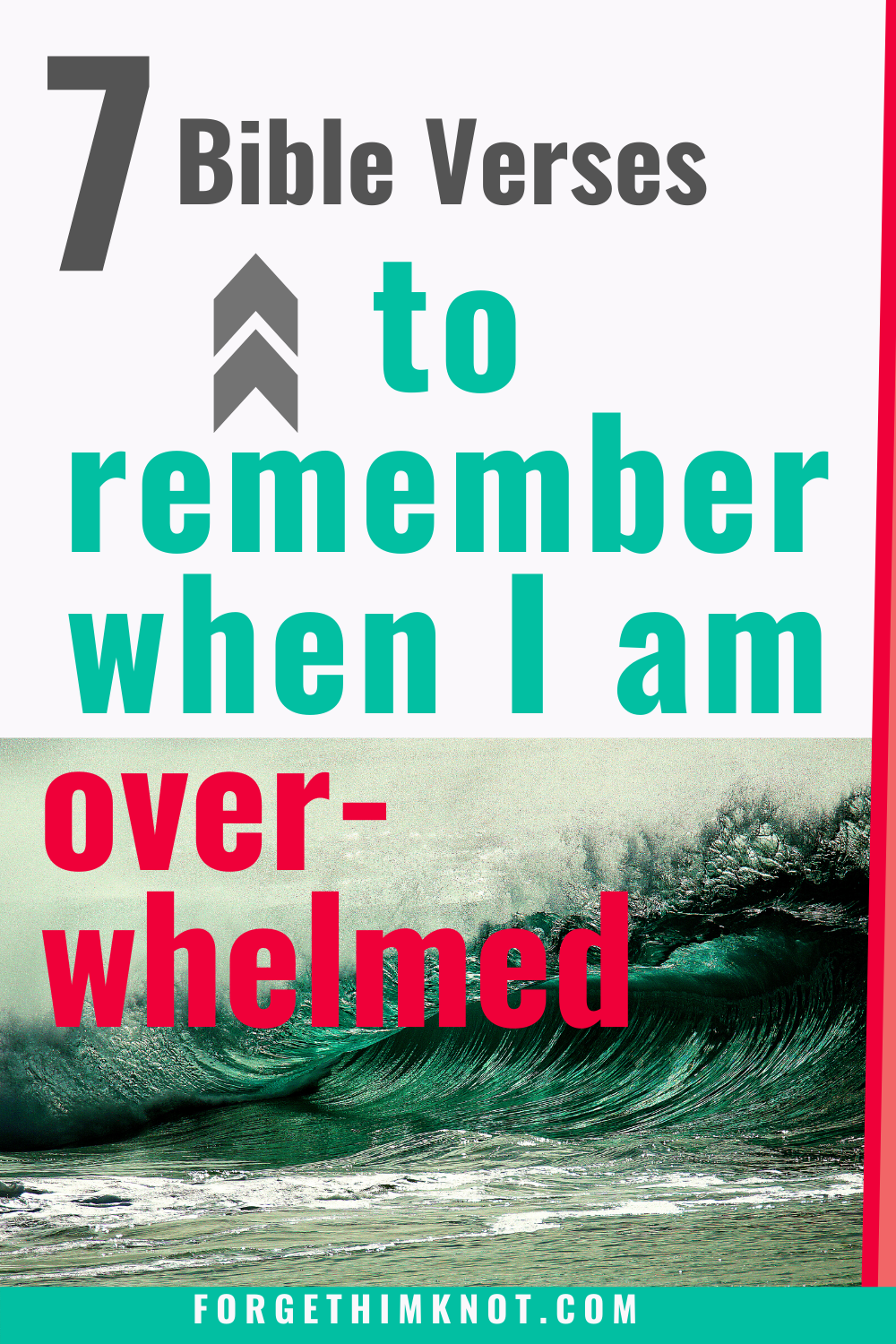 God does not give you more than you can handle?
There's a saying that "God doesn't give you more than you can handle"….
Ummmm that's not true!
Nope!
That verse in 1 Corinthians 10, is often misinterpreted.
Let's look at it in context. 
1 Corinthians 10:13
No temptation has overtaken you that is not common to man. God is faithful, and he will not let you be tempted beyond your ability, but with the temptation he will also provide the way of escape, that you may be able to endure it.
You see it does not say, "God will not give you more than you can handle." 
It tells us that no temptation has overtaken you that is not common to man. It tells us that God will provide a way of escaping the temptation. 
This verse is not about circumstances beyond our control, it's about temptations and how God is faithful. 
You will experience circumstances that are beyond your control. God will allow things to happen in your life that are more than you can handle. 
Why? 
Because only He is power. It is His power that we can use and strength that can endure what we may experience. On our own, we are not able to handle anything overwhelming. Our bodies will cave and stress will press us down.
What has you feeling overwhelmed?
1 Corinthians 10:13 is often used to try and encourage someone who is overwhelmed or feeling like they cannot handle their circumstances.
But that verse is in the middle of a section of verses talking about temptations. Maybe if we look at what making is feel overwhelmed we can find the temptation that is at play.
1 Corinthians 10 gives us more details about temptations, what we can handle, what we shouldn't and what to do.
Therefore let anyone who thinks that he stands take heed lest he fall.

13 No temptation has overtaken you that is not common to man. God is faithful, and he will not let you be tempted beyond your ability, but with the temptation he will also provide the way of escape, that you may be able to endure it.

14 Therefore, my beloved, flee from idolatry.
There are many stresses that overwhelm us. Is it possible that we have made the things most overwhelming an idol?
Have we put something or someone in importance over God?
That overwhelming emotion can be an assessment tool to alert us that our spiritual walk with God needs some attention. What has taken precedence over God?
Time?
Money?
Pride?
Relationships?
God created us with a need for Him...
to seek Him and trust Him.
Of course He allows things that are more than we can handle so that we will remember who He is and our need for Him.
He is faithful!
Sometimes, in the heat of the fire, we forget that He is not distracted by our circumstances. God is all knowing and faithful.
He has provided a way so that we can endure whatever "it" is that has us overwhelmed, whether it is temptations or our own will. We find that way through prayer and His Word. 
Sometimes, we forget who God is!
Matthew 19:26
But Jesus looked at them and said, "With man this is impossible, but with God all things are possible."
What does it mean to be overwhelmed?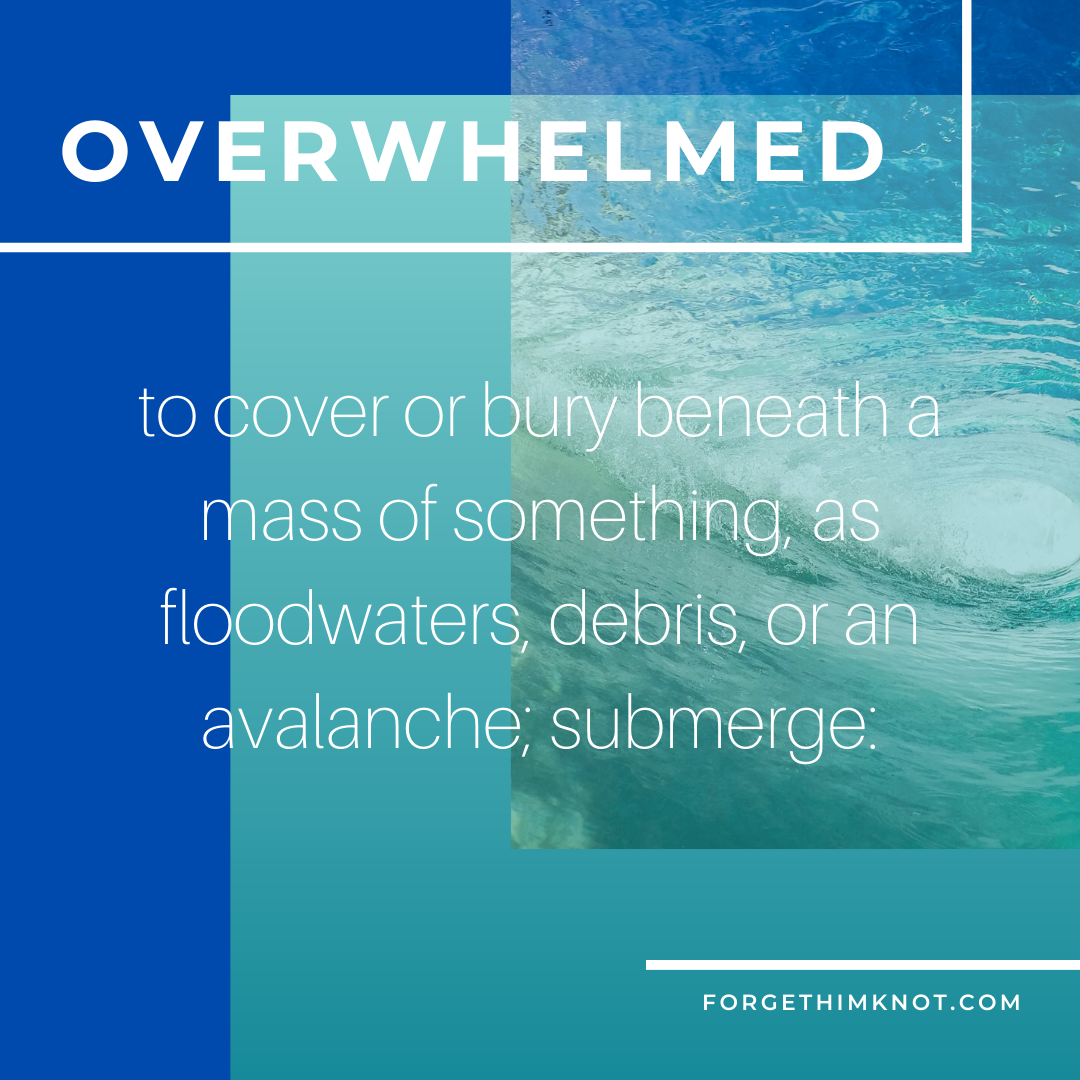 Overwhelm:
to load, heap, treat, or address with an overpowering or excessive amount of anything:

to cover or bury beneath a mass of something, as floodwaters, debris, or an avalanche; submerge:
There are times in our life that we take on too many things and work hard towards an accomplishment. What is our goal? Have we placed something in front of God without placing it before God? 
God is never going to overwhelm you, test you or tempt you to anything that is not for His glory. He will allow us to be bent, broken, pressed and exhausted so that we will see our need for Him. 
Isaiah 40:31
But they who wait for the Lord shall renew their strength; they shall mount up with wings like eagles; they shall run and not be weary; they shall walk and not faint
Have you ever noticed a child in the ocean waters at the beach try to jump the waves on his own without help from a parent? The little legs jump with all their might over the waves again and again. Little hands pull hard from the grasp of his father.
You can see the child pride of not being taken by the wave as he continues to pull farther from his dad, until his little legs become tired. Then the child sinks under the water and is overwhelmed by the crashing waves. 
In reality, it only lasts for a split second, but the child feels like the struggle is eternity. Unable to get up, the child cries out for help because he realizes he is unable to get out of the overpowering water. 
But his father is at his side. The father never left his son even though the son had decided to try the waves on his own. With strong arms, the father reaches down to happily lift up his child and help him. 
God is our heavenly Father. 
He never wants us to be overwhelmed with the things in the world. It is not His desire that we find ourselves in these overpowering circumstances. But He will allow us to feel the weight so that we can see our need for Him. 
As our Father, He will hear our cries and stretch out His arms to rescue us. He is faithful. 
Isaiah 43:1-3
But now thus says the LORD, he who created you, O Jacob, he who formed you, O Israel: "Fear not, for I have redeemed you; I have called you by name, you are mine. 2 When you pass through the waters, I will be with you; and through the rivers, they shall not overwhelm you; when you walk through fire you shall not be burned, and the flame shall not consume you. 3 For I am the LORD your God, the Holy One of Israel, your Savior.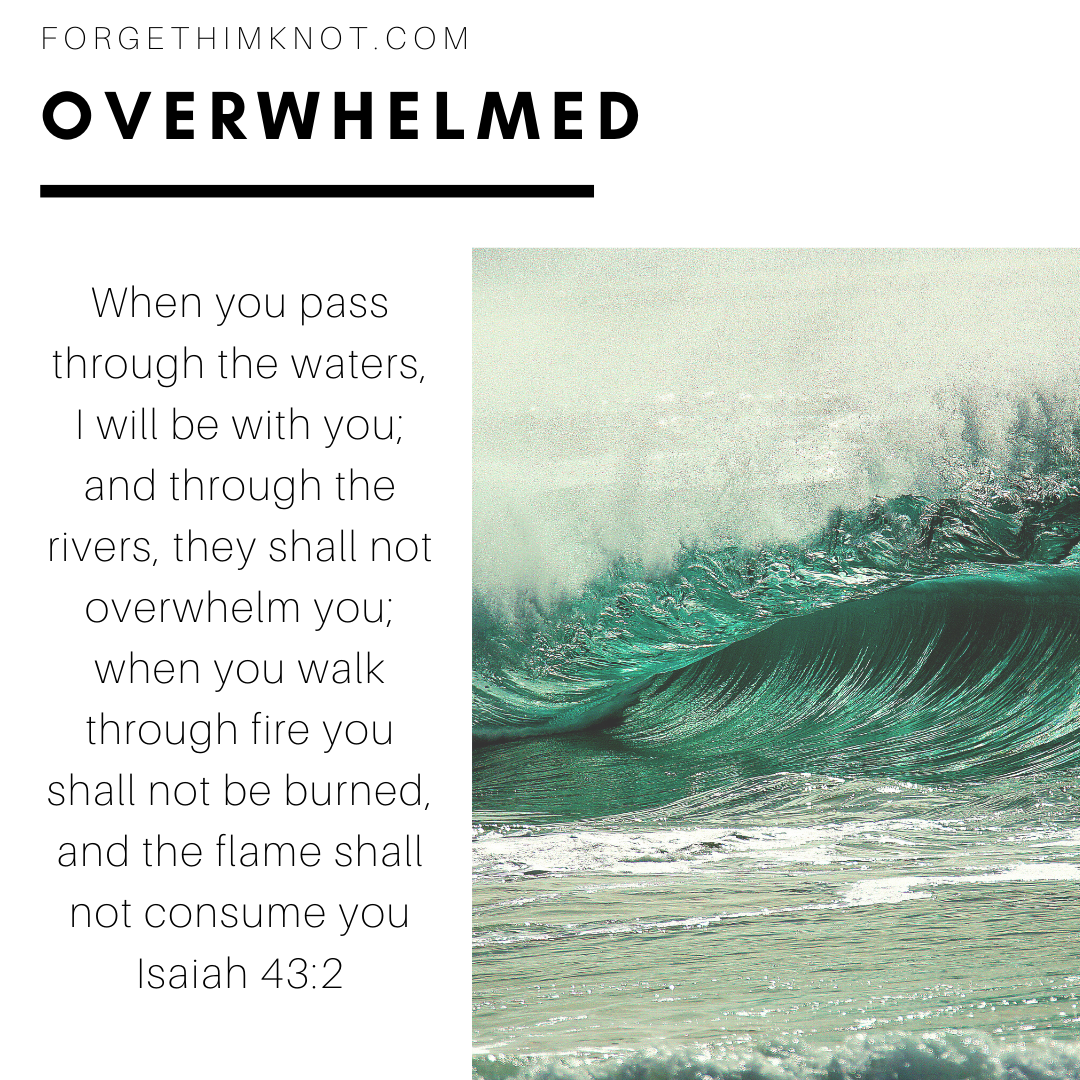 Further down in the chapter of 1 Corinthians 10, God tells us how to avoid overwhelming situations and temptations.
1 Corinthians 10:23-24 & 31
"All things are lawful," but not all things are helpful. "All things are lawful," but not all things build up. 24 Let no one seek his own good, but the good of his neighbor.
So, whether you eat or drink, or whatever you do, do all to the glory of God.
What are we doing that has us overwhelmed and why? Is it for our glory or God's? Has it become an idol and more important to us than God?
See! That overwhelming feeling can be a good thing alerting us to seek God. It is a reminder that what we are drowning in may not be His desire for us. But He is faithful and will be there in the waves. 
Who better to be in the waves with you than the One who created them and can stop them with His words? 
Luke 8:24-25
And they went and woke him, saying, "Master, Master, we are perishing!" And he awoke and rebuked the wind and the raging waves, and they ceased, and there was a calm. 25 He said to them, "Where is your faith?" And they were afraid, and they marveled, saying to one another, "Who then is this, that he commands even winds and water, and they obey him?"
God wants you to be overwhelmed by Him
The feeling of being overwhelmed can alert us that we need let go of something, move on from something, or most importantly, put God first. 
No matter what situations or temptations we find overwhelming us, remember that God is powerful, able, saving and is greater than anything. If you want to know life that is not drowning or covering you and how to be healed from overwhelm, allow Him to overwhelm you. 
Psalm 8:3-4
When I look at your heavens, the work of your fingers, the moon and the stars, which you have set in place, 4 what is man that you are mindful of him, and the son of man that you care for him?
Psalm 57:1-3
Be merciful to me, O God, be merciful to me, for in you my soul takes refuge; in the shadow of your wings I will take refuge, till the storms of destruction pass by. 2 I cry out to God Most High, to God who fulfills his purpose for me. 3 He will send from heaven and save me; he will put to shame him who tramples on me. Selah God will send out his steadfast love and his faithfulness!
Take a peek inside our Membership
We would love to tell you more about becoming a ReMEMBERer.
Access our online Bible studies and resources anytime and anywhere.
Our desire is sharing God's Word and love through creative resources for all learning styles.
When you feel overwhelmed, just remember God has given us reminders in His Word for such occasion.
The Lord can handle your overwhelm. All you need to do is give Him all you have. 
Psalm 77: 1-4 (KJV)
I cried unto God with my voice, even unto God with my voice; and he gave ear unto me. 2 In the day of my trouble I sought the Lord: my sore ran in the night, and ceased not: my soul refused to be comforted. 3 I remembered God, and was troubled: I complained, and my spirit was overwhelmed. Selah. 4 Thou holdest mine eyes waking: I am so troubled that I cannot speak.
God's reminders are that He:
     ● Has overcome all troubles in this world.
     ● Is your salvation. 
     ● Gave us life and saved that life through Jesus. 
     ● Is above and greater than any earthly things. 
    ● He is strong and mighty. 
    ● Gives us rest. 
    ● Loves us.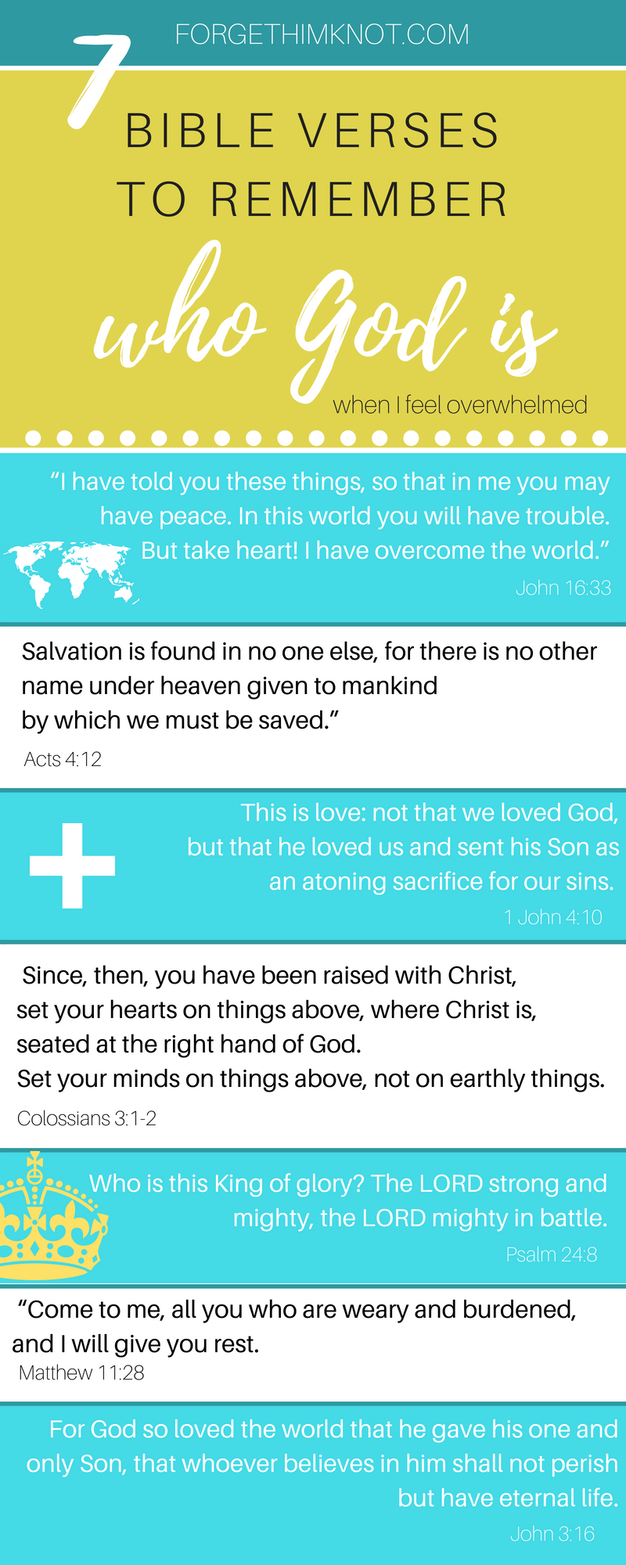 We pray you see His "provision" through your overwhelm! Download this reminder and more in our freebie library.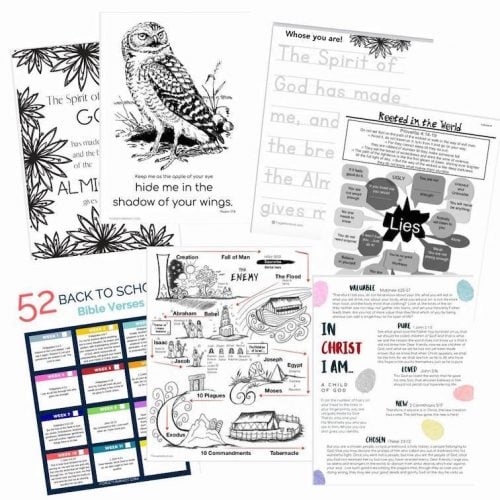 Visit our Freebie Library for Bible verse coloring page, worksheets and printables to help you forget not the Lord!
 A password email will arrive soon!