Wouldn't it feel good to just be "whelmed" rather than "overwhelmed".
Where exactly was the point that over took us beyond whelmed? 
When you are over being overwhelmed remember who God is!
Can we just say, "We're over being over whelmed"…. or would it be more accurate to say, "We're over being whelmed in general?" 
After feeling overwhelmed ourselves, we pulled together 7 of our favorite Bible verses that remind us of Who God is when we feel overwhelmed. We all need the reminders!
There's a saying that "God doesn't give you more than you can handle"….
ummmm that's not true!
Nope!
That verse in 1 Corinthians 10, is often misinterpreted.
God created us with a need for Him… to seek Him and trust Him. 



Of course He allows things that are more than we can handle so that we will remember who He is and our need for Him.

He is faithful!
"No temptation has overtaken you except what is common to mankind. And God is faithful; he will not let you be tempted beyond what you can bear. But when you are tempted, he will also provide a way out so that you can endure it."
Sometimes, in the heat of the fire, we forget that He is not distracted by our circumstances. God is all knowing and faithful.
He has provided a way so that we can endure whatever "it" is that has us overwhelmed. We find that way through prayer and His Word. 
Sometimes, we forget who God is!
When you feel overwhelmed, just remember God has given us reminders in His Word for such an occasion.
God's reminders are that He:
     ● Has overcome all troubles in this world.
     ● Is your salvation. 
     ● Gave us life and saved that life through Jesus. 
     ● Is above and greater than any earthly things. 
    ● He is strong and mighty. 
    ● Gives us rest. 
    ● Loves us.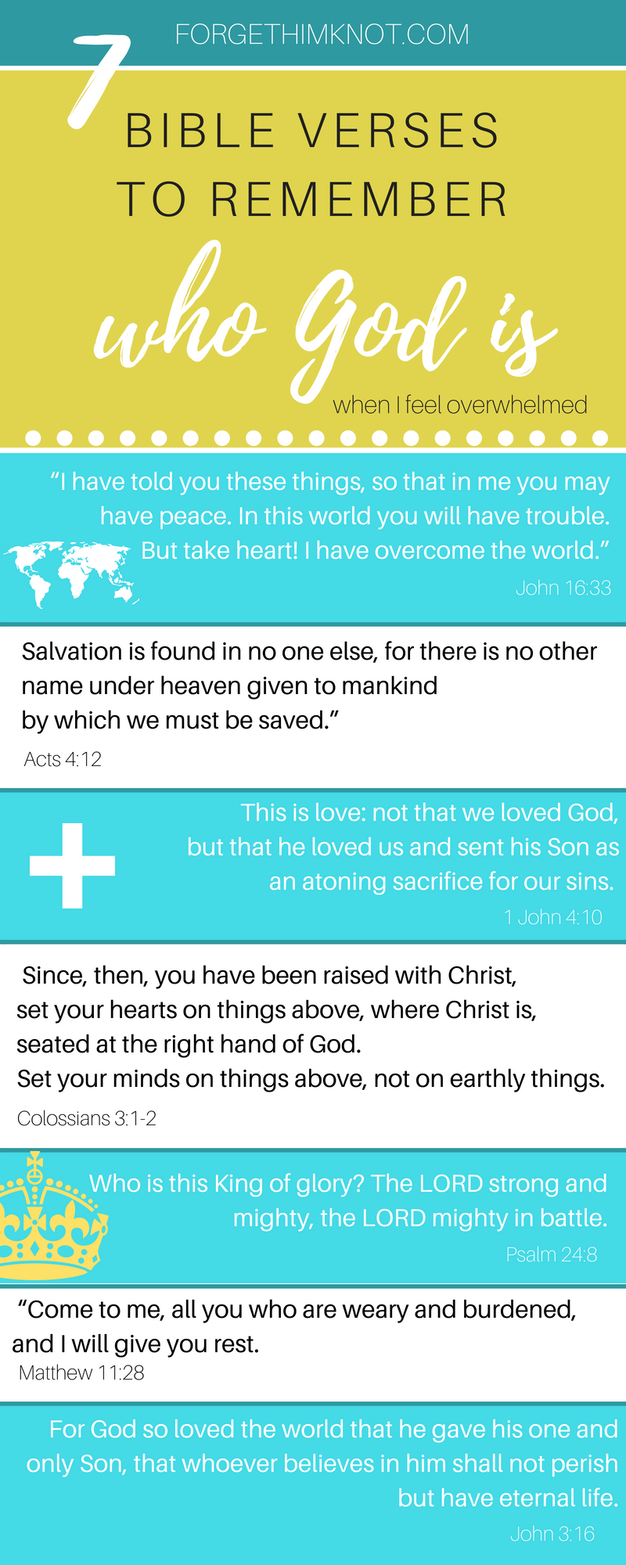 We pray you see His "provision" through your overwhelm! Download this reminder and more in our freebie library.
Bible verses for kids to help them remember who God is!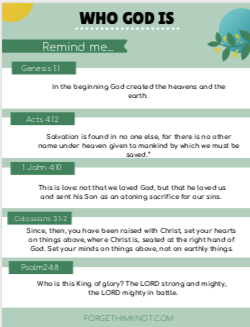 Visit our Christian homeschool for more tips and ideas.
  forget Him knot!