Bible Verse Handwriting Workbooks
As Homeschool Bible and Art teachers for homeschoolers, we love when Art and Bible combine into something simple and beautiful. Creating Bible verse handwriting and Cursive workbooks allows us to do what we enjoy, helping kids know and remember the Lord.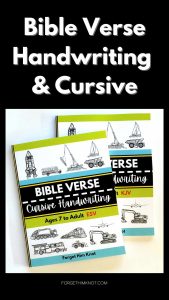 Handwriting Copywork Practice
We've raised both our families and can tell you first hand how important handwriting practice is to future adults having good penmanship. If you remember your primary school years and the many times your teacher or parent had you copy something over and over, you probably remember all the rules you learned. 
That's because you engaged multiple learning styles and techniques in those early years. Our brains remember the muscle movement and forming of letters. 
Wouldn't it be wonderful if the practice of letters, words and sentences would also make an impression on your heart? Copying God's Word in your penmanship not only improves your handwriting but can also draw you closer to the Lord. 
That's where creativity comes in by combining penmanship practice with Bible and Art. There are many subjects, items and themes that can be created with Scripture! 
Bible Verse Handwriting and
Cursive Books
One day while playing with the grandboys who love cars, trucks, construction and rescue vehicles we realized that every vehicle has a purpose. They are all on the go to somewhere doing something. 
After talking to the Lord about this, the idea to create a Bible verse coloring book with transportation and construction vehicles. On the Go with God shows us that each vehicle's purpose can remind us of Christ.  This was a springboard for us to also create Bible verse handwriting workbooks and Bible verse cursive workbooks.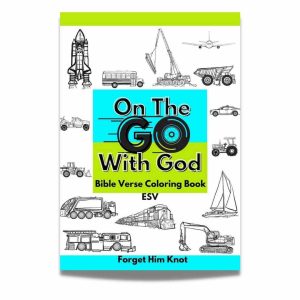 Dot Markers Activity Book, Handwriting  Handwriting and Cursive Workbooks are Available in King James Version and English Standard Version. 
Inside our On the Go with God series, you will find transportation, construction vehicles and more to color with  art supplies of your choice. Each page is filled with Bible verses to remind you that every vehicle has a purpose and so do you!
We find practicing cursive necessary because many schools have stopped teacher cursive handwriting. But if we stop being able to read cursive we will miss out one day on the opportunity to read important Historical documents such as the Constitution, and poetry and letters written in the past. 
Dot Markers Activity Book, ABC Learning and Handwriting Workbooks are Available in King James Version and English Standard Version. 
These Bible verse handwriting workbooks are just some of our products we have created for boys, girls and kids of all ages to improve Bible knowledge and penmanship. 
You will find Who You Are to help kids remember whose you are.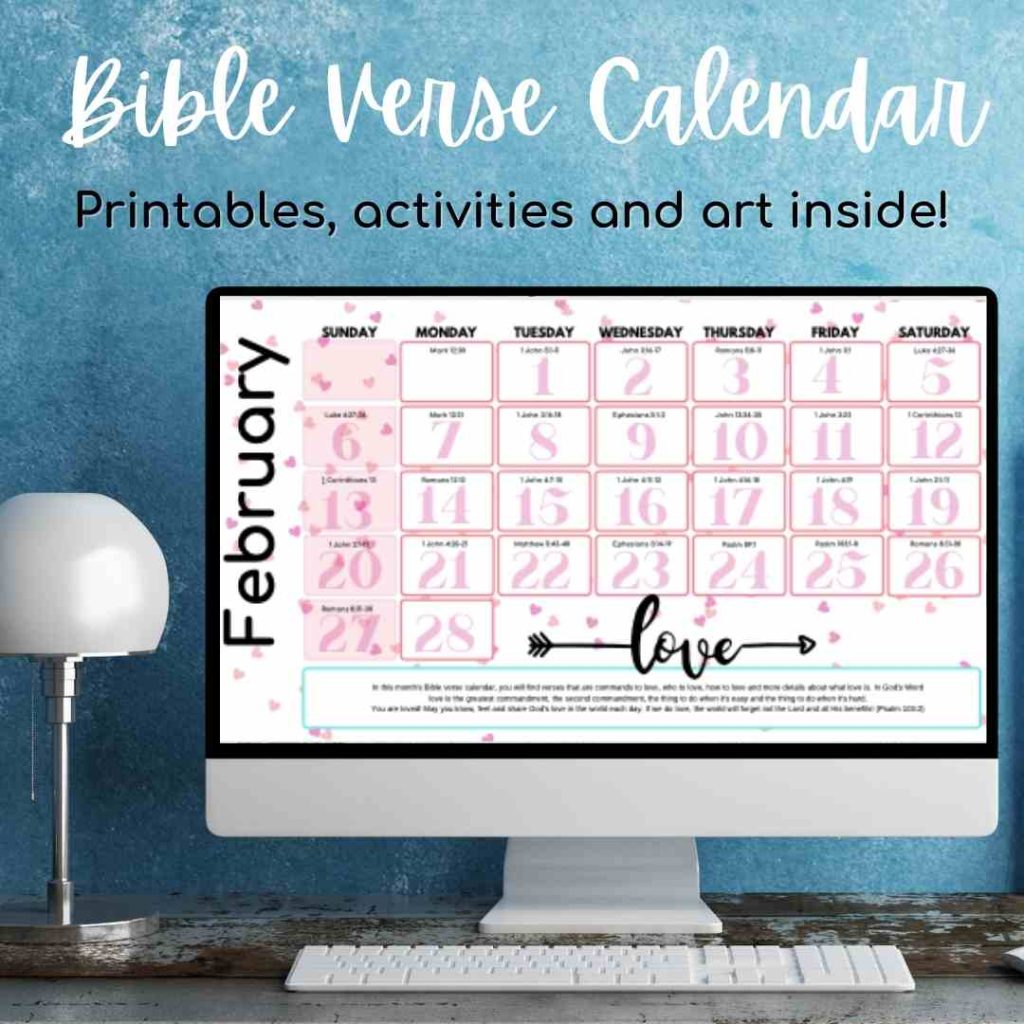 Each month we create a themed calendar linked to Bible Verses in the KJV and ESV. But we include printables, coloring pages, activities and Art lessons! Use these for daily Bible reading, study or Scripture memorization.