Are you looking for something different for your wedding guest sign in area at your wedding? Through the years, we've seen just about every "guest sign in" idea imaginable.
Having a memento of the people who were at your wedding is special. What will you do with your wedding guests signatures? Some brides cherish a guest book while others pack it away to be forgotten.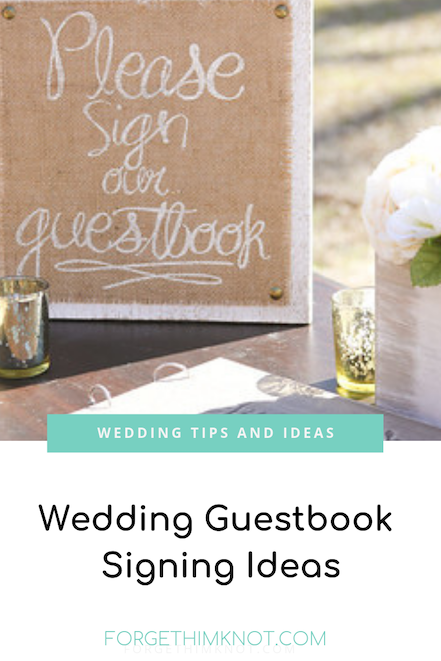 We've seen brides want something that can hang in their homes as reminders of their day.
 We searched through Hobby Lobby for ideas to help find a creative guests sign in idea and you save money! *post contains affiliate links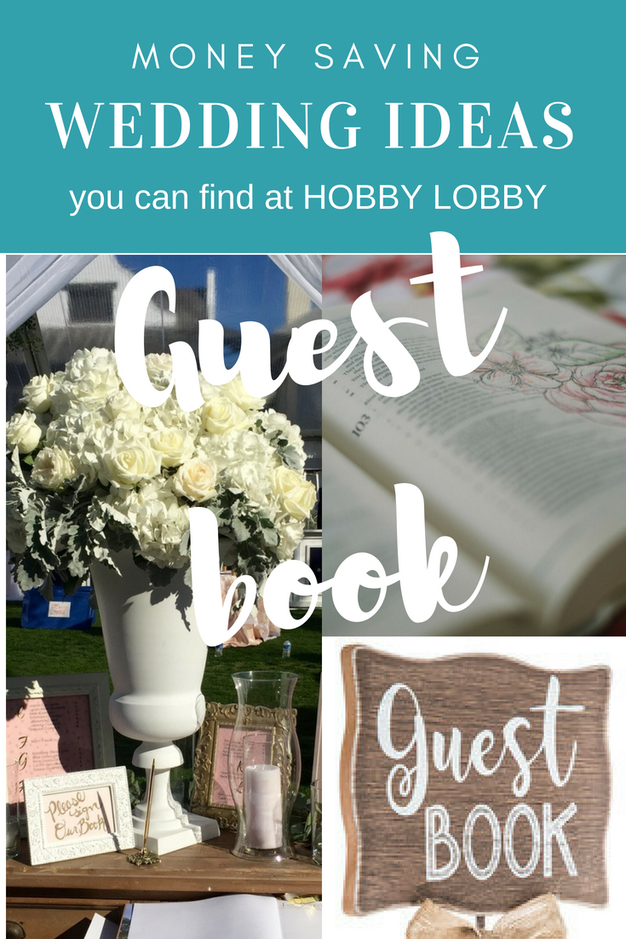 On your wedding day, capture your wedding guest attendance with a guest sign in area. If you are the traditional kind of bride, you may choose a gust signing book. At one time we would have told you that guest books aren't something used all that much anymore.
This generation of readers tend to use online books instead of the "old style" of paper. It's surprising to us that none of the brides we have been honored to work with have used an iPad for guests signatures!  It's probably out there somewhere…… 
We look for ideas and creative resources to help you save money and find what you need. Usually that means we spend hours in Hobby Lobby!
Someone has to do it! (smile)Even when we don't have a wedding or project to do, we go for the creative inspiration.  
Wedding guest book sign in ideas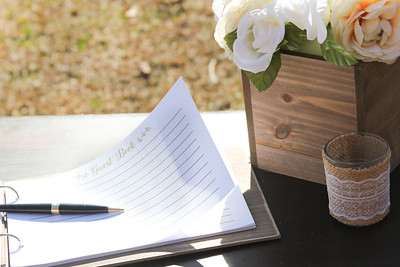 A guest sign in book has been the standard traditional guest sign in and can later be easily stored on a book shelf or coffee table to look through years down the road.
On any given day (except Sunday of course) we can find guest books on the shelf. Fabric covered books in cream and ivory satin are standard designs, some with bows or rhinestones. 
The burlap guest book is great for the rustic or vintage bride. They also have a wooden guest book with a wood burn script on the front.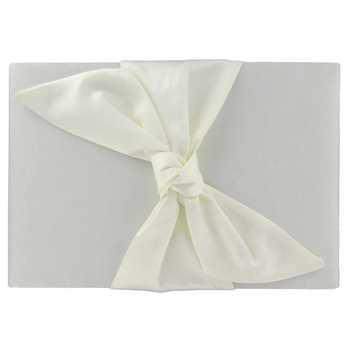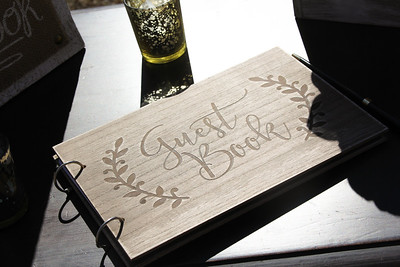 Don't forget to let your guest know what you want them to do. Signs are great for this! Rustic wood and burlap and gold for elegance. If you are using a guest book, the simple "please sign our guest book" is sufficient.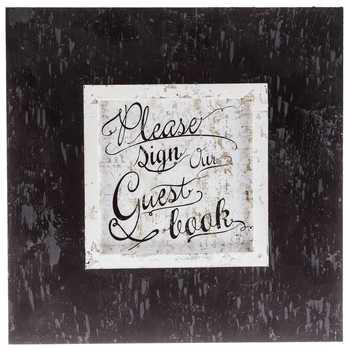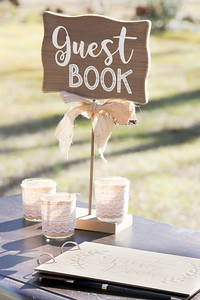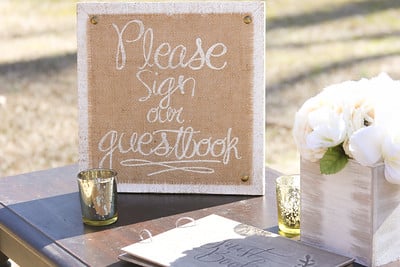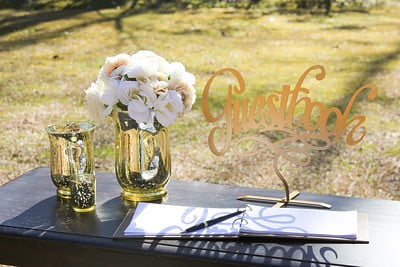 But if you are wanting something different to use for guest to sign that you can display in your home, you just need to think about something that is YOU! 
Wedding guests shadow box sign in frame
We enjoyed seeing a bride use a guest shadow box. Guest signed small wooden heart shapes and wrote their well wishes on them. Then the signed hearts were dropped into a small hole in  the back of the shadow box.
We could watch the hearts slide into position as they went down to rest on top of each other. 
Guest book sign in wood slice
My son and daughter n law wanted a wood slice for guest to sign. She keeps it on their dining room table as a base for her centerpieces. I had grand designs to wood burn "Cooley" into the wood slice but with all the happenings surrounding a wedding, my woodturning skills were sorely lacking. Instead, I wrote on the slice with a brown Sharpie marker.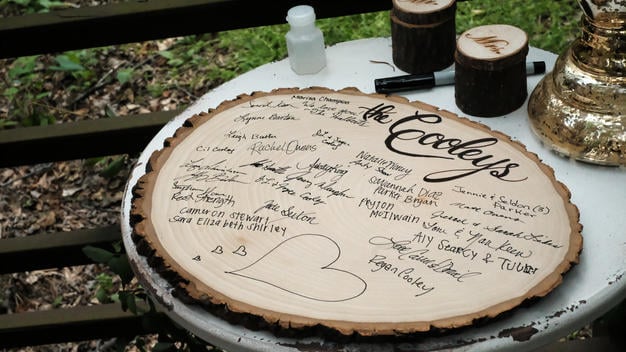 Large letter guest signing memento
A large "letter" or initial. If you are wanting something to hang as art in your home, you can find pre made "initial" wall art. Large letters can be found in multiple materials of paper, cardboard, metal wood and chalk board black!. Most materials can be signed with an extra fine Sharpie marker or a paint pen.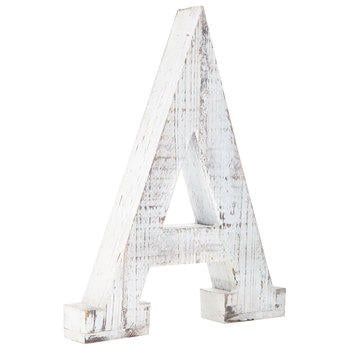 Make your own wedding guest signing idea
Make your own sign-in if you don't see something that's just your style. Look at the unfinished wood signs, metal or a canvas to add your creative flair. Markers, paint, or decals, can be added to personalize your item.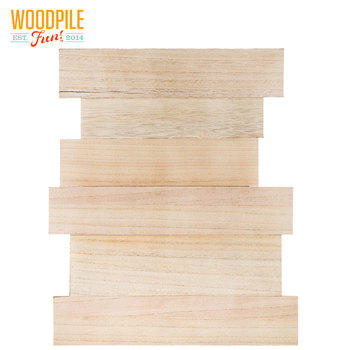 Canvas wedding guest sign-in
Canvas and initial.You can find artist canvas in all shapes and sizes. Just like the wood signs, you can paint, sticker or decoupage your initials, last name and wedding date onto a canvas. You guest can sign their names all over the canvas with pens.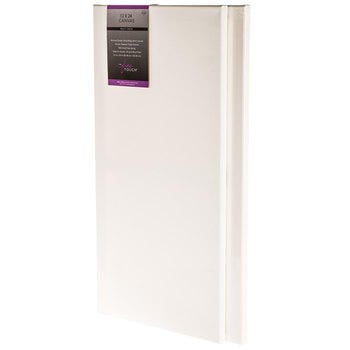 Purchase the flat wooden letters to create your last name or just an initial, paint or stain it and glue to the canvas. Great diy project for a keepsake!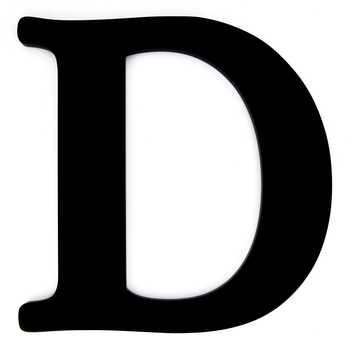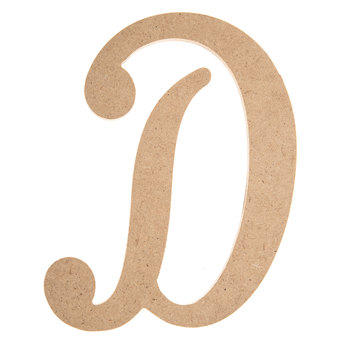 What not to do…
Now for a moment to caution you about those "trendy" canvas ideas. A pretty painted canvas' with trees for guest to place their fingerprints is gorgeous artwork, but they are not  practical.
Don't get us wrong, we think they're pretty and a lovely sentiment, but sadly, not all guest are coordinated enough to execute the plan!  We've watched people touch an ink pad and smear, smear and smear on the canvas. Unless you've played with ink and finger painting recently, that motion is not normal for most people.
Confusing when the sliding glass doors or the front of the stainless steel refrigerator would tell a different story! Right? 
But nope, rarely are those fingerprints what a bride envisions. Most become smudged by those less than artistic and if your guest are nicely dressed, they aren't looking to finger paint.
Many guest see the paint or ink, realize the concept and walk on by to sit for the wedding ceremony. They don't sign with their fingers because it's messy!
If you do want this as a gust signing moment, make sure you have baby wipes for your guest… and you might want to hold your ceremony for a good 15 minutes late. It takes guests longer to ink and fingerprint. 
Wood bench for wedding guest signing
Do you like to sit on your front porch, take a garden stroll or read a book in the yard? Then you might think about a wooden bench for guest to sign.
After guest have signed the wood, you can seal it with a protective coat of acrylic or polyurethane. Your bench can be natural, stained or even painted to mach your personality or decorating style! You can have a memento to sit on for years to come. How great would it be at your 50th anniversary to still have that wedding bench?
You can make your own or order one in your stye. The bench can be used in your home or on the front porch! The styles will vary from season to season, so you may find something similar to these.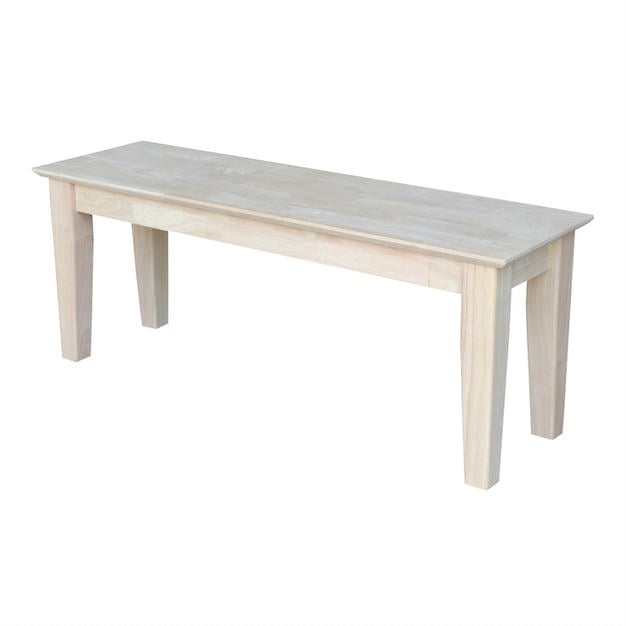 Journal Bible wedding guest sign-in
My daughter chose a journal Bible that had a lined column along the sides for guest to sign. You can add art work or plashes to  pages. Guests can underline, circle or highlight their favorite verse and in the side column, write special notes to the happy couple.
Hobby Lobby does have a selection of Bibles. Of course we doodled flowers on our mission verse of Psalm 103:2!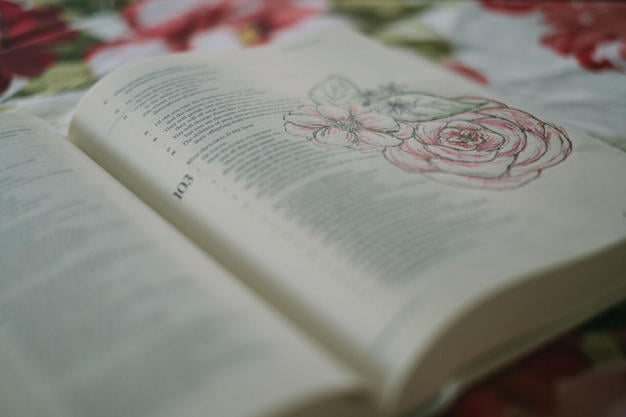 Photo by Evan Travers
Wedding guest box sign in ideas
Keep sake box. Use a box to hold special keepsakes! What special items can you store through the years?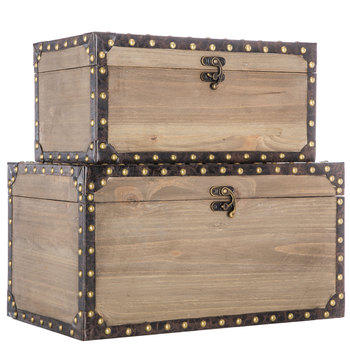 What will you use for a guest sign in moment? Let us know if you find something outside the box!
Look for other ideas on our Wedding Resource page.