Have you seen the silver tray wreaths on Pinterest?
They are beautiful, but can be costly with real silver. The idea struck us to make an easy DIY silver tray wreath with Dollar Tree metal trays.
Recreate your own silver tray collection wreath on a much lower budget. We will share our tips to add a faux tarnish to your trays for an antique look.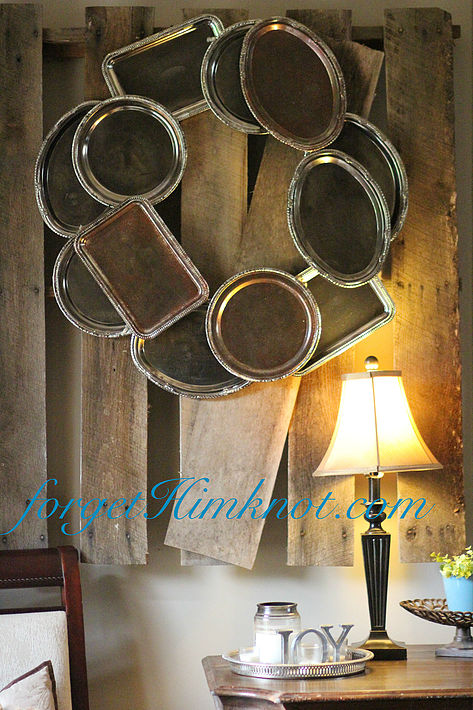 How to make a silver tray wreath
Oh Pinterest, Pinterest… how you do torture us with beautiful things that we do not have the budget to possess! One of the first pictures we pinned to follow when we began the black hole of a Pinterest account was this beautiful silver trays wreath.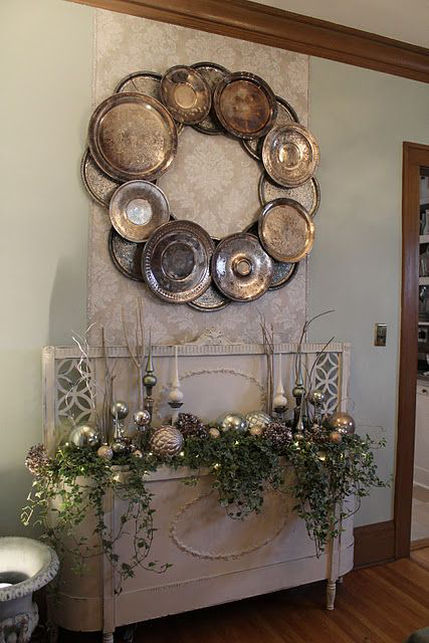 We later saw one at a show home in Birmingham that was similar except it had bowls attached to it as planters. 
As lovely as these wreaths were, the common issue was the cost to recreate…. silver's not cheap! 
Finding a less expensive solution was in order….. Hello Dollar Tree!
The Dollar Tree has these very shiny silver tone metal trays. They are in various shapes. Did we mention they are shiny?
Just a bit too shiny for anything in my (Carrie's) house. There was a time when we would have polished silver to that gleaming see yourself beauty, but we just don't have the time now.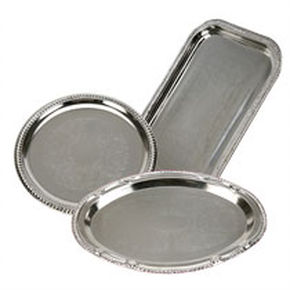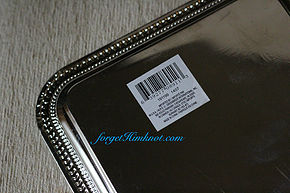 If you are a shiny silver sort of girl….. jump to step 1.
Add a little faux tarnish
We happen to love me some tarnish effects. Copper when it patinas is lovely!
Give us some rust.
A well worn weathered look.
We even like some tarnish on our silver because it highlights the details of the piece.
Paint is cheap y'all! And it doesn't take years to achieve an aged look. 
There are several methods that will achieve a faux tarnish effect. With a metal effect spray paints like hammered metal, patinas and a flat black, just lightly mist your metal trays.
Or  use acrylic/craft paint and a foam sponge to dab on and off of the areas you want to tarnish.
(Carrie) wanted tarnish with copper, black and some of the shiny silver.
I used the dab on and off acrylic paint method because…. well because it was handy and less expensive. But this can be scratched off if it is not sealed. It's just hanging on the wall and no one scratches it so I opted to not seal it.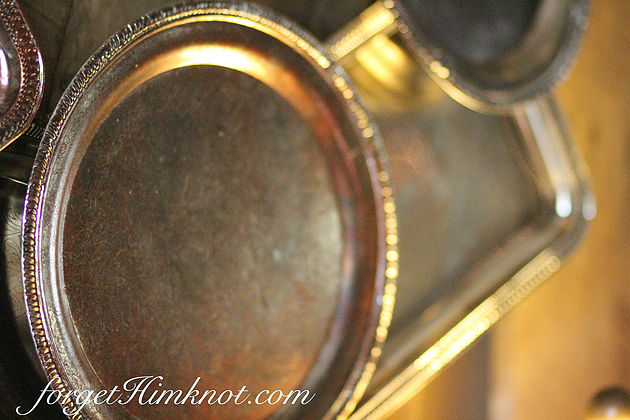 Silver tray wreath instructions
Step 1
Grab some card board and cut the shape you want your wreath to be. (circle, oval, square, rectangle, triangle). This will be your backing and structure for your wreath. 
Step 2 
Once you have your desired shape, you'll need to decide how full and layered you want your wreath. The more full and layered, the more trays you'll need…. and the heavier it will be. Take this into consideration as you grab your card board for sturdiness.
Step 3
Play around with your layers to have the look you like. Your design will vary depending on the shape of trays you purchase and how you choose to layer them. Make sure to snap a picture so you will be able to duplicate this. 
Step 4
Cut out the center of card board leaving a ring wide enough to hold your bottom layer of trays and not be seen. 
Step 5
Using a metal to metal adhesive (Gorilla glue and E600 have these. I tried to use hot glue but it wouldn't hold) begin to glue the first layer to your board all the way around your template. It's good to let this dry before getting too glue crazy.
Step 6
If you are layering your trays, you will need to double check where you are placing the second layer tray and place your adhesive on the highest points of contact. The bottom of your top layer tray will be glued to the rims of your first layer.
There's not going to be a lot of surface area receiving glue, so make it count! Allow to dry.
Step7 
Flip it over and glue twine or wire in picture frame fashion to create a hanger. I was able to use a nail to set my wreath on and balance it where it was needed. Hang your wreath by a ribbon or wreath hanger.
My wreath used 12 trays of various shapes. The total cost was less than $20.00!
Supplies for silver tray wreath
metal trays
adhesive/glue
a piece of card board and scissors
Spray paints or acrylic/craft paint
Whether your style is shiny silver or tarnish your Dollar Tree wreath will still be lovely.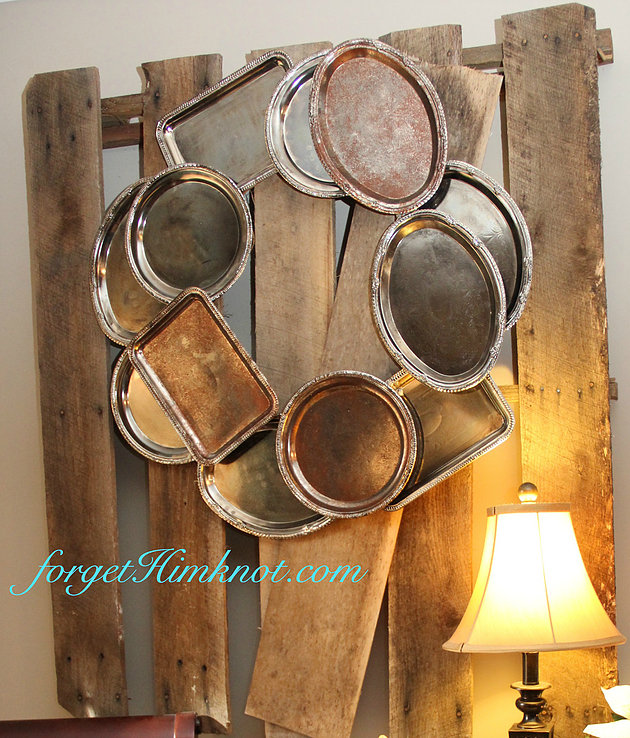 (Photo by: Chelsea Ray Photography)
This one reminds me that I'm a sinner saved only by the grace of God. I'm a silversmith's work in progress being refined to reflect the image of my Savior. I'm still a bit tarnished….but He is my God.
Zechariah 13:9
This third I will put into the fire; I will refine them like silver and test them like gold. They will call on my name and I will answer them; I will say, 'They are my people,' and they will say,
'The LORD is our God.' "
Forget not the LORD!  Psalm 103