Over the years, I've had some sort of wood "shiplap" walls. Maybe not always in the Joanna Gaines style, or white…..but a wall of wood.
The tv wall in our living room has black wood left over from our New England Pine floors.
The dining room has a faux reclaimed wood painted wall. (see diy here). Or using wood for a shiplap art piece we made at Nina's house. 
Wood is good!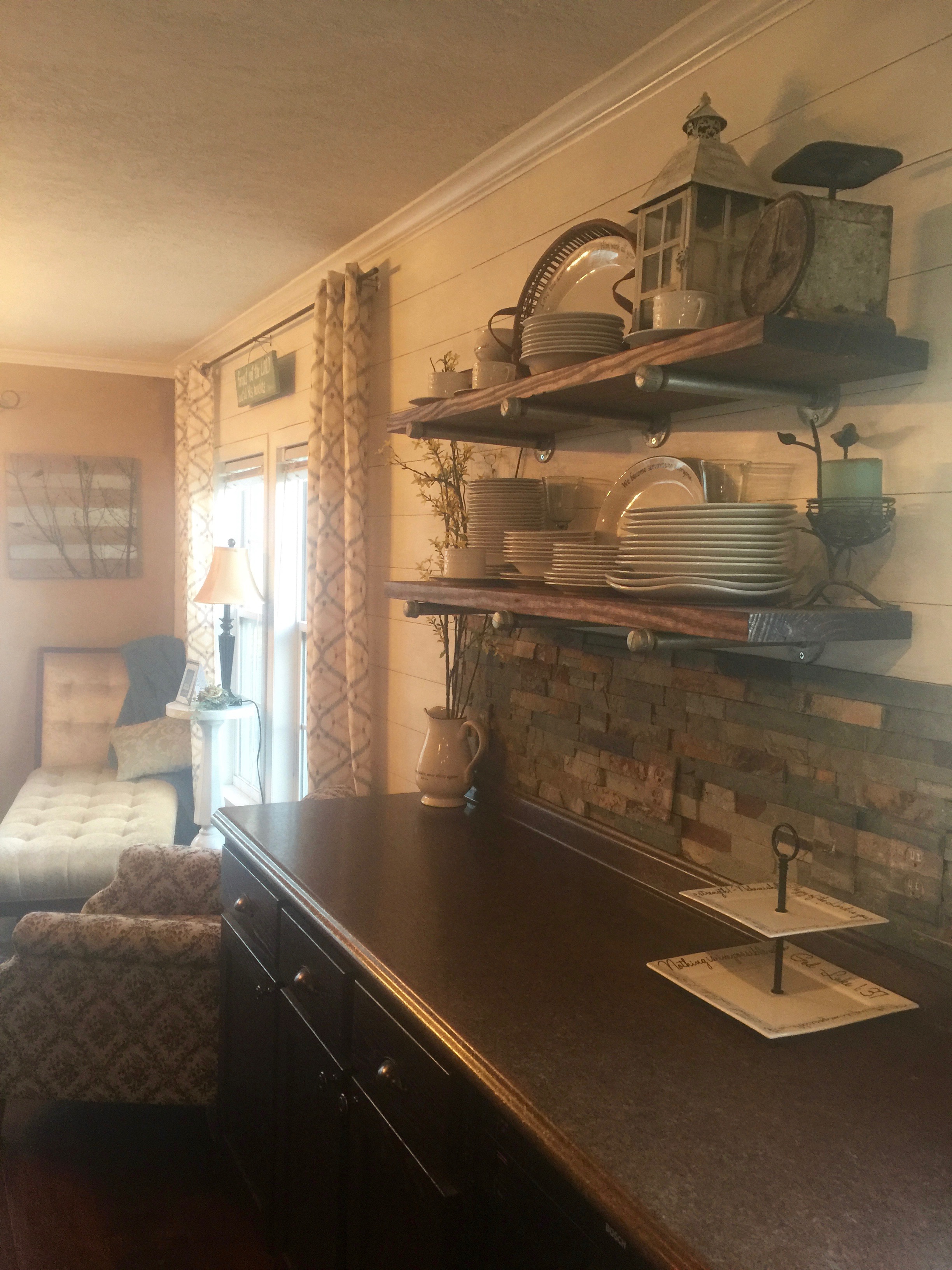 Wood wall kitchen makeover
For home decor style, I love wood walls in all its various forms.  I have wanted to paint the kitchen cabinets for a few years now, but the family just wasn't for it. And truth be told, I haven't had the time for such a big project! 
But just about every night I would paint and repaint the kitchen cabinets in my head.
'Does anyone else do that?
My problem?  The kitchen has felt dark and heavy with dark stained cabinets.
Pinterest gets me in creative trouble… is it just me? 
This is where Pinterest and HGTV gets me in trouble. I kept seeing open shelving in kitchens. Kind of reminds me of Waffle House with white plates in ready reach.
Again, does anyone else get excited about waffles, eggs, hash browns, grits and bacon? 
How to combine open shelving, wood walls and Waffle House and do it on very minimal budget! 
 We purchased the underlayment plywood from Lowes.
A 4×8 sheet is about $13.48. I needed 2 sheets, which we had cut down into 6″x8′ strips.
There's two looks to this plywood, a textured grain side and a smooth. I wanted a little more rustic so I used the textured side to be what you see on the wall. 
Hubby and I removed the 4 cabinet unit from the wall (which has been repurposed over the washer and dryer in the laundry room, win-win).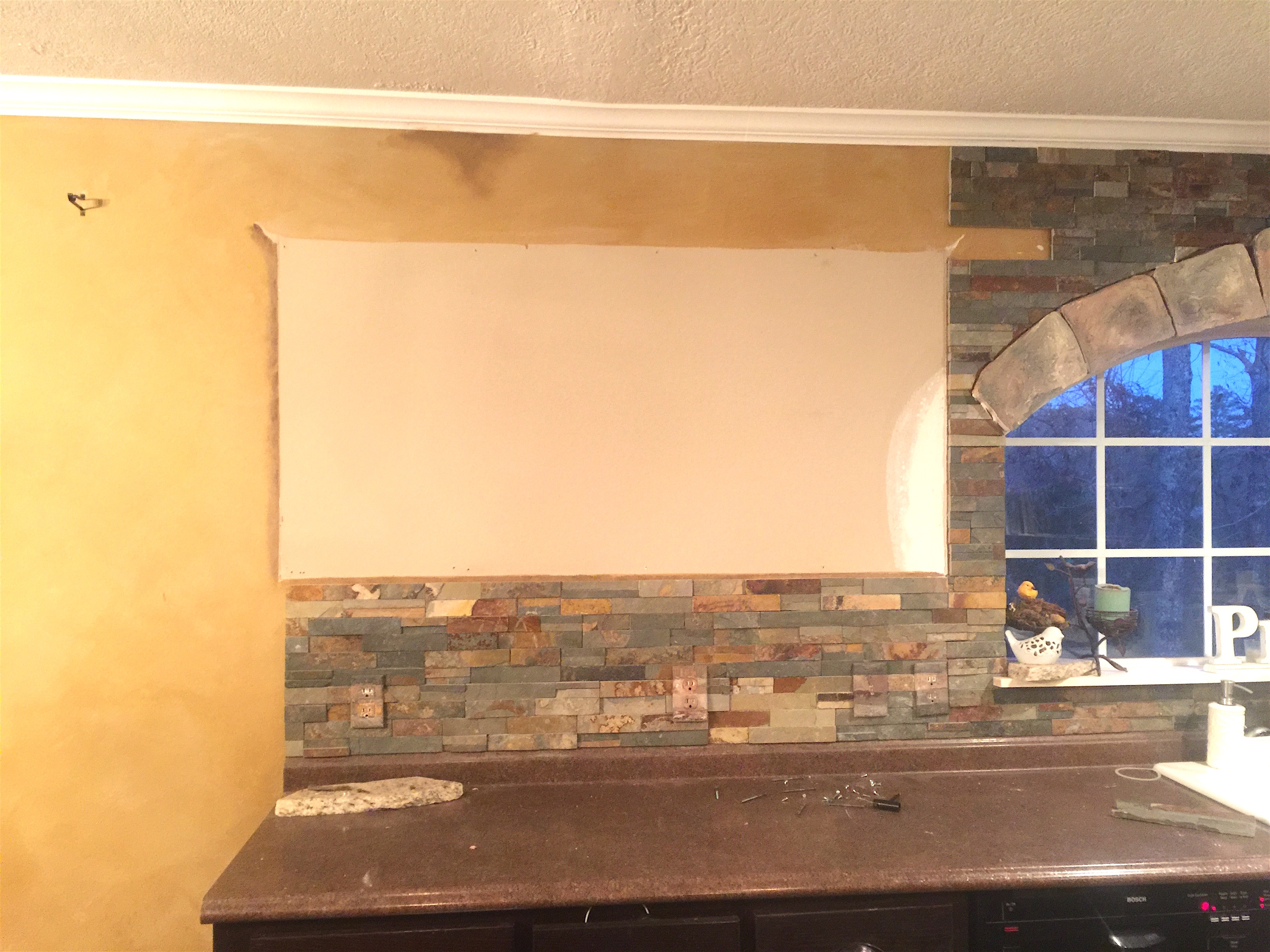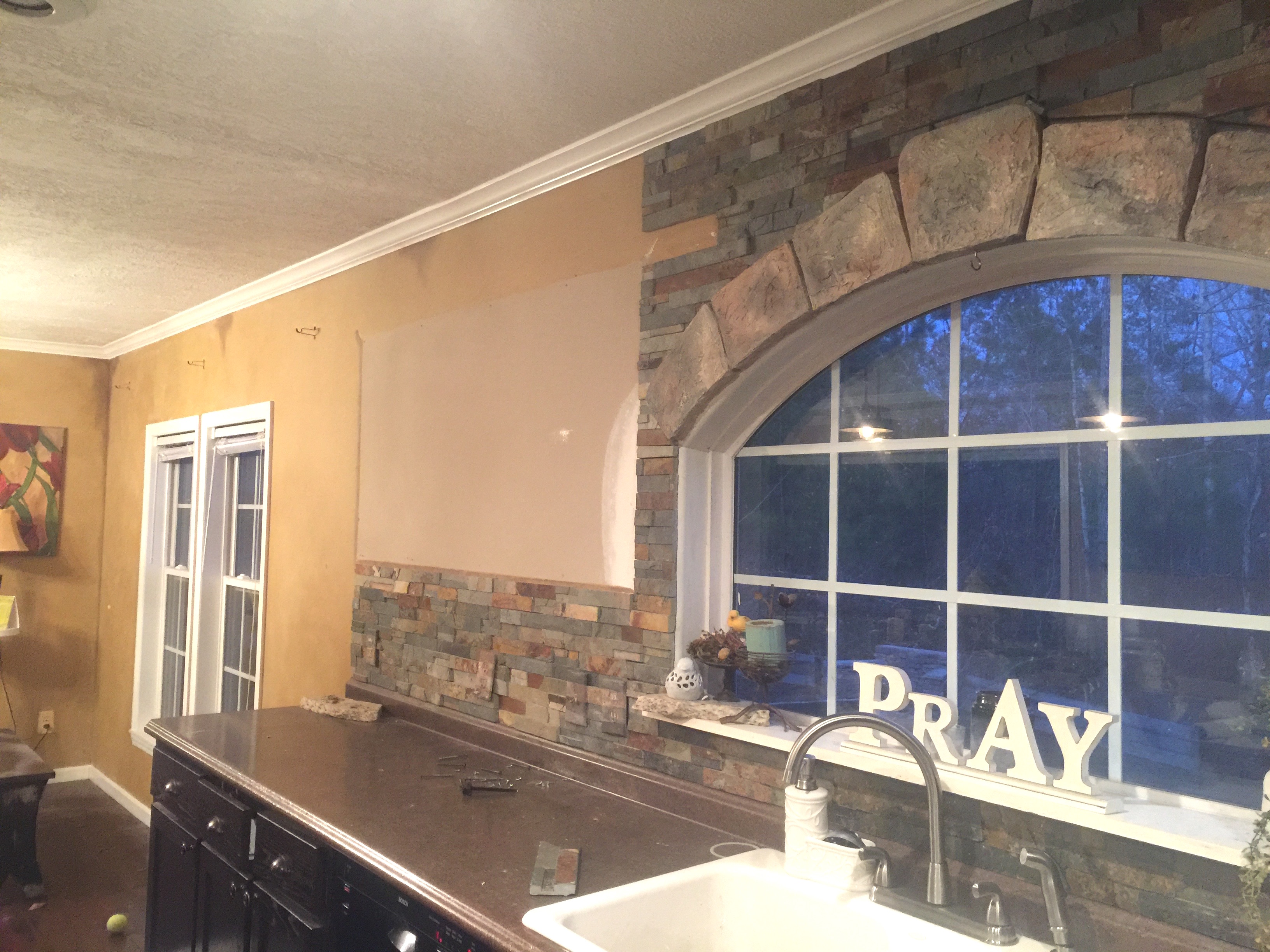 Starting at the ceiling, we began to nail the wood to the sheet rock. We used a finishing nailer and very tiny nails.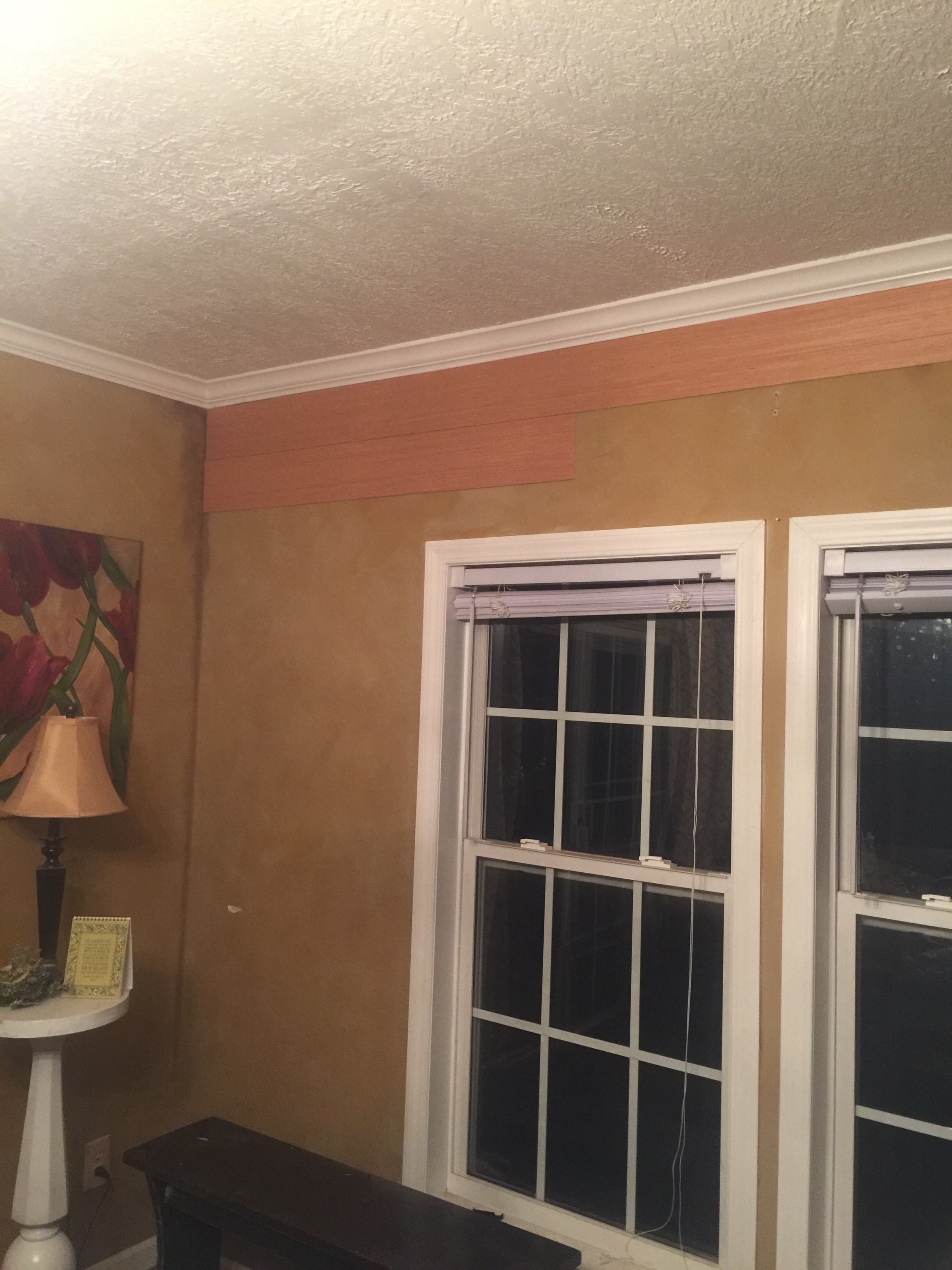 You can decide how you want the wood pattern to layout. For us, we just wanted a random rustic look.
Because neither one of us are OCD about this…..so far, we were just careful to not have two seems line up. We used pennies for spacers!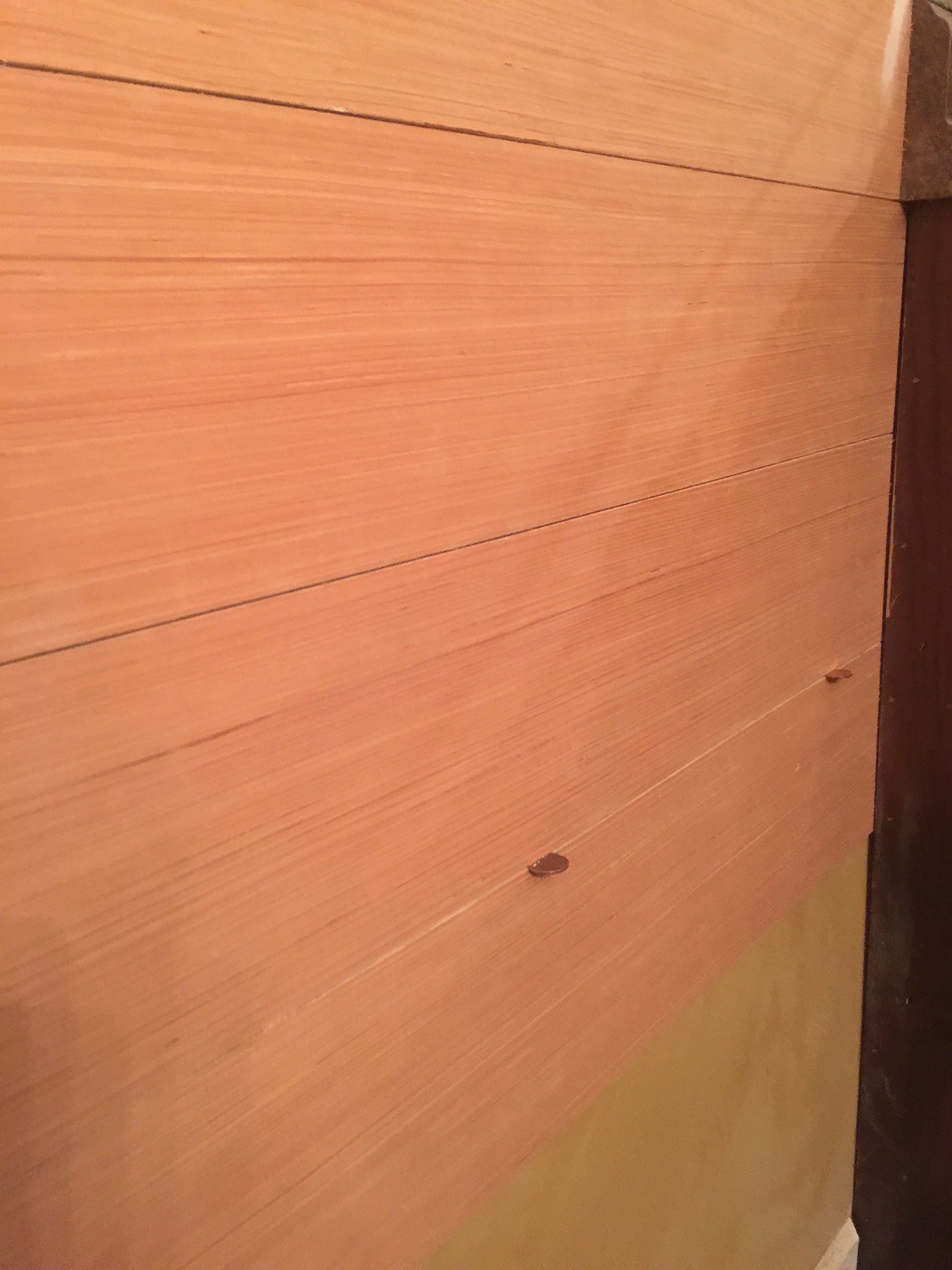 Great weekend project for husband and wife
Once we worked all the way down and across the wall, we made our cuts with a Dremal working around the window frame and wall plugs. Since we tend to work well together and at the same time,
Finally, I began painting the wood as we moved down. Because we are also both impatient to see the finish….. and I don't do well at standing around doing nothing. Yes, I painted over his head and around him….he's used to it.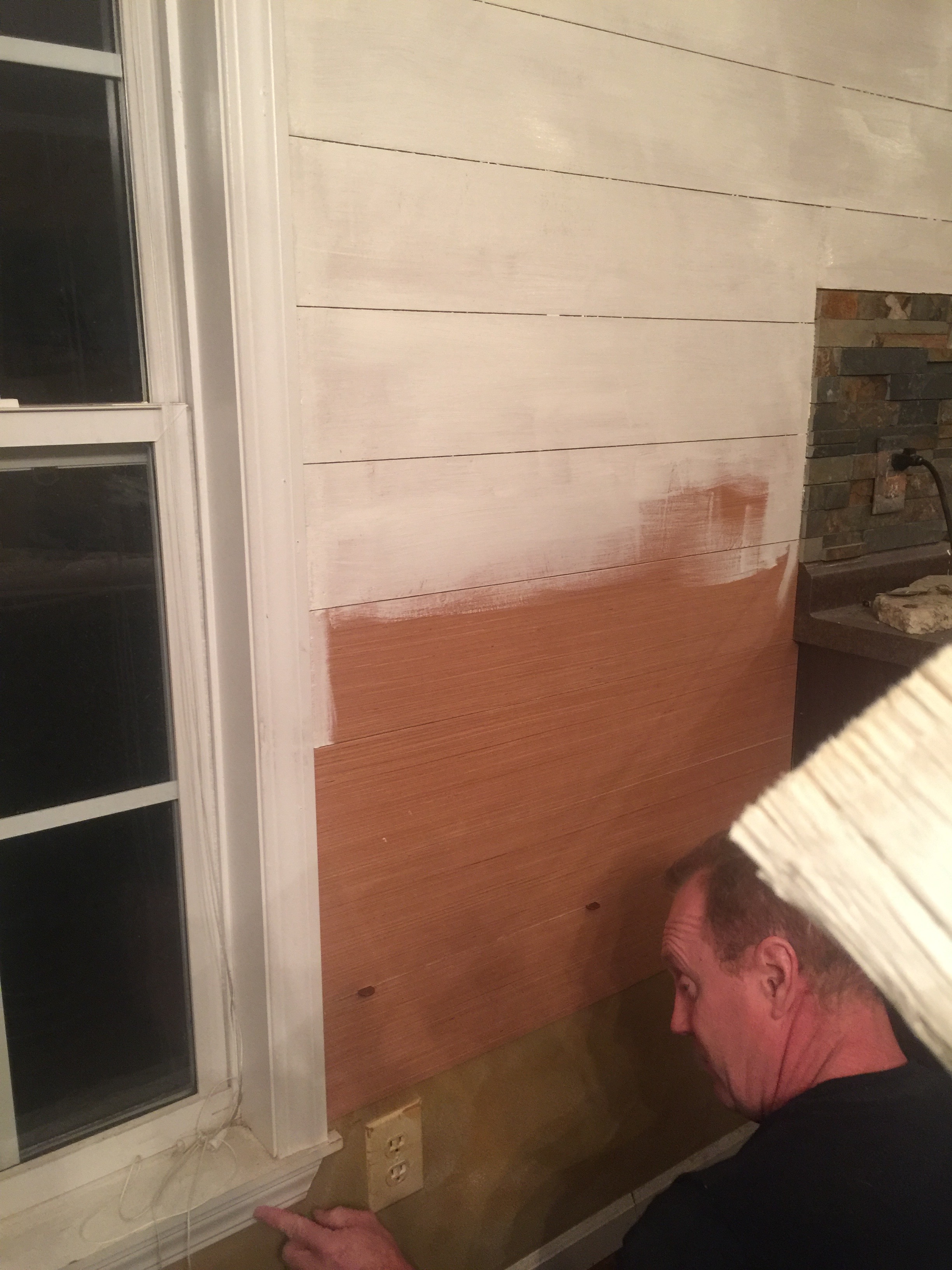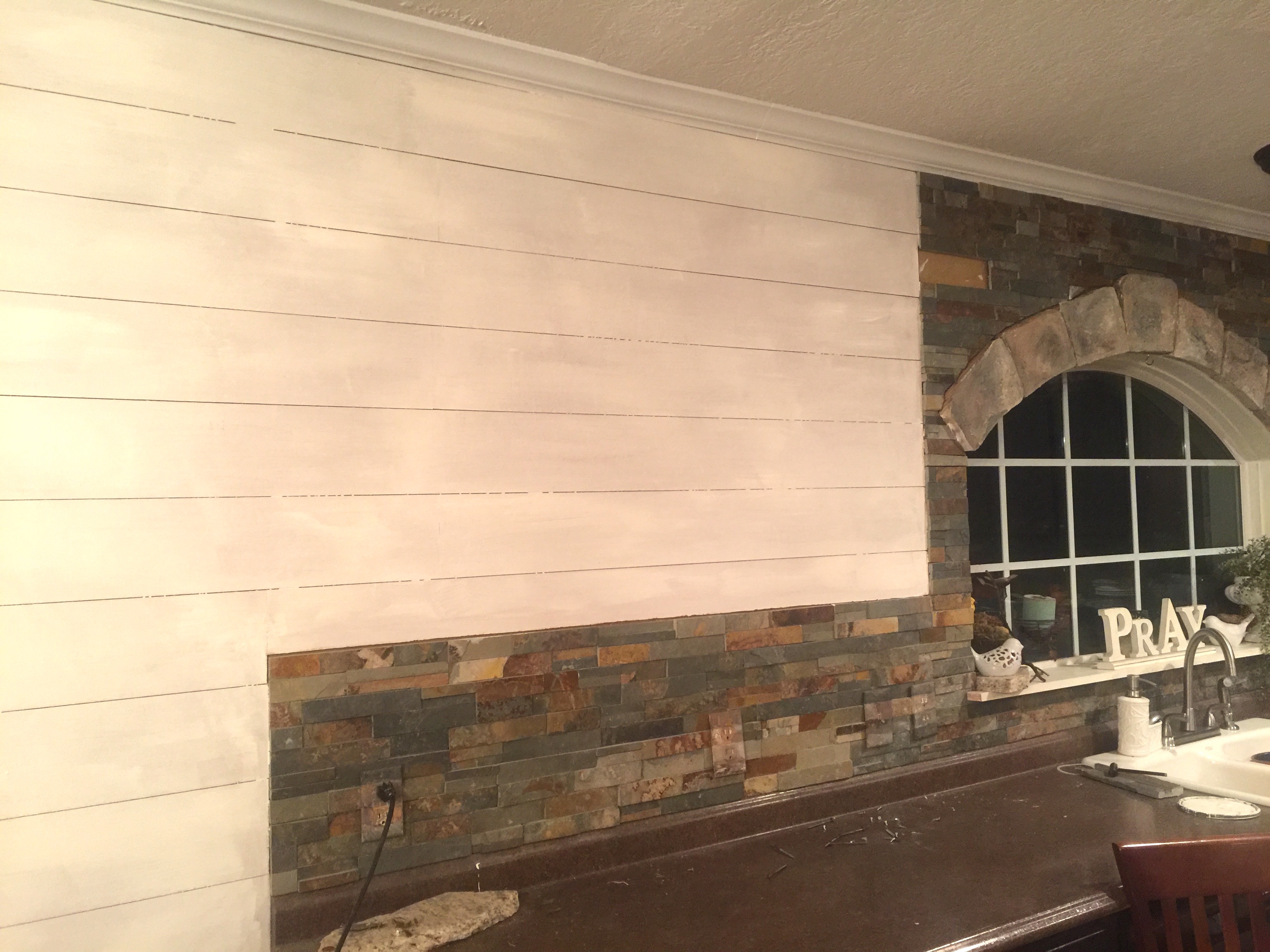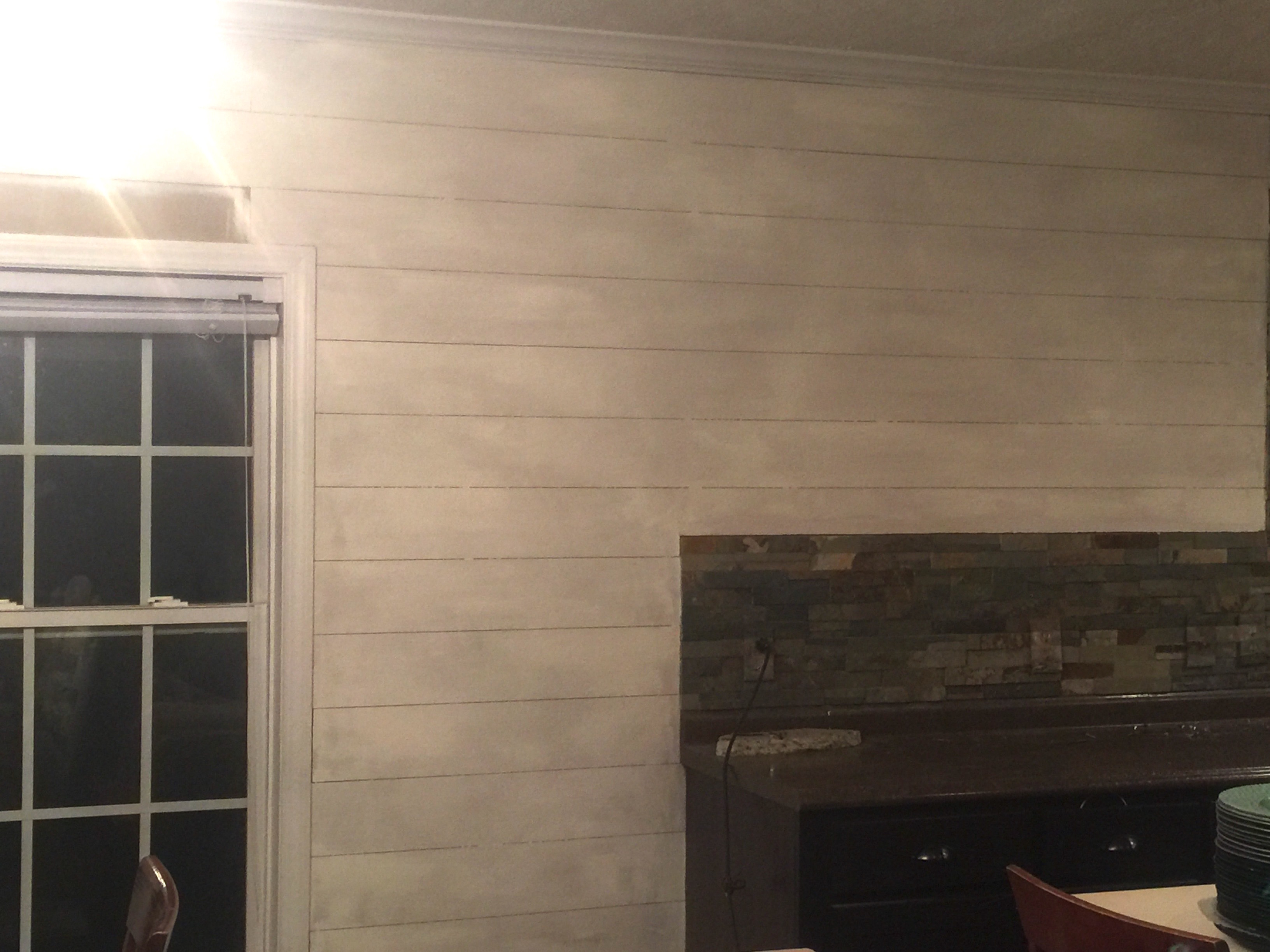 For the open shelves, I love love love the industrial rustic-ness of pipe and flange shelving. I knew we would be placing a heavy set of dishes and using a heavier wood as shelving so I wanted to make sure we had support.
We opted for 3 sets per shelf.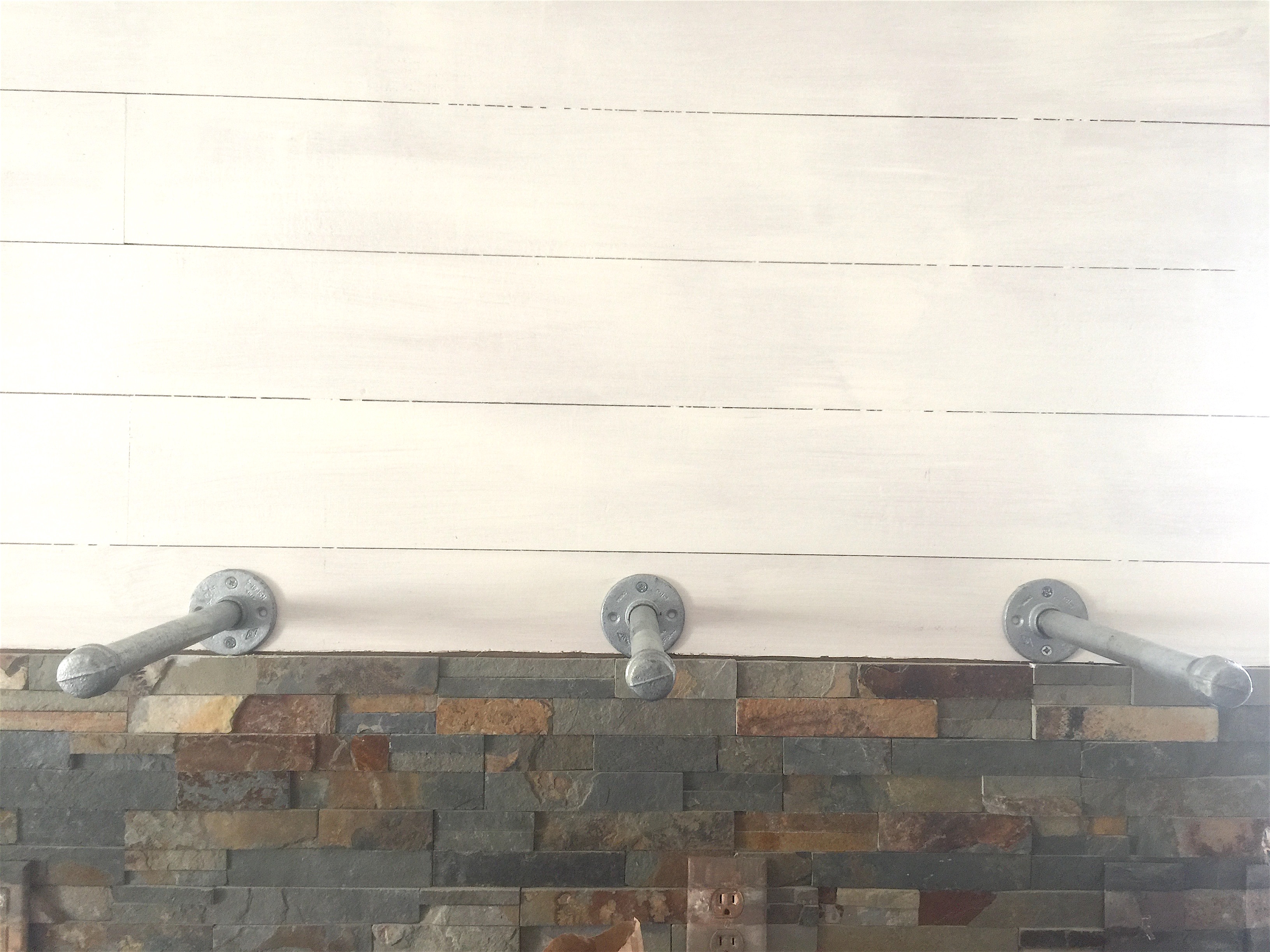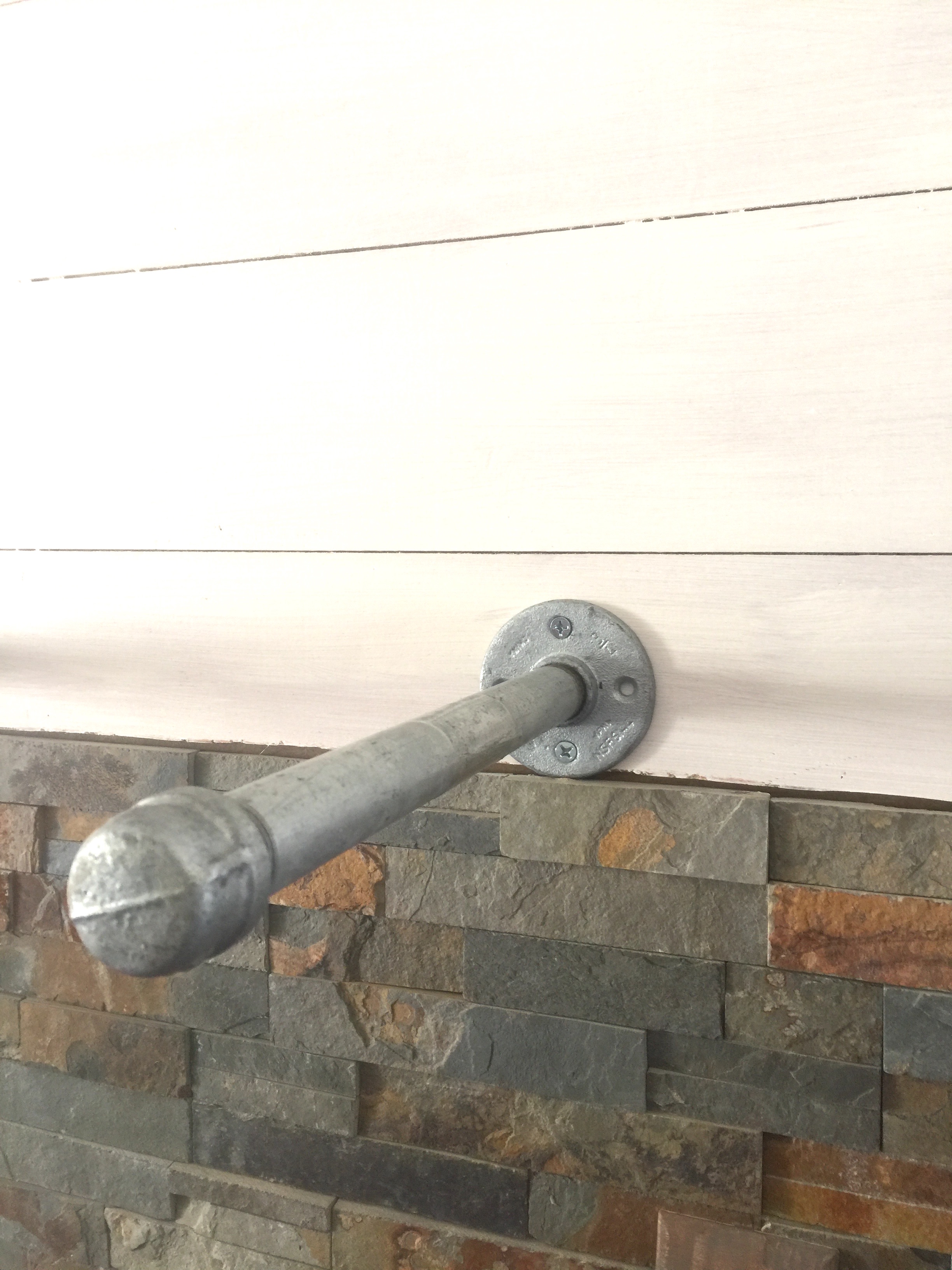 Cost for the piping ($35.00) and a 2x12x10 ($25.00) wood board for a shelving total of $60.00!  Hubby attached the flanges to the studs in the wall. 
Then we screwed in the pipe and added a cap. Each pipe piece was 12″ long which works perfect for the 2x12x10 because they are not exactly 12″! 
After cutting (4 foot pieces) and staining (MinWax) the shelves we set them on top of the flange/pipe.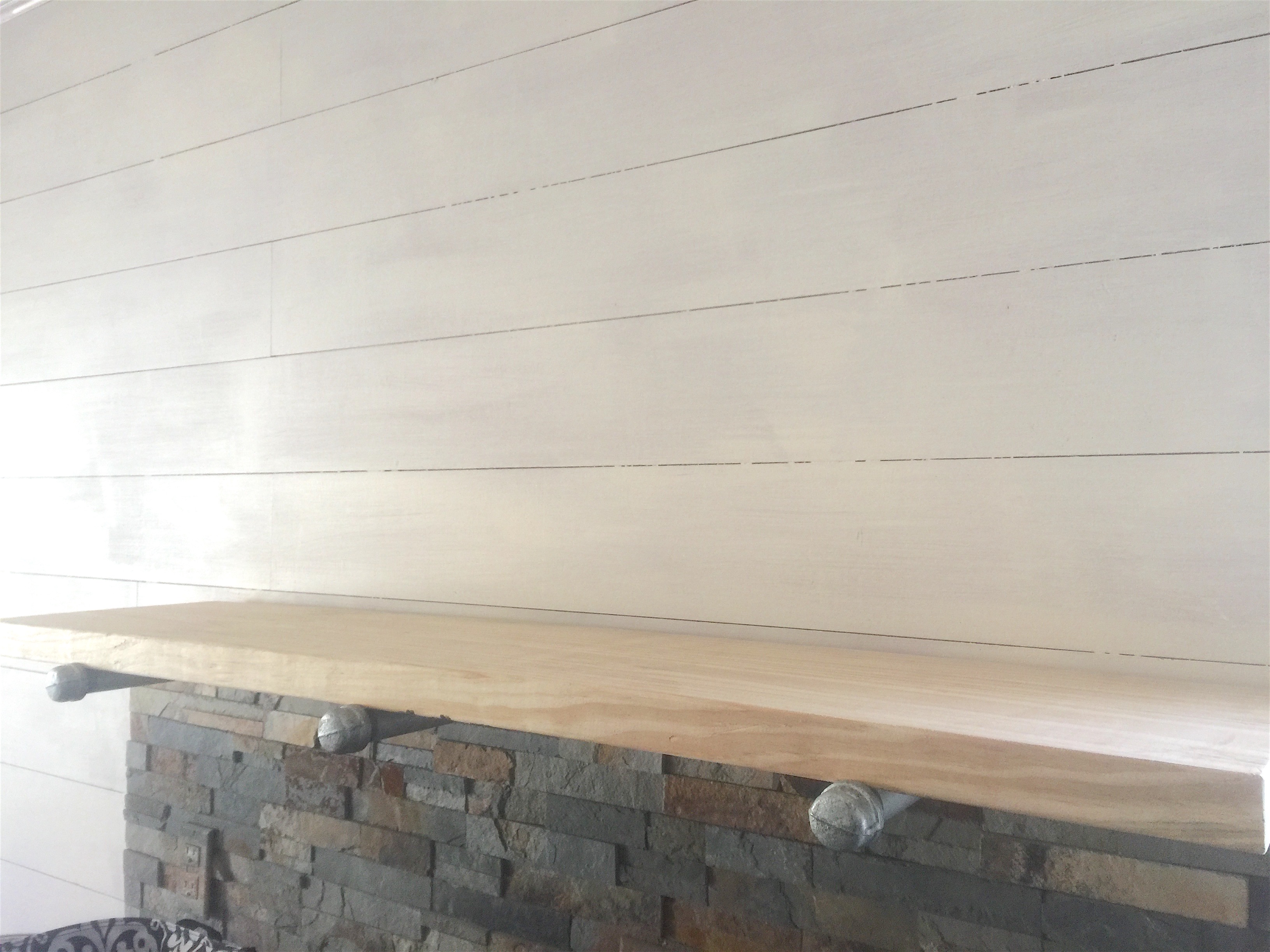 That's it! For about $100.00 we have a completely lighter feel in the kitchen and a new place to display my Feed on the Word serving platters.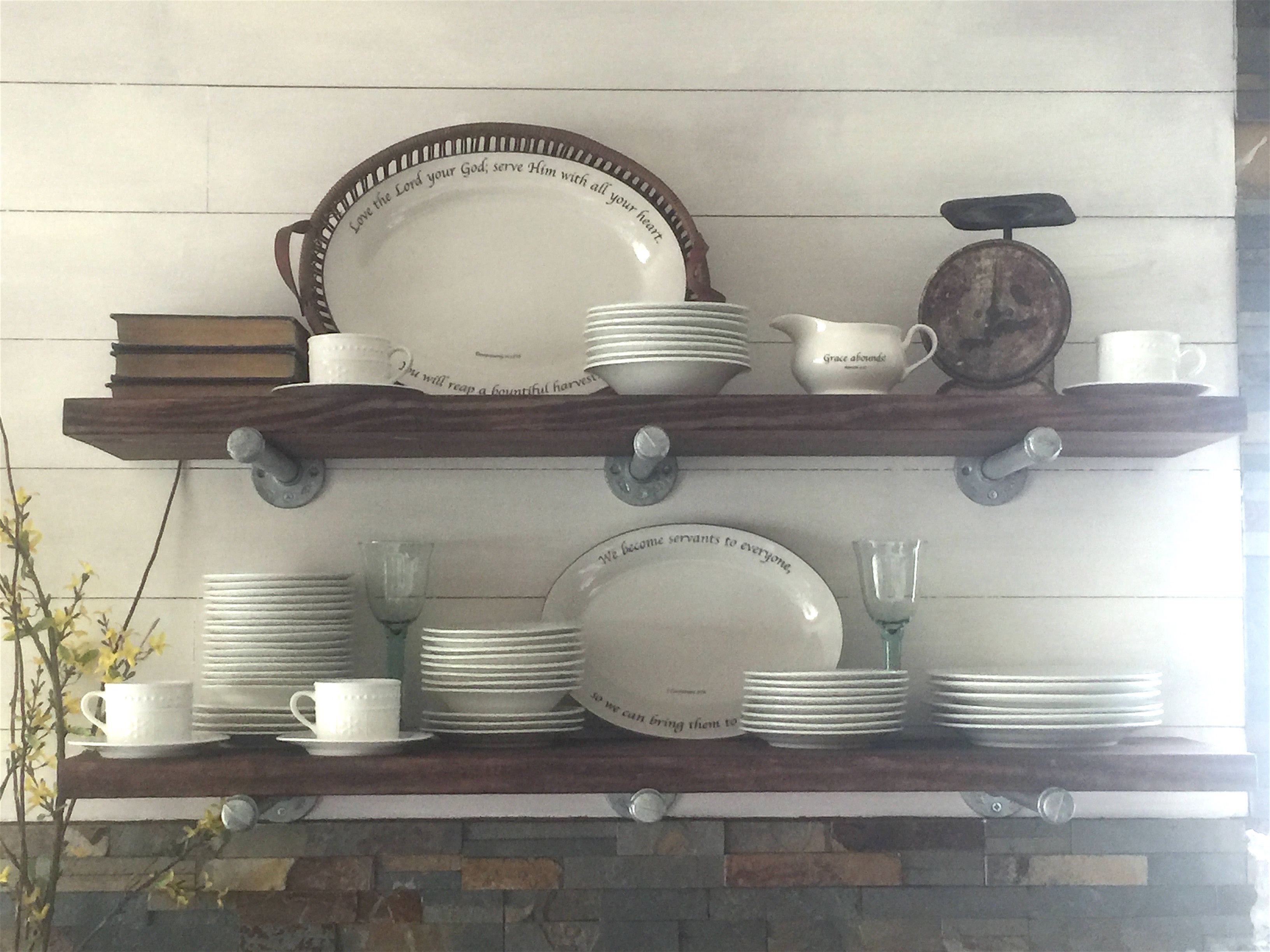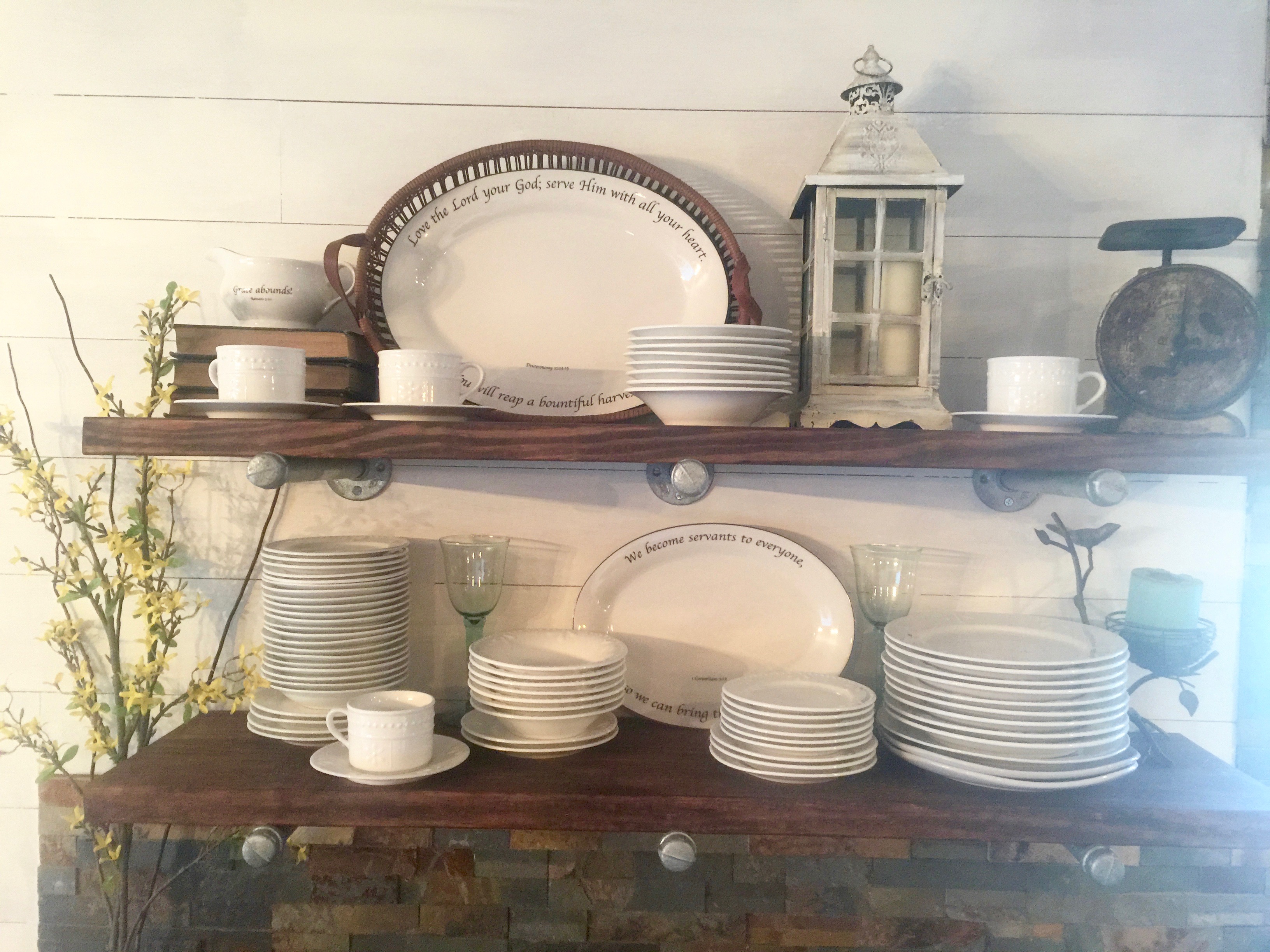 I have dropped the idea of painting the kitchen cabinets…. at least for now, which makes my family happy.
Every time I walk into the kitchen, I smile at the shelving. 
Putting the dishes away is easier (although I'm not certain why since opening a cabinet is not all that hard to do)  and when I'm cooking, I have the strangest desire to yell,
"Order up!"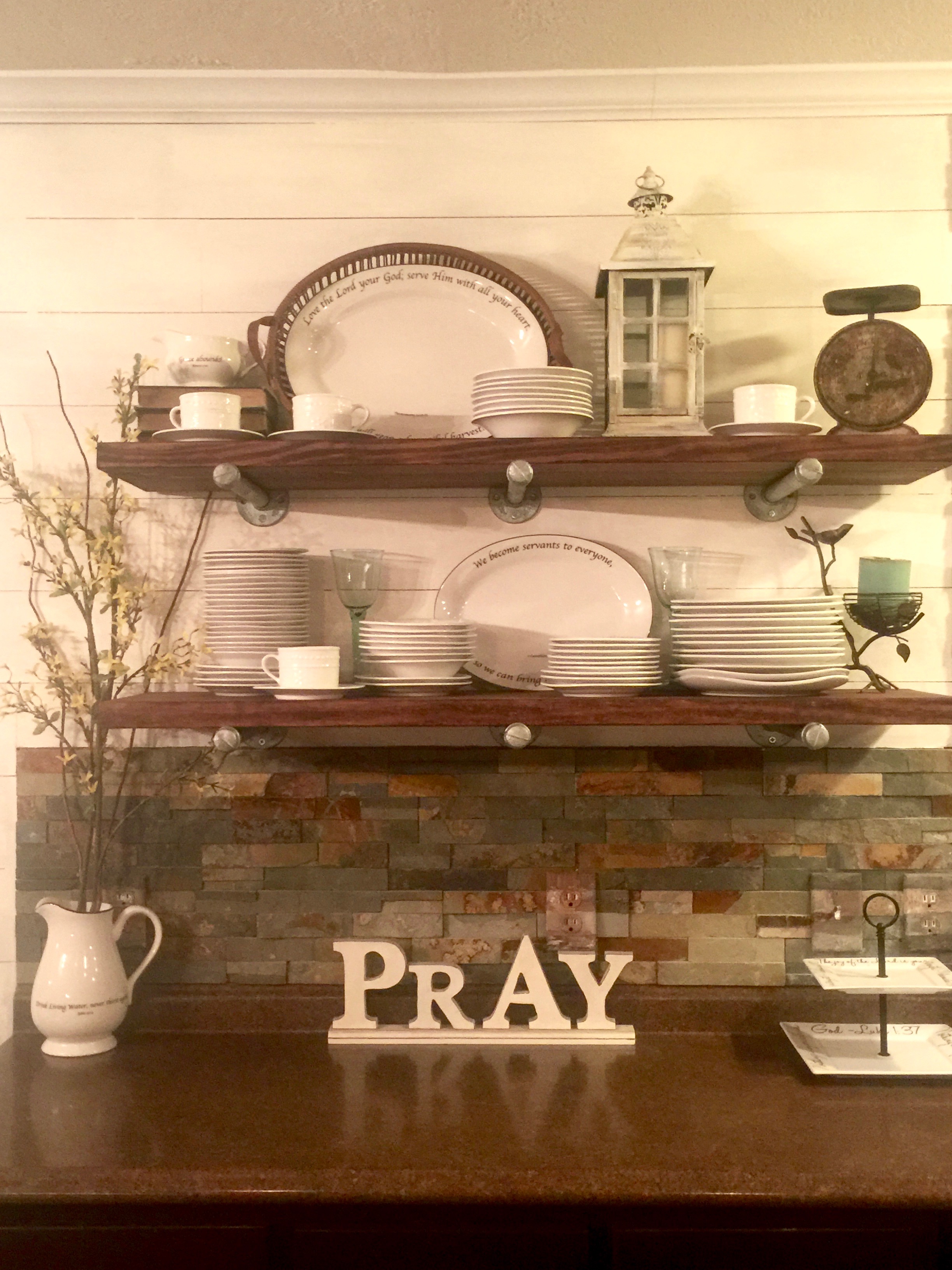 *** Update***
We loved the wood walls so much we took down the section of staked stone backsplash and took the wood across the window wall. 
 forget not the Lord!     
More crazy home projects from our creative trouble.