Joanna and Chip Gaines from HGTV's Fixer Upper have made "ship lap" an every day word!
In many homes, the look varies depending on the application but the over all effect is wood boards placed together. The wood boards can be left natural, repurposed and weathered, painted, stained, or a combination of several! 
How to create wood wall art ship lap style
We try to use boards new or old for any project we can get our hands on!  Sometimes, we incorporate wood boards to create a unique piece of Art. 
The Clover Lea 3/4″ x 5-1/8″ x 6′ New England White Pine flooring boards from Lumber Liquidators has been an inexpensive way to achieve many projects.
 The boards come in 6″, 8″ and a 10″ width.
(Carrie used all three widths mixed and stained dark to floor her entire house). An added bonus to using the New England White Pine flooring for projects is that it runs 1.29 per square foot!
The only draw back to using this product for your floor is that pine wood is a soft wood that scratches and dents easily. But the scratch and dents add character and a rustic charm!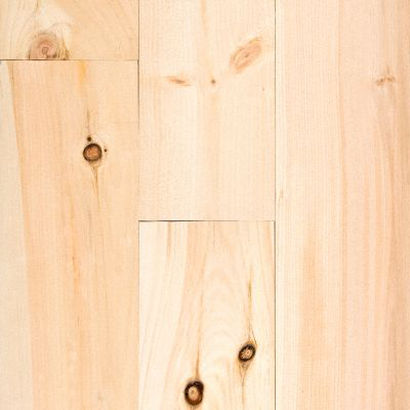 Ship lap art ideas
For this project, Nina purchased this metal leaf bouquet from Ross Dress for Less. It has the turquoise patina in the metal's grooves and hammered finish. But on the wall over her bed, it looked small and like it was missing something.
We decided to add some ship lap style to her traditional room with the New England White Pine flooring boards. The really really great thing about these boards… they are tongue and groove, they fit together easily.
What they do not advertise about them is that when you put the boards together, one side of the boards will be butted up together with a smooth close fit. The other side will have a deep angled grooves.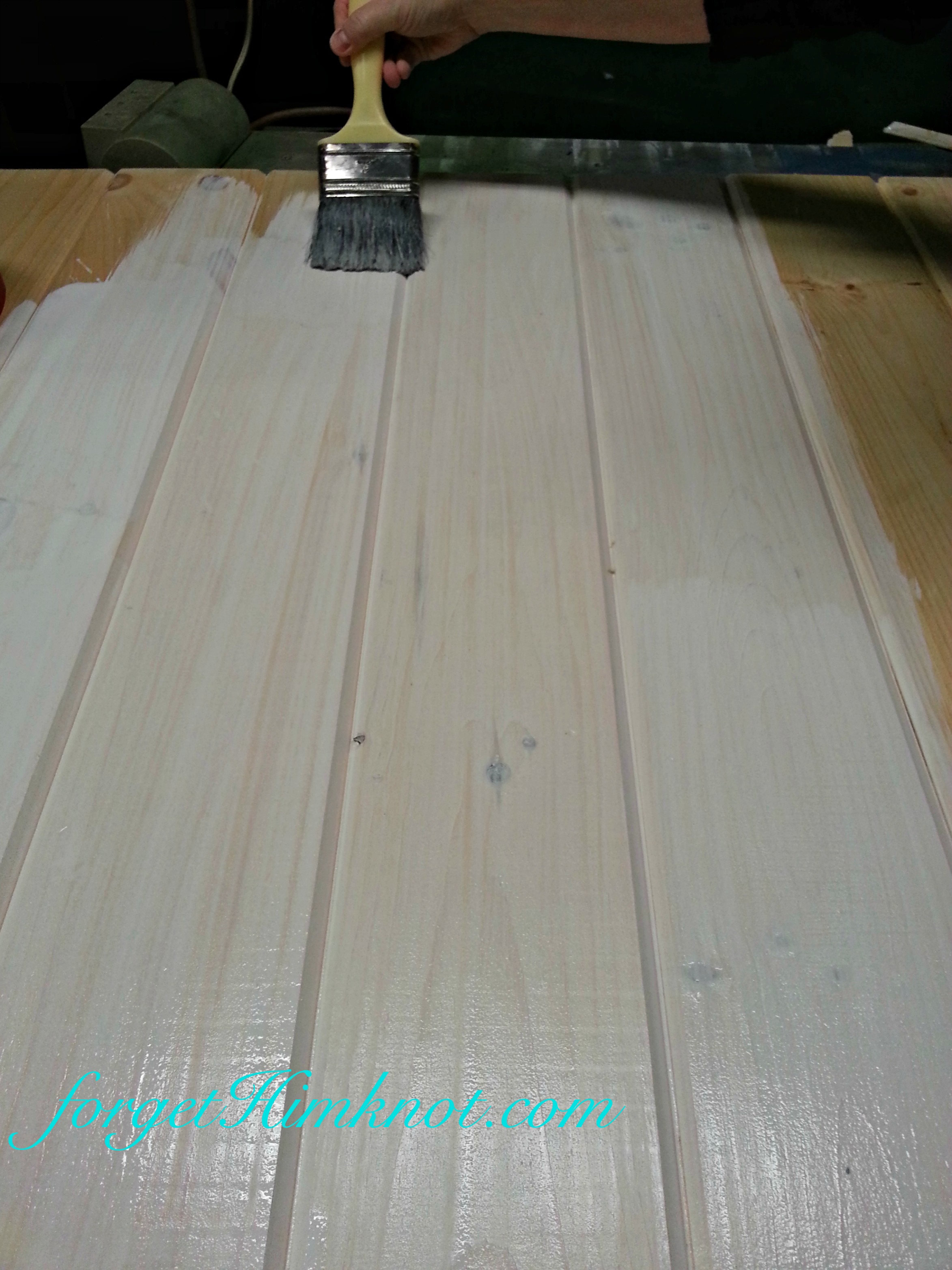 How to make a ship lap wall art piece 
We are using these for 2 separate projects in Nina's bedroom and adjoining bathroom, so we are working with both looks.
Run a bead of wood glue along the tongue of each board and lightly hammer them together.
You will need to add two 1×2 lathing strips along the back to help support the boards so that they can hang on the wall. The boards are so pretty you could leave them naked, seal them with a polyurethane or clear acrylic.
They can be painted, but we recommend priming them first to allow for a more even color finish.
Painting the wood
We chose to thin down the paint with water and make a more translucent white wash.  In a container, mixed 50/50 water with white latex house paint.
Mix well and brush it on the boards. Make sure to brush with the wood grain.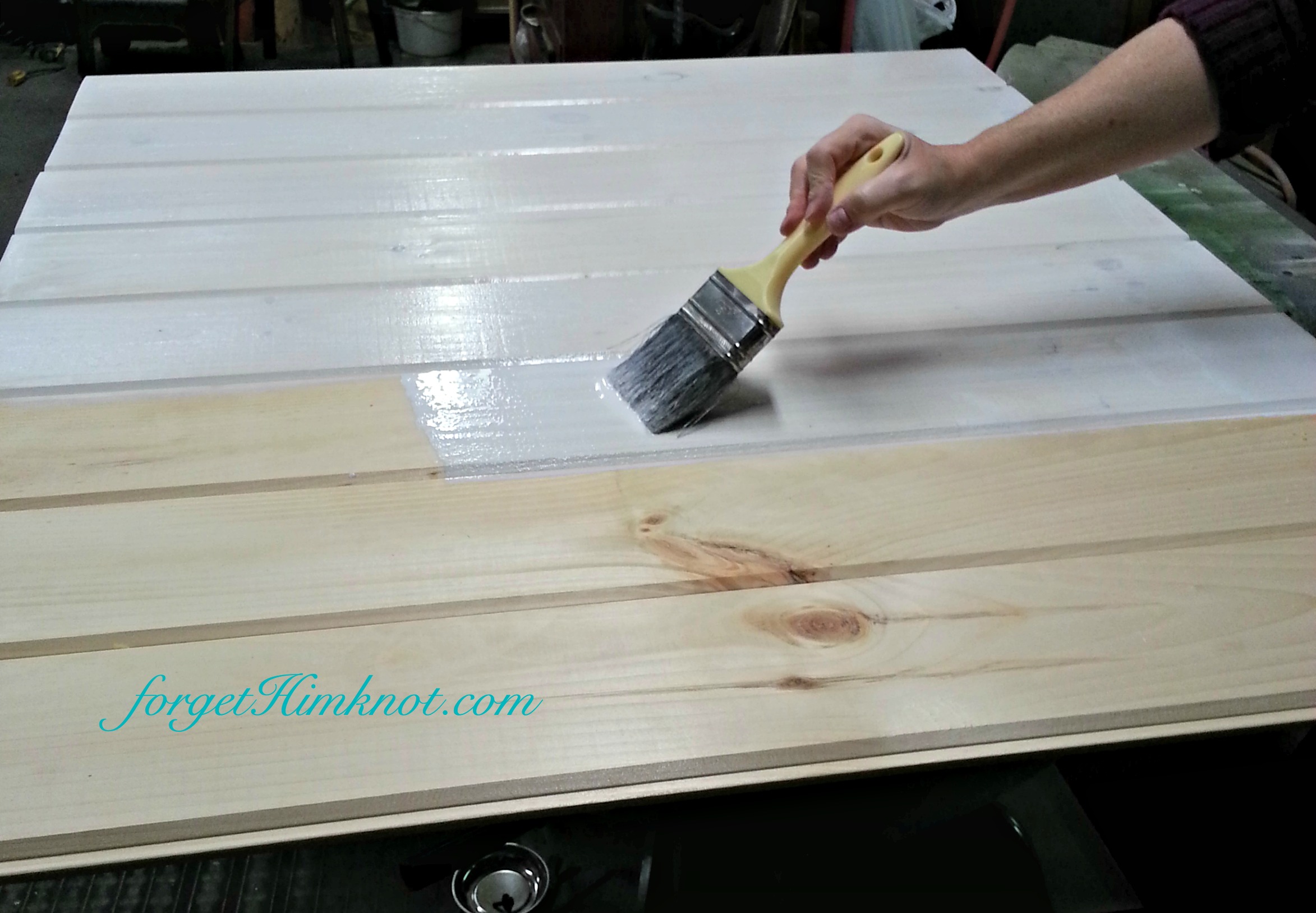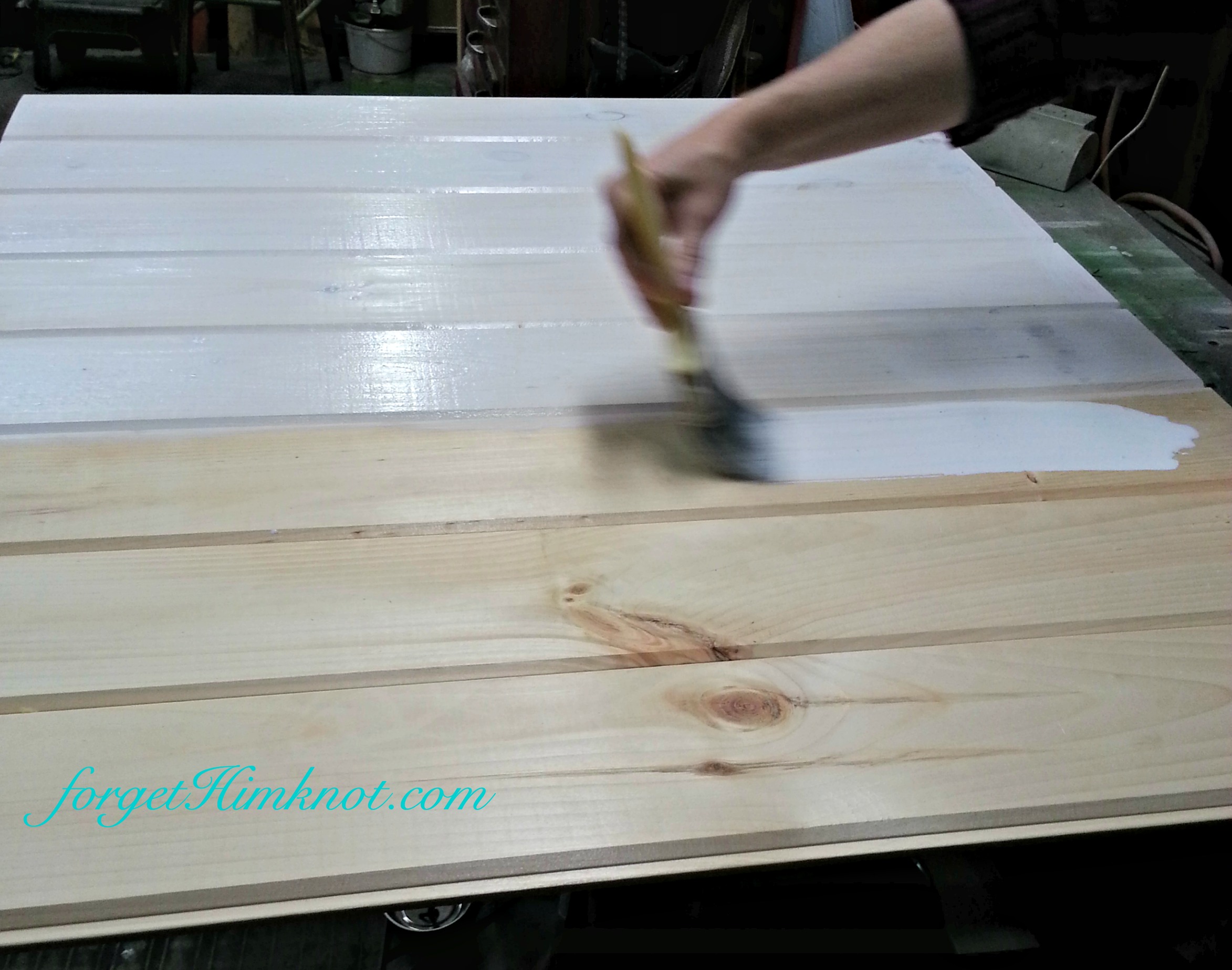 To keep brush stokes from showing, we had to brush completely off the boards with feather like strokes.  You can see the wood grain and knot holes showing through the watered down paint.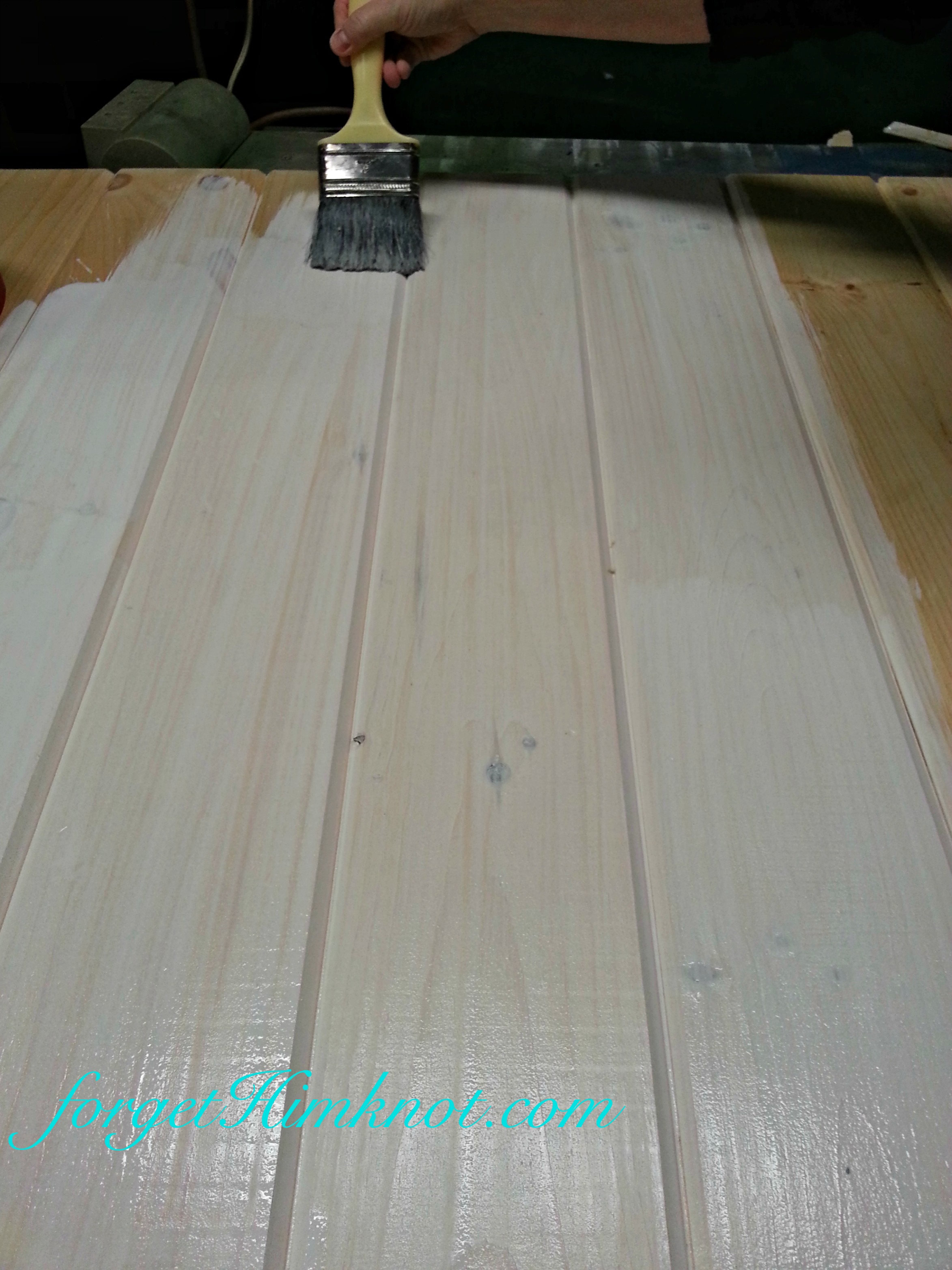 Make sure to brush into the deep grooves too!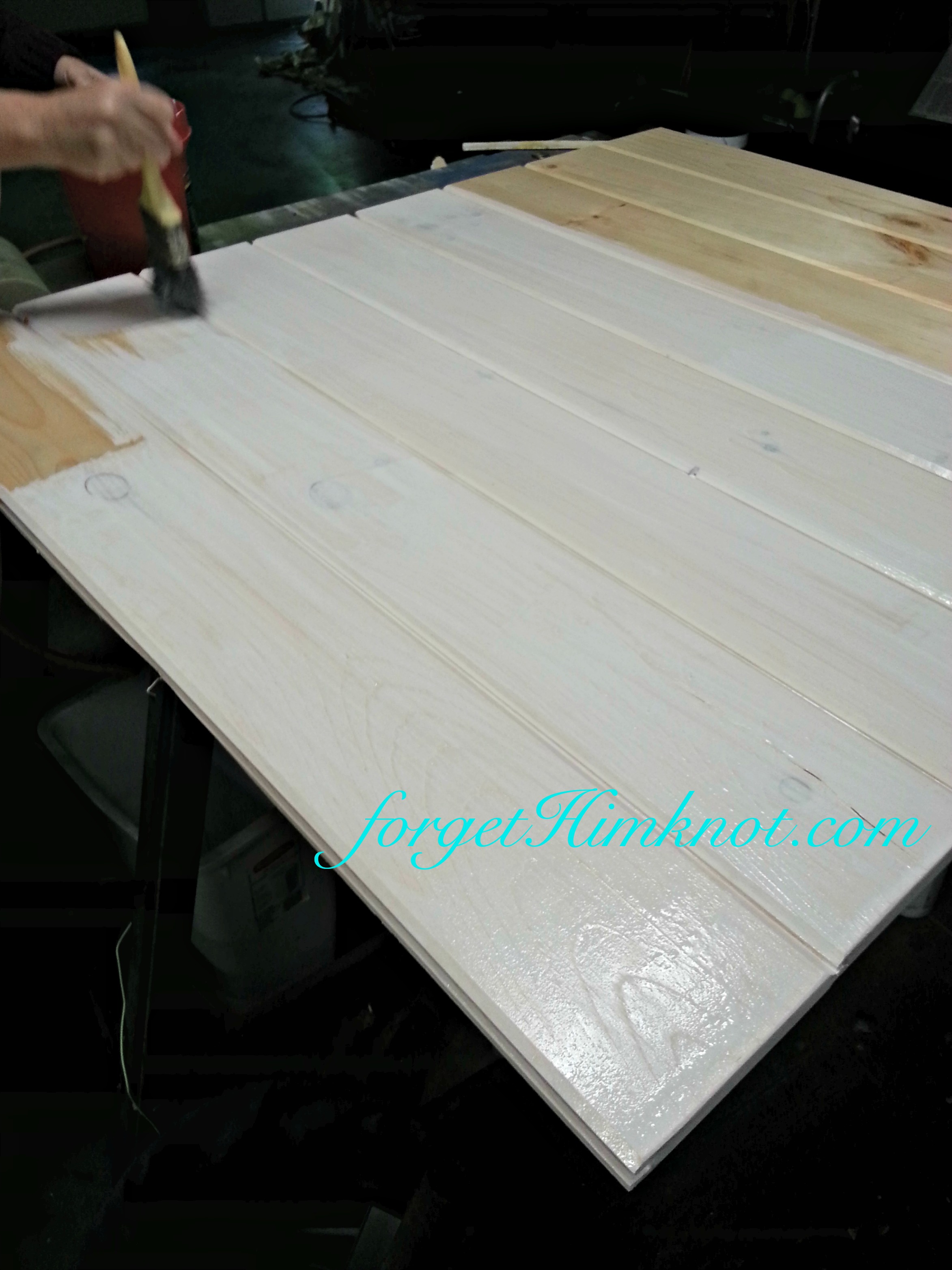 Finally, allow to dry and then you can seal with a clear poly-acrylic. Next Nina added a wire for hanging to the back of the boards. The whole piece is actually lighter than it looks.
Add metal or other elements for a 3-D art piece
Now the metal artwork has a wood base and adds rustic charm to the bedroom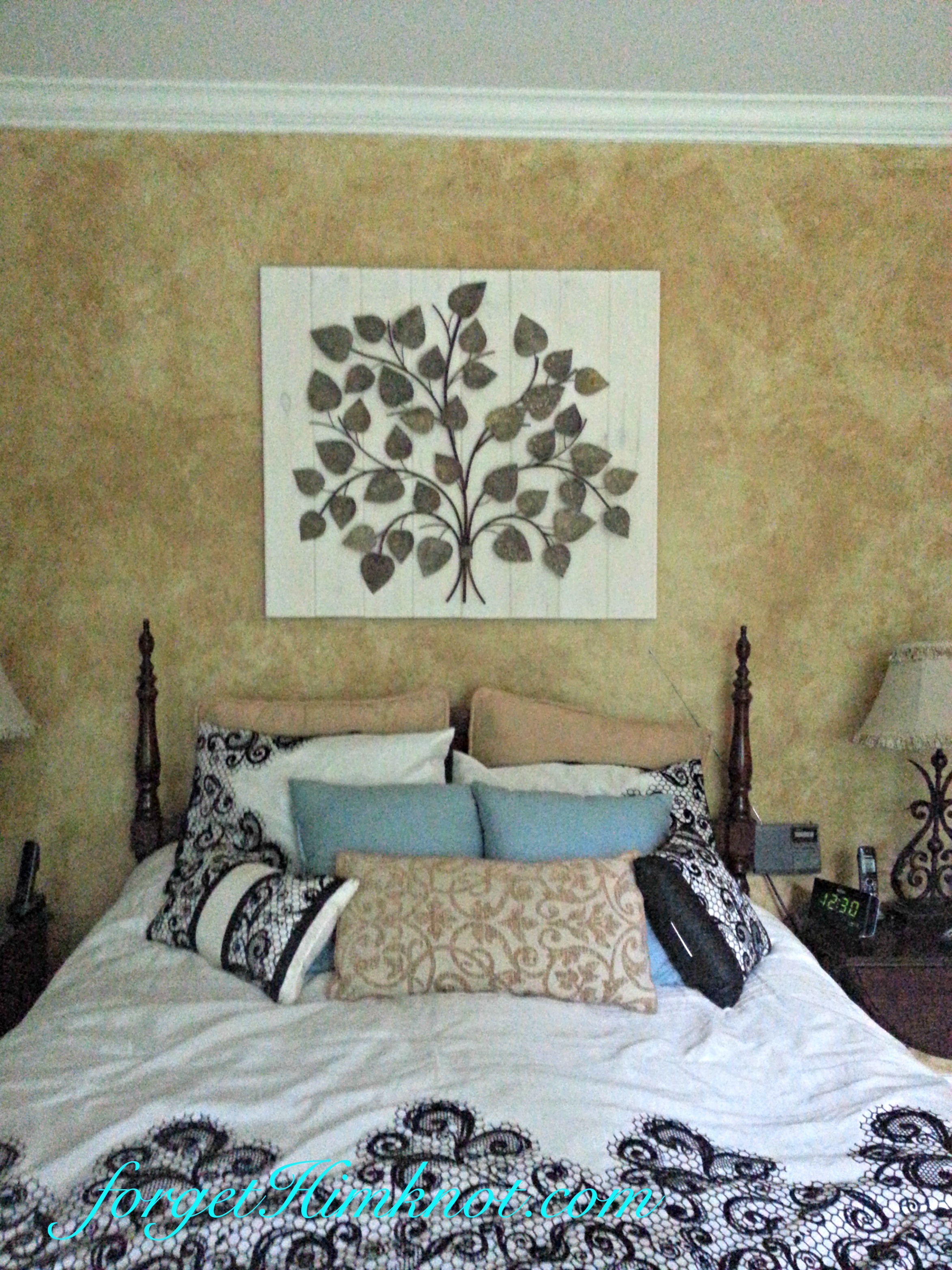 .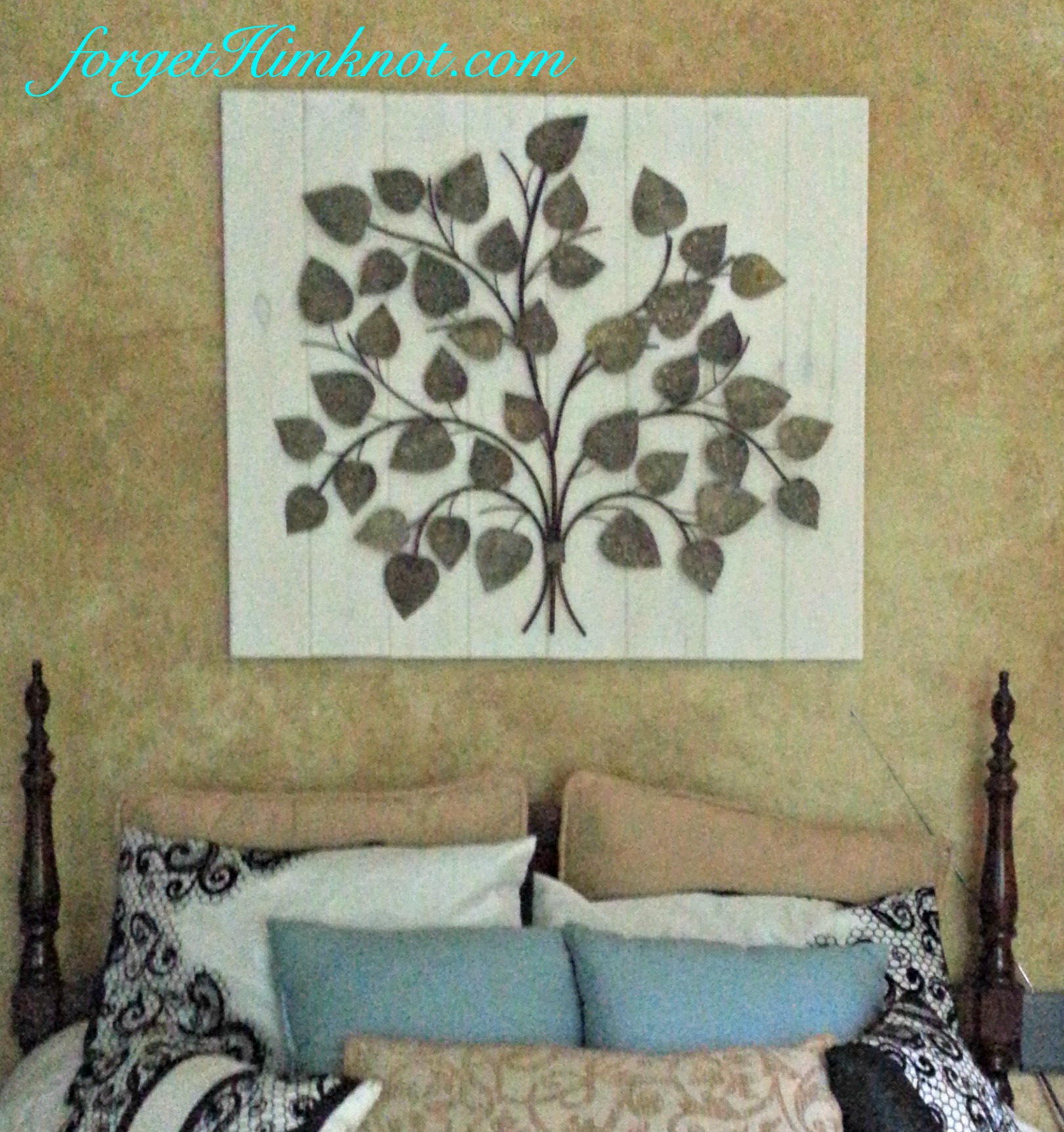 You don't have to ship lap or wood panel an entire wall in your home to add rustic charm. You also don't have to hang a piece of purchased artwork "as is"! Sometimes all it takes is thinking outside the box!
    forget Him knot!